Funeral Slideshow Maker: Create a Memorial Video





4.9
Votes:

375

(Rated: )
It's hard to cope with the loss of a loved one. Creating a touching tribute video can be a nice way to deal with the pain and honor the deceased person in a beautiful manner. But dealing with grief and planning the farewell ceremony, you probably won't have much time to create such a video. Then let special slideshow making software take care of that.
Although excellent for business presentations, PowerPoint is sadly too modest in its tools and features for a task of such gravity. So you'll need something more versatile. SmartSHOW 3D is a memorial slideshow maker that will help you make a truly heartfelt video in loving memory of your friend or relative. This pro-level software offers hundreds of effects and pre-designed templates to make the creation process simple.
Let's learn how to make a memorial slideshow to honor your loved one's memory. Below you'll find a step-by-step instruction as well as ideas on imagery, music, and more.
Memorial Video Ideas for a Meaningful Tribute
In the time of mourning, you probably don't want to spend hours surfing the Internet for ideas on how to make a tribute video. And you don't have to. Here are some funeral slideshow tips we have compiled for you:
Don't make it all about mourning the loss of a loved one. Instead, let your slideshow be a celebration of their life. Show how bright and eventful it was, how much joy they spread.
Pick the right images for your slideshow. Use those pictures that convey the personality, hobbies, achievements of the deceased person. Highlight their accomplishments and those little things that made them happy.
Personalize the ceremony with little rememberance pieces like lanterns, plaques, etc. Create touching keepsakes with pictures for the people attending the service. Here are some memorial picture ideas.
How long should a funeral slideshow be? Most people would agree that 6 minutes are more than enough. It doesn't make the video too drawn out, all while giving you enough time to tell a coherent and riveting life story.
Find a meaningful soundtrack for your memorial slideshow. Go with the deceased person's favourite track or find another soulful song. Sad or uplifting, the tune should definitely reflect the spirit of the one who passed away.
Funeral Slideshow Templates: Beautiful Video in Mere Minutes
Memorial slideshow templates are a great asset for those who don't know how to make a slideshow for a funeral or don't have much time for it. Designed exclusively for SmartSHOW 3D, these templates are graceful, delicate, and tranquil. Fill them with the pictures of your loved one to create a beautiful memorial video to pay the last respect.
Have a look at the video example created using these templates:
Wasn't it a beautiful celebration of life slideshow? Want to make a memorial video dedicated to your special someone who passed away? Then get started with SmartSHOW 3D.
Download
Fully compatible with Windows 11, 10, 8, 7
How to Make a Memorial Slideshow with Music
Say your final goodbye to your friend or relative with a tribute video. Follow these five simple steps to create a visually pleasant slideshow for funeral and pay the last respect to the one you lost.
Step 1. Use Pictures to Tell a Life Story
Install this memorial slideshow maker and run it on your computer. Drag and drop your loved one's pictures to the Storyboard. Arrange them chronologically if you want to tell their life story. Or shuffle your pictures if you just want to paint a picture of their personality. Add videos to your slideshow - they carry so much warmth.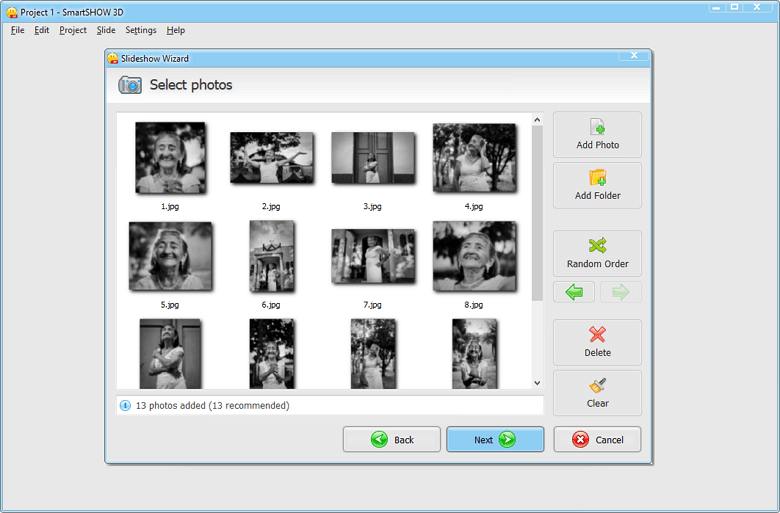 Add pictures and videos of your loved one to celebrate their life well-lived
The images you want to use aren't in their prime condition? You can easily fix them. For that, you'll need PhotoGlory, easy software to restore old photos. This program will help you heal cracks and tears on your treasured images as well as boost faded hues, and even colorize your black and white photos.
Step 2. Decorate Your Slideshow with Effects
Don't let something as personal and moving as a funeral video tribute be dull and uninspiring. Embellish your video with gentle slide animation and graceful transitions. Add subtle effects like falling snow, flickering candle light, or soaring doves.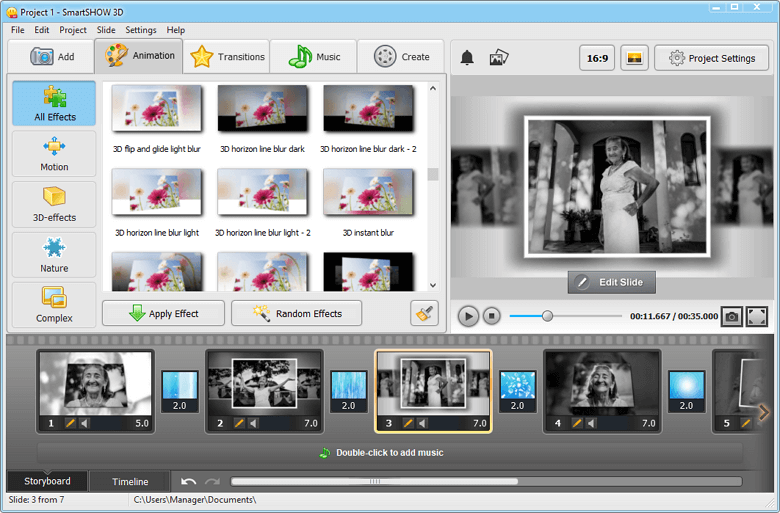 Use graceful animation to create a beautiful slideshow
Step 3. Say Farewell with Meaningful Quotes
With SmartSHOW 3D, you can insert text captions of any style - plain, 3D, or animated - then customize them to your heart's desire. Make sure to add a moving eulogy to your photo slideshow or use words of wisdom and sympathy to condole people in the audience.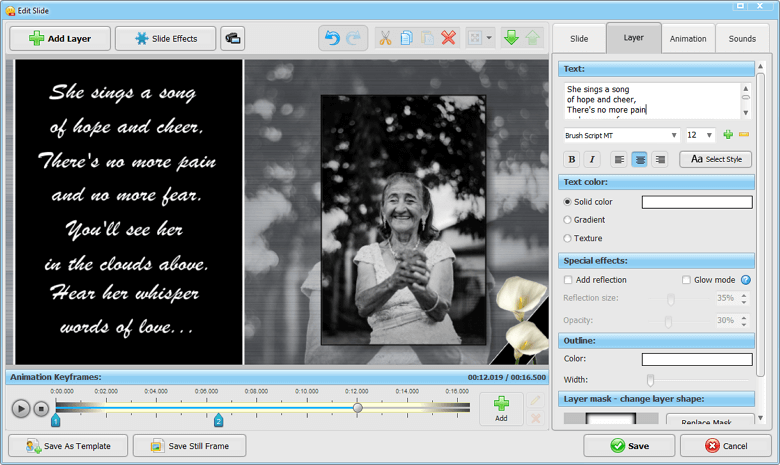 Type in condolences or heartfelt quotes
Step 4. Let Music Elevate Your Slideshow
Set the mood for your tribute video with a soothing classical tune or a powerful ballad. This memorial slideshow software offers its users a built-in library of tunes in any genre. Browse through this collection of 200+ tracks, then add a fitting song to the Timeline. Record voice comments to share some precious memories of the deceased person.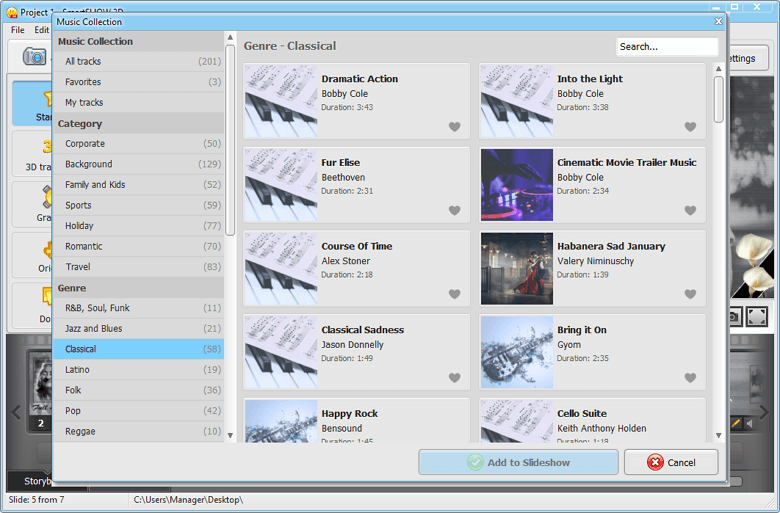 Choose music that expresses your sadness and gratitude
Don't know what song to use? Here are some of the most suitable tracks to play in the background of your tribute video:
"Tears in Heaven" by Eric Clapton
"Angel" by Sarah McLachlan
"Fix You" by Coldplay
"Wind Beneath My Wings" by Bette Midler
"Only Time" by Enya
"Please Remember Me" by Tim McGraw
"Lay Me Down" by Sam Smith
"I'll Be Missing You" by Puff Daddy
Need more tunes for inspiration? Here's some more music for funeral slideshow to choose from.
Step 5. Create Your Memorial Slideshow for the Ceremony
Decide on the way you want to share your picture slideshow. Burn it to a DVD to be shown during the funeral service. Create a video for social media - YouTube or Facebook - to pay respect to your loved one via Internet. Or convert your slideshow into an HD video to hold a screening on your TV.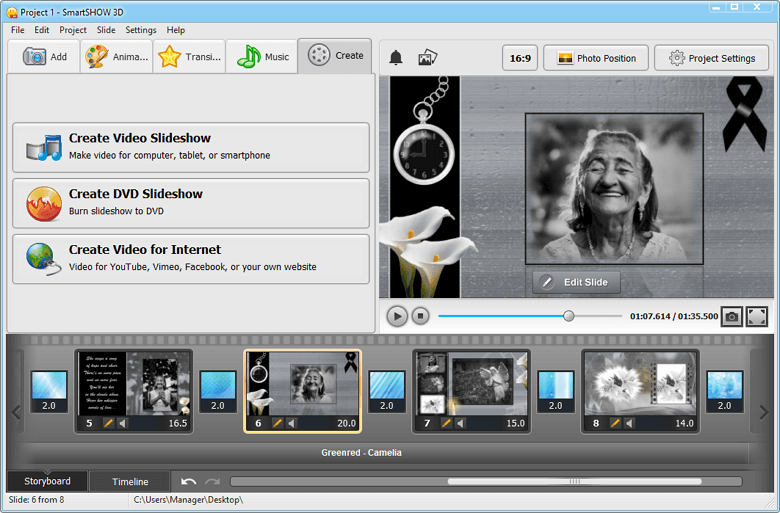 Save your slideshow in several formats: for TV, phone or tablet, for social media, or burn to a DVD
Want to create a touching memorial tribute to the one who went gently into that good night? Then download SmartSHOW 3D to pay your last respect.
Funeral Slideshow Quotes to Soothe and Comfort
Words never come easy when you deal with grief and loss. So let these words of eternal wisdom be the way to honor your late friend or relative.
"Death is not extinguishing the light. It is putting out the lamp because the dawn has come."
"What the caterpillar perceives is the end, to the butterfly is just the beginning."
"We will hold you in our hearts, until we can hold you in heaven."
"The world is full of suffering. It is also full of overcoming."
"Don't cry because it's over, smile because it happened."
"The song is ended, but the melody lingers on."
Say your last goodbye with a beautiful memorial slideshow
Frequently Asked Questions About Making a Funeral Slideshow:
SmartSHOW 3D is a memorial video maker you can truly rely on during this challenging time. With 400+ animations, 3D collages, and transitions at your disposal, as well as hundreds of beautiful templates built-in music tracks, you'll be able to create a beautiful remembrance video in just five minutes. So celebrate your loved one's life with a tribute slideshow that will have people walking down memory lane along with you.