4 Ways to Add a Deceased Loved One to a Photo





3.8
Votes:

18

(Rated: )
Last updated: 01.06.2023
Before
After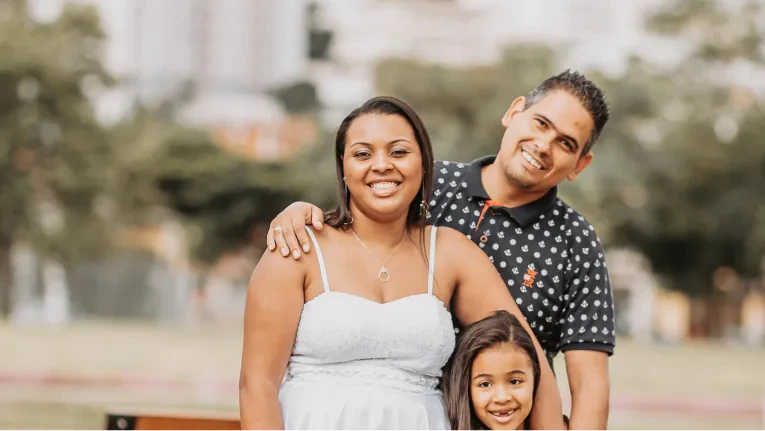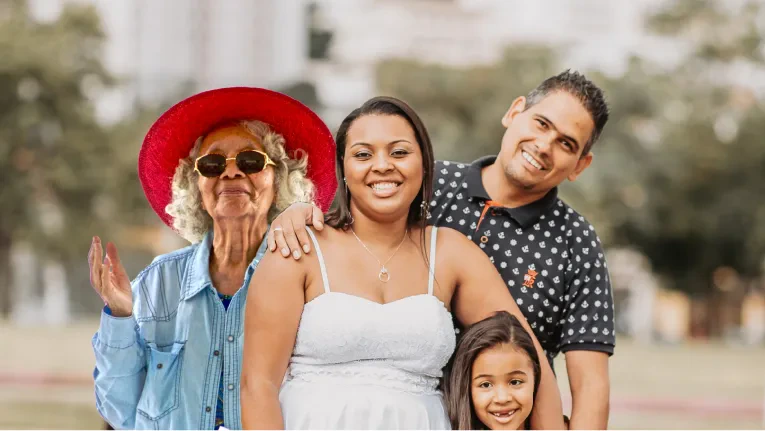 Make the whole family present in a photo
Want to add a deceased loved one to a photo? Click the button below to get started
with an intuitive photo editor and create touching family pictures in a breeze!
Family photos are a great way to preserve valuable memories shared with the people who have passed away. However, you can't take a picture of someone already gone. But what if you share a special moment with your deceased friend or relative by adding them to a family photo they could not be present for? There are multiple ways of incorporating a lost loved one into a family picture, so let's take a brief look at some of them.
There are actually good reasons to add deceased relatives to the existing family photos. Apart from being a way to deal with loss and grief, this photo montage can serve other purposes:
Create a memento of someone no longer around
Give deceased loved ones their last (or first) reunion
Provide a creative depiction of your extended family tree
The family photos that unite multiple generations may preserve the bits of love, keep the memories alive, and help tell the story of your family to others. If you want such an image to be a part of your archive, we will show you how to make a picture with a deceased loved one.
Incorporating a Lost Loved One in Pictures: Easy Ways
1. Photo Editing
One of the most accessible ways to make memorial pictures of loved ones is with a photo editor. All you need is a family photo, a picture of a person you want to add, and a proper program. If your shots match in color and lighting, the result will look natural and seamless.
The choice of software depends on your skill level. Experienced users may rely on well-known applications, such as Photoshop or GIMP. But if you are a casual user and need a simple solution, you will find the perfect tool for the job, along with a step-by-step guide, right here.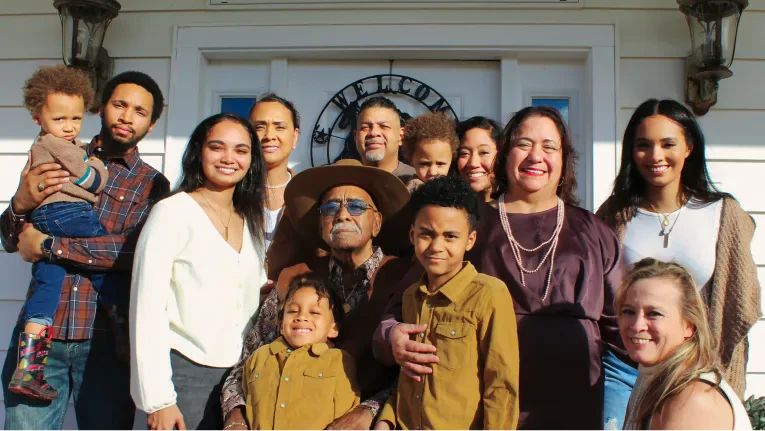 Picture with a deceased loved one edited in PhotoWorks
2. Ghost Photo
Another fascinating trick in photography is incorporating a lost loved one in the family picture, but with no illusion of actual presence. Such an image is called a "ghost photo". It involves the same technique as adding a person to your family photo but requires setting a lower opacity for the overlaid image of the deceased. You can use this method if you want to emphasize the fact that someone is gone. You can make a ghost photo in a snap, just follow our short guide.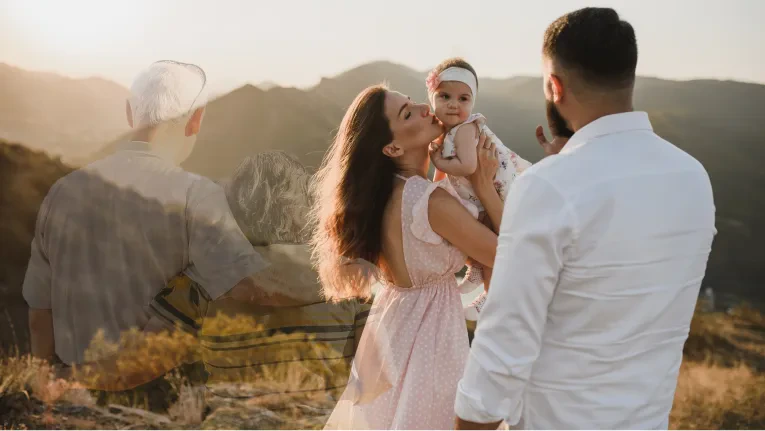 Ghostly montage with a deceased family member
3. Collage
This is a more straightforward way to bring family members closer - by keeping old and new family photos together in one place. A collage made of physical family photos can be a great heirloom. On top of that, both digital and physical collages can tell the story of every single family member and serve as a worthy tribute. You can find a lot of different ways to make a DIY family photo collage online. As for digital collages, there are plenty of dedicated programs.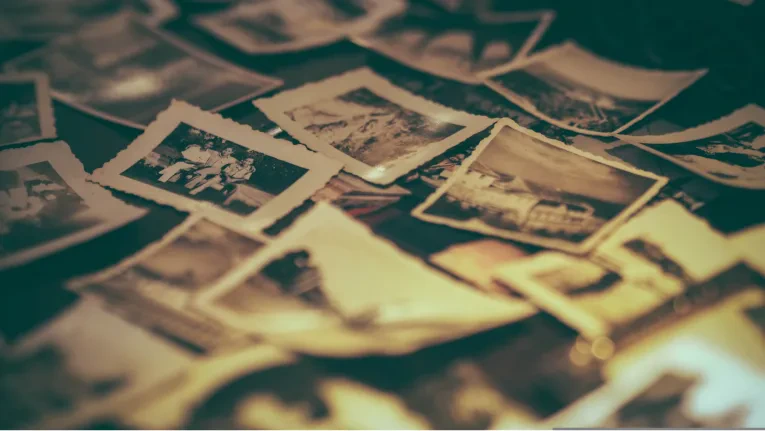 Assembly of digital family stories
4. Painting
Another thing you can do as an alternative to a family photo is paint a picture of the deceased loved one with your family on one canvas. This way, you can create a unique and graceful memento shared with the one who can no longer be around. And if you don't have sufficient skills in painting yourself, no problem – commission an artist to do the work for you.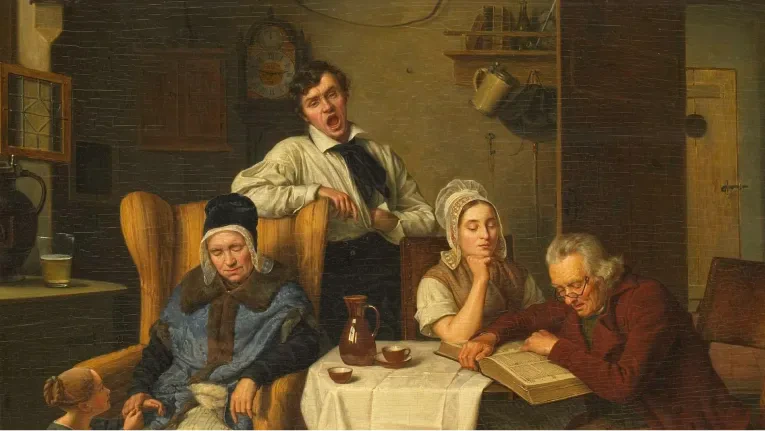 Hand-painted portrait of the whole family
How to Add a Deceased Loved One to a Photo
A little photo editing is the easiest way of adding someone to an existing family photo. We'll take you through the entire process step-by-step using PhotoWorks. It is a versatile and easy-to-use photo editor totally capable of adding your relatives to images. It demands no previous experience in editing from you. So a quick tutorial will be enough to get you started. Let's begin!
Step 1. Install and Run PhotoWorks
Click the button below to download the PhotoWorks installation file. Then run this file and follow the on-screen instructions to install and launch the program.
Try Now
Fully compatible with Windows 11, 10, 8, 7
Step 2. Open the Picture of the Deceased
Hit the Open Photo button and find the photo with the deceased loved one via the file browser. Or drag and drop this image into the program window directly.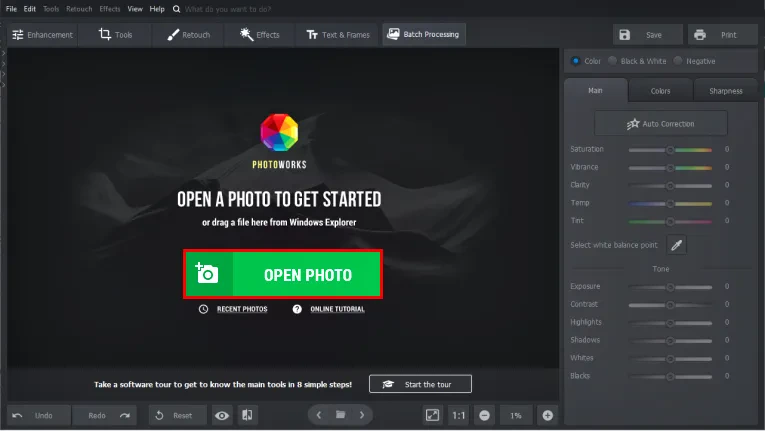 Load the image of your loved one in the program
Step 3. Crop Your Relative Out of the Background
Open the Tools tab. Go to the toolkit on the right and select the Change Background tool. Use the green brush to mark the person and the red brush to designate the background. Click Next and see the result of the automatic background removal. Then you can remove or restore minor details with the same brushes. Click Next again when the cropping looks good.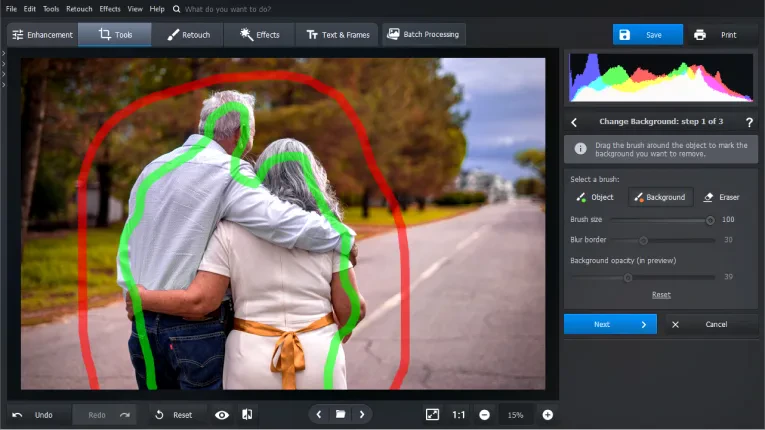 Cut the background around the gone
Step 4. Add the Deceased to Your Family Photo
Click the Select Background Image button and choose Load My Own to open your family photo from the PC library. You can freely move and resize the photo of the deceased, blur and extend its edges and adapt colors with a slider to make it fit better. Then click Apply.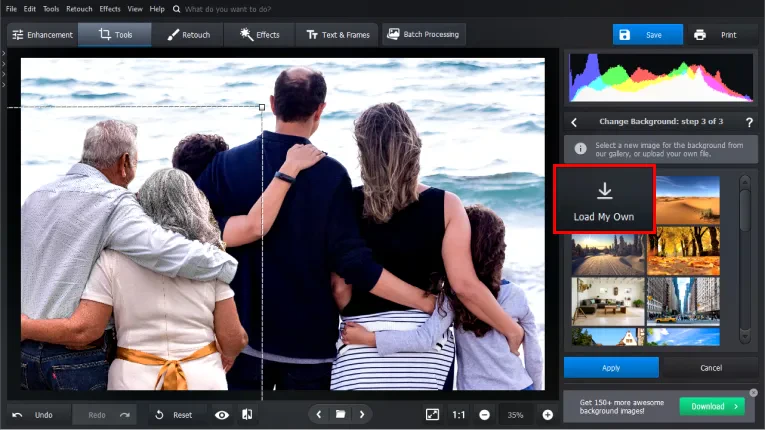 Reunite your relatives in a family photo once again
Step 5. Save the Picture of the Reunion
Once the editing is done, click the Save button, choose a destination folder, pick the needed file format, and click Save in the file browser window. Your new family photo is ready for sharing!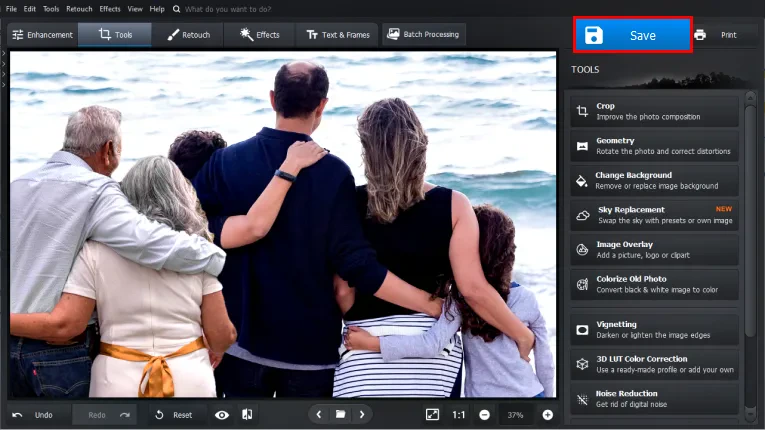 Export the new image to pay the tribute
How to Create a "Ghost Photo"
You can make a "ghost photo" in PhotoWorks just as easily as adding a person, but with a few alterations. Here's how to add a deceased loved one to a photo with this app in a ghostly way:
1. Open the image. Load the picture of your deceased loved one in the program.
2. Remove the background. Open the Tools tab and select the Change Background tool. Mark the person with the green brush and the backdrop – with the red one. Then click Next.
3. Save the cutout. Click Save with Transparent Background and store the cutout of the image.
4. Open the family photo. Now go to File > Open Photo and select your family photo.
5. Impose the image. Choose Image Overlay from the Tools tab and click Add Image from File. Then find the cutout you have made and open it.
6. Create a ghostly effect. Place and resize the picture of the deceased and reduce its Opacity.
7. Export the image. Apply the changes and save the edited picture.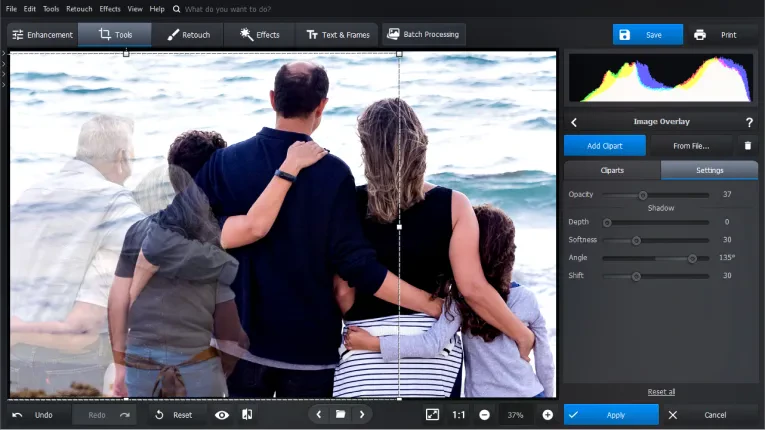 Make the gone loved ones present by your side in a photo
Now you know how to add a deceased loved one to a photo! As you can see, with the help of AI-powered tools, it takes only a few minutes and little mouse work to do so. And to make sure your new photo looks its best, follow some helpful tips below.
Tips for Making Good Memorial Family Photos
Here are some tips to keep in mind. With this knowledge, it will be much easier to photoshop the deceased into the picture and achieve a natural look for your family photo.
Shooting parameters. Simply put, the more values like brightness, blurriness, contrast, color, etc. are similar in your pair of images, the less editing you'll have to do. Besides, it is beneficial for the overall family photo quality.
Image resolution. No matter what you do, you can't fix the difference in photo resolution. So for an organic montage, it is better to resize the bigger image than the samller one.
Shot composition. It is best to choose photos taken from a similar angle and with light coming from a similar direction. This way, the pictures will blend much better.
Central idea. What do you want to achieve by adding a deceased loved one to a photo? Have a tender memento, create a family photo with everyone present, or pay your respects? It is a sensitive subject. Dwell on this question a little just to make sure the answer sits right with everyone who may be concerned.
Photo editing is an intricate craft, and merging family photos that might be a generation apart can be quite tricky. If you feel like your skills are not enough, you can always reach out to a professional who can ensure the most respectful quality of the work.
Keep the Memories Alive
Art, in general and photography, in particular, are good means of preserving memories. Here we have described some creative ways you can show your respect to the gone family members. Photo editing is the only way we have covered in depth here, but there are other things you can do to pay tribute, like painting a picture with the passed loved ones, making a family tree, restoring old photos, or designing a collage. With little mementos, you can let the love outlast a lifetime.