How to Make a Collage on Windows 10





5.0
Votes:

255

(Rated: )
Digital pictures are everywhere these days. Instead of the lengthy process of developing a film, printing photos, and glueing them into family albums, we take pics with our smartphones and instantly share them via email, messengers, or social media. But clicking through a bunch of pics can be quite tedious - how about presenting your photos in a more impressive way? An eye-catching photo collage looks much more appealing than separate pictures, especially if you don't just stitch photos together but decorate them with stickers, captions, and frames.
So, how to make a collage on Windows 10? Of course, it's possible to mix your pics in Microsoft Publisher or even in MS Word, but the result can prove rather disappointing. Luckily, there is more effective collage software - such as Photo Collage Maker. Keep reading, and you will learn how to create awesome collages using this feature-packed program. Apart from a step-by-step guide, we've also prepared a bunch of creative ideas for your first projects.
If you prefer visual instructions, just check out this video guide with fine collage examples:
Liked the video? Go on and follow 5 easy steps to make a collage of photos on your own.
Step 1. Download and Install the Collage Program
Hit the button below to download a free trial of this Windows 10 collage maker on your computer.
Download
Fully compatible with Windows 11, 10, 8, 7
The installation process is very simple: launch the installer and follow the steps of the wizard. In a few clicks, you will be ready to create your own cool collages!
Step 2. Pick a Template and Customize It
When you run the program, you will have three options: a blank canvas, a simple page layout, and a pre-designed collage template. The last one is a great time-saver. You just pick one of the 370+ fully customizable templates and fill it with your photos. There are templates for greeting cards, invitations, multi-page scrapbooks, and photo books. If you need a collage for a certain occasion, opt for a themed template (wedding, Christmas, birthday, family, etc.).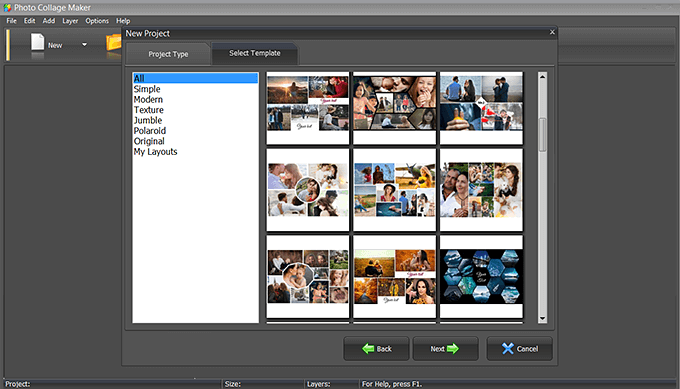 Choose a collage template and add your pictures
Step 3. Add Frames, Masks, and Filters
Under the Frames and Effects tab, there is a vast variety of embellishments and artistic filters. For example, you can add photo frames of different shapes and styles to make elegant and refined collages. Need a more creative look? Apply one of the diverse masks to gently blur the photo edges or make them stylishly jagged. Spice up your dull photos with handy filters: one-click contrast improvement, sepia tone, color effects, etc.
Spice up your collage with stunning effects
Step 4. Insert Captions and Clipart
Virtually any collage can be turned into a greeting card, an invitation, or a photo poster. With Photo Collage Maker and its 100+ pre-designed text styles, there is no need to fiddle about with fonts, colors, and text size. You just choose a caption style to your liking and apply it to your text. As a final touch, you can add some clipart images - flowers, ribbons, snowflakes, candles, etc.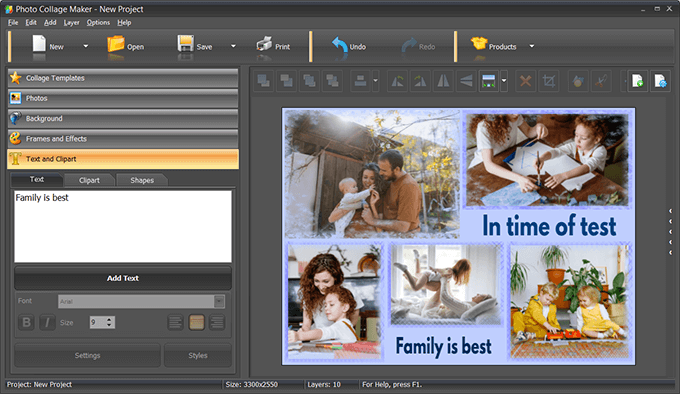 Set the mood of your collage with captions and clipart to tell a story
Step 5. Save & Print Your Photo Collage
Want a series of collages of the same style? Save your project as a template. Choose Save As Image if you're making a photo collage for Facebook or other socials and platforms: PNG preserves the highest quality, while JPEG makes a smaller file for the Web and email. Want to print your collage in high quality? Save it as a PDF. You can adjust the resolution and pick a suitable printing template in the program's printing module. The software also supports multi-page projects: all pages can be printed at once. Most photo collage software for Windows 10 miss this feature.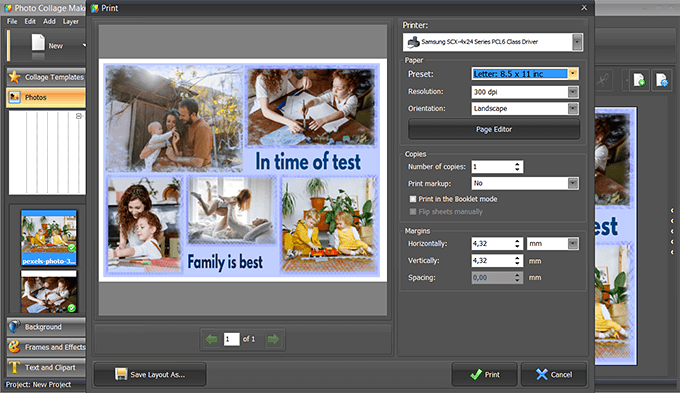 Print your collage in a suitable format
Six Collage Ideas to Boost Your Creativity
Feeling a little lost among all those gigabytes of pictures? To help you get started, we've prepared some creative prompts you can use to make astonishing photo projects in Photo Collage Maker.
Try one of these ideas right now! Download the free trial of Photo Collage Maker
and create delightful projects from your own pictures!
Photo Collage Maker is as easy as ABC but grants you an absolutely stunning experience. You can make photo collages for special occasions: Halloween greeting cards, wedding invitations, Happy Birthday collages, digital baby scrapbooks, multi-page vacation photo books and print them in high quality right at home. DIY collages can become touching gifts, beautiful home decor, or eye-catching Instagram posts - whatever you want. So, what are you waiting for? It's time to prepare for the upcoming holidays and birthdays. Start making your own adorable photo projects today!