How to Make a Collage on Windows 10: Easy Guide





4.9
Votes:

264

(Rated: )
Digital pictures are everywhere these days. Instead of developing a film, printing photos, and gluing them into albums, we take pics with our smartphones and share them via email, messengers, or social media. But swiping through a bunch of pics can be tedious - so how about presenting your photos in a more impressive fashion? An eye-catching photo collage looks more appealing than separate pictures, especially if you decorate your images with stickers, captions, and frames.
It's possible to mix your pics with advanced photo collage makers for Windows 10 like Adobe Photoshop, but the program is quite hard to master, especially for non-experienced users. Hence, we will teach you how to create a collage of photos on Windows 10 using the beginner-friendly Photo Collage Maker.
If you prefer visual instructions, just check out this video guide with fine collage examples:
Liked the video? Go on and follow 5 easy steps to make a collage of photos on your own.
How to Make a Photo Collage on Windows 10 in 5 Steps
Does Windows 10 have a collage maker? Sure, it does have a simplistic collage maker that comes with the Windows preinstallation package. But we have a better deal for you! Check out a comprehensive way to bring your photo collage to the next level with Photo Collage Creator, one of the best collage makers for Windows 10.
Step 1. Install the Windows 10 Collage Maker on Your PC
Hit Download to get a free trial of this photo collage software for Windows 10 on your computer.
Download
Fully compatible with Windows 11, 10, 8, 7
The installation process is simple: launch the installer and follow its instructions. In a few clicks, you will be ready to create a photo collage on your Windows 10 device!
Step 2. Pick the Best Collage Template and Customize It
When you run the program, you will have three options: starting with a blank canvas, an auto collage, and a pre-designed collage template. The last one is a great time-saver. Pick one of the 400+ fully customizable templates and use it to stitch your photos together. There are templates for greeting cards, invitations, multi-page scrapbooks, and photo books. If you need a collage for a special occasion, opt for a themed template (wedding, Christmas, birthday, family, etc.).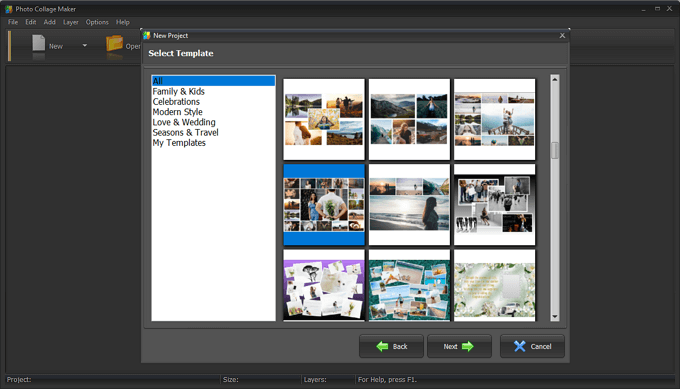 Choose a collage template and add your pictures
Step 3. Add Frames, Masks, and Filters to Your Collage
Under the Frames and Effects tab, there are various embellishments and artistic filters. For example, you can add photo frames of different shapes and styles to make elegant and refined collages. Need a more creative look? Apply one of the diverse masks to blur the photo edges or make them stylishly jagged. Spice up your dull photos with handy filters: one-click contrast improvement, sepia tone, color effects, etc.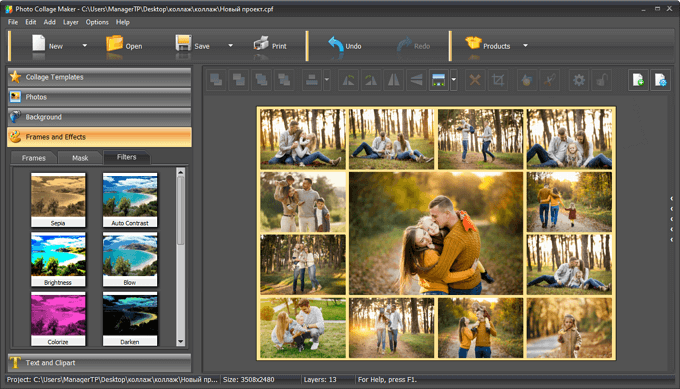 Spice up your collage with stunning effects
Step 4. Make Your Photo Collage on Windows 10 One-of-a-Kind
You can turn any collage into a greeting card, an invitation, or a photo poster. If you want to save time doing that, use the 100+ pre-designed text styles that this collage maker software for Windows 10 offers. There is no need to fiddle with fonts, colors, and text size. Just choose a caption style to your liking and apply it to your text. As a final touch, you can add some clipart images: flowers, ribbons, snowflakes, candles, etc.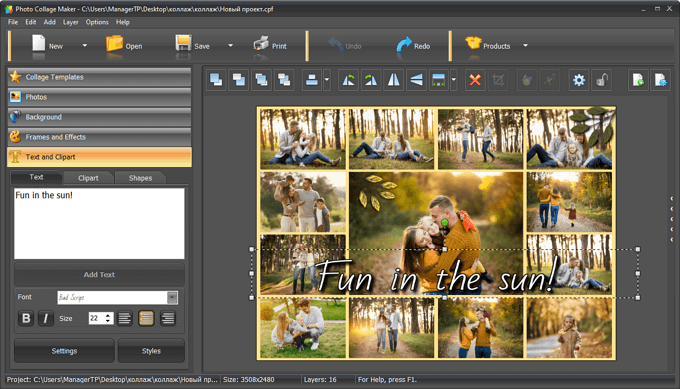 Set the mood of your collage with captions and cliparts to tell a story
Step 5. Save Your Photo Collage in a Suitable Format
Want to make a series of collages in the same style? Save your project as a template. Choose Save As Image for online sharing: PNG preserves the highest quality, while JPEG makes a smaller file for the Web and email. If you want to print your collage in high quality, save it as a PDF. Photo Collage Maker features a built-in printing module. There you can adjust the resolution and pick a suitable printing template. It also supports multi-page projects, so you don't have to print each page separately and worry about printing it upside down.
Print your collage in a suitable format
Six Collage Ideas to Boost Your Creativity
Feeling a little lost among all those gigabytes of pictures? To help you get started, we've prepared some creative prompts you can use to make a collage of photos on your Windows 10 computer.
How to Make a Collage on a Computer with MS Publisher
Already have Microsoft Office Suite installed on your device and don't want to download another program? Then let's learn how to make a collage of pictures on a computer using MS Publisher. This tool is used for designing printables like brochures, flyers, envelopes, greeting cards, and so on. If you haven't downloaded the software yet but would like to give it a try, you can experiment with its features during the free trial. Once the trial is over, you can purchase MS Publisher for $159.99 per 1 PC. Now let's see how to use this program.
Step 1. Download MS Publisher
Search for the official website and download the installation file. You can use the program for free during a 30-day period.
Step 2. Start a New Project
Once you install and launch the program, select New File and choose the page size and the layout you would like to use.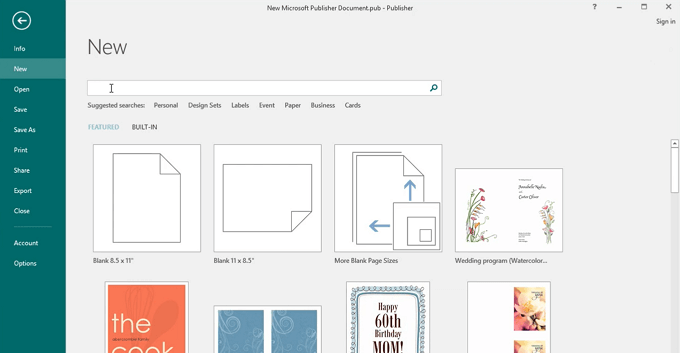 Choose a layout
Step 3. Insert a Background
Now you need to add the collage background - go to the Format tab, click Background, and select the desired option from the menu.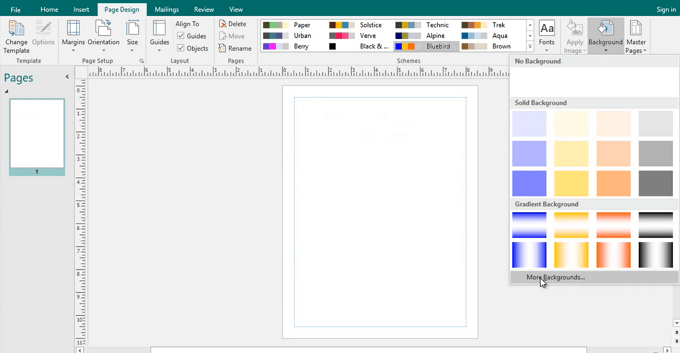 Pick up a suitable background for your images
Step 4. Add Your Pictures
To include images in the collage, open the Insert tab and hit the Picture button. You can change the size of the selected photos by right-clicking on them and opening the Size tab - just click the arrows to resize the pics.
Step 5. Save the Photo Collage
If all the images are inserted, repositioned, and resized the way you want, then it's time to export your collage. Open the File tab and pick the Save As option.
Now you know how to make a picture collage on Windows 10 in just 5 simple steps. As you can see, Photo Collage Maker grants you an enjoyable experience. You can use this photo collage app for Windows 10 to design personalized greeting cards, invitations, multi-page photo books, digital scrapbooks and print them in high quality right at home. DIY collages can become touching gifts, beautiful home decor, or eye-catching Instagram posts. Alternatively, you can try Microsoft Publisher - its functionality is rather limited, but you can still create simple photo collages in the program. There is nothing to be waiting for. Make collages on a laptop Windows 10 for the upcoming holidays and birthdays starting today!
FAQ:
Does Windows 10 have a collage maker?
To create a collage, download PicCollage on your PC. It lets you design a collage using templates, stickers, captions, etc.
For a more professional look, try Photo Collage Maker - change the background, make a text-shaped collage, use captions, add frames, apply filters, and so on.
How do I make a collage on my computer for free?
Use one of the best free collage makers for PC:
FotoJet. Use 800+ grids and share collages via Facebook, Twitter, Tumblr, & Pinterest.
BeFunky. Try the Collage Wizard to automatically generate a collage.
Fotor. Simple drag-and-drop collage maker with a handful of editing tools.
PiZap. Pick one of thousands of layouts, apply frames, stickers, and effects.
How do I make a collage on Windows?
Here's how to make a collage on a computer with Windows:
1. Download Windows Photo Gallery.
2. Choose the pictures you want to use.
3. Open the Create tab and pick Auto Collage to set the size of your collage.
4. Save the new collage on your computer.
Can I make a collage in Microsoft?
You can design a collage on MS Word. The quickest and easiest way is using the SmartArt tool, but you can also open the Developer tab and click Picture Content Control to customize the collage.
Another way to create a collage is in MS Publisher - just pick a background for your collage and insert the images you like.