Discover the Best Photo Editor for Batch Processing
It's common to edit multiple photos in Photoshop, but there are so many good alternatives to check out. Here, we've gathered a handful of first-rate programs for batch editing. In this review, you'll discover the best software for both novices and skilled users. There are relatively expensive, low-cost, and even free options - you'll find a program for any budget. Besides, you can choose either online or offline tools. So you sure will find the batch editor that will work best for you. Now it's time to get down to business!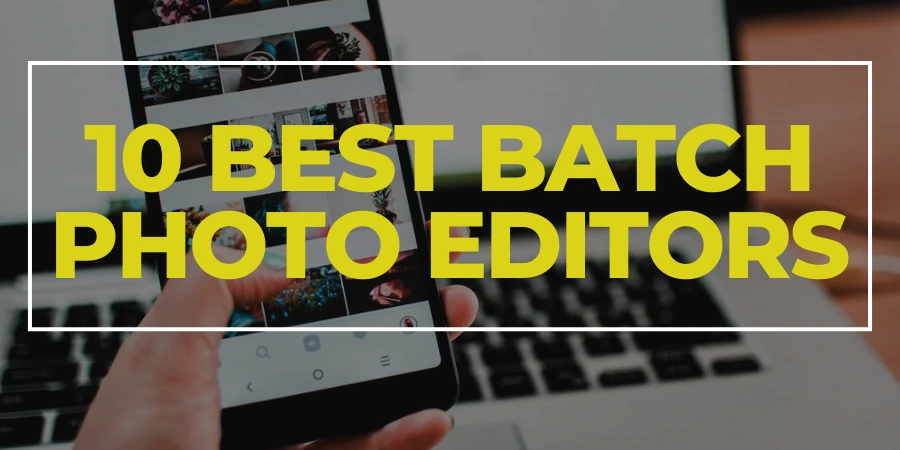 Want to edit hundreds of images at once?Do it with PhotoWorks in mere minutes!
Download
Fully compatible with Windows 11, 10, 8, 7
10 Best Programs for Batch Photo Editing
1. PhotoWorks
2. BatchPhoto
3. Adobe Lightroom
4. ImBatch
5. BIMP
6. IrfanView
7. Picsart
8. inPixio
9. PhotoScape
10. Picasa
1. PhotoWorks
⭐ 4.5/5 Laptop-friendly batch editor rich in AI tools
Smart autocorrection for each picture
Batch watermarking
450+ RAW formats supported
Limited layer editing capabilities
Verdict: PhotoWorks is a feature-packed photo editor perfect for any level of skill. It can smoothly edit hundreds of high-res images. PhotoWorks will easily substitute any advanced program and has low technical requirements.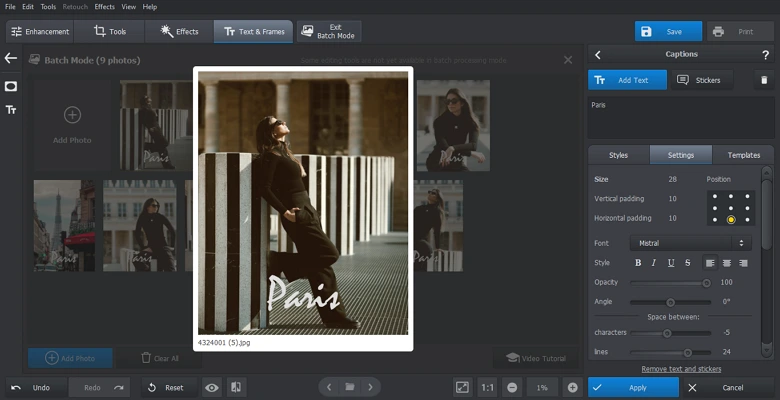 PhotoWorks, a beginner-friendly photo editor for newbies and pros
Need to edit all your photos at once?Download the best batch photo editor for free.
Download
Fully compatible with Windows 11, 10, 8, 7
PhotoWorks is a non-destructive photo editor for PC and Mac that lets you easily edit multiple photos at once. In the Batch Processing mode, you can fine-tune the colors and tones of your pictures with live preview, add captions, resize images, convert them into other popular formats, and protect a group of images with a watermark in mere seconds. It will take you a couple of clicks to simultaneously stylize your photos as a popular movie like Harry Potter or Titanic, give them a 70's look, add a Sunlight effect, or turn the shots into a Kodak or Polaroid film - just open the collection of pre-designed filters and pick one. What is especially important, the program allows you to autocorrect a RAW photo and even a group of RAW photos, so you won't need file converters or plugins any longer.
Unlike other photo editors, PhotoWorks supports content aware autocorrection - the AI-driven tools don't apply the same changes to all photos. Instead, the program identifies the problematic areas of each picture and fixes them, so all you need to do is save multiple images at once. What makes this lightweight software even more attractive is its low-cost lifetime license - you don't have to deal with a monthly subscription again and again. Begin with a free trial and see what PhotoWorks is like in practice.
2. BatchPhoto
⭐ 4/5 Convenient batch editor with RAW support
Easy to use
Supports RAW conversion
Old-fashioned interface
Leaves watermark in the free version
Verdict: BatchPhoto offers a handful of automatic tools and popular filters that let you fix pictures in an instant. But the functionality of this bulk photo editor is limited.
BatchPhoto, a program with a user-friendly toolkit
BatchPhoto, a bulk image editor for Mac and Windows, offers a number of handy features like image format conversion, date stamping, cropping, and watermarking. In case your photos need some slight changes, tweak their sharpness and brightness, and use automatic tools like Auto Contrast and Auto Gamma. In this batch RAW photo editor, you can also apply traditional filters such as Sepia, Black and White, Oil Paint, and Charcoal. You should not worry if you tend to edit lots of large files - the software will smoothly process them. It also lets you instantly share your images via email or upload them to Facebook, Flickr, and FTP.
However, in the batch photo editor's free version, your photographs will be saved with a watermark on them. After the free trial, you can purchase BatchPhoto for $34.95 - 149.95 depending on the plan you choose.
3. Adobe Lightroom
⭐ 4/5 Professional program with different ways to batch edit images
Pro-level bulk editing tools
Synchronizing in one click
Not beginner-friendly
Costly subscription
High system requirements
Verdict: Lightroom is a powerful photo editor where you can batch edit photos in just a few clicks. It's commonly used by experienced photographers who specialize in portrait retouching.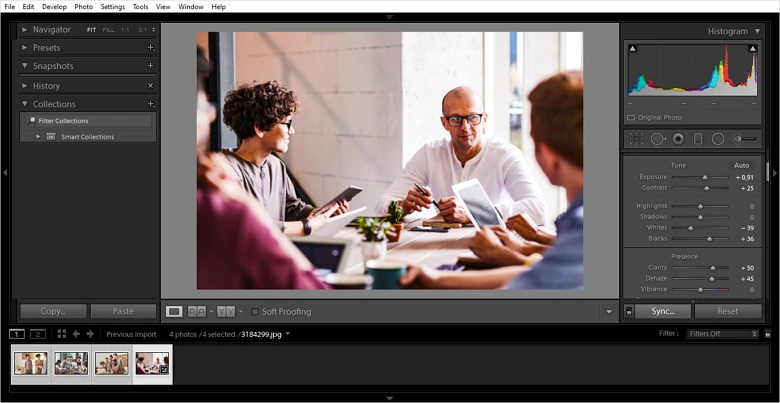 Professional photo editor for batch editing Lightroom
Adobe Lightroom is considered the industry standard for professional graphic designers and photographers, so we couldn't ignore it in our list of top batch image editors. So let's see why the product gained such popularity. Lightroom lets you batch edit photographs in a few different ways. You can either save adjustments as a preset and apply it to each picture, or simply use the Syncing function - select a group of photos holding down the Shift button and press Auto Sync. Now any changes made in the Basic Panel to one picture will be reflected across each file added to the group. Still you can just copy and paste the changes from one image to another.
Nevertheless, Lightroom is not perfect - the interface might seem cluttered to a beginner. What's more, there are cloud storage limitations in any of the paid plans. Most importantly, the monthly subscription is rather expensive, and it's not worth buying unless you need high-level mass photo editing tools on a regular basis, let's say, for work or school.
4. ImBatch
⭐ 3.5/5 Batch editor with a menu of ready-to-use edits
Batch photo resizing
Quick image conversion
Dated interface
Solely for Windows users
Verdict: ImBatch will be suitable for those who aren't much into creative photo editing and simply need to apply the same changes to multiple pictures by picking adjustments from the menu.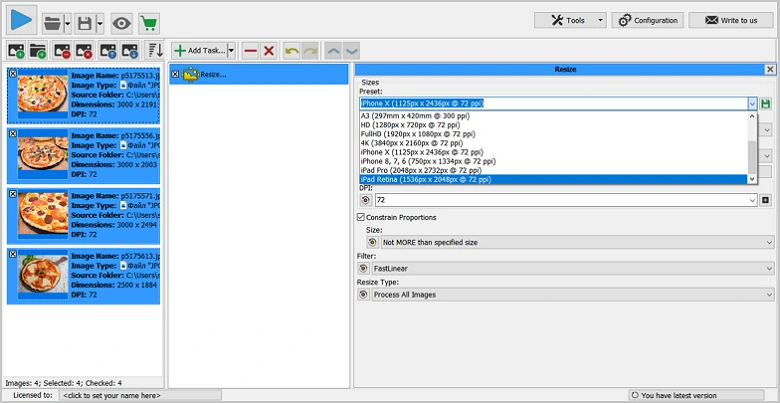 ImBatch, a program for simple photo modifications
ImBatch is a free computer program for batch editing available for Windows 11, 10, 8, and 7. With this program, you can crop, resize, rotate, watermark, and convert your pictures. ImBatch also lets you adjust HSL, add a blur effect, and more. It's very easy to use - you just need to add the files and choose a batch task from the drop-down menu. Besides, it supports both common and uncommon file formats including JPEG, GIF, FAX, ICB, G3N, G3F, WDP, XIF, etc.
Even though the interface in the multiple photo editor is clear, it looks somewhat dated which is a big deal for many users. Moreover, ImBatch doesn't offer enough tools for advanced photo editing - here you can only make basic adjustments.
5. BIMP
⭐ 4.4/5 Plugin for basic batch editing tasks
Inserts text to several images
Supports popular formats
Very few batch editing tools
Requires GIMP installed
Verdict: If you need a free program for multiple photo editing, then BIMP might be a viable option for you. But you can't use BIMP as a separate photo editor - it only works as a GIMP plugin.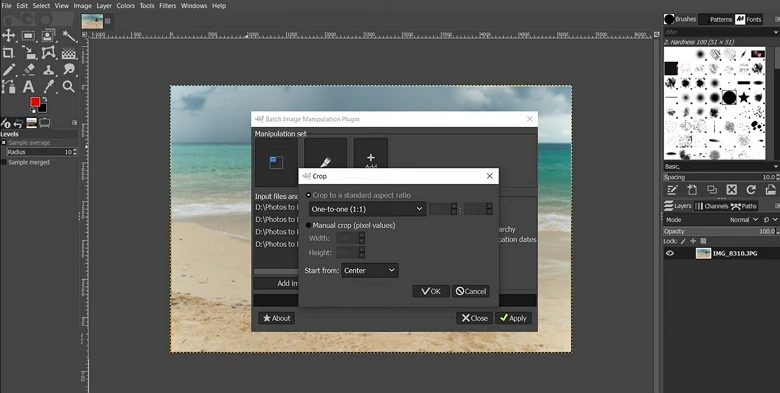 BIMP, a plugin for GIMP to change a bulk of images
BIMP (Batch Image Manipulation Plugin) is a plugin for GIMP. It offers useful features like bulk photo resizing, rotating, flipping, blurring and even image conversion to the following file formats: JPG, GIF, PNG, BMP, TIFF, MIFF, PCX, and TGA. You can also fix the colors, overlay a watermark, and add a caption to multiple photos at once. Unfortunately, there isn't much you can do with BIMP, so it's mainly suitable for simple photo manipulation tasks.
6. IrfanView
⭐ 4.5/5 Batch photo editor for quick adjustments
Fast workflow
Bulk photo cropping
No preview feature
Looks outdated
Verdict: IrfanView will edit your pictures in mere seconds. However, the confusing interface and lack of preview box might be the disadvantages that will stop you from using it.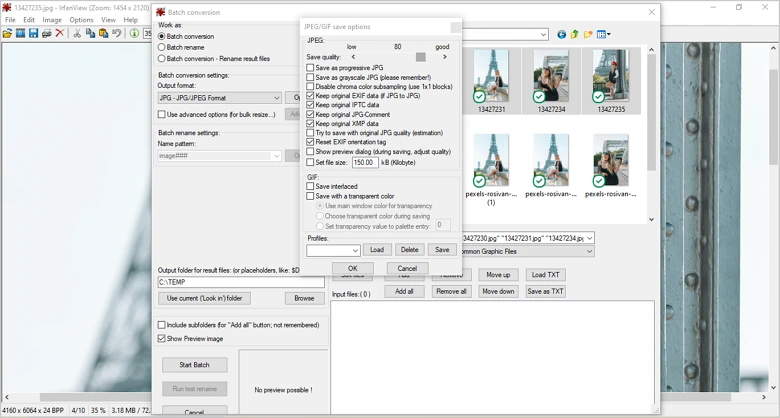 IrfanView, a simple photo editor with a batch editing feature
IrfanView is another batch photo editing computer program which you can download for free. It might seem basic at first, but there are a couple of handy tools to make use of - watermarking, cropping, color adjustment, conversion, and more. It supports GIF, PSD, PostScript, and other commonly used file formats. IrfanView has numerous plug-ins, filters, and lets you scan photos within the program. Still, there's no preview feature and very few tools for altering photographs.
7. Picsart
⭐ 4.4/5 Internet-based bulk photo editor
Bulk watermarking
Batch background removal
Limited functionality
Too many ads
Verdict: To alter images online, you can use Picsart without a second thought. It is very easy to use, but you'll need to get the paid version to avoid the app's watermark.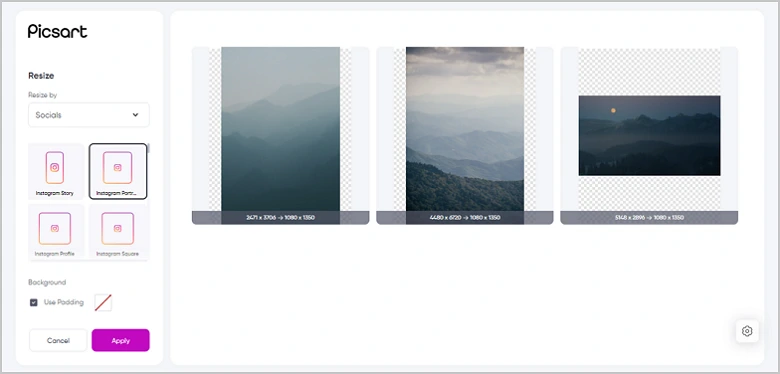 Picsart, an online tool for editing a group of photos
Picsart is a photo editor that lets you edit up to 50 images at once. It offers a separate tool which allows you to remove the background from several pictures, simultaneously upscale and resize multiple photos. Furthermore, in Picsart, you can crop your images and add a watermark.
But the free version will leave the Picsart watermark on your files. You can't export your pictures for free either. There are three pricing plans in the bulk photo editor - Free, Picsart Gold for $4.66/month, and Team for $6.24/month. You can use the online tool or download Picsart from Microsoft Store, Google Play, and App Store. Still, keep in mind that there are a lot of distracting ads in the mobile app.
8. inPixio
⭐ 4/5 Lightweight photo editing app
Quick installation
Presets available
High-cost subscription
No background replacement
Verdict: inPixio is a handy batch editor that anyone can handle. But the program offers rather limited bulk editing functionality.
inPixio, a photo editor with easy-to-use tools
inPixio is a computer program for photo manipulation compatible with Windows and Mac. In this software, you can do batch photo cropping, adjust saturation and exposure of a group of images, dehaze or sharpen them, apply LUT styles, frames, and presets to all your shots at once.
Nevertheless, the opportunities are far from endless. For instance, you can't change the background of more than one picture at a time. Sky replacement is also unavailable in this mode. If you like inPixio, you can purchase a 1 year subscription for $49.99 - 99.99 depending on the pricing plan you select - Photo Studio, Photo Studio Pro, or Photo Studio Ultimate.
9. PhotoScape
⭐ 4.6/5 Photo editing software with presets
Custom presets
Filters and frames available
Confusing tools arrangement
Possible image quality loss
Verdict: PhotoScape is suitable for making small changes and applying filters to several pictures at once. But the interface of the software might seem a little clunky.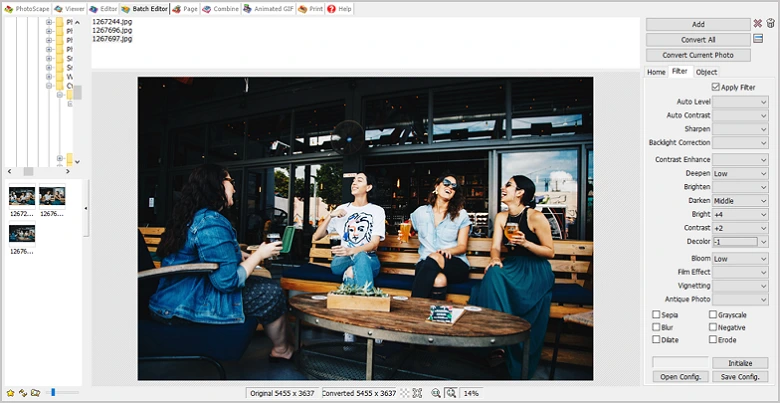 PhotoScape, an editor for an instant stylization of a photo batch
PhotoScape is free batch processing software where you can save photo adjustments as a preset and apply it on either just one picture or a group of pictures. The program lets you select several shots and change their settings, such as Brightness and Contrast, or apply various effects like Blur, Sepia, Vignetting, and others. You might also like to resize the added photos and decorate them with a frame.
However, you may struggle to find the tools you want at first due to the inconvenient interface. Besides, you can find lots of negative reviews on PhotoScape as images tend to lose quality after being processed in the program.
10. Picasa
⭐ 4.4/5 Handy photo organizer with batch editing tools
Automatic color correction
Original images are altered
Only basic edits available
Inconvenient batch photo processing
Verdict: Picasa will help you keep pictures organized on Mac and Windows. You can use the batch editing feature to apply simple changes, but the software will alter the original pictures.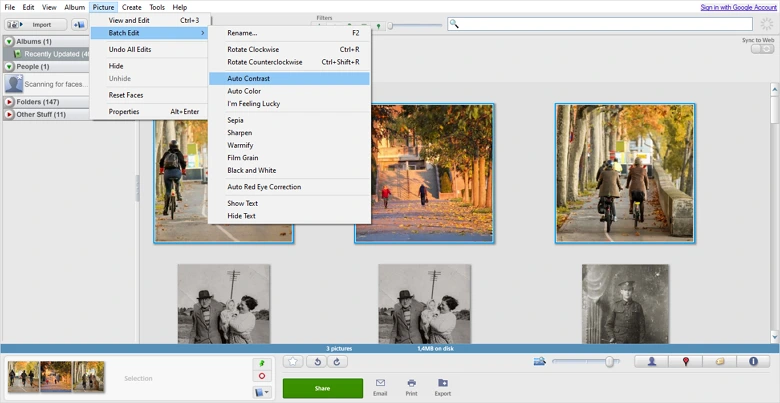 Picasa, a program for simple and quick adjustments
Picasa, a computer program available for Windows and Mac, features multiple photo editing, too. The software allows you to make such adjustments as Rotation, Auto Color Correction, Auto Contrast, Sharpening, Red Eye Correction, and so on. But you can only apply one effect at a time - you have to go to the Batch Edits menu every time you need to change a setting. What's more, particular tools and filters are not available for bulk photo editing. There's another drawback you might face - all changes are applied to the original files, but still Picasa saves copies of the original shots in the Picasa Backup folder.
How to Edit Multiple Photos at Once: Conclusion
We've shown you top 10 batch photo editors available in 2023. All the listed programs will help you fine-tune several pictures in a moment, but they vary greatly in their functionality, price, and system requirements. So make sure you select the one which meets your needs and budget.
For example, you can go for Adobe Lightroom if you want advanced editing tools and you're willing to invest money in photo editing. In case you need a feature-rich photo editor with an intuitive interface, you won't regret trying PhotoWorks - it will let you upgrade your images in any way you want. Finally, check out ImBatch for simple bulk editing tasks. Now you're ready to choose a suitable photo editor, so go and give it a try.