How to Put a Watermark on Photo Without Photoshop





5.0
Votes:

3

(Rated: )
Don't want strangers to use your photos without permission? The best way to protect your photography copyright on the Internet is to add a watermark to your pictures. But where do you get one? Well, you can create a watermark for your photos yourself. Is Adobe Photoshop your best option to create a digital signature? Unlikely as you'll need to spend time climbing its steep learning curve and pay an expensive monthly subscription.
In this step-by-step guide, we'll show you how to put a watermark on a photo in 5 easy ways: with smart desktop softwares, a user-friendly online tool and an intuitive mobile app. Keep on reading to pick the best option for you:
1. How to put a watermark on a photo in PhotoWorks
2. How to watermark numerous pics in BatchPhoto Pro
3. How to put photography signatures on pics in MS Paint
4. How to protect your copyright on photos in Watermark.ws
5. How to create digital signatures for images in iWatermark
Way 1. How to Add a Watermark to a Photo on PC
Looking for a powerful yet easy-to-use photo editor? Get started with PhotoWorks, photo editing software for PC with an intuitive interface and tons of useful features. It has tools for enhancing images of all genres: landscapes, indoor photos, portraits, and whatnot. When it comes to digital signatures, the software will help you make your own watermark in under 5 minutes and place them on as many images as you want.
Step 1. Open Your Photos in PhotoWorks
Run PhotoWorks and open the picture you need to apply a watermark to. If you want to place your digital signature on multiple images, switch to the Batch Mode and upload a whole folder. Then move to the Text & Frames tab and choose the Text tool to design your watermark.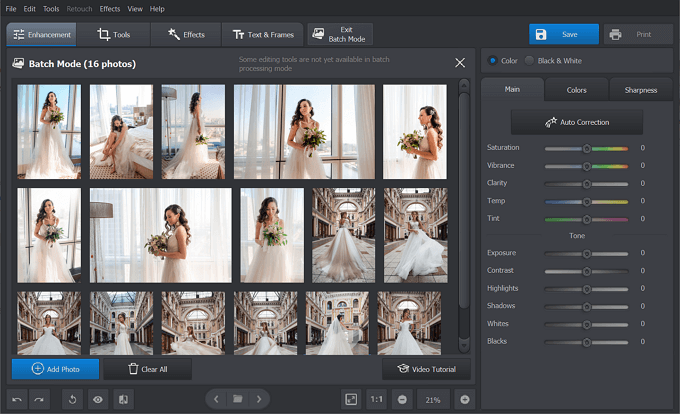 Open multiple pictures in the program
Step 2. Customize Your Signature Captions
Type in your watermark text. Choose an appropriate style from the built-in options or create your own design. The program will automatically batch watermark multiple photos if you are editing them at the same time.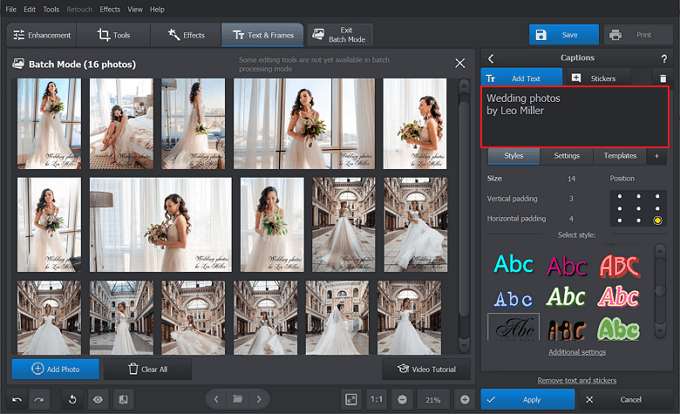 Insert your watermark text
Step 3. Create Your Watermark Template
Switch to Templates and click Save Template. Now, you have your watermark design and its position on the photo saved for the further use. Your digital signature will be kept within the program, so you don't need to create any special folders on your PC.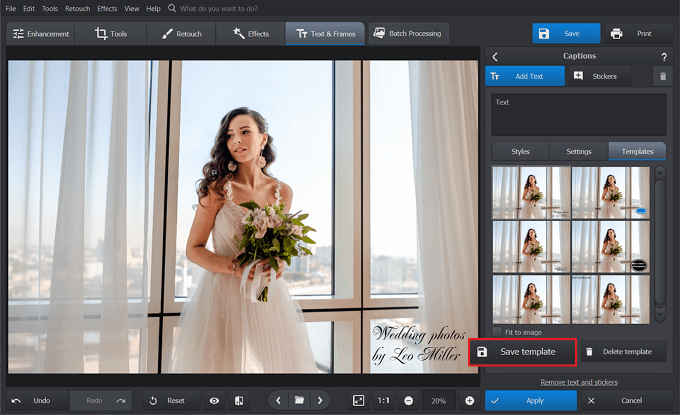 Create a template of your digital signature
Step 4. Batch Watermark Your Pictures
Once your watermark looks perfect, click the Apply button. Then, hit the Save button to export all your watermarked photos in PNG, JPEG, BMP, or TIFF.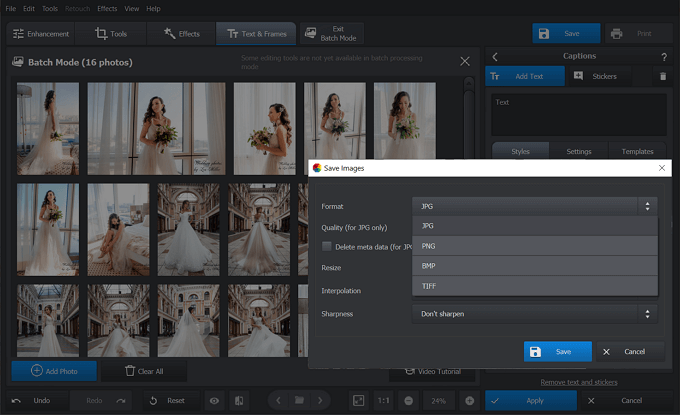 Export your watermark in the necessary format
Do you prefer video tutorials to written ones? Check out this complete guide on batch processing in PhotoWorks and learn how to watermark multiple photos at once:
Want to try this watermark app for PC yourself?
Click the button below and download its free trial.
Download
Fully compatible with Windows 11, 10, 8, 7
With PhotoWorks, you can either stick to a minimalistic text or you can go with a sign against a beautiful background from the software's sticker collection. Want a logo watermark? The program offers tools to create that as well. So there is a diversity of options for every user who needs a digital signature of any kind. Besides, PhotoWorks comes at an affordable price and in two types of licenses both for regular and casual users. So every photo enthusiast can afford to use it.
Way 2. How to Create a Watermark for Photos on Mac
Are you a Mac user? There is a way of adding a watermark to your images as well. Get yourself BatchPhoto Pro, a special batch processing editor for cropping, rotating, converting, and adding digital signatures. The software offers you three watermarking options: text, logo, and mask. Let's dive into the tutorial to get a closer look at these options.
Step 1. Upload Your Pictures
Start the program. Once you find yourself on the startup screen, upload your selection of photos.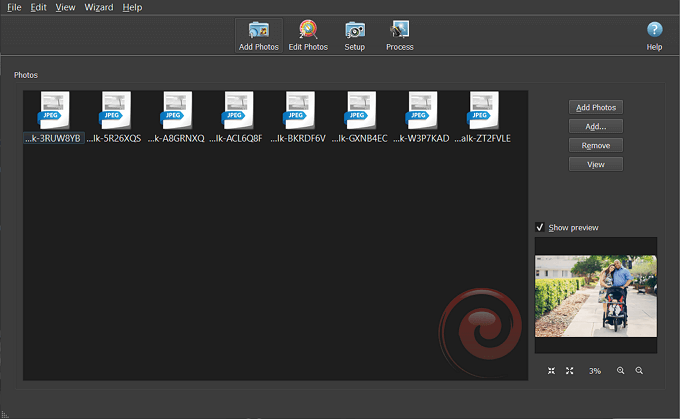 Import your folder with pictures
Step 2. Watermark Your Images
Move on to the Edit Photos tab and select Add Filter. Then, you can either choose Watermark-Text, Logo, or Mask. The last two require you to upload a predesigned signature from your computer, so we will go with Text to create our own. Type in your text into the dialog box and choose the font, color, and size you like.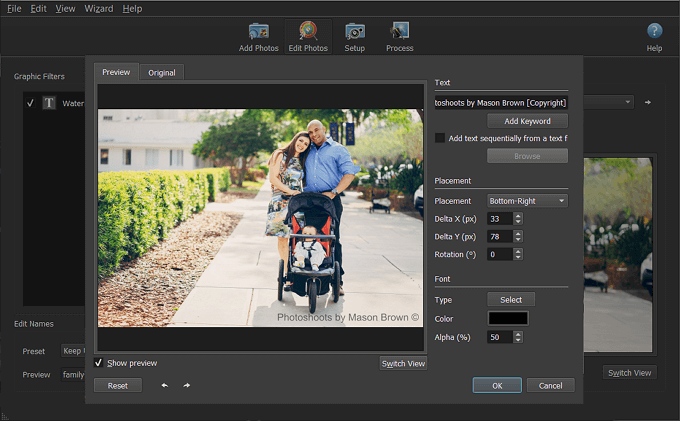 Customize your watermark text
Step 3. Save Photos on Your Mac
Switch to Setup to select the format you want all your images to be saved in and where to export them to. Then go to the Process tab, and your watermark will be automatically applied to all your photos and saved on your computer.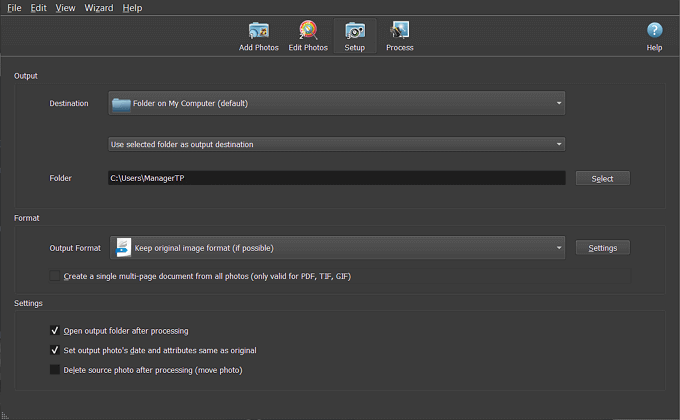 Save your watermarked batch
BatchPhoto Pro is intuitive and does a fine job of adding a digital text signature to pictures. However, it is very limited in creative features. So you won't be able to create a logo or a mask watermark in the program but only add a premade one instead.
Way 3. How to Make a Watermark in Paint
In case you are a PC user who prefers to go with a program you already have built in, make a watermark for photos in MS Paint. You will see how easy that is in this tutorial. However, bear in mind that MS Paint isn't really known for image watermarking capabilities. Which means you won't be able to make anything super creative. If adding minimalistic text to your image is exactly what you are going for, MS Paint will assist you with that, no doubt.
Step 1. Open Your Photographs
Launch MS Paint on your PC. Go to the File menu and click Open to import your image.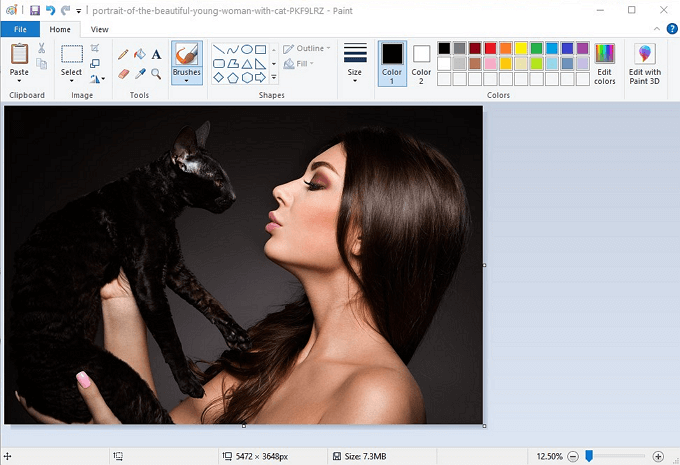 Import your picture into the program
Step 2. Type in Your Signature Text
Choose the Text tool, click anywhere on the picture, and type in your watermark text. Then, set its font, size, color, and opacity and choose the best place for your text.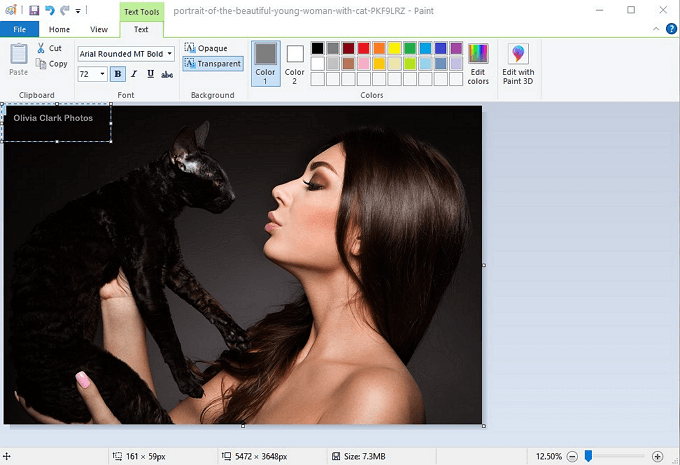 Type in the text you want to be your digital signature
Step 3. Save Your Work
Once you add your watermark to photos, go to the Files menu and click the Save As button. Select the format you want your image to be exported in and the folder to save it to.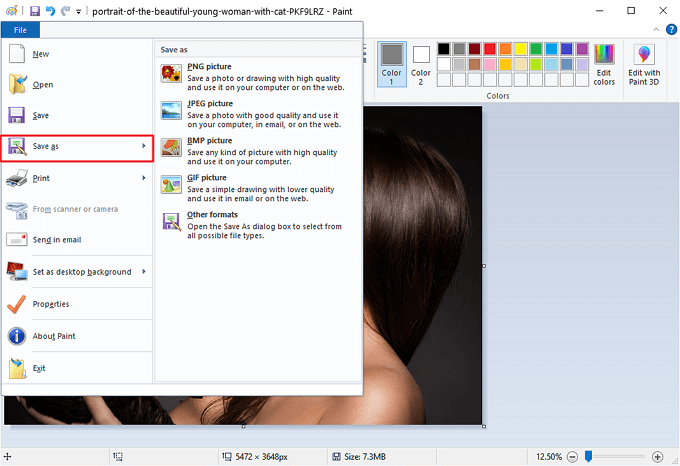 Export your image to your PC and share it
Microsoft Paint has a handy text tool. However, it is too primitive for creating a professional watermark and can't give you much artistic freedom in the process. Besides, it neither allows you to add your signature to multiple pictures at the same time nor to create a watermark template. So in case you want to make a one-of-a-kind copyright signature, there are alternative programs in this tutorial that can help you with that.
Way 4. How to Add a Watermark to Your Picture Online
Want to watermark photos online instead of downloading extra programs? Do that with Watermark.ws, an automated tool specializing in digital signatures. You can use it to either create your own copyright text or to add an existing watermark logo. The editor is equipped with tons of fonts and a nice color palette. So your signature will look stunning in your picture. Besides, there is a special feature that allows including your personal handwritten signature in the photo.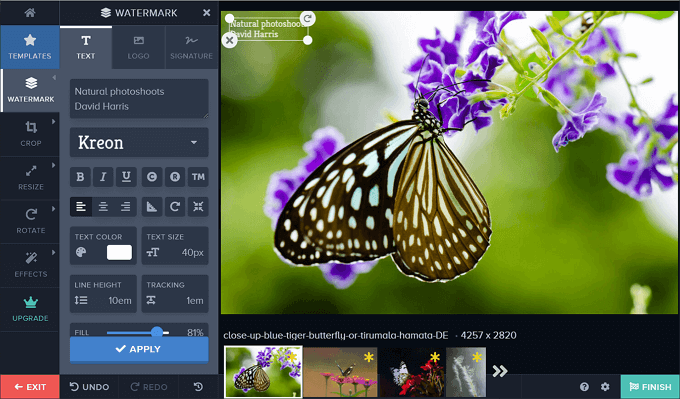 Online watermarking tool
The tool makes it possible for you to place a watermark on several photos at the same time and to create templates of your digital signatures. However, not all features of the watermarker are available for free. And the premium version only comes with an annual subscription. Besides, some people might feel uncomfortable with giving the website access to their personal photo gallery. This way of adding a watermark might also be a bad idea for users with a poor Internet connection.
Way 5. How to Place a Watermark on Photos on Mobile
Prefer working on photos using your iPhone? Then iWatermark is the tool to employ. It is a mobile app to add watermark to multiple photos available to both iOS and Android users. It allows users to upload premade custom signatures and create their own logo and text watermarks. You can even place a QR-code on your shots to help people trace and contact you easier in case you are sharing your photos via a public group or account.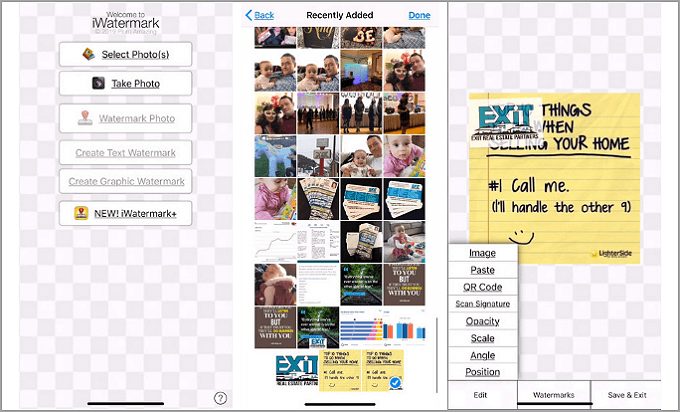 An app for adding a copyright signature to your pictures
However, the downside to this smartphone app is that it comes with no demo version or trial. So there is no way for you to get better acquainted with the tool before purchasing it. Besides, aссording to the recent reviews, this editor doesn't function properly after its latest update. So you might get cut off the creative process right in the middle of it.
What Software to Use?
Now it's time for you to choose which photo editor to employ for watermarking your images. Watermark.ws would be great for long-term users, who enjoy editing online. MS Paint would do for those who prefer the good old classics. iWatermark is a solution for smartphone photographers. BatchPhoto Pro will work for the Mac squad who need a simple watermark in minimum time. And finally, PhotoWorks is an excellent choice for busy PC users who love smart and ergonomic solutions and want to save their time and energy.
Apart from being a helpful watermark tool, PhotoWorks is a powerful image enhancer that allows you to perform a variety of editing tasks: retouch portraits, remove unnecessary objects and people, switch the background, tune colors, apply filters and effects, and remove grain. That is why this image editor will be useful for both professional and amateur photographers.
Need to protect your photos from unauthorized use? Click the button and start a free trial of this watermark app for Windows!