8 Best Automatic Photo Editors in 2023 for Novices & Pros





5.0
Votes:

4

(Rated: )
Last updated: 01.06.2023
Can't devote much time to editing, but don't want to sacrifice the quality of your photos? Looking for the best automatic photo editor to help you in your photo editing endeavors? Either way, you no longer have to spend hours searching for the right program. Here, we've compiled a list of the top auto photo editing programs that work for experienced users as well as complete beginners.
Best Automatic Photo Editors
1. PhotoWorks - Best all-in-one auto editor

2. Luminar - Best for AI image modification

3. Lightroom - Best for color correction

4. InPixio - Best for simple image editing

5. PhotoScape X - Best for batch processing

6. VanceAI - Best for effortless improvements

7. Nik Collection - Best for specific enhancements

8. Fotor - Best for tinting photos with filters

Best Automated Photo Editing Software
Below, you will discover the best automated photo editing programs that suit your needs, budget, and skill level. Let's dive in!
1. PhotoWorks
PhotoWorks is automatic photo editing software that works smoothly on any desktop or laptop PC. It is packed with auto enhancement tools that are easy to operate even for beginners. Thanks to AI technology, you can make precise contrast, exposure, and color corrections with a single button click without tedious manual curves adjustments. Make your photographs pop in no time with numerous built-in filters and 3D LUTs. Retouch your portraits in a flash - whiten teeth, remove wrinkles and blemishes, sculpt your body. What's more, the program offers handy batch processing. It allows you to fix the most common photo problems and add captions or watermarks to multiple pictures at once. The program also has a feature for altering or erasing your backdrop without using complex selection tools and cumbersome masking methods.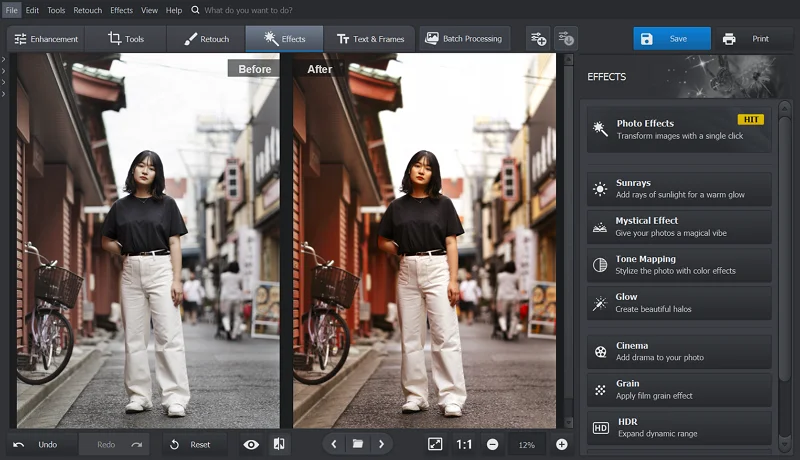 Autocorrect your photos in a snap with PhotoWorks
Content-aware auto correction
Batch image processing
Portrait Magic tools
200+ artistic filters
Intuitive workflow
Some tools are unavailable in the free trial
Verdict. This software provides everything you need for convenient yet effective editing, whether you're a novice or a pro in this field. And the coolest thing is that the program runs without a hitch on any PC, even on low-end laptops. If you're ready to try out PhotoWorks, just click on the button below to download the installation package.
Want post-processing to be a cakewalk?Try the best auto photo editor for free right now!
Download
Fully compatible with Windows 11, 10, 8, 7
2. Luminar
Luminar is easy-to-use software equipped with innovative AI-powered tools and available on macOS and Windows. With this automatic photo editor, you can effortlessly improve your photo's structure and appearance, eliminate motion blur, or retouch your portrait thanks to artificial intelligence. Switch the focus from the backdrop to the main object, add lifelike fog, or relight your photograph completely with a single click.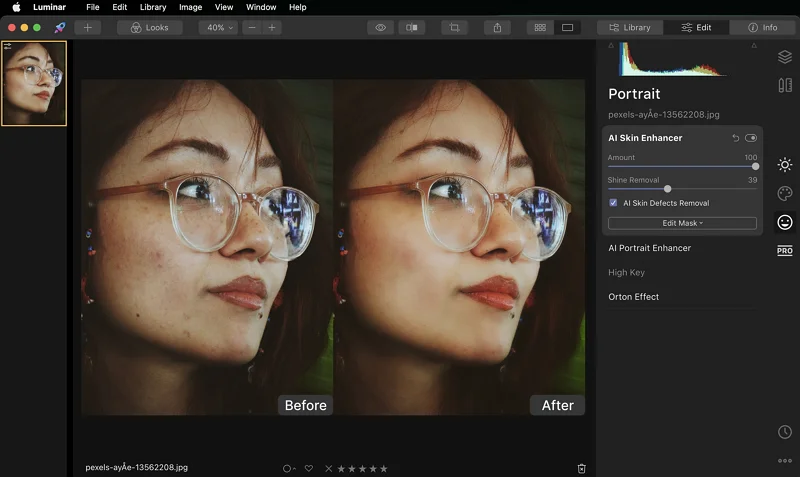 Make automatic portrait enhancement with Luminar
Supports batch picture editing
Numerous AI-driven tools
Dozens of presets
User-oriented interface
Won't run properly on low-end computers
Quite expensive
Verdict. The program's powerful toolset is designed to help you bring your creative ideas to life. However, to ensure that the software runs smoothly and efficiently, you need to have a high-end computer. Plus, there is no free trial period. Click the link below to get this program and start processing your photos in it.
3. Lightroom
Lightroom is widely respected software in the professional photography field. Thanks to the Adobe Creative Cloud ecosystem, this handy software lets you polish your pictures on the go. Simply begin your automatic photo enhancement on your PC or Mac and continue the work on your tablet or smartphone (and vice versa). Make easy and good-looking color corrections on each photo separately or in batch using free and paid presets from the program's extensive collection.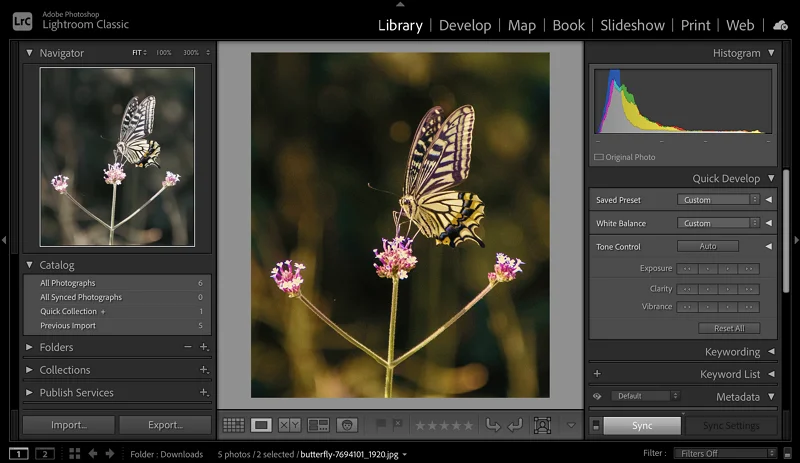 Autocorrect your photos quickly with Lightroom
Fast batch processing
Works across all your devices
Vast collection of presets
Quite complicated workflow
Expensive subscription
Lots of tools are still manual
Verdict. Despite all the advantages and popularity of Adobe products, this auto photo editor might not be a great choice for infrequent use. This is because mastering the program is rather tedious and the subscription is quite expensive. Still want to try it out? Follow the link below to download the app.
4. InPixio
InPixio is a free auto-fix photo editor packed with artificial intelligence enhancement tools. Apply effects and filters to enhance your pictures in a snap. Erase bystanders and unwanted objects, delete the backdrop, and blur the surroundings effortlessly using automatic tools. Add a frame from a diverse collection to add a finishing touch.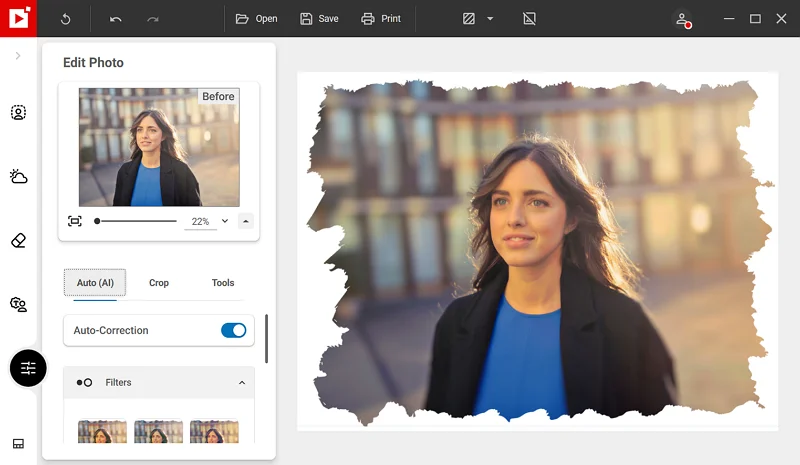 Improve your image appearance instantly with InPixio
Beginner-friendly software
Erase Objects and Remove Background tools
100+ filters and frames
High-cost subscription to access advanced features
No batch processing option
For Windows PCs only
Verdict. This software has a wide range of effective tools that are easy to use for newbies but suitable for professionals as well. The main downside is that you need to enhance each shot individually because there's no option to edit in batch. Plus, not all automatic features are available in the free version. Want to give this program a try? Follow the link below to install it on your computer.
5. PhotoScape X
PhotoScape X is free software that comes with a video tutorial library for convenient editing. It's not just a photo auto editor but also a screen capture tool, a GIF creator, a photo viewer, a collage maker, and more in one app. It also has a powerful batch mode that lets you improve photos quickly with numerous automatic adjustments - cropping, resizing, adjusting colors, applying filters, adding frames and stickers.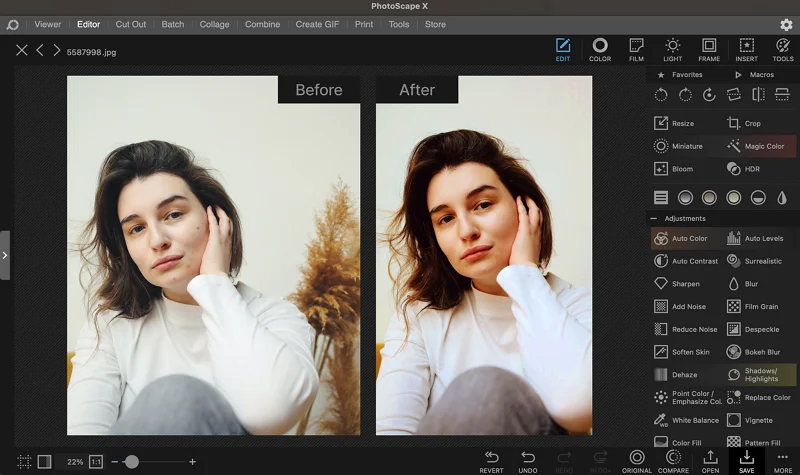 Fix your pictures in a jiff with PhotoScape X
Easy-to-use tools
Powerful batch photo editing
Huge collection of video tutorials
Confusing layout
Quality loss while saving
Verdict. It's a great program for newbies thanks to video tutorials on how each tool operates. Plus, it saves time because of all-round batch processing. At the same time, loss of photo quality after editing and a baffling layout are the main drawbacks. To test the program, try out its free version or purchase the Pro edition via the link to unlock the full set of available tools.
6. VanceAI
VanceAI is an online tool for those who don't want to install anything on their PCs. Enhance your photos automatically and fast with smart AI technology. You just need to upload your picture, and the program will do the rest - boost image resolution, improve overall clarity, and denoise your shots. What's more, you can use Vance AI to retouch your portraits, restore and colorize old family photos, and transform your selfies into anime pictures.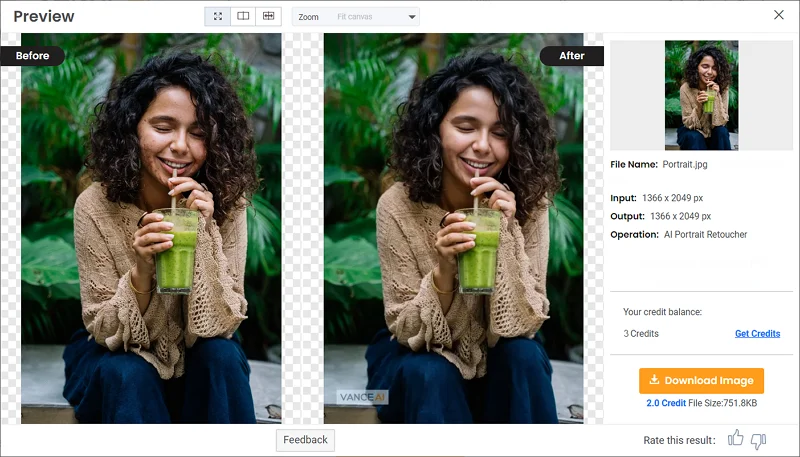 Remove your acne scars and wrinkles automatically with VanceAI
Speedy batch processing
Highly functional AI-based tools
Has web and desktop versions
Customizable workflow
Limited amount of credits for free editing
Requires to re-upload the photo for each editing action
Verdict. VanceAI can be a nice pick if you need a powerful photo editor that handles all the work for you efficiently or with minor manual tweaks. But if you plan to edit a bulk of photos or use several features, you will have to purchase additional credits as the amount of offered ones is limited. Try this editor online or click the link below to download the desktop version.
7. Nik Collection
Nik Collection is a combination of seven plugins, each targeting a particular purpose and having its own set of features. Color Efex Pro is great for general retouching and color correction. Analog Efex Pro lets you add a vintage vibe to your photos with various automatic presets and tools. Silver Efex Pro is packed with comprehensive tools for black-and-white image editing. Viveza comes with slider-drag tools for quick automatic photo enhancement. HDR Efex Pro is designed for creating artistic HDR pictures. Dfine is a noise reduction plugin. Sharpener Pro is intended to restore image sharpness or highlight specific objects.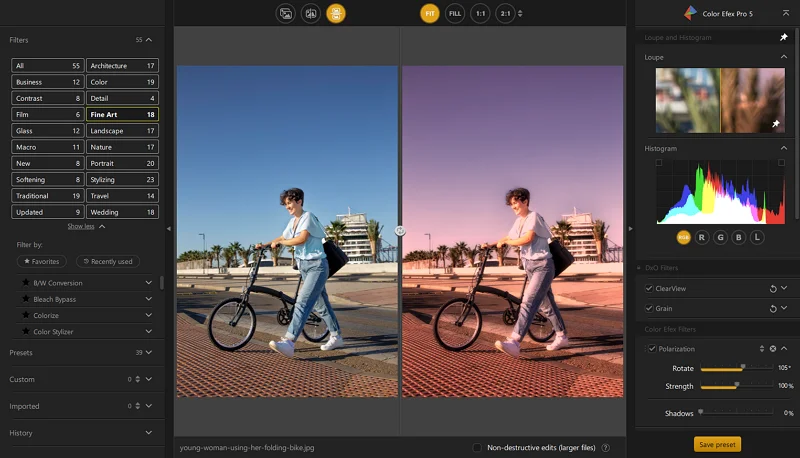 Auto-fix your photos with the Color Efex Pro plugin
Collection of 150+ presets
Can be integrated into various editors
Easy to operate
Limited functionality of each plugin
Quite expensive
Verdict. Each Nik Collection plugin demonstrates great results in its target task. However, to achieve all-round editing, you need to use several plugins individually, and that is not very convenient. Plus, the program is rather costly. Use the link below to download the program.
8. Fotor
Fotor is an image processing platform that is really easy to handle. You can use this automatic photo editor online or install a desktop version on your PC, Mac, or smartphone. Using its color effects, you can make your pictures stand out in just a few clicks. Change backdrops in no time with Fotor's content-aware background remover or enhance your portraits with the AI-based Beauty feature.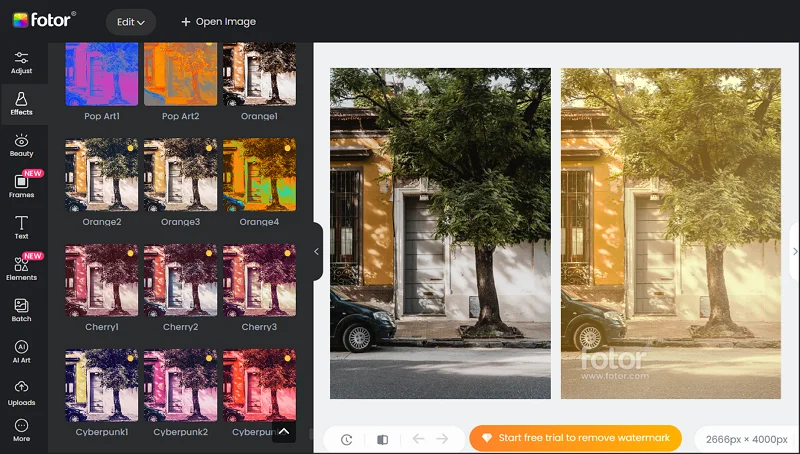 Spice up your photos with Fotor's filters
Huge library of artistic effects
Can be installed on any device
User-friendly interface
Free version has watermarks and lots of ads
Some features are only available with a subscription
Web version can crash sometimes
Verdict. Fotor is a beginner-friendly tool for adding a pop of color and retouching your photos. On the other hand, to get a finished result that you can share on social media, you have to purchase a subscription just to get rid of the watermark. Test the program online or check out the link to download its desktop version.
Final Words
These were the 8 top-rated automatic photo editing programs. Most likely, you've already found a few editors that meet your needs and skills. If you haven't made up your mind yet, let's briefly review our favorites.
If you're a seasoned user of Adobe programs, then pick Lightroom. Want to upload a photo and get the end result without any effort? Go with VanceAI. Need a quick photo enhancement? Check out PhotoSpace X and Fotor.
Want software that strikes the perfect balance? Take a closer look at PhotoWorks. It's suitable for both newcomers and seasoned professionals and is effective without being complicated. The combination of all of these factors, along with an affordable price, puts this photo editor at the top of our list.
We hope this detailed review will help you make the right choice. Now go find the shots that turned out not good enough to share on social media and transform them into stunning photographs.