All-in-One Slideshow Maker for PC
Say goodbye to boring photo albums and endless social media feeds - there is a better way to showcase your favourite pictures.Turn them into engaging photo movies with SmartSHOW 3D. This easy-to-use slideshow maker for PC has all the tools you'll need to tell your story: beautifully designed templates, awesome effects and transitions, and a vast collection of music tracks.
Think this software sounds too good to be true? Then have a peek at SmartSHOW 3D in action to learn more about this revolutionary program:
Eager to try SmartSHOW 3D yourself? Then don't waste a minute and download it for free by clicking the button below.
3 Reasons to Try This Powerful Slideshow App for PC
Why does SmartSHOW 3D stand out from the plethora of other slideshow apps for PC? Because it combines pro-level technologies and an abundance of cool effects with ease of use. Have a look at what SmartSHOW 3D has in store for you:

Templates for Days
Enjoy 200+ professionally-designed templates for almost any occasion - wedding, birthday, vacation, etc. Pick a theme, add your pictures and music of your choice - and you'll have an awesome slideshow video in mere minutes!

Stunning Effects
Just think what you can do with 400+ effects at your disposal! Smooth transitions, dynamic animations, cool 3D collages, stunning nature effects - all this magic is at your fingertips. You can even create your own animation with no effort.

Royalty-Free Tunes
No need to surf the Internet for a perfect tune - SmartSHOW 3D has a built-in music library. Liven up your movie with 230+ music tracks and sound effects. Calm or upbeat, slow or energetic, folk or pop - this software has something for every taste.
How to Make a Slideshow on PC in Just 3 Steps
Whether it's your first time creating a photo movie or you are the reigning slideshow champion, you'll have a blast working with SmartSHOW 3D. Let's walk through this engaging and fun process of bringing your pictures to life.
Step 1. Add Your Photos
Pick the Slideshow in 5 Minutes option or go with a blank project to create a presentation from scratch. Add your pics to the timeline and arrange them the way you want. You can even add video clips to make your slideshow more dynamic. There is no limit to how many media files you can use.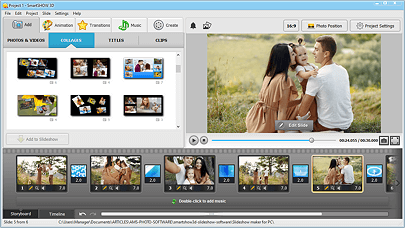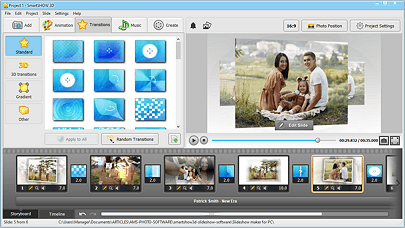 Step 2. Apply Cool Effects
Funk up your slideshow with cool animations, spectacular transitions, title cards, and captions. Sprinkle in some nature effects like snowflakes, leaves, sparks, or bubbles to complement your slides. Better yet - create animation effects of your own with an easy-to-use animation editor.
Step 3. Pick the Soundtrack
Make your picture slideshow sound awesome! Use the built-in collection of 200+ tracks in any genre, tempo, or mood. Have a specific vision? Then add a song of your own. Go with a single tune or use as many melodies as you want. Record and add voice comments to tell a story behind the pictures.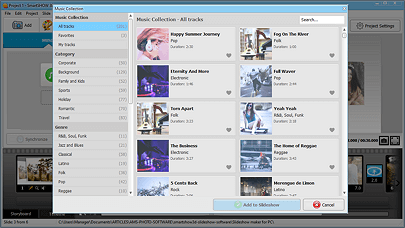 And there you go! Now you just need to save your slideshow with music in a convenient format and share it with the world.
Use Templates to Create Great Slideshows in Minutes
SmartSHOW 3D has an immense collection of time-saving templates. There are over two hundred themes for any occasion. Created by professional designers, these templates will be the perfect frame for your wedding slideshow, graduation video, vacation movie, or a birthday video card. Have a look at some of the most beautiful themes this photo slideshow maker for PC has to offer:
So if you need a slideshow creator for PC, you can't go wrong with SmartSHOW 3D. Its powerful animation engine, tons of effects, and ready-made templates make this software one of the best slideshow makers on the market. It has a free trial version, so you can try it right now!