How to Make a Wedding Slideshow: Fast & Easy





5.0
Votes:

190

(Rated: )
Your dream wedding is over, but you still have that sweet lingering feeling. Want to make it last even longer? Create a wedding slideshow then! You don't have to be a pro in slideshow making to craft a romantic video all by yourself. With SmartSHOW 3D, you can make stunning wedding videos even if you've never done it before. Just take your best wedding photos, add a lovely tune, throw in some eye-catching effects, and you'll have a gorgeous slideshow in a flash.
Turn your wedding photos into a tear-jerking slideshow with SmartSHOW 3D!
Have a look at the wedding slideshow example made with SmartSHOW 3D:
Want to create a wedding slideshow just as lovely? You can! In this guide, we'll show you how to craft a similar video blow-by-blow. Besides, we'll be happy to share some great tips on how to make your slideshow even more memorable. Let's dive in!
Surefire Wedding Slideshow Tips
Don't know where or how to start with your wedding slideshow? These little tips will help you:
Don't just stick to pictures, use videos, too - Sure, you have tons and tons of wedding photos and each one of them is gorgeous. But what about videos? Using a footage from your ceremony is a great way to liven up your slideshow and make it more dynamic. Did anyone film you give your vows? You have a video of your little niece being the cutest flower girl? Add that!
How long should a wedding slideshow be? - To be safe, use the Goldilocks approach. Do not make your video too long because it will bore the viewers. But don't make it too brief either, since the video will be underwhelming. There is no perfect running time for a wedding slideshow, but most people agree that a video should run for two average-length songs.
Avoid making your slideshow too flamboyant - "Less is more", remember? Even though SmartSHOW 3D offers 390+ animation effects and transitions, don't be tempted to use all of them. Make your wedding slides graceful and subtle, do not overcrowd them with flaming hearts, rotating rings, or soaring doves. A glowing quote or floating bubbles would be enough.
Decide on how you are going to show your video - Why now? Because you'll need to choose the right saving format for your slideshow. SmartSHOW 3D offers 30+ formats that include a video for TV, phone, tablet, popular social media, etc. So whether you want to show your video on TV, upload it straight to Facebook, or burn it to DVD - go with the right format.
How to Make a Wedding Slideshow in a Few Steps
Sure, there are countless slideshow making softwares, both desktop and web-based (no doubt Powerpoint and Smilebox come to mind). However, these programs either lack features or they are just too complicated to master. SmartSHOW is neither of those things. This powerful slideshow maker offers a plethora of eye-catching effects and beautiful templates. And at the same time it has a clear interface and is very easy to use and navigate. So let's use SmartSHOW 3D to make a wedding slideshow in 5 simple steps.
Get started with SmartSHOW 3D for free!
Step 1. Add Your Wedding Photos and Videos
Run the software and choose a suitable project type. Go with "Slideshow in 5 Minutes", if you want to use one of the pre-designed templates, or choose "New Project" if you want to create a wedding presentation from scratch. Add your wedding pictures and videos to the timeline. Shuffle them, or put them in a strict order, if you want to chronicle your big day.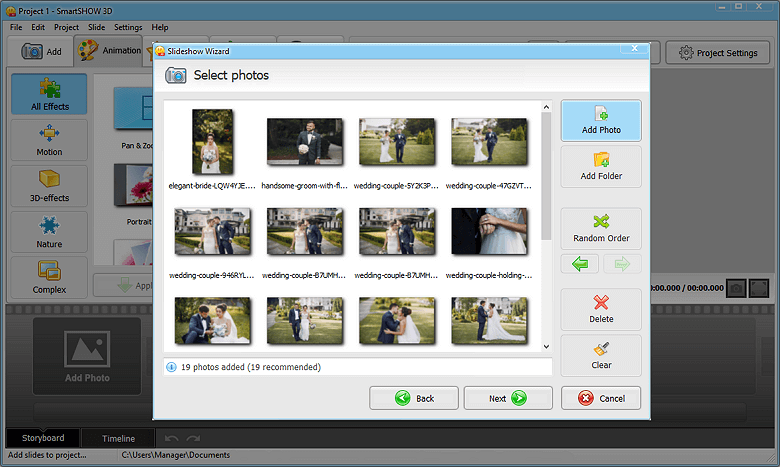 Add your most beautiful wedding photos and videos to your project
Step 2. Apply Beautiful Effects and Animations
Now let's add some magic to your slideshow. Use slide animation effects to make your photos pan left and right, zoom in and zoom out, or rotate around. Apply various transitions to make your slideshow either dynamic and explosive or calm and graceful. Add beautiful nature effects like floating bubbles and glowing hearts to make your video even more fairytale-like.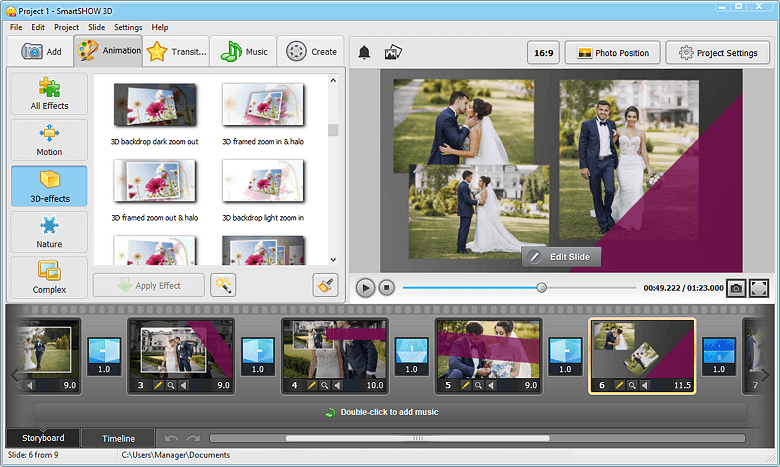 Choose a suitable project format and add your pictures
Step 3. Insert Dates and Meaningful Quotes
Still have a lot of heartwarming words unsaid? Then add them to your wedding picture slideshow. Use the Edit Slide module to insert touching quotes, poems, or declarations of your love. Type in your text or your wedding date, choose font style, animate it the way you want - make it float around or just keep it still, but add glowing to it.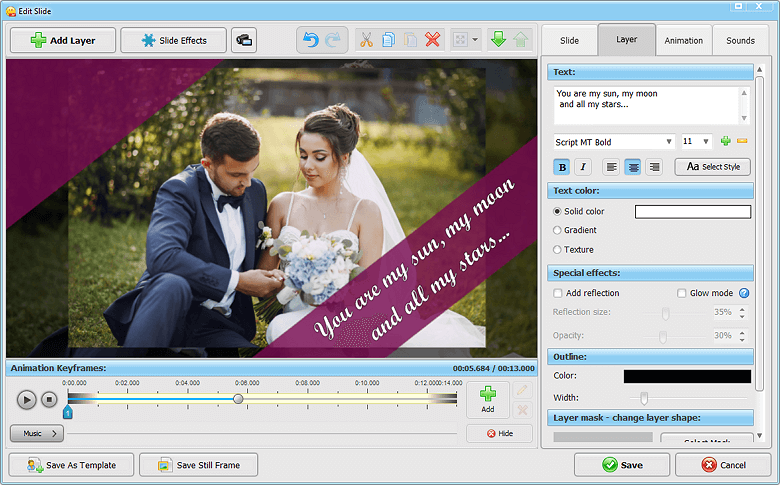 Decorate your slideshow with heartfelt quotes or romantic poems
Step 4. Use Wedding Slideshow Songs
Add music to set the mood of your video. SmartSHOW 3D offers a library of 200+ tracks that are divided into categories, so you are sure to find something to your taste. You can also use music of your own. Upbeat or serene? Solemn or romantic? Add as many tracks as you want if you can't decide on just one. Have a funny behind-the-scene story to tell? Or want to tell your spouse once how much you love them? Record voice comments and add them to the timeline.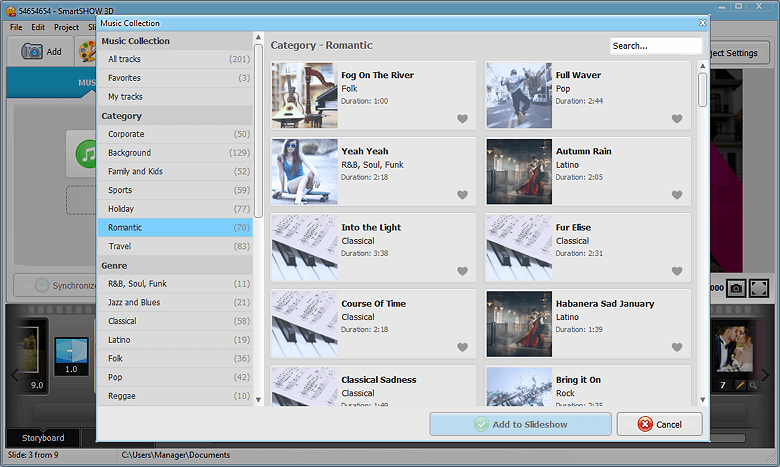 Set the mood of your wedding video with a tune
The whole feel of your wedding photo slideshow depends on the music you choose. Want to find just the right track? Here are songs for wedding slideshows you might want to check out.
Step 5. Save and Share Your Slideshow
Now it's time to save your creation. SmartSHOW 3D offers more than 30 saving options for your finished project. Save your wedding photography slideshow as a video for TV, phone, or tablet. Burn it to DVD, or create a video to be upload straight to social media - this slideshow maker can do it all.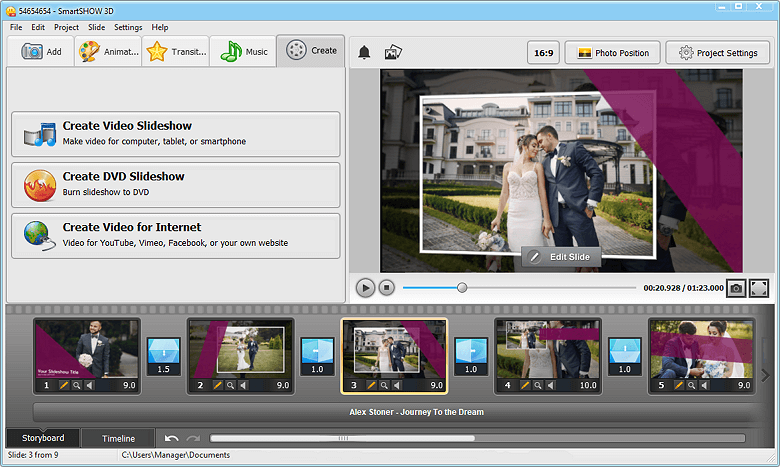 Save your slideshow as a video for TV, social media, or burn it to DVD
And that's it - just five simple steps to a one-of-a-kind wedding slideshow. Want to try it yourself? You can! SmartSHOW 3D comes with a free trial, so download it now and start creating stunning slideshows. It's so easy to keep your wedding memories fresh!
Download
Fully compatible with Windows 10, 8, 7, Vista, XP
Wedding Slideshow Templates: Shortcuts to a Gorgeous Video
Want to create a lovely wedding photo montage, but don't think you have a neck for it? SmartSHOW 3D is here to help you! The software comes with an impressive library of 200+ templates that allow you to make a stunning wedding video in mere minutes. Graceful animation, serene backgrounds, smooth transitions, romantic music, and whimsical nature effects create a perfect frame for you most cherished wedding pictures. All you have to do is to add your photos to the chosen template and voila - you have a tear jerking wedding video in no time!
Here's just a little glimpse at what SmartSHOW 3D has to offer:
Wedding Slideshow Ideas for a Unique Video
Feel that conventional wedding slideshows are not your thing? Strive for originality? Then we have picked a few unusual wedding slideshows ideas that might tickle your fancy.
Crowd-sourced wedding slideshow. Most of your friends and family members are going to snap pictures of their own during your wedding. Make use of those pictures! Create a unique wedding slideshow not with professional photos, but rather with amatuer shots. Pictures taken at weird angles, photobombers, non-existent focus - these things will bring something magically personal to your slideshow, without taking out the beauty of your special day.
Mockumentary-style wedding slideshow. Chronicle your wedding day right from waking up, getting ready, then walking down the aisle. Use documentary-style narration, take friends and family members' interviews, then mix it all into a tongue-in-cheek visual narrative that will later have you laugh out loud.
Blooper reel-style wedding slideshow. You are funny. Your partner is funny. So make a wedding slide show to match! Since nothing usually goes according to plan, you are sure to end up with funny pictures or ridiculous footages from your ceremony. You and your spouse grimacing, someone tripping and falling over, your uncle dancing to the latest jam - all of those things will bring smile to your face whenever you rewatch the video.
Reality TV-style wedding slideshow. More drama! Turn your wedding slideshow into a series of outtakes from a cheesy reality TV show. Have you friends and relatives giving fake interviews about you as a couple in a style of overhyped reality celebrities. Turn your wedding pictures into paparazzi shots, spice it all up with a TMZ-style voiceover.
Sure, a wedding day seems endless, but it does pass eventually, leaving a sweet trail of memories like rose petals. Do not let those memories fade! Keep them fresh with a wedding slideshow. It's beautiful, it's fun and it's really easy to create with SmartSHOW 3D. Use this powerful slideshow maker and its vast library of effects and templates to breathe a new life into your wedding pictures. Let your wedding slideshow be a reminder that love is truly all you need.