Animated Collage Maker: Create a Thrilling Slideshow





5.0
Votes:

257

(Rated: )
Sick and tired of regular boring slideshows? Dozens of pictures trapped inside some cheesy scrapbook - no life, no fun, no mojo... Perhaps, it's time you tried something new? Something more lively, more dynamic, more animated? Then ditch the usual slideshow techniques and learn how to make collage animation to breathe new life into your picture collection!
Just imagine your photos pan left and right, rotate and fly around your slide, gradually dissolve into one another, or appear out of thin air. You think you'll need a high-end and complicated slideshow maker to craft an animated photo collage? On the contrary! Just use SmartSHOW 3D. With this easy-to-master software, you'll be able to create any animation with no effort at all.
Have a look at the video example of a moving photo collage created with SmartSHOW 3D:
Want to turn your photos into a dynamic movie?
Download the free trial of this animated collage maker.
Download
Fully compatible with Windows 11, 10, 8, 7
Now that you've seen how fun and engaging an animated images collage can be, let's find out how to create one! We'll show you three ways to animate pictures for your slideshow.
Make a Slideshow with Animated Collages in No Time
The easiest way to animate your pictures is to use a collage template. SmartSHOW 3D comes with a vast library of animated collage presets, from subtle and elegant, to dynamic and explosive. Once you run SmartSHOW 3D, switch to the Collages tab and browse through the collection of presets. You can preview each of them to choose the most suitable animation.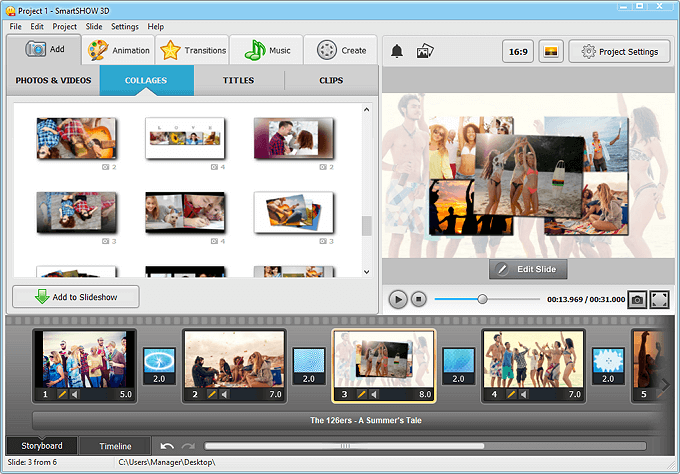 Use ready-made presets for quick and easy animated collage creation
Then, fill the template with your pictures and add it to the timeline. And there you go - a lovely animated collage is ready. It's really that easy! Want to tweak the way your pictures move? Customize their animation in an easy-to-use Edit Slide module.
Go For Ready-Made Templates & 5-Minute Themes
Think that a single animated slide just doesn't cut it? Want your slideshow to be more dynamic? This is when predesigned slideshow templates come in handy! SmartSHOW 3D boasts a huge library of over 200 templates, from more complex and richly decorated to minimalistic and elegant. There are countless slides with animated picture collages to choose from, so you are sure to find a collage you like, whether it's themed or scrapbook-style.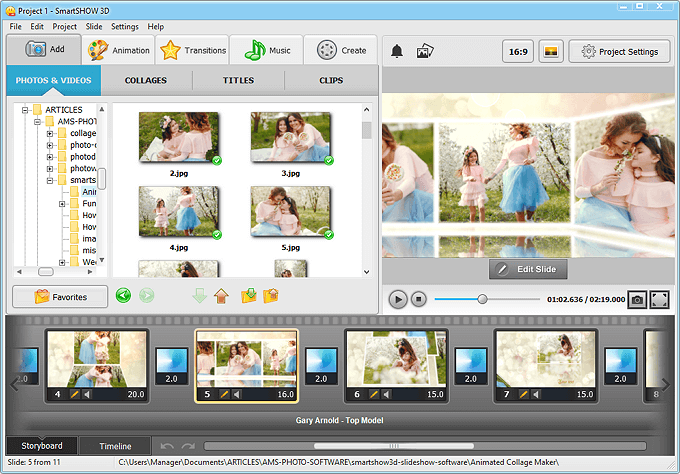 Browse through hundreds of predesigned templates to find some eye-catching animated collages
There are countless slides with animated collages to choose from, so you are sure to find a collage you like, whether it's themed or scrapbook-style.
Create Your Own Custom Animated Collages
Need more artistic freedom? Then don't limit yourself to the predesigned collages. With SmartSHOW 3D, you can make your own animation with ease! There are several ways you can create an animated collage from scratch:
Way #1. Use Keyframe Animation

Let's make your own collage animation. To do this, you'll have to insert a blank slide into your project, then click Edit Slide. This is where the fun begins. Set the background, add your pictures to the slide, then animate them the way you want using keyframes. Each keyframe sets a change in the photo's position, rotation, or opacity. Make your photos zoom in and zoom out, rotate and flip. Don't worry, it's not as hard as it seems. The animation process is quite intuitive thanks to the software's clear interface.

Make your own collage animation using keyframes

Way #2. Create 3D Animation

You read it right. SmartSHOW 3D is capable of that, too. Thanks to revolutionary 3D engine, this awesome trick is at your disposal. This is how it works. First, you need to add your pictures to a blank slide. Then switch to the Manage Camera tab. Here, you can set the camera animation to create an immersive collage. Want the camera to zoom in one picture, then pan to the side and zoom in another? Or maybe you wish your whole collage would rotate? With SmartSHOW 3D, it's really easy to create 3D camera animation even without prior experience!

Spice up your collage with stunning 3D animation

Way #3. Craft a Multilayered Project

It's not much of a task for SmartSHOW 3D! With this animated collage maker, you can create picture-in-picture animation effortlessly. Want to place your picture against another picture? No problem? Want to put a photo against a video? Easily! All you need to do is to add a background layer (either a picture or a video), then put another layer on top of it (also a pic or a video). Decorate the upper pictures with frames, masks, or reflection for a more stylish look.

Create a picture-in-picture collage with ease
Enjoy Many Features of SmartSHOW 3D
If you think you don't have what it takes to create awesome animated collages - keep your chin up! With SmartSHOW 3D, you'll easily become a slideshow making pro. This software will aid you all the way and provide you with almost endless instruments, features, and capabilities. Just have a look at what you'll get with SmartSHOW 3D:
200+ gorgeous templates for any occasion (wedding, birthday, travel, etc).
Over 400 transitions, 3D animations, photo filters and nature effects
Royalty free music library: more than 200 built-in tracks for every taste
Pro-level audio editing tools, including audio points & multiple tracks mixing
Animated Travel Map Video feature: 40+ maps, interactive vehicles & route images
Rich library of decorations: 100+ masks & frames, 90+ textures, 80+ text styles
So forget about cheesy over-embellished slideshows and opt for creating an elegant and dynamic video collage with music. SmartSHOW 3D will be your reliable guide in this creative process. With it endless possibilities and unrivaled user friendliness, this software is the perfect tool for making animated collages, from simple and neat to complex and immersive.
FAQ on How to Make an Animated Collage
How to make collage animation?
You can use premade collage effects or create your own photo collage animation. Design with any layout for your collage, animate its every layer separately, and set everything in motion at your will.
How to make a slideshow with animated collages?
Use pre-designed collage templates. Most animated collage slideshow makers come with a set of built-in options. Just pick the one you like, fill it with your pictures, and you're done.
How to make a 3D collage?
The effect can be achieved through mimicking movements of a virtual camera in reference to your pictures. It can either zoom them in or out, and move along the collage.