How to Make a Video Collage with Pictures, Music and Videos
Sick and tired of boring photo presentations where one image is gradually replaced with another? Start making awesome video collages with pictures, music and video clips! To get the job done, try SmartSHOW 3D software. You won't need any special skills to master its editing and creative tools. In a couple of clicks, you will be able to turn still images into dynamic videos.
Step-by-Step Guide to Make a Video Collage with Music
So how to make a collage with pictures and videos? For a start, download a free trial of SmartSHOW 3D and install the program to your computer. Next, follow these five simple steps and your first video collage will be ready in no time at all!
Step 1.

Pick Photos and Video Clips for Your Collage

The first step for making a video collage is to choose proper photos, video clips and background images that will go well together. For example, if you're working on a graduation video, you should pick the pictures capturing school years with a matching set of colors. Don't try to fit too many photos into a single slide, otherwise your video collage will look "overcrowded". Once you've finished the selection, add the chosen files to the Storyboard and arrange them on the slides.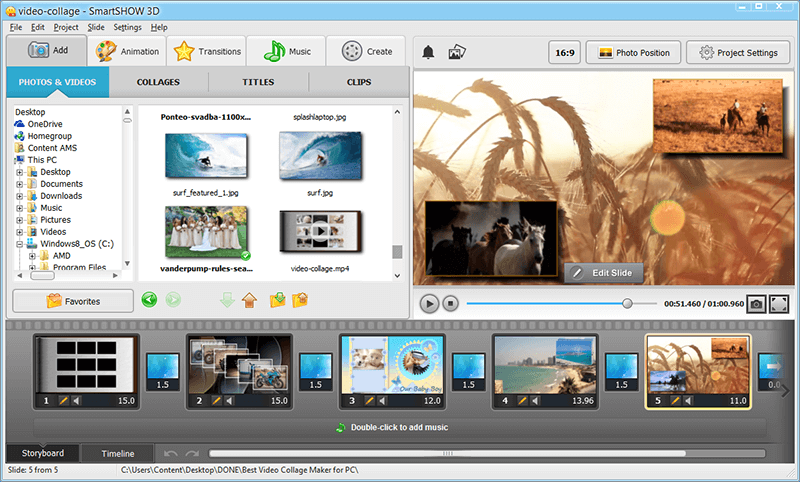 Step 2.

Create Video Collages with Predesigned Styles

With SmartSHOW 3D, you also get access to a variety of layouts you can customize for your creative project. While on the Collages tab, you can preview any style you like and pick the best one that will give enough attention to each of your photos. Decide how you want to showcase them - make your pictures gradually appear from a large pile, let them fly over the slide, or maybe include them into a neat carousel.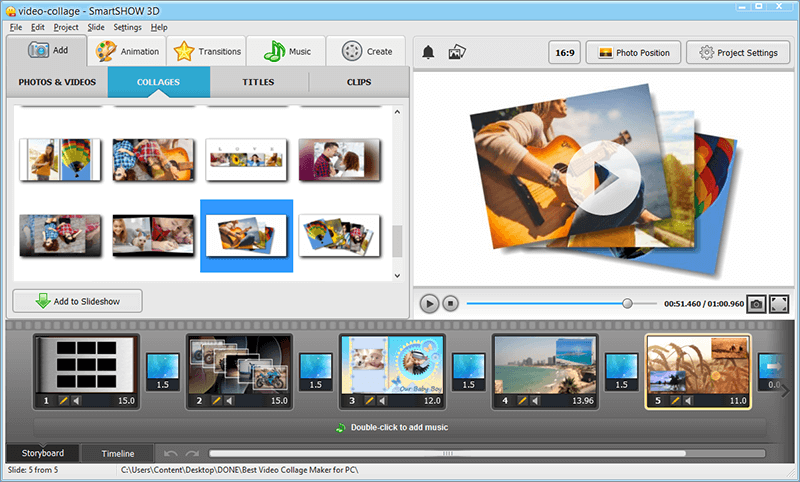 In the slide editor you can also change the number of collage elements: add a layer with a new photo or delete the existing one. Replace the default background: choose a solid color, gradient, texture or your own image.
Step 3.

Add Cool Animation and Transition Effects

If you leave the pictures and video clips you've added as they are, your slideshow won't really differ from a traditional photo presentation. The key to a more dynamic video is stylish animation effects. SmartSHOW 3D comes with 350+ animations and transitions, including pan & zoom, 3D rotation, camera motion, and much more. A great idea is to add a video and several photos to a single slide, and let them appear out of nowhere. You can achieve the desired effect by using keyframes and adjusting the Opacity level for each photo or video layer.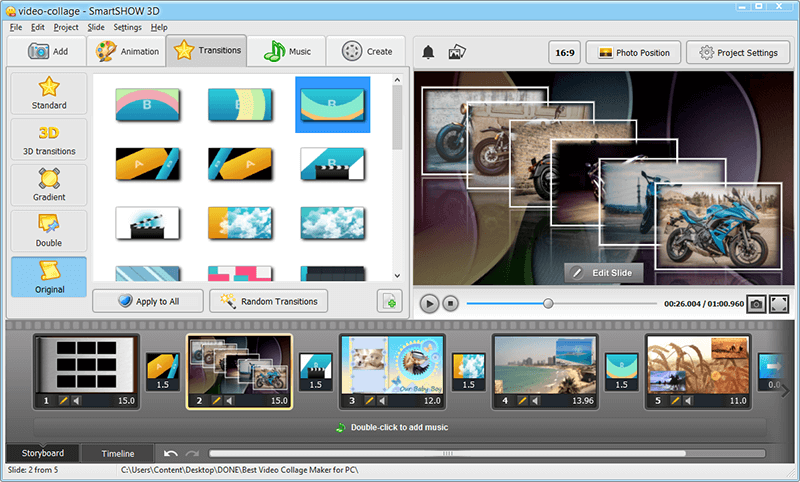 For a more eye-catching effect, make the photos and video move across the slide managing the 3D camera. If you want to apply some effect to the whole slide, switch to the Animation tab and choose something suitable from dozens of predesigned styles.
Step 4.

Funk Up Your Video Collage with Catchy Music

To make a dynamic video collage, you'll need a catchy soundtrack. Before searching for an appropriate melody, think about the topic of your video, its mood and duration. Rhythmic and fast songs are better to be used for action-packed projects, while romantic and lyrical tracks will be a perfect choice for slow-paced slideshows.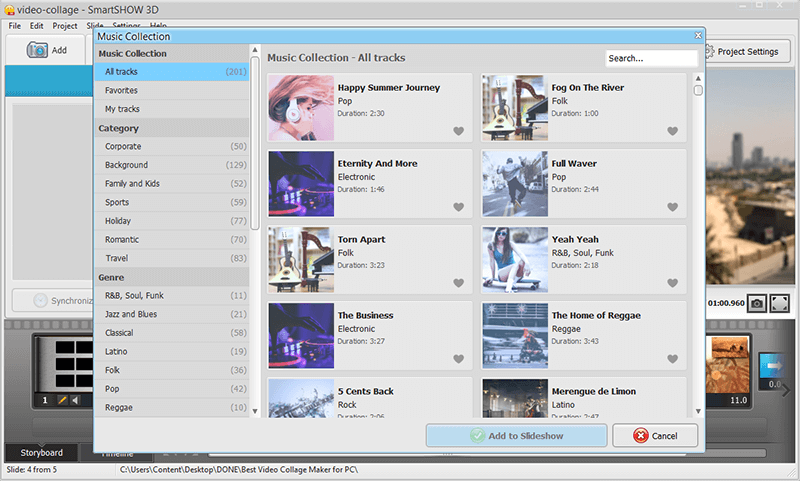 The good news is you won't need any additional audio editor to fit the chosen track into your video. SmartSHOW 3D offers you a library of 200+ royalty-free soundtracks divided into several genre categories. You can synchronize your music with the video footage, merge several tracks into one and apply fade-in/fade-out effects.
Step 5.

Save Your Video Collage and Share It with Others

Once you've finished making your video collage on computer, it's time to share the stunning result! The most convenient and practical way of showcasing your slideshow to the largest number of viewers is to export it with optimized settings for PC, iPhone, or TV. Or better yet, you can opt to creating a Facebook picture slideshow or a YouTube video. That way you can easily share your creation online. If you would rather demonstrate it to your family and friends using a TV, save your video collage for a specific TV model or burn it to DVD.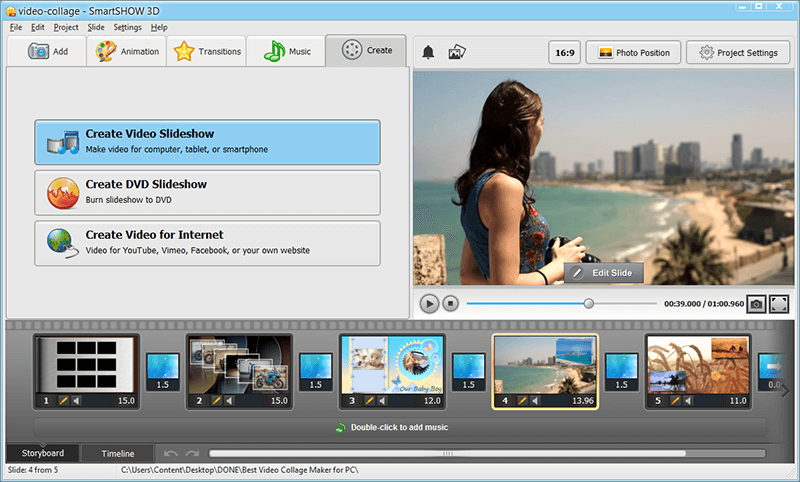 Can't decide how to spice up your photos? Watch this video to see different kinds of video collages made in SmartSHOW 3D. Choose which of them to try with your own pics!
As you can see, creating video collages has never been easier. Add your photos, video clips and favorite music to a creative mix and play with animation settings - the only limitation is your own imagination! If you don't have much time to spend it on slideshow creation, but want an eye-catching video - SmartSHOW 3D has a special feature just for you.
Enjoy Hundreds of Ready-Made Templates
"Slideshow in 5 Minutes" is an ideal option for making last-minute digital gifts or quick slideshow projects. All the themes are divided into several categories - Family & Kids, Celebrations, Travel & Vacation, Love & Wedding - so you'll surely find the style you're looking for. Just add your photos and the program will do the rest!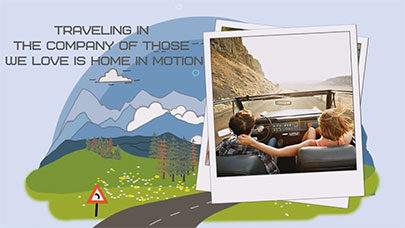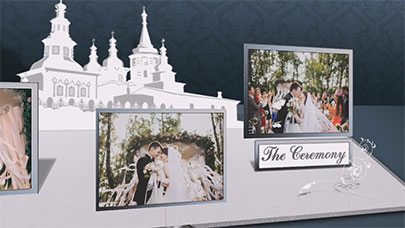 Professional designers worked hard to create almost 100 template packs for SmartSHOW 3D and their number is still growing. Each pack comprises themed slides decorated with stylish embellishments and powered with cool animation. Add your photos and even video clips to these ready-made templates and get one-of-a-kind video collages in a few clicks.
Why Should You Try SmartSHOW 3D?
With such a powerful program in hand, you can make creative photo & video collages for any occasion in just 5 minutes!

Tons of ready-made templates

Numerous editing options

Lots of sharing capabilities