How to Make a Slideshow for Facebook in 2023





4.2
Votes:

9

(Rated: )
Last updated: 16.08.2023
Attracting the attention of your Facebook subscribers can be a tricky task: plain photos aren't really engaging, while the creation of video content requires special skills and software. That's why more and more users choose to post slideshows on Facebook - they are quite eye-catching and do not require any previous experience. The whole process of making a photo slideshow for Facebook is absolutely intuitive and takes just a few minutes. If you need some helpful advice, here's a detailed guide on how to create a slideshow on Facebook in 2023.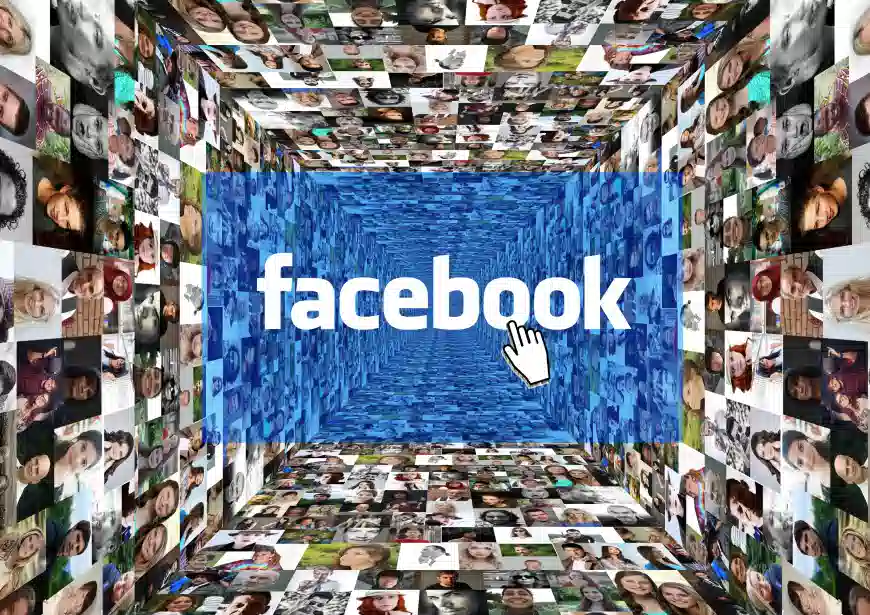 Make an eye-catching slideshow for your Facebook page
Looking for a Facebook slideshow maker for PC? Here's full-featured software
with 600+ templates & 3D effects. Download your free trial today!
1. Create a slideshow on your PC
2. Make a photo slideshow on Facebook
3. Optimizing your slideshow for Facebook
How to Create a Slideshow for Facebook on Your PC
The very first thing to do before making a slideshow on a computer is to choose a tool to work with. There are various specialized programs, a built-in Facebook editor, and other options to consider. But which one should you pick?
Although Facebook has a built-in slideshow feature, the devs keep experimenting with it, affecting its availability. Public account owners can use it for commercial purposes, but for others there is no guarantee that you will be able to access it freely as of now.
So, to make a Facebook slideshow it is best to use third-party tools. One such tool is SmartSHOW 3D. With this slideshow maker for PC, you can create an enthralling photo movie with an unlimited number of pictures, video clips, and music from the built-in library or your own audio collection. What's more, hundreds of stunning transitions and effects that will make your slides a true eye-catcher. And all of that is easily accessible thanks to an intuitive interface.
If you still have some doubts, read our step-by-step guide and learn how to create slideshows for Facebook in SmartSHOW 3D. You will see for yourself that the whole process is straightforward and uncomplicated.
Step 1. Download and Install SmartSHOW 3D
Hit the button below and download the free trial of SmartSHOW 3D. Launch the installer on your computer and follow the instructions of the setup wizard. You'll be able to start working with the program in less than 5 minutes.
Download
Fully compatible with Windows 11, 10, 8, 7
Step 2. Add Your Photos & Video Clips to the Timeline
Click Create New Project and pick the best images and video clips for your slideshow. SmartSHOW 3D doesn't limit the number of pictures you can add, while the built-in Facebook slideshow creator allows only 3 to 10 photos - and no videos at all. SmartSHOW 3D also supports convenient video editing: you can crop or mute video clips without any other programs needed.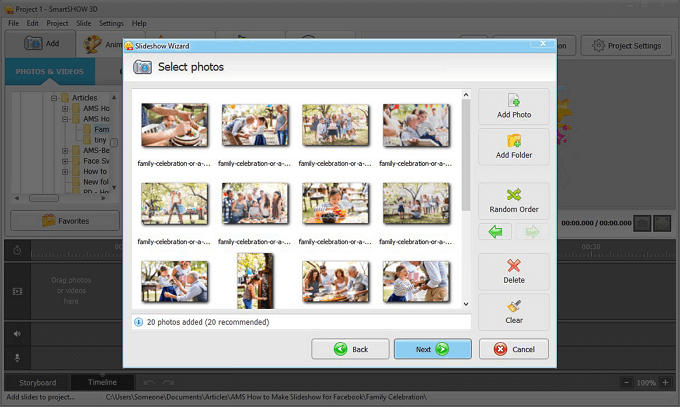 Choose a project format and add your pictures and videos
Step 3. Select Eye-Catching Effects and Transitions
Choose from the program's rich collection of 400+ slide effects and fancy transitions. There are simple and elegant effects (pan & zoom, page flip, old film, etc.), dynamic 3D motion (3D tilt & zoom, 3D-flight, 3D-flip, etc.), delicate color presets (hue changing, color play, fade in color) and nature effects (snowflakes, autumn leaves, sparkles, etc.).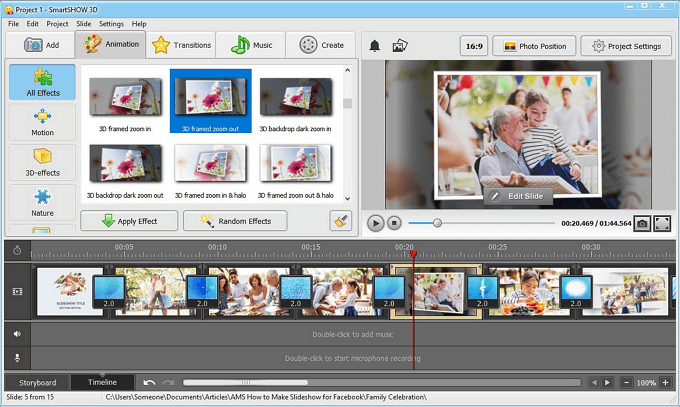 Spice up your slideshow with slide effects and transitions
Step 4. Select a Soundtrack to Create the Right Mood
A slideshow without music is somewhat crippled, isn't it? SmartSHOW 3D lets you add and fine-tune as many music tracks as you want, and record voice comments as well. The program includes a library of 200+ royalty-free tracks, while Facebook has disabled all music in its slideshow maker.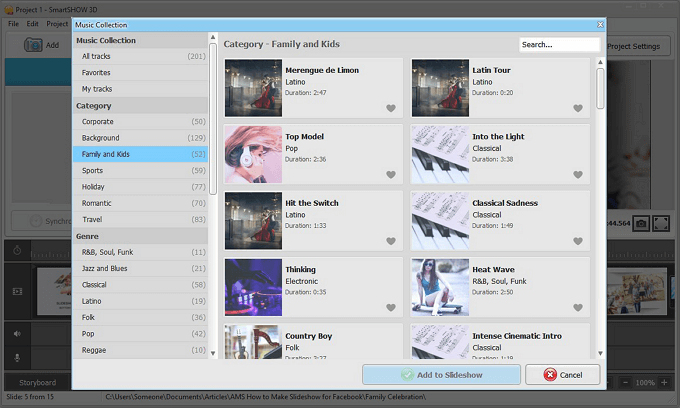 Set the mood of your video with music
Step 5. Save Your Slideshow for Sharing on Facebook
SmartSHOW 3D optimizes your final slideshow for Facebook and other social platforms. Set the desired quality and choose the recommended resolution (HD 720p or 480p), so that your slideshow movie won't suffer from automatic video resizing and quality loss. SmartSHOW 3D also lets you adjust advanced settings if necessary, but the default ones work fine for Facebook videos. You can save your slideshow in a variety of other formats - for TVs, smartphones, PCs, etc.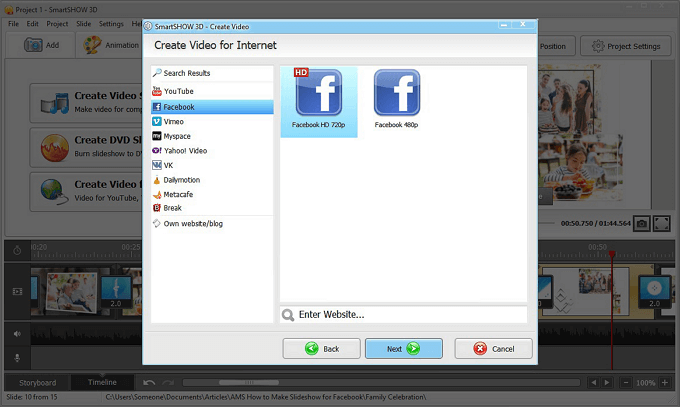 Save your slideshow as a video for Facebook
Loads of Pre-Designed Templates for a Quick Start
If you are pressed for time, you will surely appreciate the Slideshow in 5 Minutes option. With SmartSHOW 3D, you can pick any of 200+ ready-to-use templates for different occasions: travelling, celebrations, weddings, family & kids - and all-purpose themes that can be used for business presentations. Want to make neat, professional-looking slideshows for Facebook in no time? Have a look at these templates that come with SmartSHOW 3D:
No doubt, Facebook picture slideshows are a promising format. If you need a powerful Facebook photo slideshow for creating impressive slideshows with music and effects, then SmartSHOW 3D is your best option. With it, you can create stellar slideshows not just for Facebook, but for other popular platforms as well. Download its free trial and start making the most captivating slideshows for your Facebook Page right away!
Download
Fully compatible with Windows 11, 10, 8, 7
How to Make a Photo Slideshow on Facebook
As mentioned above, accessing the built-in Facebook slideshow maker is up in the air. However, mobile device owners have a higher chance of having this feature in their version of the app. So, if you are among the lucky ones, let's see what you can do.
Where is the Facebook Slideshow Maker?
If you are an owner of a public account, also known as Page, you can find the slideshow editor in the Publishing Tools section. It is presented as a marketing tool to impress your subscribers or prospective customers first and foremost.
How can we make a Slideshow on Facebook now?
Here is our helpful guide on creating simple photo slideshows in just 5 minutes:
Step 1. Go to the top of your Facebook Page and find the Publishing Tools section. It is available only for Pages (public accounts).
Step 2. Hit the Create Post button — it's right on top of your previously published posts.
Step 3. Click Create a Slideshow and open a pop-up window with settings and picture slots.
Step 4. Pick 3-10 HQ photos. Make sure that all of them are landscape, vertical, or square.
Step 5. Adjust the settings: aspect ratio, image duration, and transitions (Fade or None).
Step 6. Select Edit Photo, if you want to crop images or add captions.
Step 7. Click Save and after that select Create Slideshow. In about 1-2 minutes Facebook will finish processing and inform you about it.
Step 8. Type in some introductory text for your slideshow post.
Step 9. Push the Publish button to share the slideshow with your audience.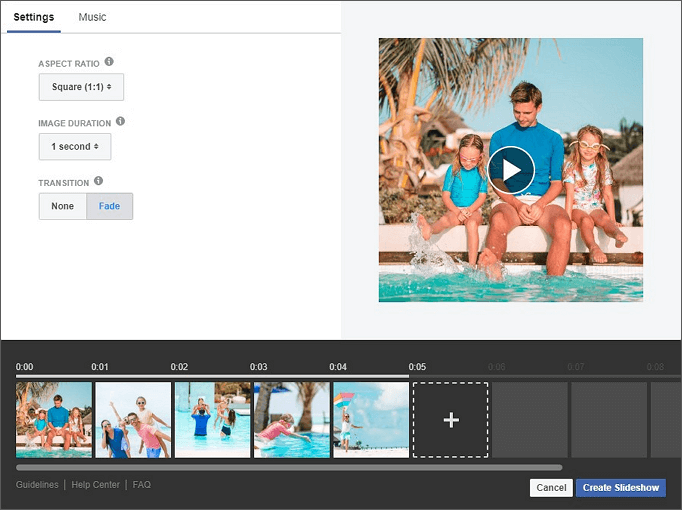 Add from 3 to 10 pictures to create a Facebook picture slideshow
Pros and Cons of the Built-In Slideshow Maker
Quick and easy
Works on any device
Supports only 3-10 photos
Without any music
Can't add video
No effects
Alternative Ways to Create a Slideshow for Facebook
If, for some reason, there's no way for you to do a slideshow on Facebook, you can try making a slideshow-like content instead. There are a couple of ways to handle this task.
Make a multi-image post on Facebook
One method you could opt to is making multi-image posts. It is quite close to the slideshow format at its core. Although not identical to Facebook's Slideshow Carousel feature, this technique can still grab attention on your newsfeed. You simply create a post with multiple images and share it on Facebook. The main difference from an actual slideshow is that viewers have to manually click through the photos instead of watching a video.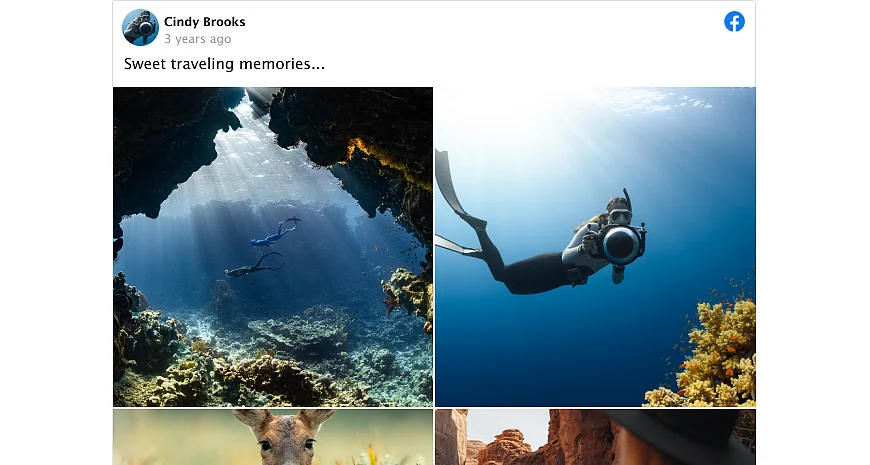 Showing a number of photos in a single post
Make a video on Facebook with pictures and music
What do videos and slideshows have in common? Both are essentially a series of changing images. Thus, making a video is a great alternative to making a slideshow. All you need is to get a fitting program, such as Clipify. It offers a wide range of video editing stuff including gradients, slides, and splits which can be used to create a slideshow. Additionally, it provides more than 450 special effects that can be applied to your clips to make them into awesome artwork.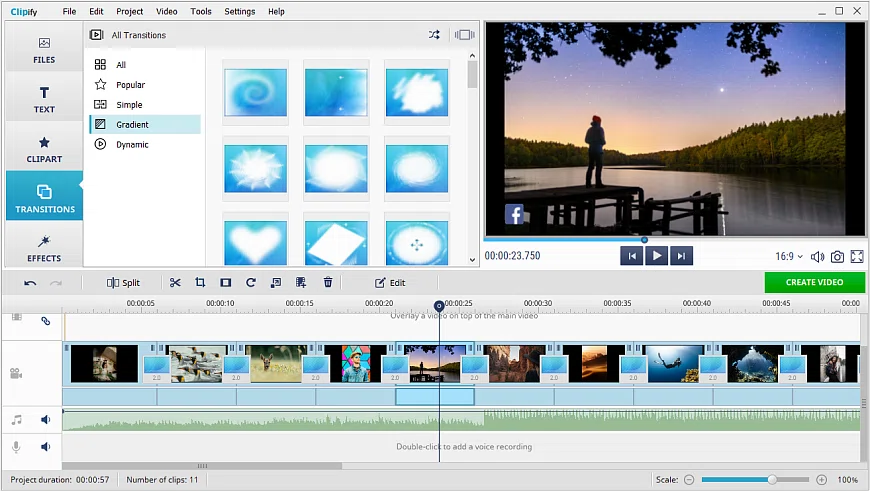 Making a Facebook slideshow with Clipify
Tips for Optimizing Your Slideshow for Facebook
Keep it short and concise: Facebook users tend to have short attention spans, so try to keep your slideshow under one minute if possible. This will ensure that viewers are more likely to watch it to completion.
Choose the right photos and videos: Make sure the photos and videos you include in your slideshow are high-quality, visually appealing, and relevant to your message or story.
Use captions and titles: Adding captions and titles to your slideshow can help explain the context of the photos/videos, add an engaging impact, and make it more accessible for viewers who may be watching in silent mode.
Choose a theme and music: Using a theme and music that are appropriate for your content can help set the tone and enhance the overall viewing experience.
Add transitions and effects: Transitions and effects can make your slideshow look more polished and professional. However, be careful not to overdo it, as too many can be distracting.
Optimize for mobile: Since many people access Facebook on mobile devices, it's important to optimize your slideshow for mobile by choosing the right size and format.
Consider adding a call-to-action: If you're using your slideshow for business or marketing purposes, consider adding a call-to-action at the end of your slideshow to encourage viewers to take action (like visiting your website, subscribing to your channel, or making a purchase).
Conclusion
An effective way to engage your audience and convey your message is to make a slideshow with music on Facebook. Whether you choose to use Facebook's built-in slideshow feature or a third-party tool, make sure to choose high-quality and relevant photos and videos. It's also important to optimize your slideshow for mobile devices, and consider adding a call-to-action if you're using it for business or marketing purposes. Also remember that making a video on Facebook with pictures and music is a worthy alternative. With these simple tips and tools, you'll be able to create an eye-catching and engaging photo slideshow for your Facebook audience.