How to Make a Happy Birthday Video in 5 Steps





5
Votes:

1

(Rated: )
The birthday of your special someone is coming soon and you run out of gift ideas? Should you play it safe or come up with something new? Don't rack your brain over hundreds of options, make a personalized birthday video! It'll stir the memories of the good old days, and convey your feelings.
How to create a birthday video yourself? First, you'll need an intuitive slideshow maker. There are lots of powerful programs, but why waste time on searching when you are on a deadline? Try SmartSHOW 3D, a user-friendly software suitable for both pros and newbies. The program offers gorgeous templates, a collection of royalty-free music and 3D effects. With such a tool, you'll nail this video challenge so your loved one will feel touched to the bottom of their hearts.
Need some inspiration? Have a look at this video created with the help of SmartSHOW 3D:
A funny B-day present, isn't it? Want to make an adorable video all by yourself?
Download SmartSHOW 3D for free & create your own personalized gift!
Download
Fully compatible with Windows 11, 10, 8, 7
Below you'll find a step-by-step guide, some inspirational ideas, as well as useful tips on music and photos, texts for captions and wishes. Let's dig in!
5 Creative Birthday Video Ideas You Should Try
Never created a birthday video presentation? Don't have a clue what to include in it? We took care of your problem and prepared some creative ideas for your birthday video! Try them out to make your creation even more awesome. Here we go!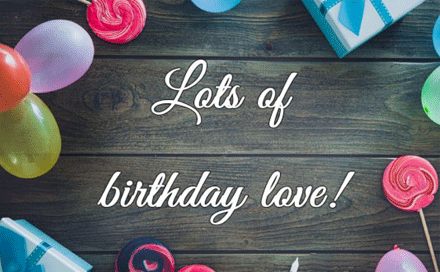 Heartwarming Wishes
Your birthday person is a real fan of some movie or book? Pick some cool quotes from their favorites that will touch their heart and reflect personality. Add these captions to your video and your boyfriend or girlfriend will certainly appreciate your attention.
Interview with Friends
What would make a birthday boy/girl even happier? A couple of kind words from their good friends certainly will! So ask them to give a small and heart-warming b-day wishing speech. After that, combine the best moments into one birthday video card.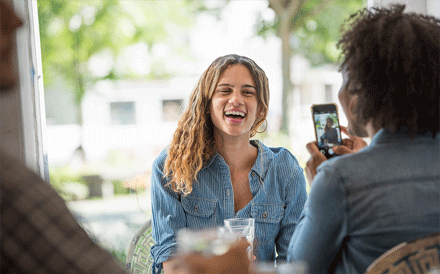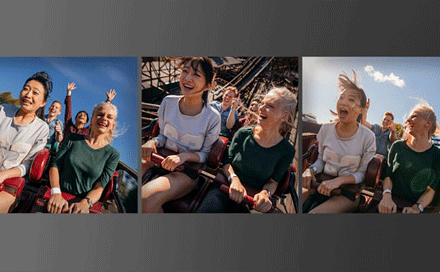 The Funniest Moments
It's time to remember all these hilarious occasions that happened with the birthday person during the past year. Such a personalized approach will melt their heart, make you both laugh and remember the amusing stories shared together.
Your Genuine Singing
Include your song created for this occasion into a happy birthday video message. It will be a great surprise: will everyone enjoy your incredible signing, or will they laugh to tears? Either way, your friend's happiness level will increase dramatically.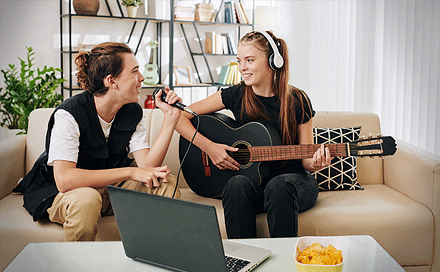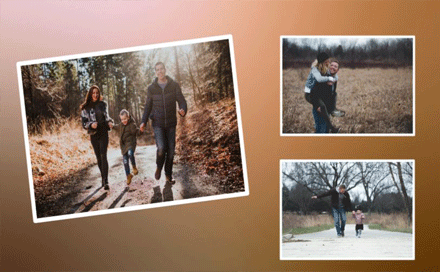 Good Old Times
Making a birthday video greeting for your beloved one? Add some collages with photos where you together were "young and beautiful". Start from the beginning of your relationships and then add photos in chronological order till the present days.
Are you ready to use these tips in your own project? Making a birthday video is super easy with our detailed guidelines. Follow the steps below and you'll create a unique and adorable present!
How to Make a Birthday Video For Your Special One
You may feel a bit confused if you've never created such videos before. Don't worry, just follow these steps, and video making won't be a challenge for you anymore!
Step 1. Add Your Photos and Video Clips
After launching SmartSHOW 3D, select New Project. Click the Add button. Choose your folder with photos and video clips for a happy birthday video. Move them to the Timeline. You have two options: either drag them one by one, or add all the files at once by clicking Add folder. In the latter case, note that pictures and videos will be arranged the same way as in the source folder. Drag and drop the slides to change their order.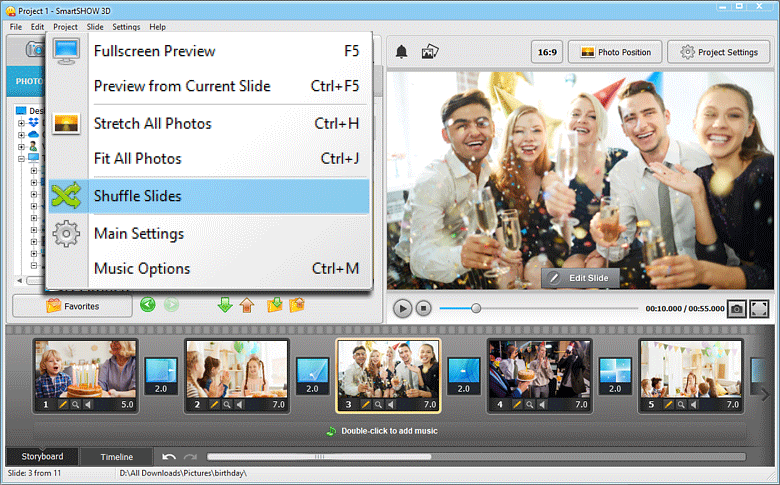 You can shuffle your happy birthday pictures to find the right order
Want to make people laugh? Check out funny animated happy birthday images to spice up your festive video.
Step 2. Apply Appealing Animation Effects
It's time to set up magical effects and transitions between the pics. Click the Animation button and select effects to your liking: from simple heart-shaped frames to complex 3D animations. Unleash your editor's skills: it's up to you to make your video dynamic or smooth and calm. Add transitions between the photographs and video clips, so they will change each other gradually.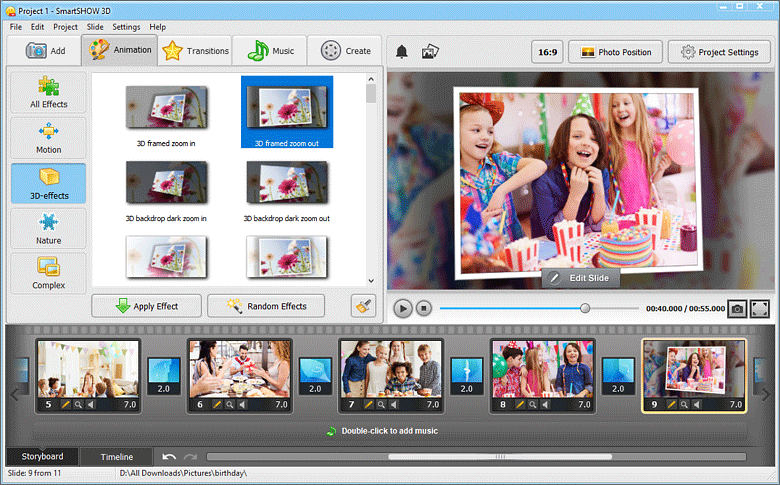 Transition and animation effects will make your birthday video look incredible
Step 3. Type In Heartwarming Wishes and Quotes
Personalized quotes and wishes - what can be better for the birthday person? Go to the slide editor, click Add Layer and then select Text. There are so many cool options (like 3D text or Glowing text) for typing in the warmest wishes and quotes. Don't forget to select the suitable font, adjust opacity or add a reflection to your text to make the customized caption stand out.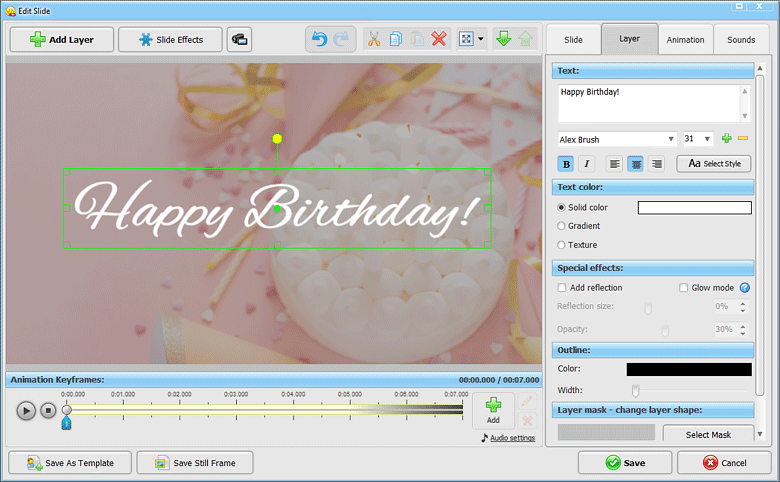 Warm wishes will melt everyone's heart!
Don't know any cool quotes? Choose any of these happy birthday wishes.
Step 4. Add Music & Record Voice Comments
Don't know what music to pick? SmartSHOW 3D has over 200 royalty free tracks and 35+ sound effects that will suit almost any video. This birthday movie maker offers dozens of genres to pick from: pop, rock, folk, electronic, etc. - whichever music is a treat to your friend's senses.
If you are short on time, here are some surefire birthday songs for your music video:
Altered Images - 'Happy Birthday'
Katy Perry - 'Birthday'
Madonna - 'B'day Song'
Loretta Lynn - 'Happy Birthday'
Steppenwolf - 'At Your Birthday'
Brian Pretus - 'Happy Birthday'
David Keen - 'Birthday, Birthday'
What's more, with SmartSHOW 3D, you'll be able to record some heart-warming voice comments to congratulate your birthday boy or girl! Just move to the Voice comments tab and click Record Voice. Once you're done recording, the voice comment will be added as the second track.
Choose from 200+ music tracks for your special occasion
If you need more themed songs, check out this enormous list with happy birthday music.
Step 5. Save Your Happy Birthday Video
Yay, you did it! Now it's time to save your birthday video. SmartSHOW 3D offers 30+ saving options. If you plan to play your video during the party, choose the TV or HD video format. Want to share your creation online? Pick a web-optimized format for YouTube, Facebook, Vimeo, etc.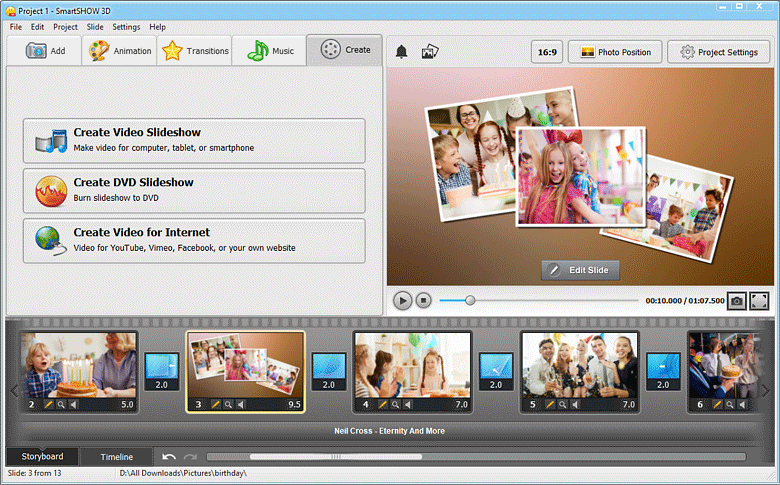 Save your birthday video and enjoy watching it with the birthday person
Ready to follow these steps and create a festive video all by yourself?
Download a free trial of this happy birthday video maker and unleash your creativity!
Download
Fully compatible with Windows 11, 10, 8, 7
Stylish Templates for Happy Birthday Video
Don't have time to create a birthday video from scratch? Thankfully, there're 200+ pre-designed templates created exclusively for SmartSHOW 3D. Just choose a cool-looking birthday template to make a video with pictures in 5 minutes!
Whose present are you preparing? Is it for your boyfriend's b-day or the 40th (or maybe 50th) anniversary of your mom? Perhaps, you are creating a cute birthday video for your own child or a retroscape-styled video for adults? In any case, with our ready-made templates, you'll find the right theme for each of your loved ones. Have a look at these wonderful presets, choose the templates you like and enjoy your festive video in a couple of minutes:
It's the thought that counts, so make your birthday gift unique and special. Don't forget that your video will last forever, and your loved ones can rewatch it from time to time, remembering your appreciation and care. Just start our birthday video maker with songs and effects and mix sweet pictures and music into a lovely present.
FAQ on Making a Birthday Video
How to make a birthday video message?
Start with adding pictures and clips to your project. Next, spice them all up with effects and transitions. Then, make sure to add heartfelt wishes to your birthday video. You have two options. Firstly, you can record voice messages and insert them into your video. Another way is to add animated texts with your best wishes for the birthday boy/girl.
What is a good song for a birthday video?
You can never go wrong with the traditional "Happy Birthday to You". Still, there are tons of modern songs that can be perfect for the occasion. For example, go with the feet-stomping Katty Perry jam "Birthday" or opt to using a more mellow track, like "It's My Party" by Lesley Gore. Make sure, however, to take the celebrant's music taste in consideration when choosing the tune.
How to make a birthday video on Facebook?
Some time ago you could create a festive video for your friend's or relative's birthday right on Facebook. Sadly, this feature is now unavailable. Still, you can always use a smart program to create a birthday video perfectly suited for posting on Facebook. We would suggest SmartSHOW 3D - this software can help you create an eye-caching and festive video in a matter of minutes.