How to Make a Video with Pictures and Music





4.0
Votes:

5

(Rated: )
Taking a picture is a matter of seconds today. We carry smartphones and cameras everywhere, capturing special moments or just our everyday life. And you probably have tons of cool pics, too - photos from birthdays, trips and other memorable events stored somewhere on your PC. How about presenting them in an appealing photo movie? It'd be a great way to celebrate a special date, recap your summer vacation or memorize your wedding day. Read on to learn how to make a video with pictures in a fun and easy way, and what beginner-friendly program will help you with that.
Check out this lovely family video! Can you believe that it was created in just a couple of minutes?
Want to make your own video with photos and music? You can do it with SmartSHOW 3D - an intuitive and feature-rich slideshow maker.
Download the free trial of SmartSHOW 3D and unleash your creativity!
Ready to start? Then read our step-by-step guide and create your own movie project right now.
How to Make a Video with Photos and Music Step by Step
If you haven't created photo movies before, don't worry: you won't have any difficulties, but a lot of fun instead. SmartSHOW 3D is so intuitive that you will master it in less than 5 minutes. At the same time, you will have everything you need to make the final result absolutely stunning: 200+ pre-designed templates for a quick start, about 400 animation and transition effects, 200+ royalty-free music tracks, video backgrounds collection and much more. Are you itching to have a try with your own photos? Let's start then!
Step 1. Add Your Photos & Video Clips
Launch SmartSHOW 3D, select New project and add the most impressive images and video clips to the timeline. You can either drag photos and videos one by one or throw in the whole folder by clicking Add all photos button. By default, the slides are arranged the same way as in the source folder, but you can shuffle the pics by right-clicking the timeline and selecting Shuffle slides.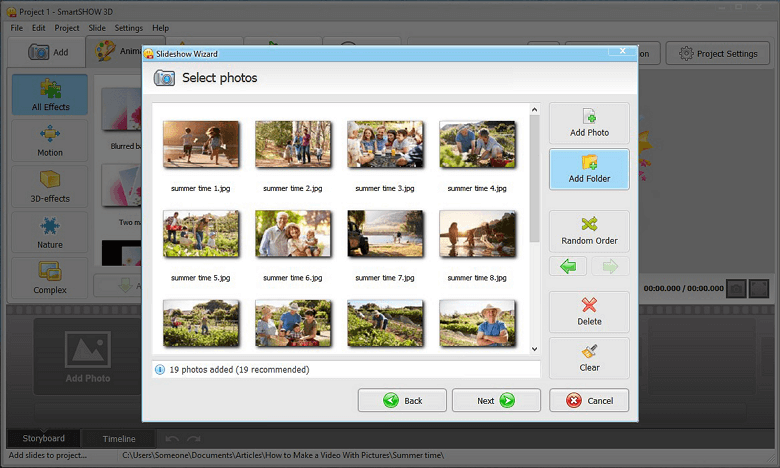 Add your best pictures and videos to the timeline
Step 2. Pick Animation Effects and Transitions
Under the Animation tab, you will find dynamic slide effects for all kinds of photo movies: simple rotation, smooth pan & zoom, 3D flip and glide, whirlpool, falling leaves, snowfall, and more. If you want to set up custom effects, just double-click your photo and go to the Slide editor. There you can set up the motion of the 3D camera over the slide, apply photo effects such as fading colors, and more. As for inter-slide transitions, you can either keep the default ones or manually select more impressive options under the Transitions tab.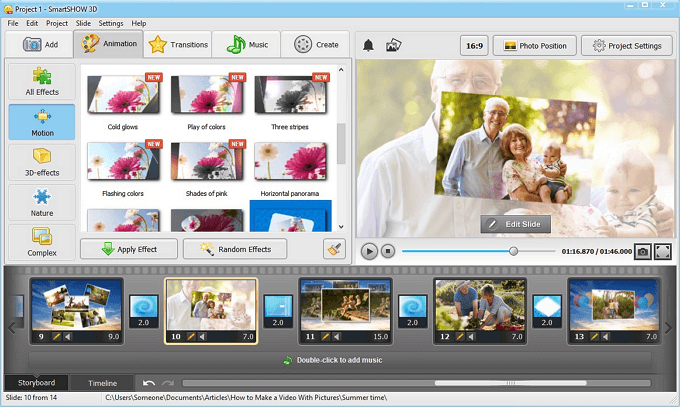 Make sure that the effects are in line with the general mood of your movie
Step 3. Insert Titles and Clips
If you want to start your picture movie with an eye-catching opening slide, go to the Titles tab. There you'll see a great variety of animated title slides: all-purpose and themed (wedding, romance, travel, Christmas, family, business, etc.). Choose the one most suitable for your photo movie, click Add to Slideshow and type in your text. The Clips tab also offers a good choice of title and end slides.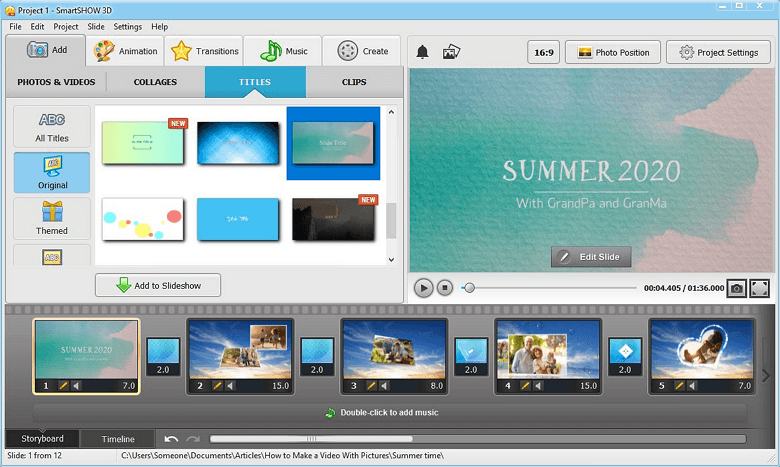 Clips and titles make your video more captivating
Step 4. Choose Music and Record Voice Comments
The right music can make a photo movie really stunning, while the wrong one can totally ruin it. To add an audio file, switch to the Music tab and click the green plus button. The program features a rich collection of royalty-free melodies: you can filter them by category (Family and Kids, Romantic, Holiday, etc.), genre, tempo, duration or mood. You can also add your own music files or record voice comments with your computer's built-in microphone.
Choose a suitable music track to set the mood of your video
Want more options to choose from? Find more music for slideshows in the Audio Archive! It grants free access to hundreds of tunes and sounds you can use in your creative projects.
Step 5. Save Your Project & Share It
With SmartSHOW 3D, you can save your project in more than 30 formats: optimize your final video for a large number of TV sets, mobile devices, computers, social networks or your own website. Choose the appropriate resolution, quality and file size - and you are ready to impress your viewers with a fabulous video out of pictures.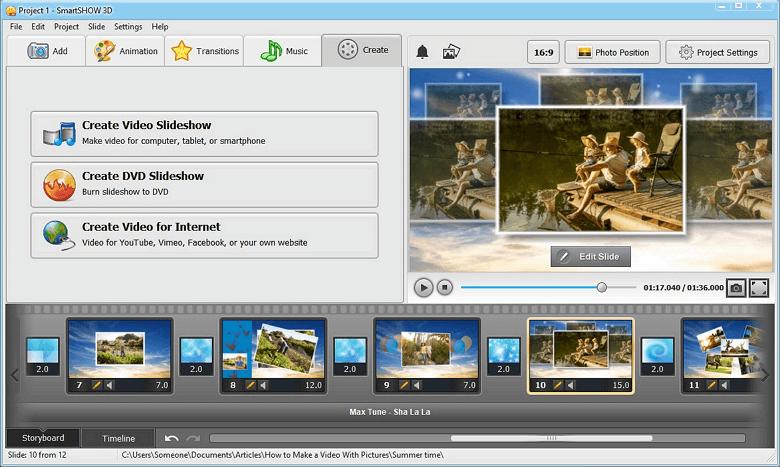 Save your video with pictures in suitable format
As you can see for yourself, SmartSHOW 3D is a great choice for anyone who wants to make a video with pictures quickly and easily. It's your turn to create one! Download the free trial and create your fantabulous photo movie in no time!
Download
Fully compatible with Windows 11, 10, 8, 7
Try Pre-Designed Templates for Quick Slideshow Creation
If you are pressed for time or feel unsure about making videos with pictures from scratch, SmartSHOW 3D offers you over 200 templates. Some of them are meant for special occasions (like a funeral slideshow template, weddings or birthdays stylepacks, or vacation-themed slides), while the others can be used for any purpose. However, absolutely all the templates are well-balanced and professionally designed. Have a look at these videos below and see for yourself:
Useful Tips on Making Videos with Pictures
Want to make the most out of your photo movie? We have prepared a few handy tips that will help you create a smooth and engaging video.
Keep your slideshow short. If it is longer than an average song, your audience will get bored and start yawning. Limit your photo movie to 4 minutes maximum and include about 55-65 images. Make sure that each photo has about 3-4 seconds of screen time. Seriously, don't try to squeeze all your favorite pics into the movie. If your summer vacation was so full of meaningful events, better create several videos, like "Part 1", "Part 2", etc.
Tell a story. Before picking the photos and videos for your project, think of your narrative. What message would you like to convey? What atmosphere are you going to create? How will your story begin, develop and end? How about some unexpected plot twists? If you do everything right, the audience will be absolutely enthralled!
Use effects moderately. The abundance of animated slide effects, flying objects, crazy transitions and other ornaments will draw attention away from your story and message. However, a video without any effects might look plain and static, so find your happy medium and stick to it.
Add concise captions. No slideshow will ever benefit from a long curtain of text. If your story needs a long introduction, record it as a voice comment and keep your captions brief. They should also be consistent with the general atmosphere, so you'd better leave humorous remarks out of a romantic love story. Ok, keep one or two, but don't overdo it.
It's time for practice! Now you are ready to make videos from pictures in a creative and easy way. You can refresh old memories or recap recent events, create touching videos for your relatives' birthdays, or even make impressive business presentations. Get started with SmartSHOW 3D and enjoy all the vast opportunities it presents!
Download
Fully compatible with Windows 11, 10, 8, 7