Bridal Shower Slideshow: Creative Ideas & Handy Tips





5.0
Votes:

39

(Rated: )
Planning an unforgettable bridal shower for your best friend? It must be very exciting to celebrate her upcoming wedding with good wishes and well-thought gifts for her future home. How about adding a sentimental touch to this fun event? Make a bridal shower slideshow to tell the story of the bride-to-be and recollect the best moments of her life! This article is meant to help you: there are inspiring ideas, a detailed guide on slideshow creation, time-tested tips for choosing pictures, songs, and quotes.
Watch this heartwarming slideshow example, created specifically for a bridal shower:
Want to amaze bridal shower guests? Download an easy-to-use slideshow maker
for free and try your hand at creating cool picture videos.
Now that you have this program for a bridal shower video on your PC, let's get started with inspiring ideas for your best bridal video gift!
Bridal Shower Slideshow Ideas - Dos and Don'ts
Making your first slideshow for a bridal shower party can be puzzling. Here are our tips on format, tone, and presentation that will help you succeed on the first try:
Take biographic pictures. Pick appealing photos starting from the bride's childhood and finishing with some beautiful pics of the bride and the groom together. Include photos from the bride's babyhood, school years, and college, as well as group pictures with friends and family.
Tell her love story. Start from the day when sweethearts met, throw in some pictures taken at dates, trips, and holidays, and finish with the engagement ring photo. But don't forget to include other people into the story: relatives, friends, colleagues.
Make a bridal shower recap. Another option is to highlight the events of the bridal shower in your slideshow. Take pictures of invitations and bridal shower thank you cards, film the cake and the gift opening process, and try to capture the genuine emotions of the bride-to-be. It will make a touching video indeed!
Add catchy captions. Complement the pics with aphorisms, fun comments, or whatever can make the video more engaging. Try to find appropriate quotes from the source that the bride respects: religious books, philosophers, public figures, etc.
Include short videos. They will enliven your slideshow and add more dynamics to the digital story you tell. If some video is too long, don't be afraid to cut it It's better to mix photos and video than to turn it into a biopic.
Keep it short and sweet. Your slideshow shouldn't be longer than 3-4 minutes. Focus on the most important things and events, because an overly long video will bore the audience.
Find the right slideshow maker. Popular programs with basic features won't be suitable for your purpose. To make an eye-catching video gift, you'll need the best software for bridal shower slideshow that supports animated slides, groovy transitions, and 3D effects.
Found some ideas to try? It's time to put them into practice! Let's proceed to our step-by-step guide on slideshow making.
How to Make a Bridal Shower Slideshow in Just 5 Minutes
A slideshow is a simple, yet elegant way to keep the memories of the past and celebrate new life beginnings. With SmartSHOW 3D, a smart slideshow app for PC, your festive video for the bride will be ready in the blink of an eye - just follow the steps below.
Step 1. Add Photos and Videos that Tell the Story Best
Run SmartSHOW 3D and click Slideshow in 5 Minutes. The program will offer dozens of themed templates for you to choose from. You can pick certain pictures and videos one-by-one, or add a whole folder at once. It's also possible to adjust the duration of video clips, change their resolution to match the slide size, and mute them right in the slideshow maker, without additional software.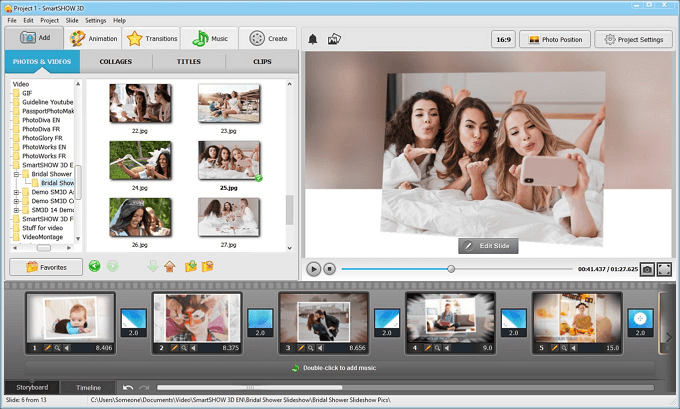 Choose one of the ready-made templates and add the pics you've prepared
Want to decorate your slideshow with animated bridal shower pictures? Go on and download high quality themed photographs to add more style and chic to your project.
Step 2. Beautify Your Slideshow with Gorgeous Effects
SmartSHOW 3D offers 400+ stunning animated effects, from classic (pan & zoom, blurred background, fade-in, fade-out, old film, etc.) to funky (pixelation, heart effect, focus, magic glitter). Pick the effects depending on the personality of your bride-to-be and the general mood of your digital story. Want a more refined look for your slideshow? Enclose some pictures in elegant frames or add stylish filters.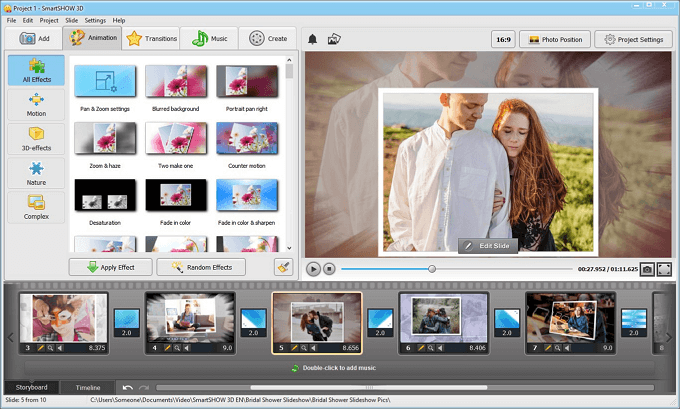 Make your slideshow truly astonishing with the help of animated effects and artistic filters
Step 3. Think of Captions, Quotes, and Good Wishes
You surely have a lot of things to tell the bride-to-be. Insert some wise quotes about love and marriage into your bridal shower video, add congratulations and good wishes. Animated 3D text is what you need to emphasize them on the slide and convey their meaning. If you feel lost for words, here's some inspiration for bridal shower wishes. There are simple ones like "Cheers and all the happy feels!", funny messages ("You better throw me that bouquet. On second thought, forget the bouquet, throw me a groomsman"), and a lot more.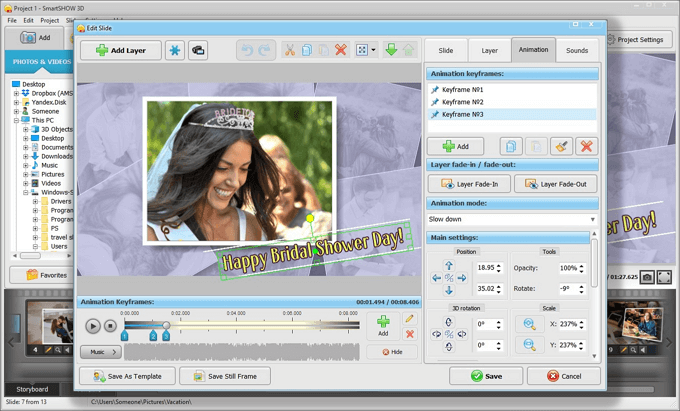 Animated 3D text is the best option to convey your good wishes
Step 4. Add Music and Voice Comments As a Finishing Touch
The soundtrack determines the slideshow mood: you can make it lyrical or cheerful, pensive or vigorous. Select a suitable tune from the program's rich collection of 200+ royalty-free tracks or add your own music. Apart from melodies, you can also enrich the bridal shower slideshow with voice comments recorded by yourself and other friends of the bride-to-be. Open the Voice Comments section under the Music tab and click the Start Recording button. Later you can adjust volume and faders, so that the soundtrack doesn't interfere with the voiceover.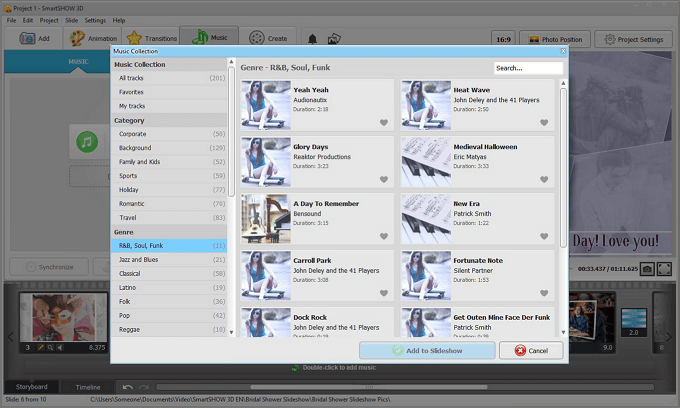 Record some good wishes or funny jokes and add them to the project
Step 5. Save Your Bridal Shower Slideshow
Congratulations! Your fabulous bridal shower slideshow is almost ready. Now switch to the Create tab and choose among the saving options. You can create an HD video to play on TV, convert your slideshow to any mobile device, burn it to DVD, or make an optimized video for social sharing and send it to your friend via Facebook.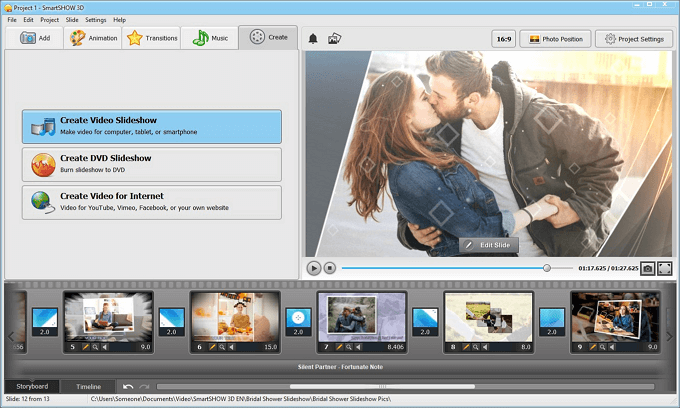 Save your slideshow as a video for TV, social media, or burn it to DVD
Want to create a spectacular slideshow for a bridal shower that will be packed with animated effects, 3D text, music, and voice comments? Do it with an easy-to-use bridal shower slideshow maker! Download the free trial of SmartSHOW 3D.
Download
Fully compatible with Windows 11, 10, 8, 7
Best Music for Bridal Shower Sideshow: Top 7 Tracks to Try
Feel that conventional wedding slideshows are not your thing? Strive for originality? Then we have picked a few unusual wedding slideshows ideas that might tickle your fancy.
"Wouldn't It Be Nice" by The Beach Boys
"Signed, Sealed, Delivered" by Stevie Wonder
"I Melt with You" by Modern English
"Crazy Little Thing Called Love" by Queen
"The Way You Make Me Feel" by Michael Jackson
"It's A Beautiful Morning" by The Wipe Outs
"Can't Take My Eyes Off You" by Frankie Valli
Wanna more soundtrack ideas? Here you will find dozens of bridal shower songs.
A bridal shower is a joyous event for everyone taking part in it. Lots of fun, wonderful gifts, cool music from your bridal shower playlist, and tons of good wishes — isn't it one of the happiest moments in every woman's life? Make her party even more delightful and memorable by creating a mind-blowing bridal shower slideshow with animated effects, 3D text quotes, soulful music, and all the great things you can think out. But be sure to save enough ideas for later, when comes the time to make a wedding slideshow for her. SmartSHOW 3D will help you do it in just 5 minutes, too!