How to Cut Out an Image with Photo Cut Out Tool





5.0
Votes:

2

(Rated: )
Last updated: 01.06.2023
.
Took a cute photo of your family but the dull background seems to kill the joyful mood? Want to cut yourself out of the old image with a person you're no longer friends with? Trimming pictures might be the way to go. But do you have to be an experienced editor for this task? In fact you don't! Neither do you need to buy expensive programs and spend hours of your time figuring out how they work. Below, we'll show a few ways to cut parts out of an image that will suit users of all skill levels.
In this article, we'll go over 4 ways of how to cut something out of a photo: on a PC, iPhone, Android, and online. As a bonus, we will also give you a quick tutorial on cropping faces, since the process has some peculiarities you should be aware of. Let's get started!
Use the Contents menu to better navigate the guide and move on to the section you are most interested in exploring.
1. Top 4 photo cutting programs in 2023
2. How to cut out a part of an image on Windows
3. How to cut something out of a photo on iPhone
4. How to cut out a picture on Android smartphones
5. How to cut out an image from a picture online
6. How to cut faces out of pictures in no time
7. FAQ
Best Apps to Cut Out an Image from a Picture
There are a lot of programs on the market that can help you cut something out of your photos without Photoshop. But it may be challenging to decide which one you should choose. Today we're going to help you in this matter and tell you about 4 helpful cut editors for each of the most popular operating systems and how to use them to eliminate unnecessary parts of your image.
Before
After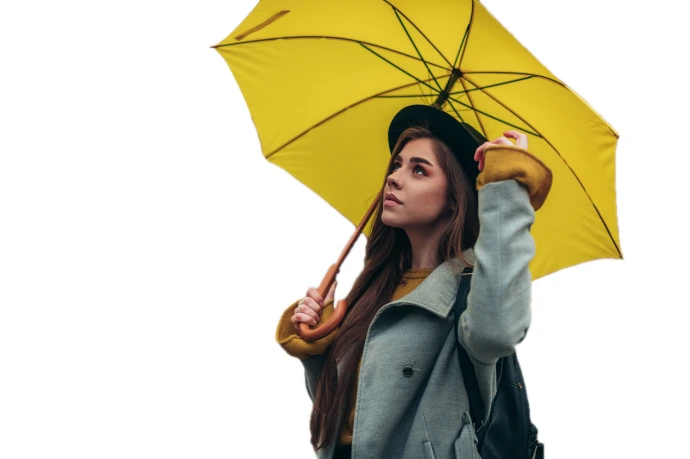 1. PhotoWorks
(PC)
2. Photo Cut Out Editor
(iPhone)
3. Cut Cut
(Android)
4. Photoscissors
(online)
How to Cut Out Part of an Image in PhotoWorks
Looking for a Windows program you can use to make a photo cutout? Take a look at PhotoWorks. This AI-powered photo editor will make your work much easier! It has a handy photo montage toolkit that will do most of the work for you. Want to know how to cut pics in PhotoWorks? Follow the steps below!
Step 1. Get PhotoWorks on Your PC
First, download the software by clicking the button below, and start your free trial today.
Download
Fully compatible with Windows 11, 10, 8, 7
Step 2. Open the Photo You Want to Edit
Run PhotoWorks and hit Open Photo to import the image with a person or object you want to cut out or simply drag it into the workspace from a folder.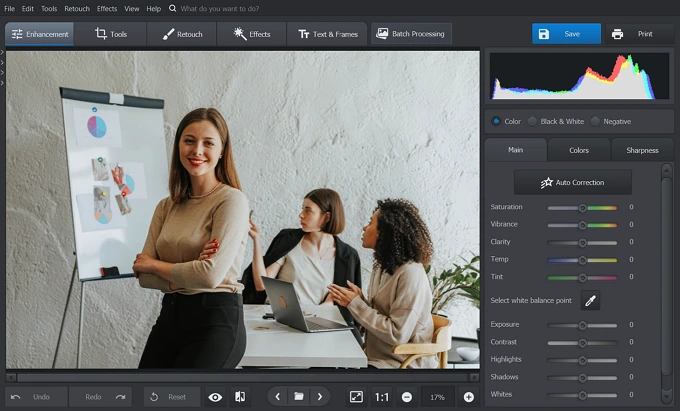 Load your photo with a busy background to PhotoWorks
Step 3. Mark the Object to Cut Out
Switch to the Tools tab and pick the Change Background tool that can be used to cut out pictures. First, pick the green Object brush to mark the object or the person you want to preserve. Then, use the red Background brush to designate the parts of your picture you want to erase. A couple of strokes would be enough for the software to recognize and remove all the unneeded. At the next stage, you can fix any missteps with the Eraser or with the same brushes if needed.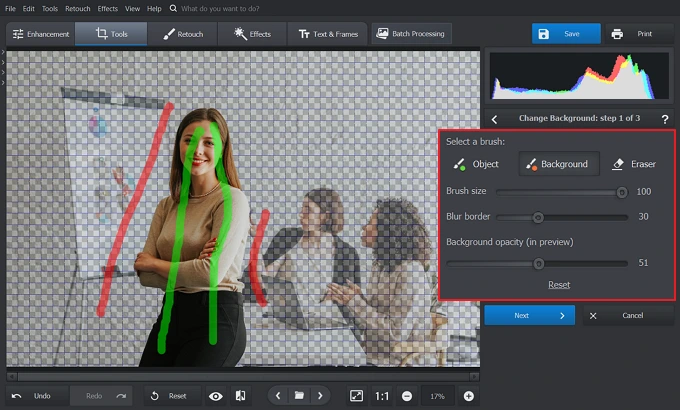 Trim out all the interfering objects from your image
Step 4. Save the Cutout Image
Now you have the image with a transparent background and no distracting objects in the frame. The only thing you have to do so far is save your cutout image by clicking the Save with a Transparent Background button.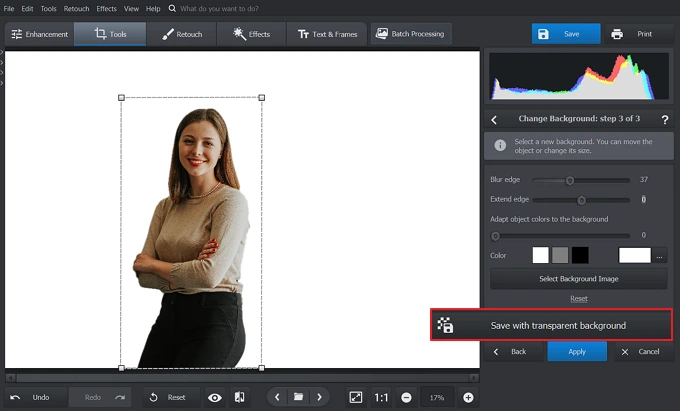 Save your picture without its distracting backdrop as a PNG
Hit the button below to download PhotoWorks
and cut out any object in a couple of clicks!
Try Now
Fully compatible with Windows 11, 10, 8, 7
How to Cut an Image Out of a Photo in Photo Cut Out Editor
Prefer editing your photos with your iPhone? Try a convenient iOS app called Photo Cut Out Editor that offers both manual and smart selection tools to make the process easier. You can use this app to cut out a certain part of your image and leave its background transparent or paste the cutout onto a new backdrop. The process of cutting pics won't take you long if you use this application. On the home screen, switch to the Hot tab and choose the Transparent PNG option. Then tap the One-Click Cutout button and choose a photo you want to trim. The app will do the rest of the work.
Apply manual corrections in the Mask mode - use the Brush to restore details or the Eraser to remove leftovers. Use the FX mode to preview the result and tap the Save icon above if everything looks good to you. But to save your images in high quality, you have to purchase a subscription.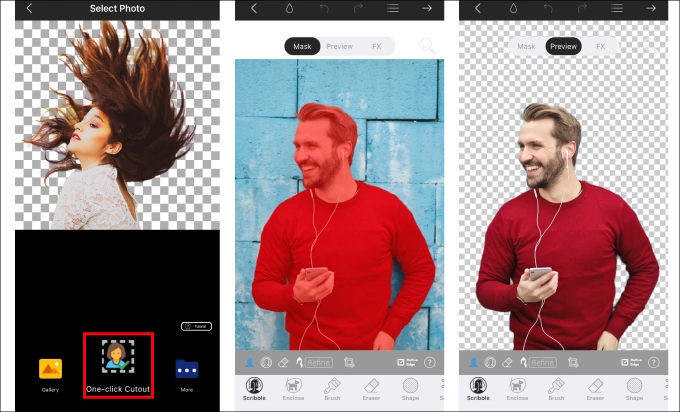 Easily cut out the selected part
How to Cut Out a picture in Cut Cut
If you're an Android user, consider Cut Cut. This is an app for editing your photos, and it offers a diversity of filters, stickers, and backgrounds. Besides, it has an intelligent cutout tool, so you can carve certain objects out of your pictures in just a few seconds. All you need to do is tap the Scissors icon in the middle of the home screen to upload your photo. The program will automatically mark the object.
Next, you can customize the selection area with the Size slider or remove unnecessary details with the Eraser. Finally, tap the Checkmark below to preview your object with a transparent backdrop. If you wish, you can edit your image further - apply filters, drop captions and stickers. Satisfied with the result? Hit the Save button at the top of your screen. Done!
Although this cutting app is free, it includes a huge number of distracting ads you will come across during your editing process.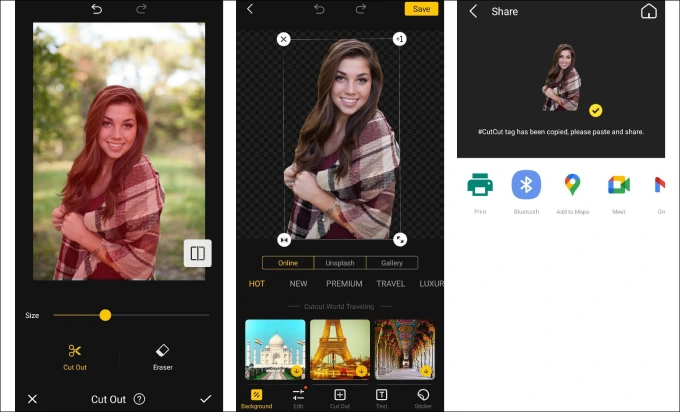 Use the auto cut feature to quickly create a picture-perfect cutout
How to Cut Out an Image from a Picture in Photoscissors
Don't want to overload your devices with any extra programs and apps? Then go with Photoscissors, an online editor powered by artificial intelligence. With its help, cutting images online is not a challenge since it will trim even complex objects in your pictures.
Here is how it works. Upload your image, and the neural networks will separate the object from its background. If any missteps occur in the process, use the Foreground tool to restore any missing details and the Erase tool to get rid of the pieces you don't need. Then just save the cutout object by clicking the Download button. But in order to export your images in high quality, you have to purchase special download credits.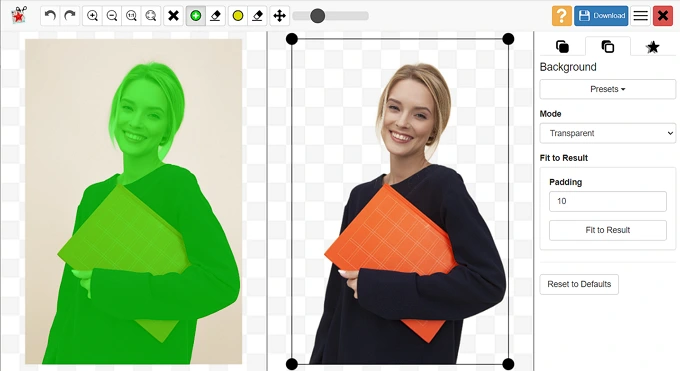 Upload your photo to automatically take it out of the dull backdrop
How to Crop Faces Out of a Picture
Want to have fun on social media? Or couldn't meet with your friends and now need to include yourself in the group photo? Whatever the case, with PhotoWorks you can give your photo a new look. With this powerful yet easy-to-use software you can not only cut parts of an image but also do a face swap with little effort.
With PhotoWorks, you can easily insert your face into another picture in a couple of minutes. Want to master this technique? Check out a short guide below or go into deeper detail with an explicit how to swap faces tutorial on our website to create a funny photo montage like a pro.
Step 1. Isolate the Face
Once you've opened your photo, go to the Tools tab, click the Change Background tool to perform your face cut out. Brush a few strokes over the model's face with the green Object brush and mark the surroundings you want to delete with the red Background brush. The program will automatically separate the face from its backdrop.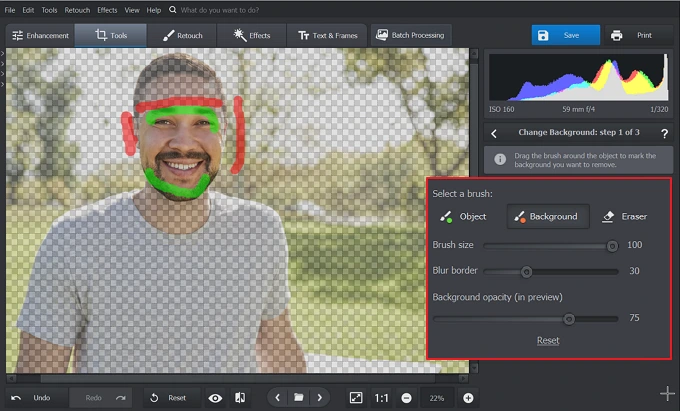 Paint over the face to keep it in your photo
Step 2. Swap Faces
Once you're done, click Select New Background and choose a photo to insert the cut out face. Resize the face image and find the body that suits it best. Drag the Blur Edge and Extend Edge sliders for better blending. To make the photo look more accurate and plausible, use the Adapt Object Colors to the Background slider. Then, save the result as a PNG, JPG, TIFF, or BMP by clicking the Save button or using the Ctrl+S hotkey combination.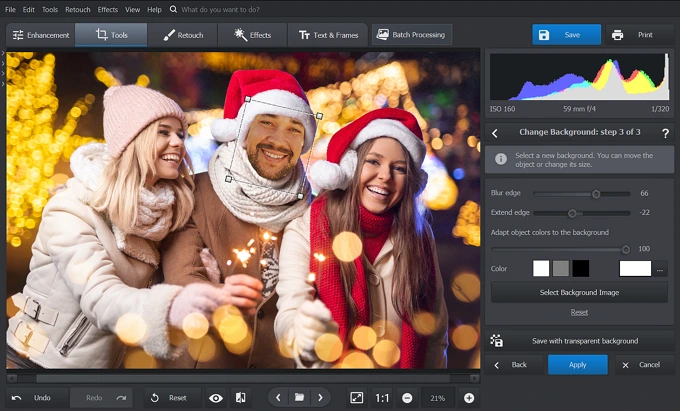 Insert your face into a new photo to simulate your presence
FAQ on Cutting Pics
How do you cut something out of a picture on iPhone?
To edit your photos on your iPhone, get Photo Cut Out Editor. It's a handy cut out photo app that you can also use to change the background in your pics and add effects. It has 7 cutout tools for both manual and automatic selection that can be extended, resized, adjusted and saved. Learn how to cut out an image on your iPhone in our step-by-step image trimming tutorial.
How can I cut someone out of a picture for free?
There are lots of free programs to trim photos out there. Our personal favourites are Photoscissors, Photo Cut Out Editor, and Cut Cut. These editors can help cut the face out of any picture and swap it with another one. The process is pretty standard. So if you're interested in this specific task, read a brief face cropping overview.
What program can I use to cut out a picture?
1. PhotoWorks
2. Photo Cut Out Editor
3. Cut Cut
4. Photoscissors
These programs can help you cut around your image with little effort. Whether you prefer editing your photos online, on your computer, or with your smartphone, you'll definitely find your perfect match in our list of the best programs.