How to Change a Background in a Picture
We have covered different apps for any skill level and purse thickness. Hopefully, you have found a perfect program for your needs. But whatever option you choose, the process of removing a background is fairly similar across the board. Let's see how to add backgrounds to pictures following common steps. Here's what you'll have to do:
Step 1. Get the Best Background Changer App
Download the installation file of one of the best background editors on our list – PhotoWorks. Run this file and follow the instructions. Then launch the program from the desktop icon.
Step 2. Open Your Picture in the App
Drag and drop your picture from anywhere into the program window. Alternatively, you can click the Open Photo button to find your picture via the file browser.
Step 3. Edit the Background of Your Photo
Go to the Tools tab. Select the Change Background tool and set the brushes' properties – size and border. Use the green brush to mark the object, and the red brush to highlight the background. Then click Next, and PhotoWorks will automatically remove the background. Erase any background leftovers or restore small object details with the same brushes if needed, and hit Next again.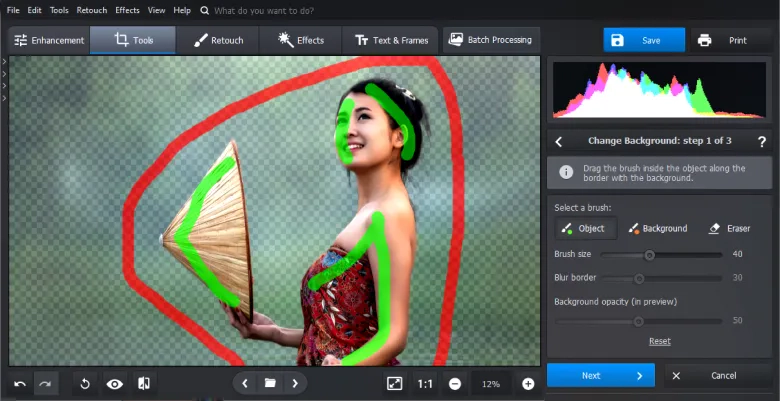 Paint the items you want to preserve and remove with the green and red brushes, respectively
Step 4. Add a New Backdrop
Click Select Background Image. Then pick one of the stock backdrops from the editor's collection or upload your own. You can also move and resize the top image, blur its edges and adjust its color scheme with sliders. Once everything looks fine, click Apply.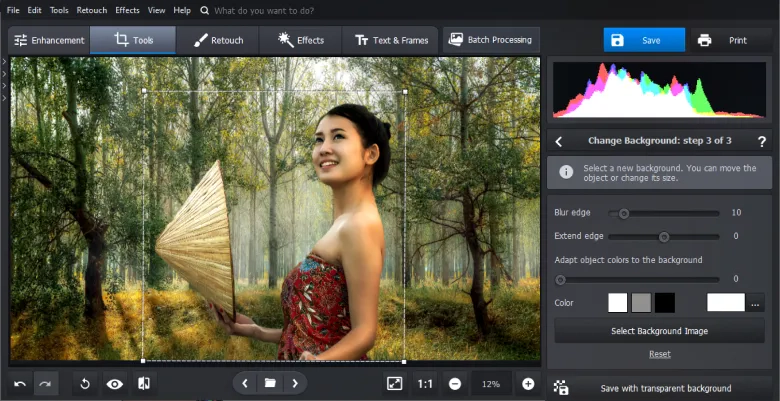 Back up your traveling story with a proper backdrop
Alternatively, you can change the background color with the program's built-in palette or drop a texture. This might work well for studio portraits and ID pictures.
Step 5. Save the Results
If you wish, you can use other tools to further enhance the image, such as color, exposure, and contrast adjustment, sharpness correction, and many other parameters. Then click the Save button and export the edited photograph as a JPEG, PNG, BMP, or TIFF.
Now you know how to change the background in a picture with PhotoWorks! The process of editing with other software is likely to be similar, so keep this guide in mind regardless of your choice. Use those apps to alter the background color, drop fun textures, or send models to alternative locations.
Which Background Changer App Is the Best for You?
You've come here looking for the best background changer app, so which is the one? Everyone wants to tell their own story and requires different means to do it. So consider your goals, editing preferences, and available devices – how they match the editors we have described.
If you want to quickly remove and replace a backdrop for a creative montage, try online editing with Canva. For shooting and imposing pictures on your phone right away – the Superimpose and similar backdrop apps are a great option. And for more inclusive and user-friendly editing on your PC – go with PhotoWorks, an all-in-one photo editor.
Want to explore some more handy backdrop editors? Check out a list of the best background removers. And if you want to go beyond backdrop replacement with your smartphone, read an in-depth review of the best photo editing apps for iOS and Android.