Top 23 Free Photo Editing Apps for iPhone and Android
Below, you'll find the best apps for photo editing. There're tools for iOS and Android devices, old and new, single-use and multifunctional ones. Some include in-app purchases, but you can download all these apps to your smartphone for free. Read the guide till the end to meet the finest products the photo editing industry has to offer:
1. Adobe Photoshop Express
Adobe Photoshop Express is a free mobile version of Adobe Photoshop. This is an on-the-go app for professionals that gives access to all your works via Creative Cloud. The editor has a good set of essential tools: cropper, rotator, resizer, color and tone correction tools, portrait editor, and more. However, you might experience problems while working with RAWs. The process is much smoother when you edit PNGs and JPEGs. But the app is still not as mighty as the original program.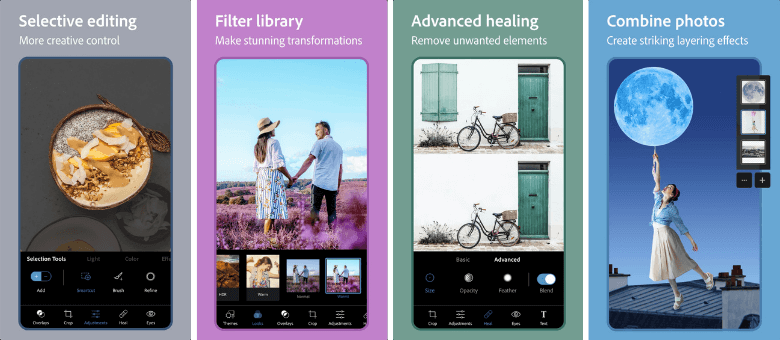 Smartphone adaptation of the popular Adobe Photoshop
Suitable for essential editing
Auto-Fix feature for automatic enhancement
Pop-Color tool for emphasizing a particular color
Access to Creative Cloud only with a subscription
Need a profile to use the app
2. PhotoDiva
PhotoDiva is the best free photo editing app for iOS that combines simple and advanced editing tools. You can use it for both quick touch-up and thorough enhancement. Crop & rotate your photos, color correct them, adjust their lighting, and further polish them with dozens of photo effects and filters. Unlike many mobile editors, PhotoDiva is also equipped with a unique facial recognition technology for automatic portrait editing. It allows you to achieve the smooth skin effect; remove imperfections like blemishes, glares, and dark circles; get glowing lips and accentuate eyes. You can even apply digital makeup in a single tap or a slider drag.
PhotoDiva is an easy tool for thorough photo editing
Essential photo editing tools
Automatic color correction
One-tap filters (Retro, B&W, HDR, Lighting)
Slider-based portrait retouch
Makeup presets for a quick start
Not compatible with Android
Want to make your social media photos shine?Download the best free photo editing app for iPhone today.
3. Snapseed
Snapseed is an app that was created as an alternative to Photoshop for iPad users. But you can employ it for editing images on your smartphone as well. This multifunctional editor offers a selection of features from essential ones like cropping and rotating to professional ones like Curves, HDR, and double exposure. So it will be enjoyed by experienced on-the-go editors on a daily basis. Another advantage of the tool is that you can save your settings as a preset for later use. However, Snapseed would not feel easygoing for newbies in editing because of its complicated interface.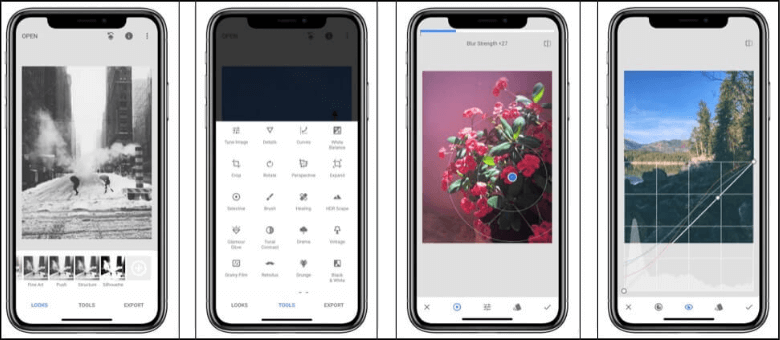 Snapseed is the perfect choice for professional editors
Essential & professional tools, artistic effects
Powerful color correction and tuning of pics
Auto-recognition of the genre of the picture
Too advanced for newbies in post-production
Ineffective portrait retouch tools
Inconvenient cropping tool
4. VSCO
VSCO is a professional on-the-go editor that is good for amateur use. It offers a well-rounded set of photo processing tools and filters. They will help you achieve high image quality and color correct your pictures. A cool thing about the app is that it allows making photo albums, posting your pictures via the app for competitions, and saving the works of others. However, most VSCO filters are available only with a paid membership. Besides, you don't get any portrait retouch tools in this app.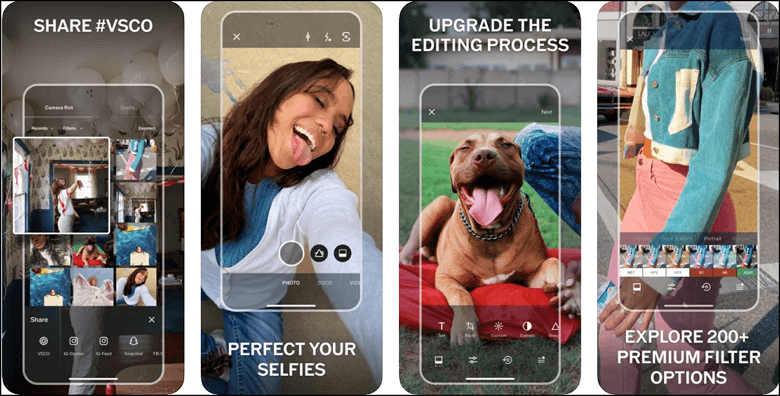 Classy color correction assistant VSCO
All essential editing tools
Diversity of adjustable filters
Easy export to social media
VSCO photography platform for sharing works
No portrait retouch
Ineffective editing of RAWs
Most filters unavailable for free
5. Prisma Photo Editor
Prisma Photo Editor is an automatized app for turning your images into paintings of world-class artists. Thanks to artificial neural networks, Prisma is yet the best at this task. It offers 500+ filters that you can use for free. But you can get exclusive ones with a subscription as well. And once you choose the needed effect, you can adjust its strength with a slider. After you modify your pic, the editor allows you to either save it, post it on socials, or share it with the Prisma community. However, the app is not multifunctional and is limited to only one purpose.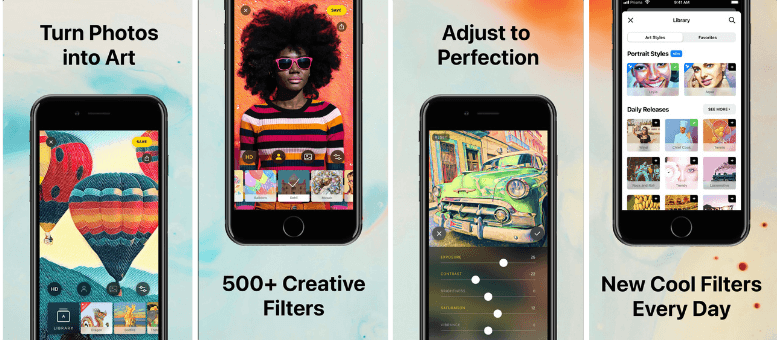 Prisma Photo Editor is a pocket tool for turning photos into paintings
500+ free artistic filters
Ran by artificial neural networks
Online community of users
Convenient sharing options
Minimum effort required for editing
Not suitable for regular editing
Not every filter works with every pic
6. Afterlight
Afterlight is an all-in-one photo editing app for Android and iOS smartphones. It includes all the typical tools for adjusting saturation, exposure, contrast, color, and tone. But it also offers such advanced features as Curves, Selective Color, Gradients, Double Exposure, and Blend Modes. The app works with layers, so you can easily put captions, stickers, and frames over your image and remove them just as easily. And the history screen will help you return to any stage of your editing process. The downside to Afterlight is that most of its tools and filters are only available in the paid Premium edition.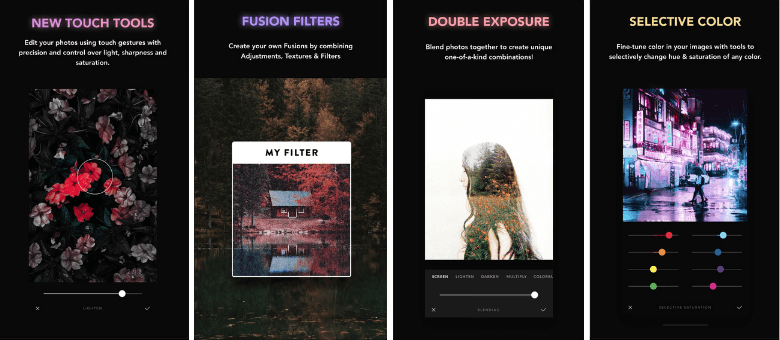 On-the-go photo quality enhancer Afterlight
Suitable for most editing tasks
Advanced and essential tools
History screen and layers
Diverse color correction tools
Frames, filters, text styles, stickers, textures
No portrait retouch tools
Few features and artistic effects available for free
7. Ribbet
Ribbet is a multifunctional photo enhancement app. It offers essential tools for color correction and portrait retouch and allows applying filters to your images. However, the selection of artistic effects is rather poor. So it will be difficult to find a filter that will work well with your photo. As for portrait retouch, you can use the app to digitally whiten teeth, remove minor blemishes, and edit eye color and brightness. But no feature will help with fixing significant skin imperfections.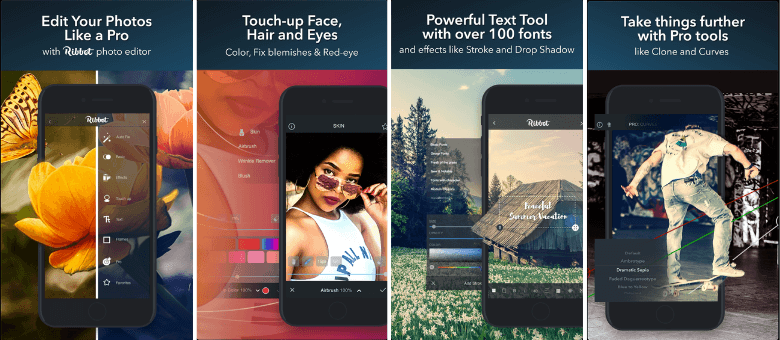 Ribbet is a solution for tablet photo retouchers
Bugless performance of tools
Portrait retouch features
Texts, frames, effects
Photo collage tool
Limited number of filters
No editing options for major skin defects
Most portrait retouch and pro features are paid
8. PicsArt
PicsArt is a well-rounded smartphone photo editor that operates with layers. But you can easily turn them off. The app is packed with tools for adjusting transparency, exposure, and contrast and with a collection of creative elements. So you can make collages, add frames and captions, apply cool effects, and even create stickers in no time. A unique feature of PicsArt is that it allows applying your settings to the picture that you are taking in real-time with your smartphone camera. However, constant pop-up ads of the free edition can get annoying.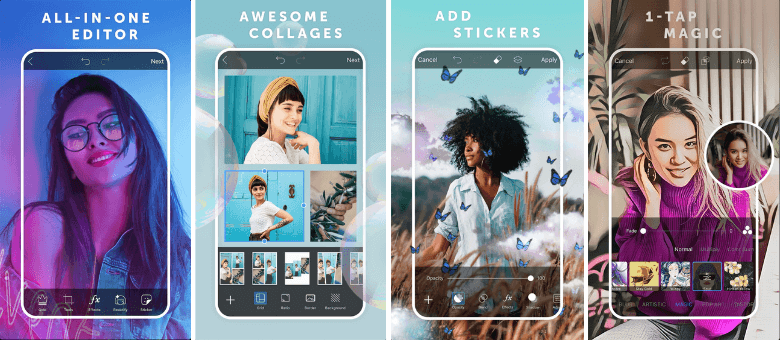 App for funny collages and memes PicsArt
Diversity of tools
Pre-capture effects
Remix Chat for collaborative editing
In-app challenges for photographers
Option to import pics from social media
Pop-up ads in the free version
Complicated for inexperienced people
Limited free tools and art effects
9. Fotor
Fotor is one of the best free photo editing apps for Android with a pro-level set of features. It is equipped with all the essential tools for adjusting colors, white balance, brightness, contrast, saturation, and more. The editor also offers a huge collection of stickers and frames together with a handy collage maker. You can get even more artistic elements for free in the Fotor Store. However, Fotor lacks any portrait retouch tools. Besides, many useful features are unavailable for free.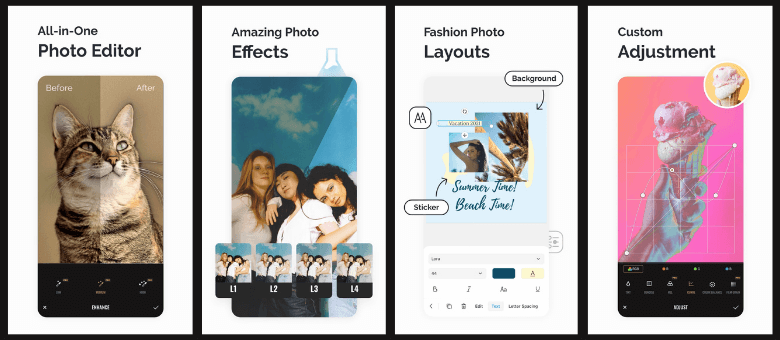 Fotor is the best choice for photo collage enthusiasts
HDR mode for thorough photo enhancement
Huge number of free artistic effects
Fotor social network
Many important features are only available with a subscription
No portrait retouch tools
10. Adobe Lightroom Mobile
Adobe Lightroom Mobile is a portable simplified edition of the Adobe Lightroom desktop program. This multifunctional tool is perfect for professionals who are seeking a thorough edit. It is equipped with most photo enhancement features you might need for editing a shot: enhancing presets, color and exposure adjustment, filters, and even a selective color editor. The helpful Camera tool will assist you with changing focus points and ISO settings. While the Healing feature will help to remove unwanted objects and people. However, some key features of the app including access to Creative Cloud are unavailable for free.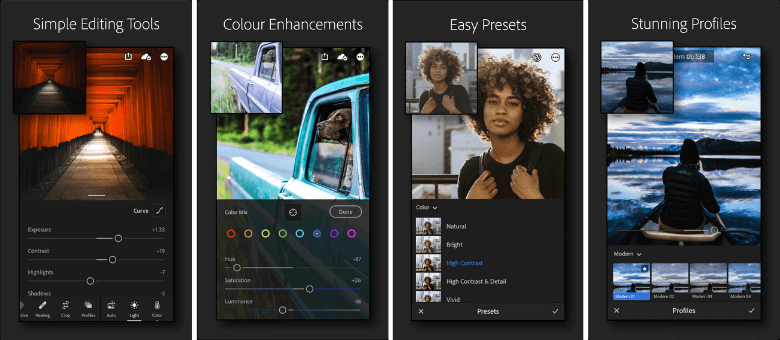 Adobe Lightroom Mobile is the go-to app for Adobe fans
Advanced & essential tools
In-app albums for your works
Library of interactive tutorials
Discover area with access to edits of other people
One-tap filter presets
Need a subscription to access Creative Cloud
Complicated and time-consuming for occasional users
No portrait retouch features
AI engine and selective editing only in Premium edition
11. Darkroom
Darkroom is an automated app for casual users who don't like spending much time editing. It is equipped with all the basic photo enhancement features, and most of them can be applied in a single slider drag. You can also use one-tap filters from the app's collection for an even faster result. It is helpful that Darkroom has a lot of built-in effects. But you can make custom ones as well. One of the key features of the editor is that it allows modifying the background and the foreground separately from each other: blur, fix contrast and saturation, brighten, and more. However, such valuable tools as Curves and Selective Color are unavailable without a subscription.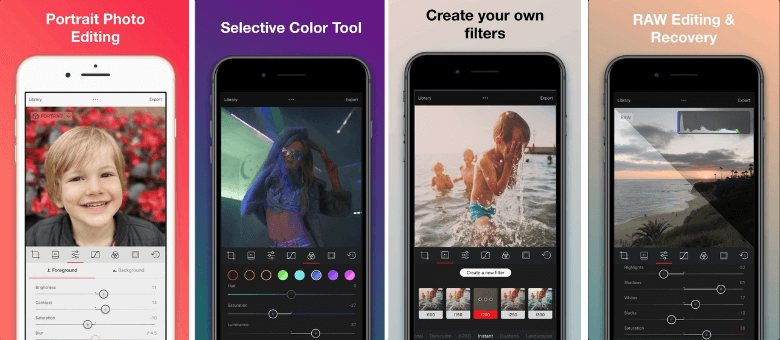 Darkroom is a faithful helper for lazy picture retouchers
Support of Live Photos & Portrait images
Batch photo processing feature
Organized library of your works
Auto-import of pictures into the app
Collection of one-tap filters
Curves, Selective Color, and some filters are paid
12. Moldiv
Moldiv is a smartphone app best for making collages. It allows processing several images at a time: apply effects and presets, color correct, crop pictures, and more. The helpful Scissors tool helps cut out particular sections of photos and add them to your collages. The editor offers tons of collage templates to fit in up to 6 images. Those recognize the colors and sizes of your photo and adapt to balance out the composition. What's more, the editor has plenty of thematic templates you can use for special occasions. But, mind that the preview pictures will be of bad quality.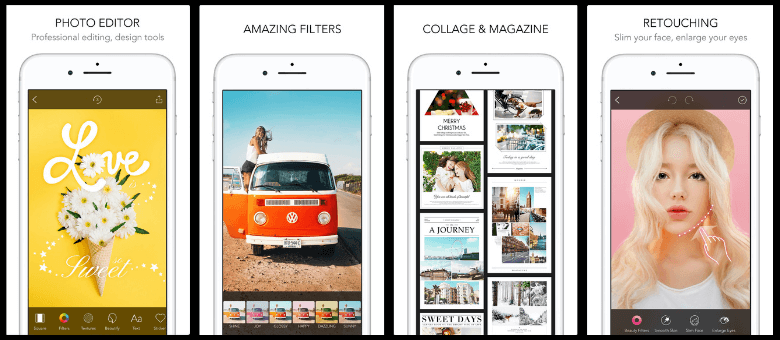 Moldiv is the perfect solution for surprise photo collages
In-app import and export of images from and to socials
Inspiration section with works of other photographers
Diverse collection of decorative elements
No portrait retouch feature
Limited functionality
Distortion of preview photos
13. Pixlr
Pixlr is a photo editor that would be helpful for those who just want to apply some tuning before posting their images online. The app is equipped with all the necessary features for that: healing and blurring tools, cropper, rotator, and more. Pixlr also offers a nice collection of effects, frames, stickers, built-in templates. The Color Splash tool will help you pop the chosen colors and fade the rest. And in case you want to come up with something creative, you can go with the app's collage maker or just overlay some quotes or captions. But bear in mind that this user-friendly editor won't produce professional-level edits for you. In case you just want to have fun, it is a great choice.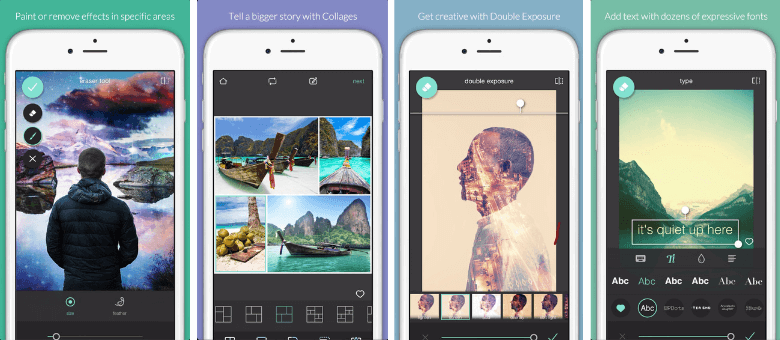 Pixlr is a quick touch-up tool for fun photoshoots
Presets for a quick edit
Built-in collage maker
Large library of decorative elements
All necessary tools for overall tuning
Not suitable for professional editing
Pop-up ads in the free edition
Healing tool is bad at removing big objects
14. Instasize
Instasize is an app branded as a photo editor for preparing images for Instagram. It is equipped with basic photo enhancement tools for adjusting vibrance, exposure, contrast, brightness, and lighting in your image. The editor is also a portrait retoucher that will help remove small blemishes, whiten teeth, and remove redness. What's more, Instasize is loaded with creative elements: collage templates, text styles, borders, and filters. But the majority of them are only available in the Premium version of the editor.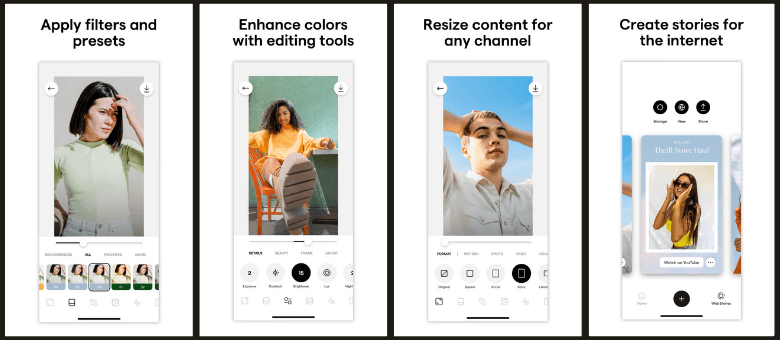 Useful assistant for influencers Instasize
Essential picture enhancement tools
Portrait retouch features
Decorative elements
Collage maker
Direct posting to Instagram, Facebook, Twitter
Social media formats (no resizing while uploading)
Useful only for socials
Free edition is limited in options
Pop-up ads and glitches
15. BeFunky
BeFunky is a multifunctional photo editor that also operates as a collage maker and a portrait retoucher. You can use it to adjust saturation, dynamic range, exposure, sharpness, and size of your image. The app will also help you digitally remove skin imperfections and flash glares, reduce the redness of your eyes, whiten your teeth, and put on makeup. As for artistic features, BeFunky is loaded with frames, fonts, patterns and shapes, stickers, and everything else you might need for a cool photo collage. However, reviews say that some features might not be working properly if you are editing on your iPad.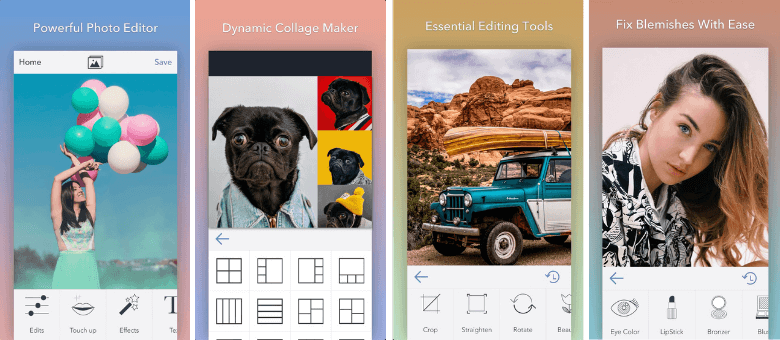 Well-rounded editor for casual users BeFunky
Built-in photo collage maker
Nice portrait retoucher with a makeup tool
Dozens of free photo effects
Diverse collection of frames, fonts, stickers
BeFunky online platform for sharing inspiration
Easy export to social media
Inconvenient crop tool
Some features don't work well on iPads
16. Facetune 2
Facetune 2 is an advanced photo editor app for iOS and Android designed for enhancing selfies. However, it also has a fair set of basic tools. So you can use the software to fix the brightness, saturation, sharpness of your pic, and much more. Facetune 2 also allows you to crop your selfie and change its backdrop. As for portrait enhancement, you get handy tools for smoothing skin, whitening teeth, warping your facial features, and more. There is a huge library of shadows, highlights, and tints to choose from when it comes to digital makeup. However, many features are available only with a subscription. So are blemish remover, face sculptor, eye color changer, and skin glow tool.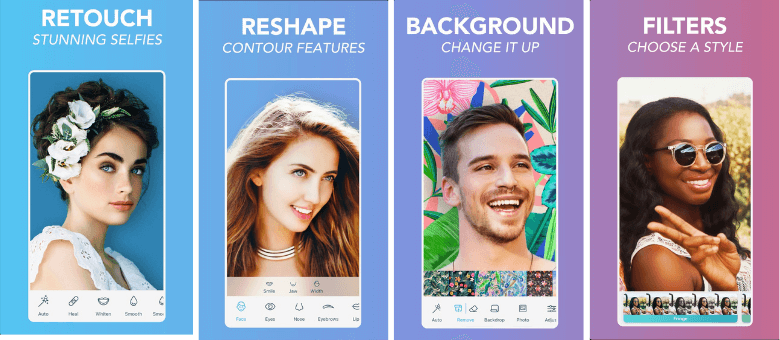 Powerful selfie beautifier Facetune 2
Powerful portrait enhancement tools
Convenient effect preview
Simple slider-based adjustments
Built-in Smile tool
Most tools are only available with a subscription
17. Canva
Canva is one of the best free photo editor apps for Android. The app is multipurpose software for working with photos. With it, you can not only enhance images but also create banners, posters, greeting cards, collages, presentations, and even more. The app offers such essential editing tools as a photo straightener and cropper, transparency adjuster, blur tool, and color corrector. Apart from that, the app is packed with free icons, frames, textures, colors, design templates, and filters. But the all-in-one Canva app lacks portrait retouch features and doesn't allow switching the background of your image.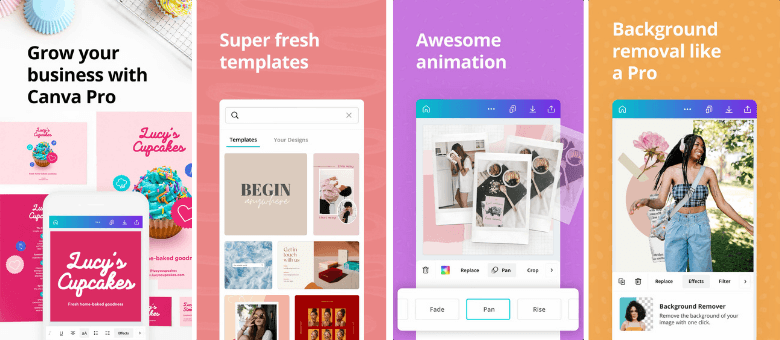 Canva is the perfect manager of your socials branding
Essential editing tools
Perfect for marketing and social media posts
Tons of free artistic elements
Project history kept within the app
Built-in presentation and photo collage maker
No portrait retouch option
Background switching unavailable
18. Visage Lab
Visage Lab is an easy photo editor app for Android that helps enhance portraits. It allows such digital beautification things as smoothing your skin, removing skin glares, whitening your teeth, applying makeup, and more. The app also has a nice set of backgrounds - in case you want to replace the one in your image - and artistic effect for adding a final touch. However, the downside to the free version of the tool is the constant ads that show up in the middle of your editing process and the branding hashtags that appear at the bottom of your edited photo.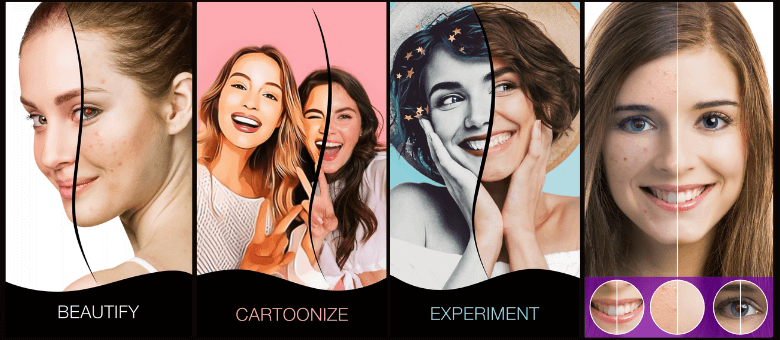 Visage Lab is your pocket portrait enhancer
All basic face retouch features
Collection of backgrounds and effects
Useful only for selfies
Annoying in-app ads
Branding hashtags on pics in the free version
Not suitable for professional editing
19. Photoleap
Photoleap is the best pro photo app for iOS and Android. Its functions are similar to those of Photoshop. Editing in the app is based on layers. And it's helpful that you can undo and redo the last modifications. As for features, the editor allows you to combine photos, overlay textures, erase unnecessary objects, adjust the transparency of each layer, and change their shape and perspective. What's more, you can apply artistic effects and add graphic elements to your pic with it. But you would have to watch many tutorials to fully figure out the program due to its complicated interface.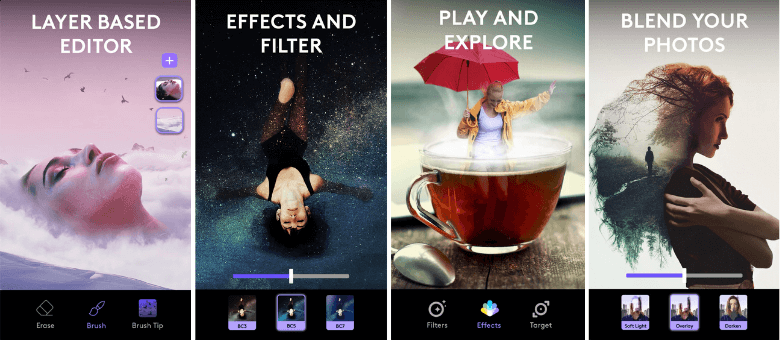 Best rated image editor for professionals Photoleap
Thorough editing
Full set of photo enhancement tools
Undo & redo function for the previous step
Edit several pictures at a time
Convenient sharing options
Lots of cool effects
Free version allows creating only 2 layers
Too complex for casual users
Not compatible with Android devices
Lots of pop-ups
20. Polarr Photo Editor
Polarr Photo Editor is one of the best photo editor apps for iPhone designed for aspiring photographers and people with little experience in post-production. The app has a lot of automatic tools that allow enhancing your picture in a click. Advanced users of the app can create their own photo filters, manage masks and brushes. But the tool doesn't allow deep photo processing and has some glitches. As for portrait retouch, the editor automatically recognizes faces and their features and allows you to modify the shape of your face, remove skin defects, hide glares, and much more.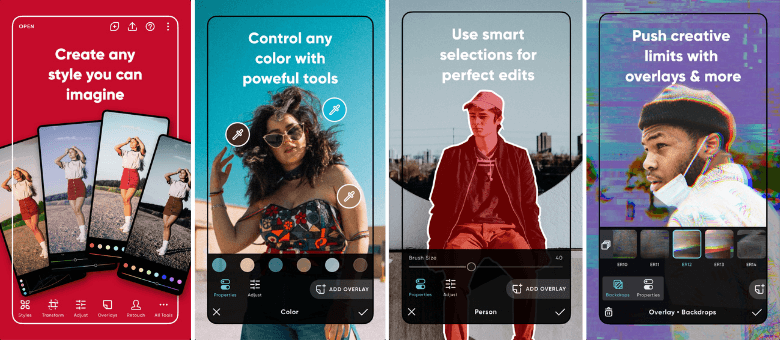 Polarr Photo Editor is an automatized photo editor for busy people
Essential editing tools
Portrait retouch features
Support of JPEGs up to 30MP
Full view of EXIF info
Online & offline modes
No detailed photo processing
No support of RAWs
Low accuracy in editing
Poorly developed portrait tools
21. A Color Story
A Color Story is one of the best free iOS apps for refreshing your photos, making trendy edits, and playing with colors. It offers tons of customizable filters and effects, a set of useful professional and basic tools, so you can get a polished shot by the end. It is helpful that the editor has the batch processing feature. That allows you to enhance several photos at the same time and apply the same filters and color settings. This way your images will match well in your Instagram grid. By the way, the app has the IG grid preview and planning as well. But tools for thorough color correction are unavailable for free.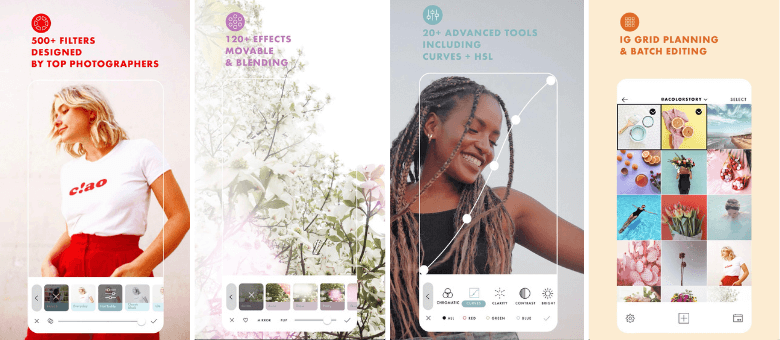 A Color Story is a photo manager for a trendy socials feed
Tons of adjustable filters and effects
Batch editing feature
Professional and basic editing tools
Instagram grid preview and planning
Slider and touch tools
Most filters only available with a subscription
Color+ tool unavailable for free
No portrait retouch tools
22. Instagram
Instagram is a popular social media app, and most people overlook its photo editing capabilities. However, it has a good set of basic photo enhancement tools for you to fix exposure, perspective, color intensity, sharpen your photos, crop, rotate, and straighten them. Besides, Instagram has a lot of built-in masks and exclusive effects by bloggers. So the app would work well in case you just need to touch up your image before posting it online. However, it would neither help with serious photo defects nor would it allow an in-depth edit.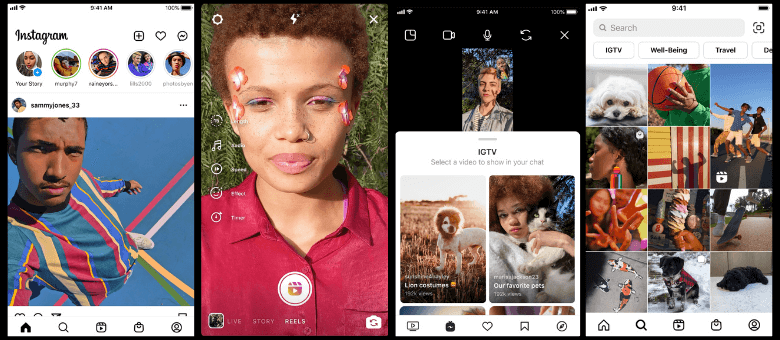 Instagram is the good old classics of photo retouch for socials
All photo enhancement tools are available for free
Perfect a final touch before posting
Developers constantly add and remove tools
Not enough instruments for a thorough edit
No portrait retouch tool
23. Google Photos
Google Photos is a photo sharing and storage app with a minimal picture enhancement toolkit. However, those are super quick and easy to use because they require almost no output from the user. You can use the app to adjust color, tone, and contrast and to crop and rotate your pic. As for the fun side of the editor, it has a nice library of adjustable filters which you can apply to your photos. And in case you upload images taken in batches, Google Photos will automatically convert them into cool GIFs. So the app would be perfect for applying some touches to your shot and sharing it right away or for managing your photo gallery. But it won't help you create anything unusual.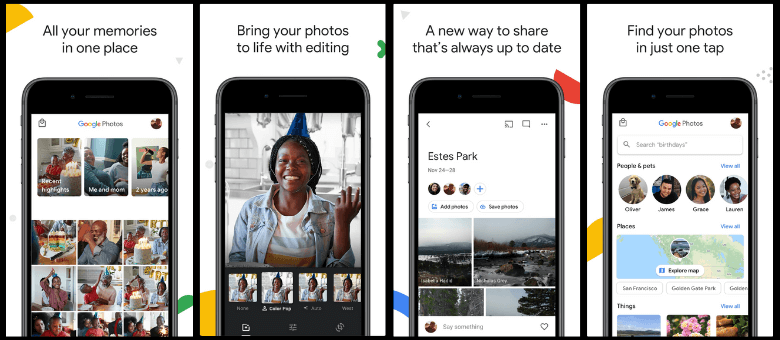 Google Photos is the best photo sharing app for iOS & Android
Set of easy-to-use basic photo enhancement tools
Collection of filters
Convenient storage and sharing options
Automatic GIF maker
Only 15GB of free storage space (since June 2021)
Minimal functionality and creative features
Not enough for serious editing
What's the Best Photo Editing App?
In this guide, we have gone over the best free photo editor apps for different types of users and various purposes. Still feel lost? In case you like to combine desktop and on-the-go photo editing, you would enjoy Canva. It offers a lot of creative & synchronization options so that you can access the photos you're editing via your smartphone and PC. If you need the coolest professional editing app to get carried away with, stick to Photoleap. Its huge library of tools and artistic elements guarantees you a smooth editing process. Need the top-rated collage maker? Go with the trendy Fotor. Finally, if you're seeking the best free photo editing app for your iPhone, get yourself PhotoDiva.
PhotoDiva gives you much creative freedom. It will help you improve all kinds of shots: landscape, outdoor, and indoor pictures no matter your skill level. With its numerous image enhancement tools, you can make vibrant and well-composed Instagram images in a couple of slider drags. Its diverse artistic filters allow you to easily change the mood of your picture. The built-in portrait enhancer will make sure that your digital self always looks gorgeous. It will easily give you flawless skin, a Hollywood smile, and a red carpet look. All this makes PhotoDiva today's best free photo app.
Need to touch up the photos stored on your PC? Check out this list of the best photo editing software for computer. There you'll find advanced and newbie-friendly programs, rising stars and industry giants, AI-powered solutions and traditional photo editors - the final choice is up to you.