17 Best Background Remover Software for Newbies & Pros





4.5
Votes:

8

(Rated: )
Whether you're a blogger and create awesome pics to post on your socials, or run an online shop and make stunning adverts, you equally need a handy tool to crop out the background of your images. Sure you can employ a professional retoucher or a freelancer to do this job. But why spend so much money and waste your time looking for a person to perform a task that you can do yourself? You just need a background eraser tool that meets your needs and matches your budget. But you don't need to do the research - we've done it for you and are ready to tell you about the top 17 best programs to remove the background from a picture.Keep on reading and find out the pros and cons of stand alone programs, plugins and apps and choose the one to perform this time-consuming task in mere minutes yourself.
3 Best Background Remover Software for PC
PhotoWorks - Best Choice for Beginners

PhotoWorks is a great option for those who want to use a feature-packed program on Windows without watching endless video tutorials. The tools are incredibly easy to master and help you make advanced edits in mere seconds, although it could take you hours to do the same tasks in another app. The simplicity, speed, and high quality undoubtedly make PhotoWorks the best background remover for PC in 2023. Learn more about the beginner-friendly program below.
Want to change the background like a pro?Take your photos to a new level with PhotoWorks now!
Download
Fully compatible with Windows 11, 10, 8, 7
Photoshop - Best Option for Seasoned Users

How could we skip such a giant in the photo industry as Adobe Photoshop? Over the years, the legendary software has gained popularity and credibility for professional precision, smooth workflow, and wide choice of tools. You'll find lots of manual, automatic, and semi-automatic tools for performing similar tasks at different levels of skill. Find out more about the best background remover software for PC below.
Remove.bg - Best Service for Online Photo Editing

For getting rid of the background in photos online, use Remove.bg, the leader among its browser-based peers. The intelligent program can handle even such complicated tasks as recognizing hair or fur and neatly removing the area around them. Surprisingly, such precision doesn't take much time - the uploaded photos will be ready in the blink of an eye. Read more about the best background removal service below.
17 Best Background Removal Software
1. PhotoWorks
PhotoWorks is an AI-powered photo editor that helps you cut out any background in mere minutes. You'll need to apply just a few strokes of the green brush to outline the object or person you want to preserve. Then, a couple of strokes with the red brush to mark the background. Adjust the selection if needed. But you don't have to be precise, the intelligent AI will do the job for you! When finished, you can save your picture as a JPEG with a white background or as a PNG with a transparent one. Alternatively, you can choose a new background for your image from the built-in collection. Thanks to its intuitive interface, the program perfectly suits even novice users.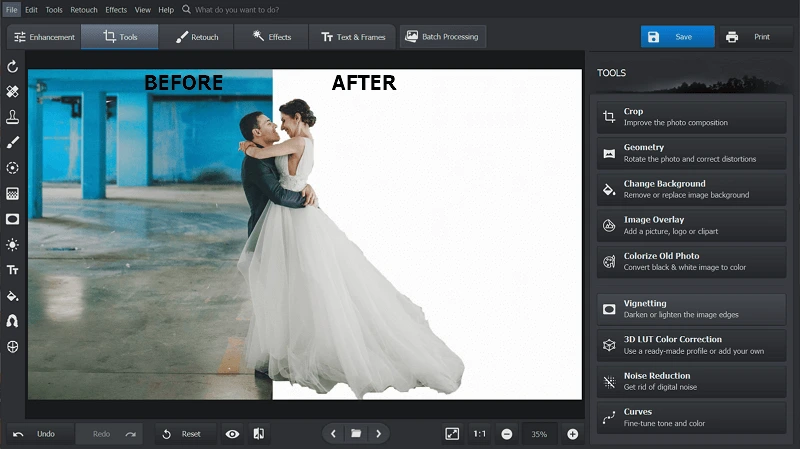 Start a free trial of PhotoWorks and remove any background in a flash
Background removal without cumbersome selections
Smart AI detects objects & outlines the smallest details
Build-in background collection
HQ images after background removing
Free technical support
To remove the background in PhotoWorks, follow these simple steps:
Upload a photo.

Launch the program and either click Open Photo or simply drag and drop the picture you need to edit.

Select the background area.

Switch to the Tools tab and choose the Change Background feature. To separate the background from the rest of the image, pick the adjustable Object and Background brushes and paint over the areas. Since it's an AI-powered tool, you don't have to be precise while applying the strokes. Use the Eraser tool to fix the areas the program mistook for the background.

Delete the background.

Click Next and adjust the object edge to make it look more natural by dragging the Blur edge and Extend edge sliders. Finally, hit Save with transparent background to export the edited photo as a PNG file.
Want to easily remove backdrops from your photos?Download the best background eraser. Try PhotoWorks for free today!
Download
Fully compatible with Windows 11, 10, 8, 7
2. Adobe Photoshop
This well-known software perfectly suits professionals, but may be too complicated for a novice. The complex interface of Adobe Photoshop may puzzle you at first and it'll take some time to find the tool you need. Granted, you can master this program, but it'll take you quite a while. The editor allows you to remove the background from a photo in several ways. You can create a new layer and split your image into fore- and background, then delete the layer you don't need. Or you can manually trace the outline, then revert the selection and cut out the background. Even though Photoshop is equipped with lots of tools, it's too expensive if you don't need it on a daily basis.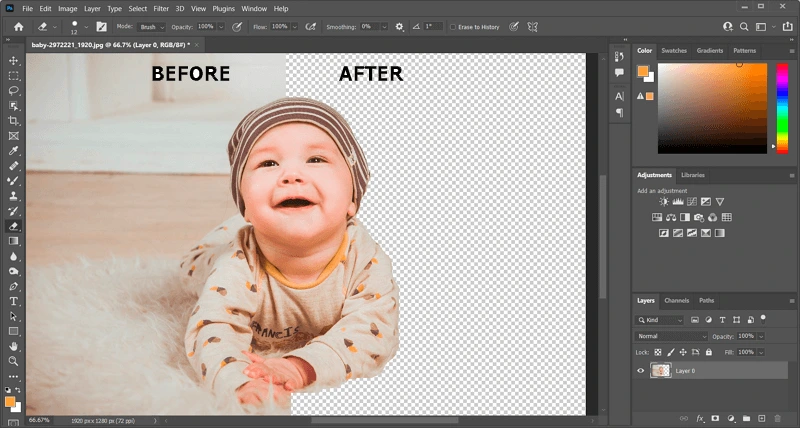 Photoshop can help you cut out the background in several ways
Free trial for 30 days
Access from all your devices
Different ways to get rid of background
Expensive subscription
Steep learning curve
Destructive editing
Let's see how you can use Adobe Photoshop for background removal.
Import your picture.

Start the program and open the File menu. Click Open and select the photo you need.

Select around the object.

Pick the Quick Selection tool. Hold the left mouse button and drag the mouse around the object. When the selection is done, click Select and Mask. In the Properties panel, adjust settings like Radius for Edge Detection or Smooth, Feather, Contrast, and Shift Edge in Global Refinements - it will make the selection less visible.

Remove the background.

Now open the Output To dropdown menu and choose New Layer with Layer Mask to make the background transparent.

Save the edited picture.

The background is deleted, so you can either add a new one or save the photo as a PNG file. If you choose another format, e.g., JPEG, the photo will be downloaded with a white background by default.
3. Remove.bg
The best background remover that you can use online is Remove.bg. It's really quick and accurate at separating the image from the background! In its free version without an account, you can download only the output image of mediocre quality. But you need to sign up to get the best quality picture. Keep in mind that even with your free account you'll be given only one free download. Need to erase the backdrop from a couple of your pics or more? Then you'll have to pay. Doesn't look like a bargain if you don't use this background deleter quite often.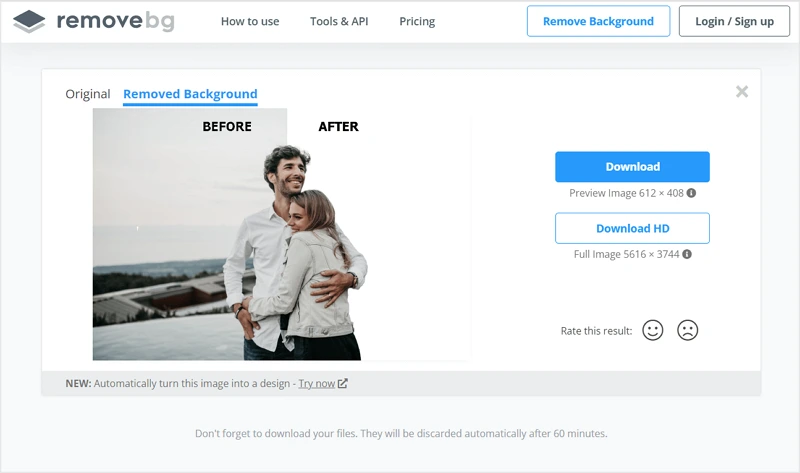 With Remove.bg, you can quickly delete the background
Quick and easy to use
Precise background recognition
Doesn't apply watermarks
Available as a website, an app and Photoshop extension
Mediocre resolution of free cut-outs
Need an account and paid subscription
Here's how you can make the background transparent on the Remove.bg website:
Add a picture.

Open the website and hit Upload Image to import a photo. You can also paste the URL to add your file.

Save the photo.

The service will delete the background automatically - you don't need to make any selections or adjustments. Click Download to save the picture in low resolution, or hit Download HD to export the full image.
4. Canva
If you are into graphic design, then you have definitely not only heard about Canva, but used it as well. As a designing tool, it allows you to use a restricted number of tools and templates in its free version. In case you want to employ it as a background removal service, upload your image, click Erase, and the background will disappear automatically. But to perform it you'll have to create an account and buy a pro subscription or at least start a free trial for 14 days, which you can't access without submitting your credit card details.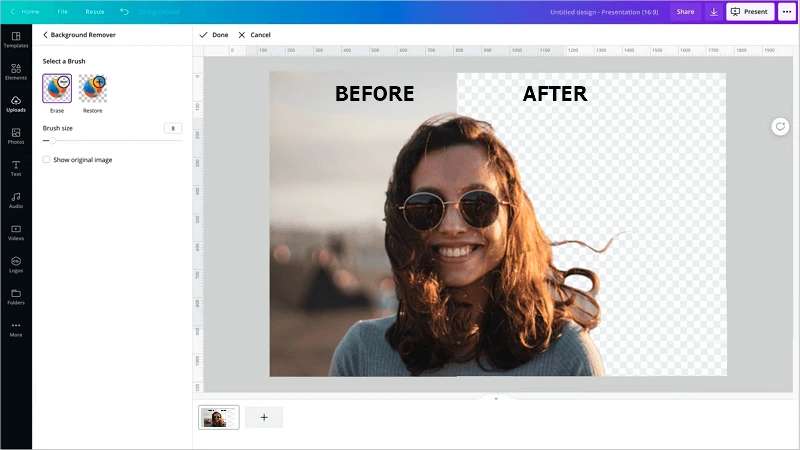 Get rid of the background with Canva
Fast at deleting the background
Good quality of the images
Perfect for social media posts and ads
Needs an account and expensive subscription
Credit card details are necessary for a free trial
Difficult to find the background remover
5. Super PhotoCut
The next tool that allows you to erase background in a photo is Super PhotoCut. It helps you remove the background in a few seconds with minimum effort. Upload your photo, mark both fore- and background, then the editor will cut out the backdrop. In case the cutout image isn't perfect, take the Auto-Size Brush and improve all the flaws. By the way, you don't need to worry about the changes you perform - the app saves them automatically. So due to its user-friendly interface and range of functions, Super PhotoCut is the best background remover app available only on Mac, if you're ready to pay for it.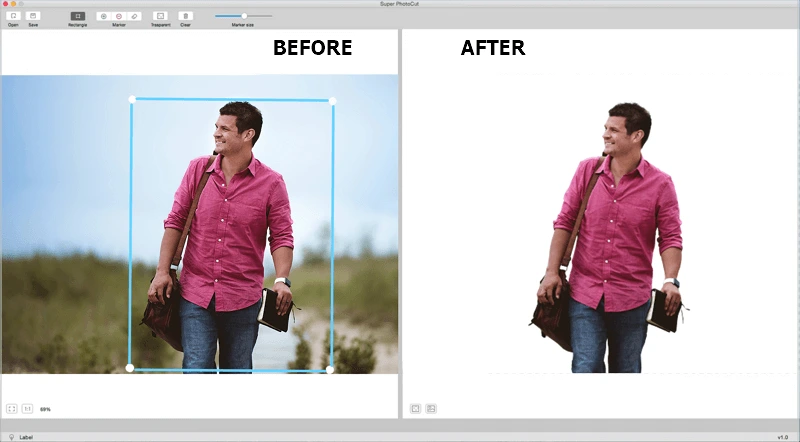 Super PhotoCut is a background eraser available only on macOS
Keeps the quality of the picture intact
Simple interface
Auto-save function
Auto-Size Brush adaptive to zooming
Runs only on macOS 10.7 or later
Quite expensive
6. Background Eraser Mobile
Now it's time for the best app to remove background for those who have Android-powered devices. Background Eraser won't take a lot of memory space on your device. So there'll still be enough room for your pictures. The app erases background automatically, but allows you to apply some manual corrections if necessary. To perform it, you can zoom in on the picture and erase the leftover details. Sounds good, right? But keep in mind, the app doesn't save the original image. It's better to make a copy of the picture before you work on it with the app.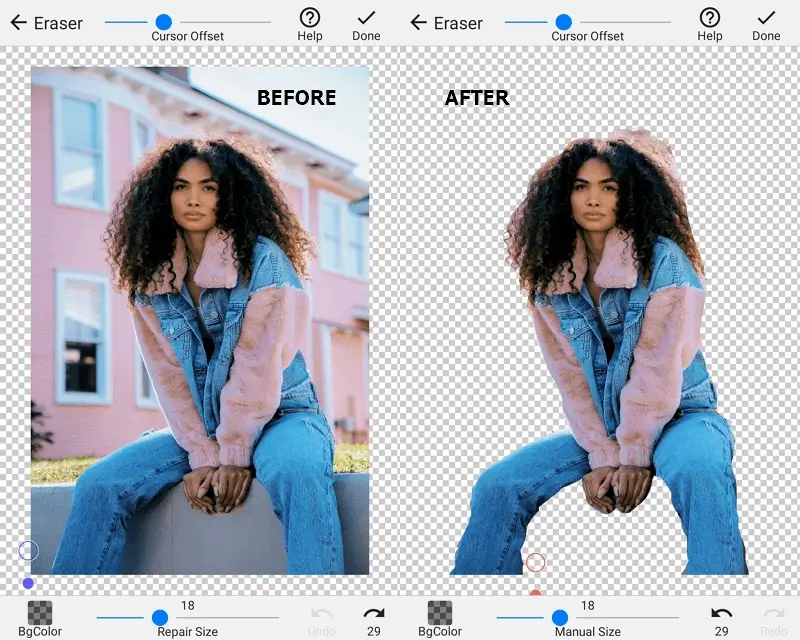 A handy way to get rid of the background on Android devices
Lightweight
User-friendly interface
Almost no ads
Only available for Android
Overwrites the original image
7. GIMP
Wanted a free background eraser for PC, Mac or Linux that would be similar to Photoshop? Then you have it! It's GIMP. Luckily not as complicated as its counterpart, this program allows you to quickly select an object manually or use an automatic straight line. Due to its special algorithms, the free background removal software can cope even with tricky backgrounds in mere minutes. When finished, you can save your image without a background as a PNG to use in your creative projects later.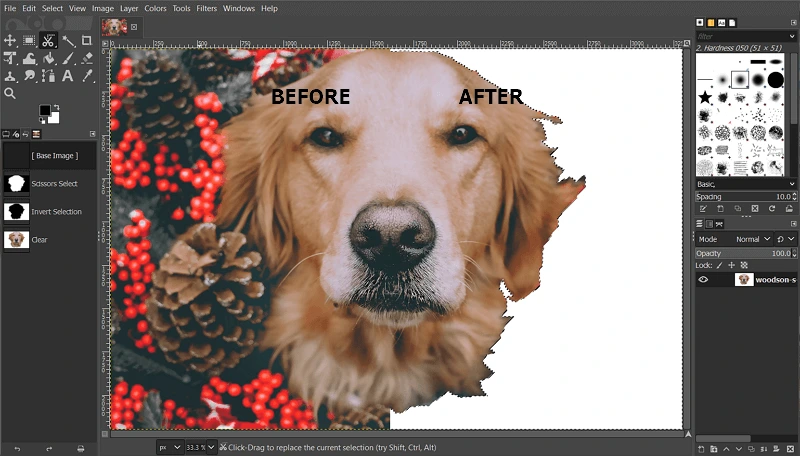 GIMP is handy for deleting the background of an image on any OS
Free to use
No ads
Available on Windows, Mac and Linux
Loading time can be slow
Not intuitive
8. Apowersoft Background Eraser
Apowersoft: Background Eraser is a go-to option for iPhone users. The app is regularly improved, so now the AI can better distinguish an object with a complicated outline. One more handy option is that Apowersoft can remove backgrounds in bulk. If you need this app only from time to time, keep in mind that it's quite expensive. Moreover, even in its paid version, you'll be limited in the number of images you can process. With the auto-renewal subscription, you'll never forget to pay. The money is charged 24 hours before the current subscription ends. So if you need to cancel it, do it in advance.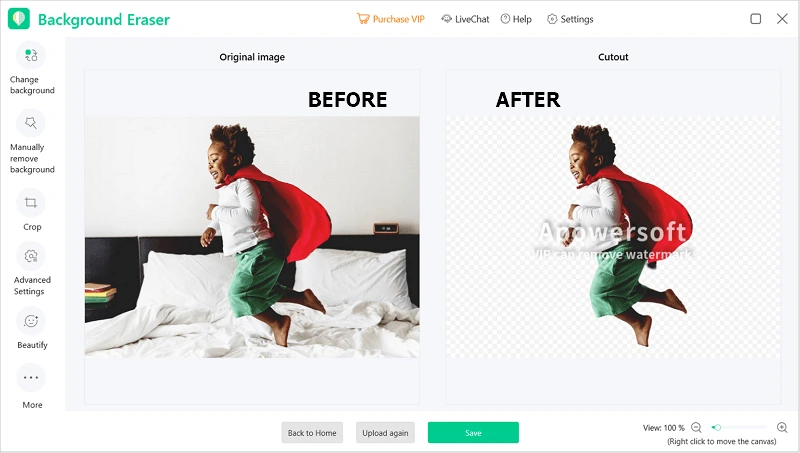 Apowersoft Background Eraser can remove the background from multiple pics at once
Expensive subscription
Limited number of images
No downloads during the free trial
9. PhotoScissors
PhotoScissors is one of the best background remover apps based on Windows OS. It works with JPG, PNG or WebP formats. You don't need any special skills to delete the background with this automatic app. It works well with such tricky objects as hair and fur. But the maximum image resolution is restricted along with the image size. Your picture shouldn't be more than 10 MB. If you're okay with that, then PhotoScissors is a perfect tool.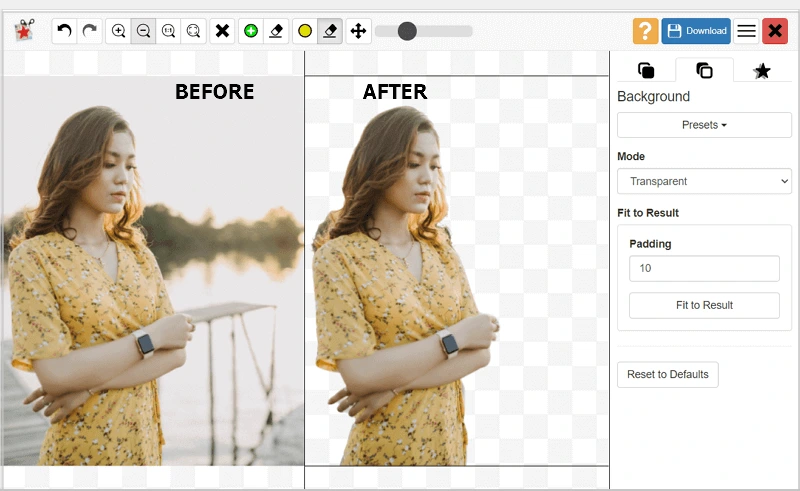 PhotoScissors is a handy option for images under 10 MB
Deletes the background around hair
User-friendly
Can remove based on color
Requires Windows 10 or higher
Can't delete the background from larger images
10. Leawo Photo BG Remover
Photo BG Remover is time-saving background removal software. Due to the built-in smart algorithms, it can separate the background around barely discernible objects automatically. When you upload the image to the editor, it detects the edges of the pic and deletes the background of the image automatically. If you need to apply some corrections or want to choose the cut out area manually, you can do it with ease. When finished, you can save your cutout image as a JPEG, PNG or TIFF. In case you want no watermarks in your cutouts, you'll have to buy a life-time or annual subscription.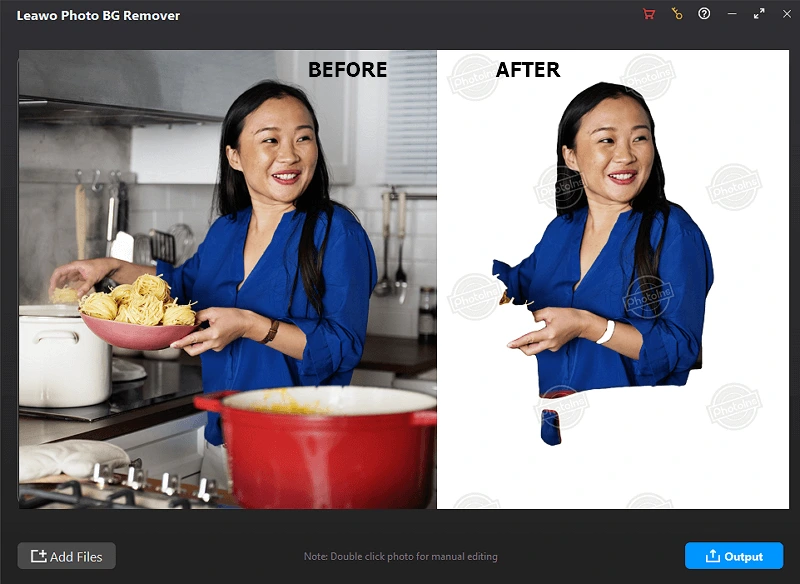 Leawo Photo allows you to save your cutout image in different formats
Choice of export options
No editing skills needed
Auto and manual modes
Watermarks in the free version
Paid upgrades
11. Magic Eraser
Looking for an app that erases background not only from your saved images, but from the photos taken just now? Then Magic Eraser is a worthy option if you have an iPhone. You can quickly get the cut out, but be careful - the app can mistake the object for the background if the colors are similar. Then you have to perform some extra actions yourself. For example, you can fix the tolerance. To better see the background, you'll need to click the Eye icon. Looks like too many actions to remove the background from an image, right?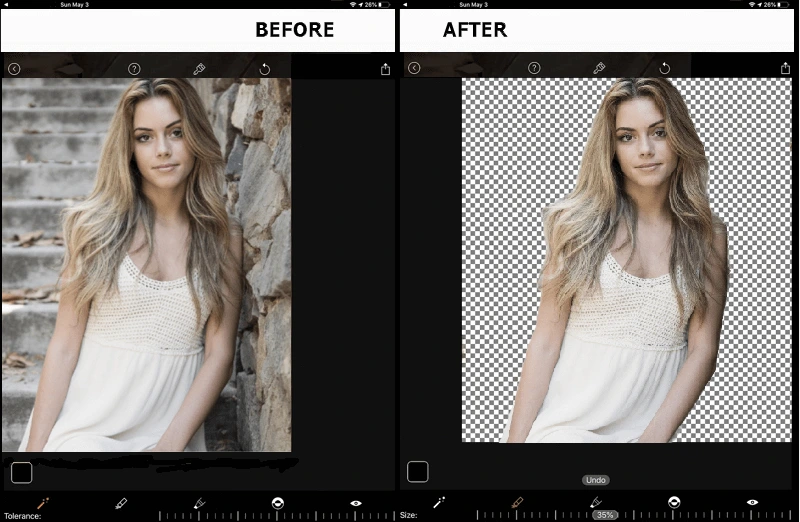 Magic Eraser is a good choice for iPhone users
Background eraser for just taken shots
Available only for iOS
Can be complicated to use
12. Photo Background Remover
Photo Background Remover takes its place on our list of the best background removal software, and for a good reason. The program helps to save time by batch processing. In case you don't need to process a bunch of images, you can use an automatic or manual method to delete the backdrops from your pics. Once you remove the background, the software will create an image with a transparent background by default. The program is paid, but you can try all the features in the free trial.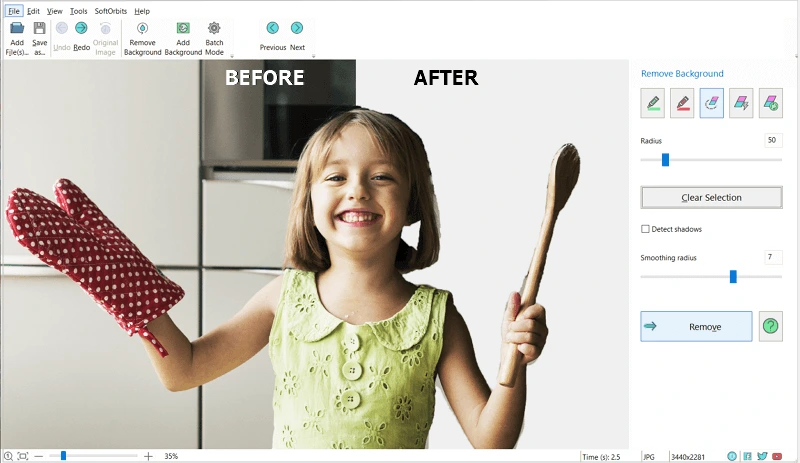 Photo Background Remover can delete the background from GIFs as well
Batch image processing
Free trial
Removes background from PNG and GIF files
13. PowerPoint
If your computer runs on Windows, then you must be familiar with PowerPoint. The program is highly useful in case you do a lot of presentations for work.You may find it convenient to remove background from the picture in PowerPoint while making your presentation, so there would be no need to switch between programs. Background removal works best with images that have a really clear distinction between the subject and background. Luckily, the tool allows you to apply some correction if it has mistaken the part of the subject for the background.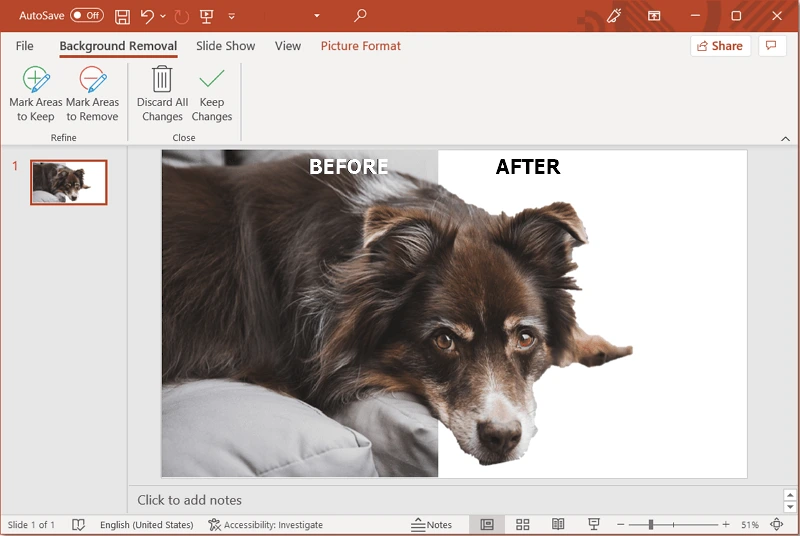 Get rid of the backdrop while creating your presentation in PowerPoint
Free to use
No special skills needed
Only works on Office 2010 or later
Too basic, can't work with complicated images
14. CorelDRAW
CorelDRAW is professional background remover software available for Mac and Windows. It offers a 7 days free trial after which you can get a monthly or yearly subscription. Even though the interface is mostly simple, watching a tutorial will be a good idea! You can freehand the selection around the photo's object yourself or add an ellipse to indicate the outline automatically. The latter is good for objects with simple shapes. After you master this program, you can easily start using more complex ones. By the way, you'll need a lot of memory on your device since this costly editor is too heavy.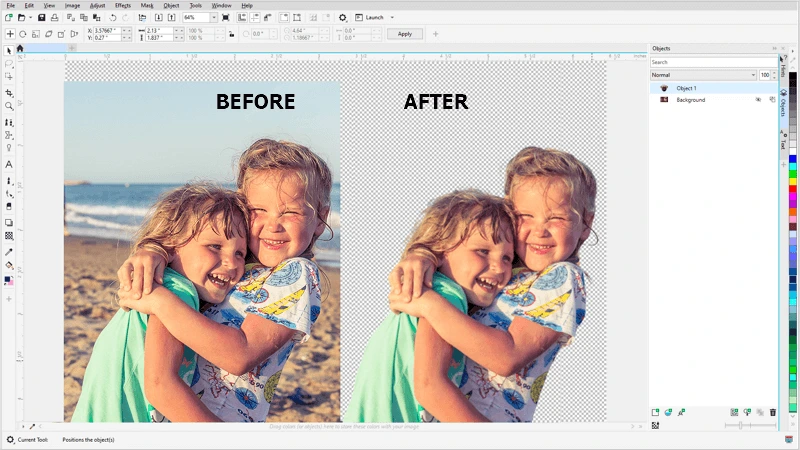 CorelDRAW is perfect for cutting out objects with simple shape
Mac and Windows versions
Free trial
Too expensive subscription
Can be buggy
Constant upgrades are slow
15. Inkscape
Inkscape is cross-platform software which operates on Windows and Mac OS. Compared with Photoshop, it also takes some time and practice to master this tool. With Inkscape, you can remove the background after you've outlined the object. Sometimes you'll have to draw lines over and over again due to the program being buggy. If the backdrop is plain, you can remove it by its color. Inkscape lets you save your image with a checkered background.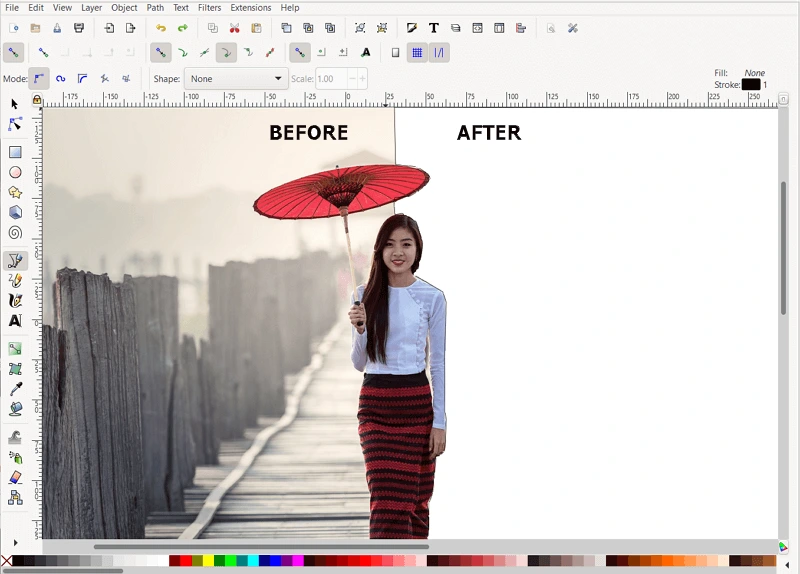 Inkscape is a tricky tool to erase the background
Doesn't require buying a license
Cross-platform support
Some issues can occur on Mac
Needs a powerful computer
Not many formats are supported
16. Pixlr
Pixlr is an absolutely automatic service to erase a photo background. The tool works precisely and fast. If you like the result, you can save your image as a PNG right away. If not, then you can fine-tune it. You can access this service wherever you are and whenever you need it and get the picture you want only if there's a stable Internet connection. Mostly you can employ the Pixlr background remover for free, but there's a pro subscription as well.
Pixlr is a great tool if you have a reliable Internet connection
Handy for beginners
Works with any device
Can erase the background from multiple pics at once
No registration is needed
Watermarks on the edited photos
Expensive yearly subscription
Constant pop-up ads in its free version
17. Clippingmagic.com
Clippingmagic.com is one of the best software to remove the background from an image, since it does its job precisely. An advanced AI helps to cut the area around hair and fur. But it works much better with high-contrast images. If you need to enlarge the output image, Clippingmagic.com allows you to do it as well. As this is an online tool, you'll have to upload then download your pics and sometimes errors can occur.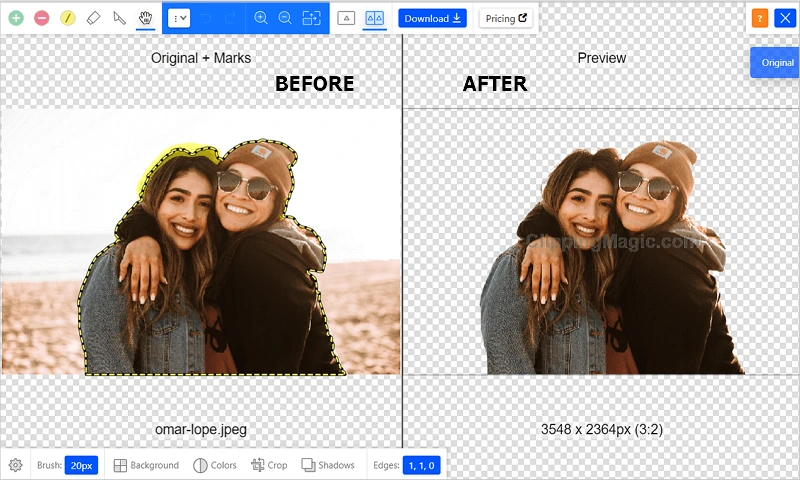 Clippingmagic.com easily removes the background from high-contrast pictures
Advanced AI
Browser-based
Low price
The image size is limited
Downloading errors
Now you've checked out the top 17 background removal tools hand-picked from lots of programs, plugins and apps varying in price and target devices. Most of the tools on our list feature a background replacement technology that can save you time if you want to make your project straightaway. If you want an online editor, Remove.bg is a handy option. In case you don't need high resolution images, employ Pixlr for this task. Looking for an easy-to-use program with a smart AI to remove background from your images on your PC? Judging by the price and available extra features, PhotoWorks is the most convenient option. It doesn't depend on the Internet connection. You pay a reasonable price once and get the editor packed with a variety of photo editing tools. Try this photo editor to remove the background from your shots in mere minutes.
Background Removers FAQ
What is the best free background remover?
There are several ways to remove a background for free. To erase the background on your PC, use GIMP. To edit backgrounds on a smartphone, download Background Eraser Mobile or Apowersoft Background Eraser. To get rid of the background online, try Remove.bg. Find more tools in our guide.
Which is the best background changer app for PC?
GIMP is a pro-level background eraser app for PC that is available for Windows, Linux, and Mac. It lets you accurately outline the object to separate it from the background or do it quicker using an automatic tool. The powerful app will help you remove the background even in the most complicated cases.
What is the best online background remover?
Remove.bg is the best background removal service to use online. The program deletes the background automatically, so you don't have to select anything in the picture. But web-based tools often mistake the object for the background area. For more precise and realistic background removal, use desktop apps such as PhotoWorks.