5 Easy Ways to Remove Audio from Video





5.0
Votes:

2

(Rated: )
Last updated: 01.06.2023
Recorded a nice video, but the background noise ruined the whole atmosphere? Don't rush deleting it. You can effortlessly get rid of unwanted sounds using easy editing software.
In this tutorial, you'll find out how to mute your videos using 7 audio removers. No matter what device you use, what budget you have, and what skill level you possess, we're here to help you choose a handy editor and show you step by step how to remove the sound from your video.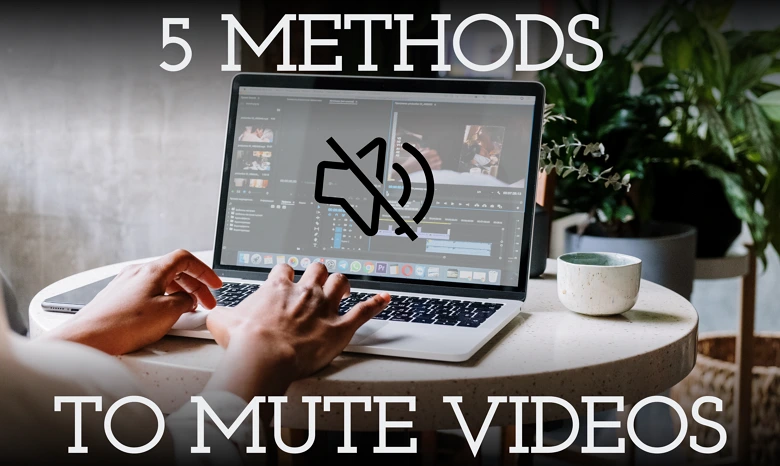 Method 1. Make Your Video Silent in 3 Ways on Windows
Method 2. Eliminate the Sound from Your Clip on Mac
Method 3. Delete the Audio with no Effort on iPhone
Method 4. Mute Your Video in a Few Clicks on Android
Method 5. Disable the Sound of Your Video Online
1. How to Remove the Audio from a Video on Windows
Let's take a closer look at three video muting programs for Windows that differ in terms of budget, skills required, and features available.
Way 1. How to Delete the Sound from a Video in Clipify
Need an uncomplicated program to use on your PC? Take a look at Clipify, a free video editor with a user-friendly interface and tons of handy features designed for both newbies and experts. From color correction and stabilization to Chroma Key, Curves, webcam capture, and voice-overs - Clipify has it all. Split, merge, and crop your videos, apply filters, add transitions and captions effortlessly on Windows 7 and higher. Follow the simple steps below to mute your clip and enjoy the outcome.
Step 1. Install Clipify on Your PC
To begin, click the button below and download the installation file. Follow the installation wizard's instructions and launch the program. On the startup screen, click the New Project button. Now let's move on to editing.
Download
Fully compatible with Windows 11, 10, 8, 7
Step 2. Upload the Clip You Want to Mute
To start muting your video, you need to open it in the editor. Click the Add Videos and Photos button and choose the file from your PC library, or simply drag and drop it from the folder onto the timeline.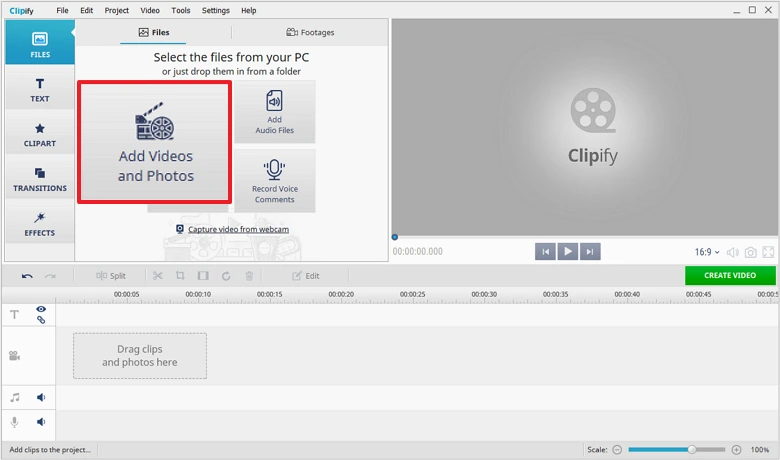 Add your video to Clipify
Step 3. Remove the Audio from Your Video
Now, click the Edit button above the timeline. On the General tab, drag the Sound Volume slider to the left or just hit the volume icon to mute your video recording.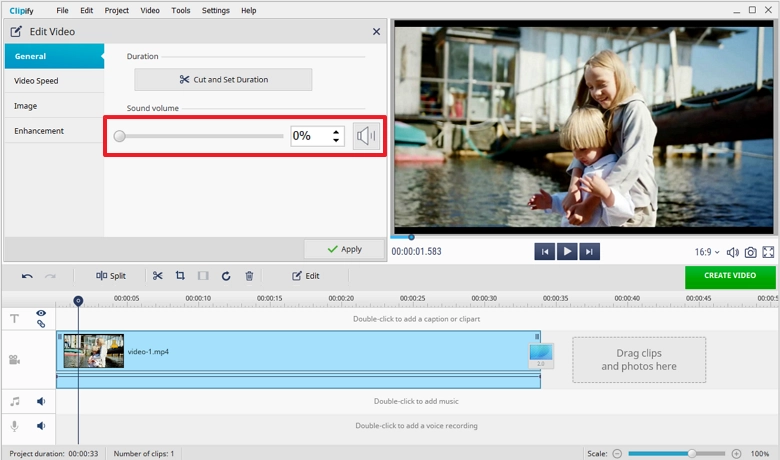 Make your clip silent with ease
Step 4. Make Final Adjustments
At this point, you can overlay a soundtrack from the built-in collection or record a voice-over to accompany your clip. You can also enhance the picture and add embellishments if necessary before saving your creation. To export your edited footage, click the Create Video button and choose the necessary output format.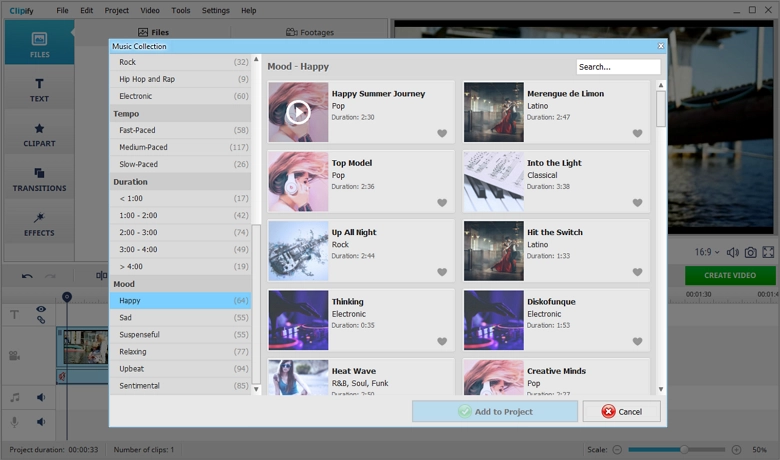 Add background music to jazz up your edited video
Need to remove the sound from your video recording?
Click the button below to get a free video muter.
Download
Fully compatible with Windows 11, 10, 8, 7
Way 2. How to Take the Sound Out of a Video in Premiere Pro CC
Don't mind the challenges? Try out Adobe Premiere Pro. This software is beloved by professional filmmakers and vloggers and packed with features for all-round editing. However, if you're a newcomer to this field, the program may seem too puzzling and the subscription - too expensive. Still want to try it out? Check out the step-by-step guide on how to remove the audio from your video in Premiere Pro below.
Step 1. Download the Software
Get Adobe Premiere Pro CC and start a free trial by following the link. Open the program after installing it to your PC. Create a New Project, give it a title, and click OK. In the window that pops up, find the file you want to mute and import it into the software. Drag and drop your imported video onto the timeline.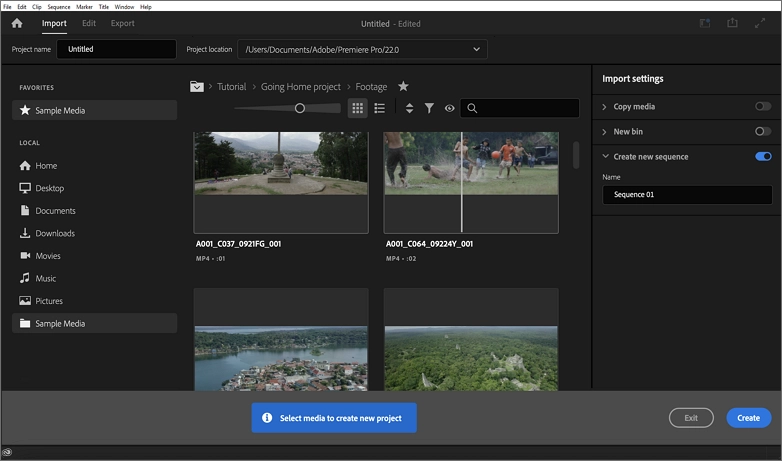 Open the video you want to mute
Step 2. Remove the Sound from Your Video
Select the video on the timeline by clicking on the video layer. To delete the audio from your video, you first need to separate one from the other. Click Clip in the menu bar and pick Unlink. Then right-click on the audio track on the timeline and hit Clear. Bingo! You successfully cut out all the sounds from your video recording using this voice remover.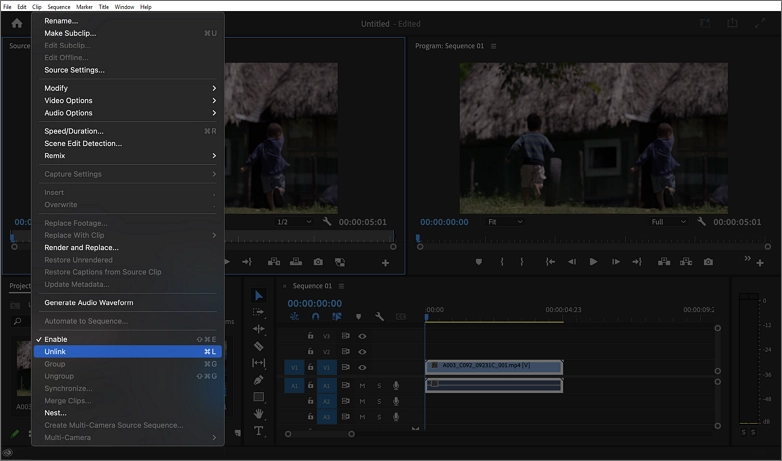 Make your video silent with Premiere Pro
Step 3. Save Your Edited Video
You may continue editing or switch to the Export tab to download your muted video. Here you can preview your project once again before downloading it to your PC and also choose the format you want. Click the Export button to save your video file.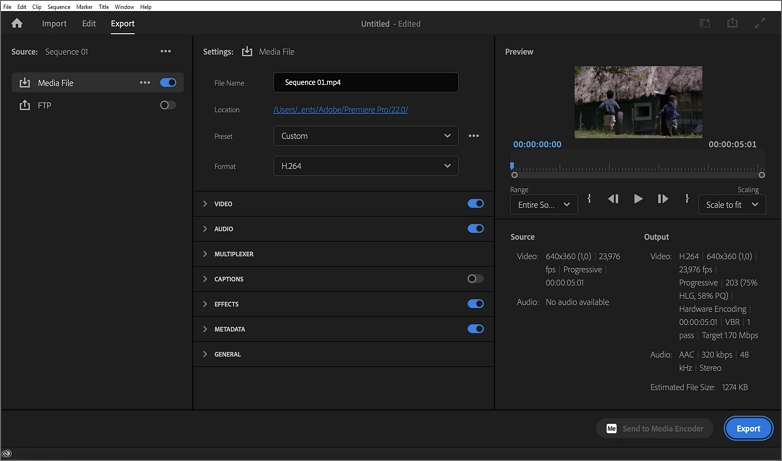 Check the export settings before saving the clip
Way 3. How to Mute Your Video in Movie Maker
Want to know how to remove audio from video in Movie Maker that you've probably heard of? Unfortunately, this program is no longer supported. The most recent version of it is Video Editor, built into Microsoft Photos and available on Windows 10 and higher. This software is great for basic editing such as cropping, trimming, adding text, and applying filters, but there are no transition effects or picture enhancement options. Still want to give it a go? Let's dive into the process of deleting the sound from your video using this audio track remover.
Step 1. Open Your Video Footage in Microsoft Photos
Find Microsoft Photos on your PC or download it using the link. Switch to the Video Editor tab and create a New Video Project. Click the Add button to upload your clip into the program.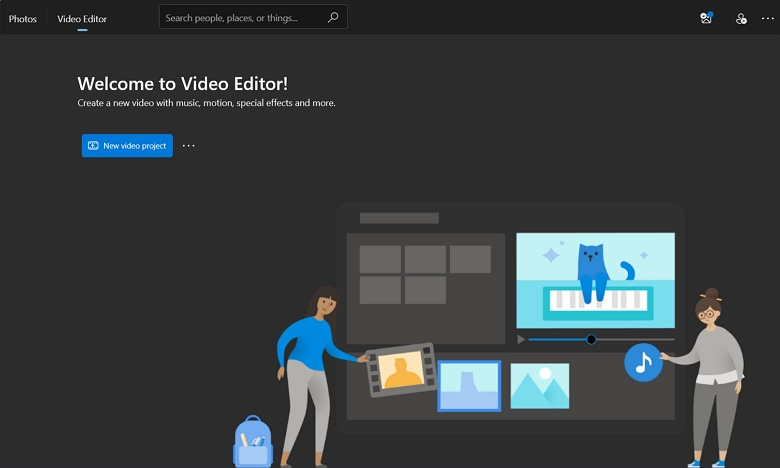 Start a blank project
Step 2. Turn Off the Sound in Your Video
To remove music from your video you first need to drag your uploaded video into the Storyboard. Now, hit the volume icon and drag the slider down. That's it!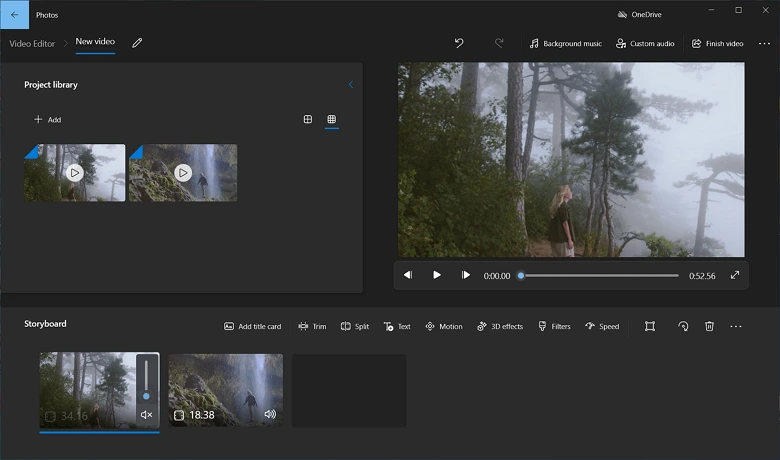 Turn off the sound with Microsoft Photos
Step 3. Export Your Muted File
To download your clip, click Finish video in the upper right corner and choose the quality you need.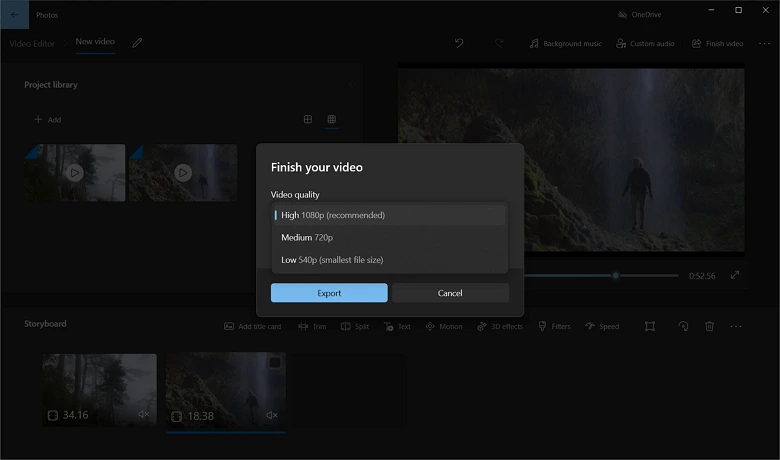 Save your video footage before sharing it on social media
2. How to Delete the Audio from Your Video on Mac
Are you an Apple computer owner? Then opt for iMovie, an app to remove audio from videos that comes for free with any Mac. It has everything you need to make a movie in a couple of clicks. The only drawbacks are that the program itself takes up a lot of storage space and can be quite slow when editing long videos. Read on to find out how mute your recordings on a Mac.
Step1. Upload Your Video to iMovie
Find iMovie on your Mac or download it from the AppStore. Open the app and click the New Movie button to start your project. Click Import Media to choose the file from your PC folder. Then you need to drag and drop it onto the timeline.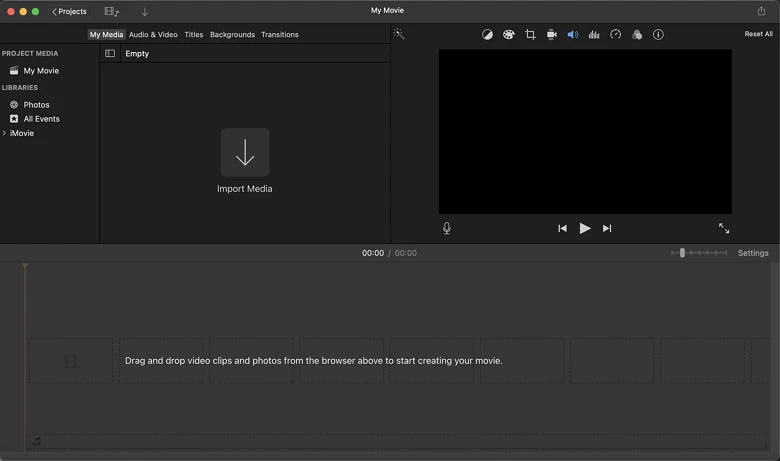 Open your clip in iMovie
Step 2. Eliminate the Sound from Your Clip
To turn off the sound, hit the volume icon above the preview window and click Mute or drag the volume slider to the left. And you're done!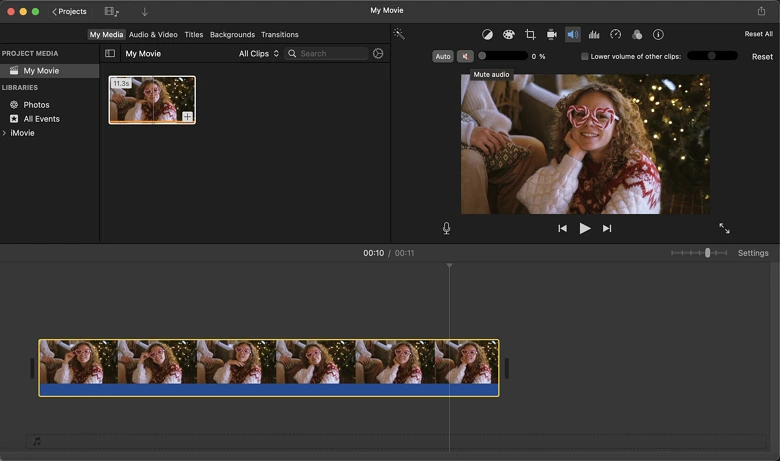 Cut out the sound without any hassle on your Mac
Step 3. Download Your Muted Video
Now you can add background music and enhance your clip by applying filters, cropping, and stabilizing it. Once you are happy with the result, click on the export icon in the upper right corner and choose the Export File option or upload it directly to YouTube and Facebook.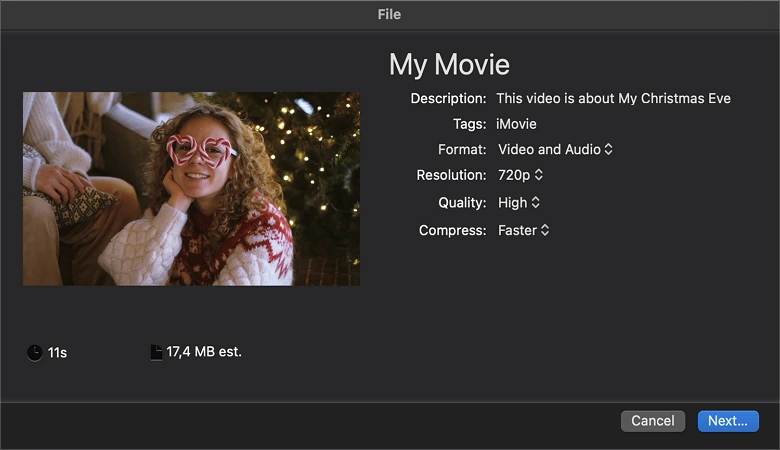 Select the export option depending on your plans
3. How to Remove the Audio from a Video on iPhone
Tend to shoot clips with your smartphone? If you want to know how to remove the sound from your iPhone's video quickly without wasting time transferring it to your computer, try out the built-in app named Photos. This application doesn't just store all your footage. It also has a basic editor inside that you can use to crop or trim your clips, enhance and mirror the picture, and apply filters. If it sounds like a good option for you, check out the tutorial to make your videos silent below.
Open the Photos App
Find the footage you want to mute in the app.
Take the Audio Out of Your Footage
Click Edit in the upper right corner. In the top left corner hit the volume icon to remove audio from your mp4 file. You no longer have sound in your video!
Save the Changes
Click Done to save your muted clip in the app.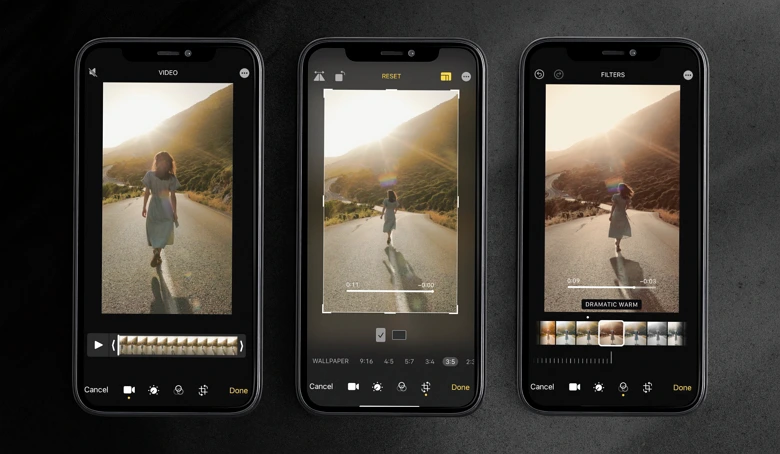 Disable the audio with ease on iPhone
4. How to Remove the Sound from a Video on Android
If you're an Android user, there is a suitable alternative for you as well. You can use Google Photos to remove the sound from your MP4 files. You won't find any advanced tools in this app, but here's what you can do besides muting: crop and trim, apply filters, and make color adjustments. Let's see how to use this voice remover.
Open Google Photos
Open the app on your smartphone or download it from Google Play. Sign in to the application. Allow Google Photos access to your library.
Disable the Audio in Your Footage
Choose the recording you want to mute. Tap the settings icon down in the middle. Click on the Sound icon to make the video silent. And your clip is ready!
Save the Changed Video
Once you're satisfied with the result, click the Save Copy button to store it in Google Photos.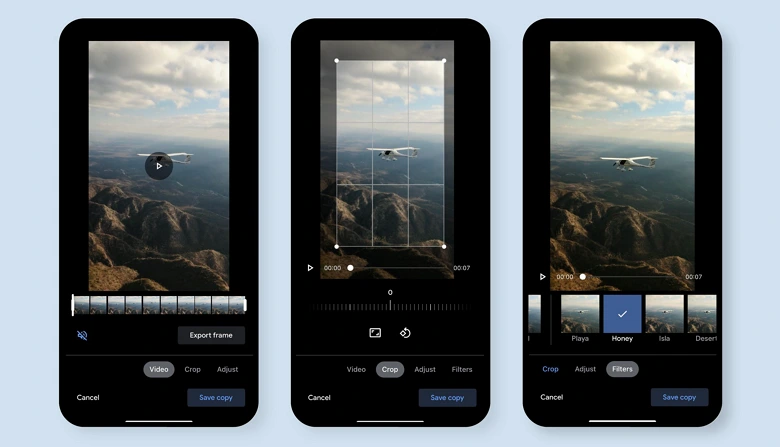 Use Google Photos to mute your video
5. How to Remove the Audio from a Video Online
Don't want to download anything on your device? Check out an online tool named Adobe Express. Besides muting you can create banners, logos, flyers, and posts for social media with thousands of templates and do basic editing. The main downside is that you have to get a Premium subscription to access all the available features.
Sign Up for Adobe Express
Since Adobe Express is an online editing tool, you first need to sign up and pick a free plan.
Upload the Footage you Want to Mute
You can find the muting option inside the Convert to MP4 tool. Drag and drop your clip from your device. Keep in mind that it can be no more than 1 hour long.
Remove the Sound from Your Video Online
Turn on the Mute mode using the same name button to make your video silent. That's it! Save your muted video recording in MP4 format by clicking the Download button.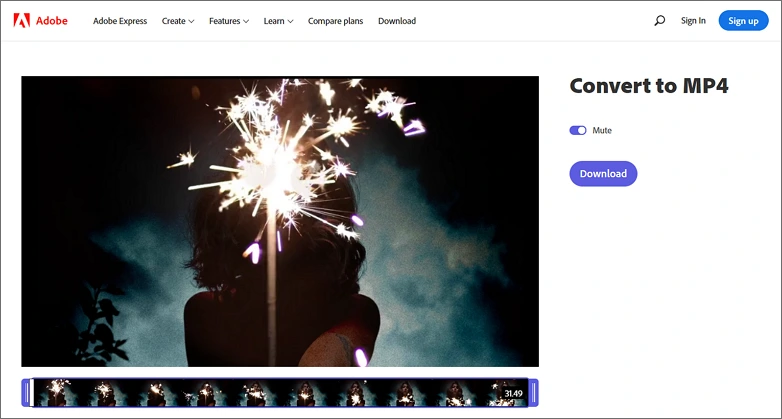 Delete the audio track from your clip with Adobe Express
Conclusion
Now you know how to mute your clip using 7 video editors. Some audio removers are a cakewalk and do a pretty good job, while others demand quite a lot of effort and skill but show amazing results. If you're still in doubt about what software to choose, go for Clipify since this program strikes a balance between an uncomplicated approach and a professional-level outcome.
For more details about Clipify's available features and system requirements, follow the link.
We hope you've found this article helpful in choosing a convenient video editor. Now download the program of your choice and try it out with your clips.
Want to mute your clip effortlessly?
Download an all-round video editor for free!