How to Edit Picture-in-Picture Video with Clipify





5.0
Votes:

2

(Rated: )
Last updated: 01.06.2023
What is picture-in-picture, or PiP? That is a technique of laying one video or an image over another. It allows you to add reference clips, include moving parts and animations, put webcam footage over a video that you are commenting on, and make your footage more interesting in general.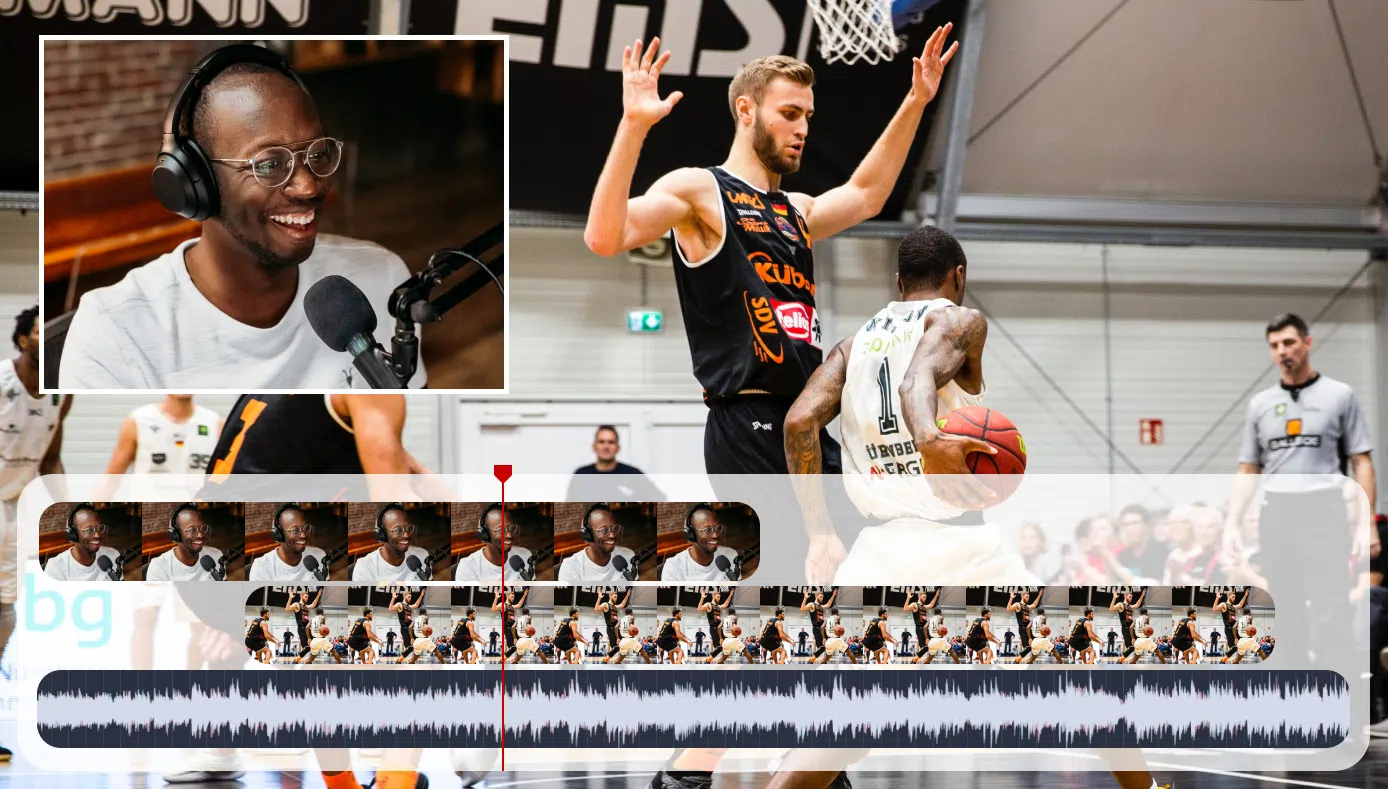 Double the fun with a video in a video
To people with little to no experience in videography, putting one video over another might appear challenging. However, this trick requires neither experience nor expensive software. Read on, and learn how to edit picture-in-picture video in a few easy steps, along with some useful trivia!
Want to easily put a video onto another video?
Try it with free picture-in-picture video software!
1. What is picture-in-picture editing
2. Best video editor for making PiP
3. How to edit a Picture-in-Picture clip
4. Frequently Asked Questions
Picture-in-Picture Editing – What Is It?
In layman's terms, picture-in-picture video editing means combining two (or more) tracks of video in one clip. This can be done in three main ways:
● One image inside another
● Side-by-side split screen
● Complete overlay
PiP videos are ubiquitous on YouTube in the forms of streaming recordings, commentary videos, reviews, and whatnot. Online education also benefits from this technique, allowing to display lecturers and subjects at the same time.
Another common use of video editing with picture-in-picture is laying motion graphics and images over the footage. That animated "Like and Subscribe" appearing in most YouTube videos is a good example of such PiP. Uses of picture-in-picture are nigh infinite, you'll be surprised by how much more diversity you may introduce into your editing once you master this trick.
The Best Picture in Picture Video Editor

In the category of software for a casual audience, Clipify is among the best video editing programs. It has all the tools you might need – cutting and editing, effects and transitions, everything required for complex montages. Additional features, such as RGB Tone Curves, voice-over recording, and Chroma Key will help spice up and enhance the montage. Also, a sizable collection of 200+ tracks, 50+ footages, and other media will be useful for making videos of any kind. Download Clipify right away!
How to Make a Picture-in-Picture Video
Moving from theory to practice, let's see how to do a picture-in-picture effect in a video. With Clipify it will take a few short steps.
Step 1. Install the Program
Get the Clipify installer by clicking the button below. Then run the file and follow the on-screen prompts. Once all is set, launch the program from the desktop icon.
Step 2. Open the Main Clip
Select the New Project option, then click Add Videos and Photos and find your footage via the file browser. Alternatively, just drag the required video onto the main timeline track from any folder.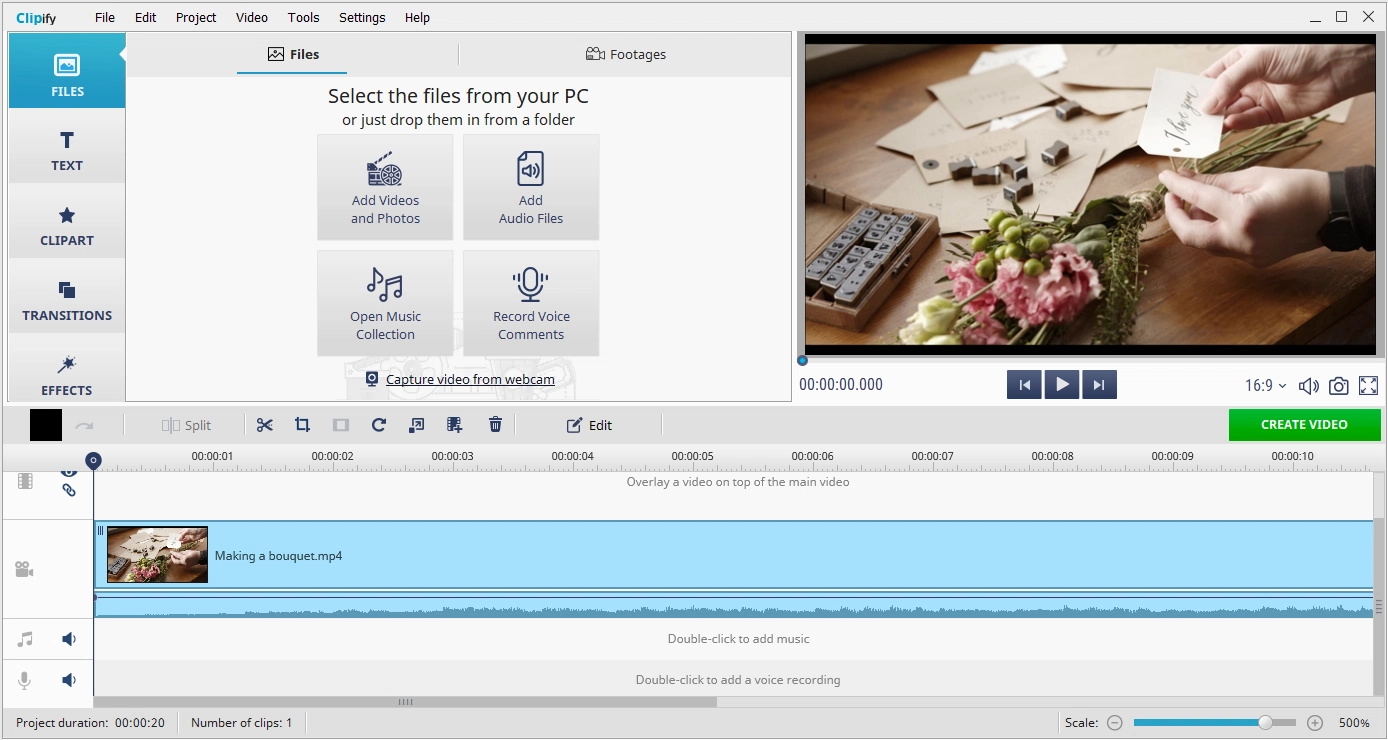 Open the background video in the program
Step 3. Add Another Clip
In the bottom part of the window there is the editing timeline. You'll see the background video in the main track. The overlay track is located right above it. Double-click the overlay track and navigate to the footage you wish to include via the file browser. Or simply drag and drop the top clip to the overlay track from any folder.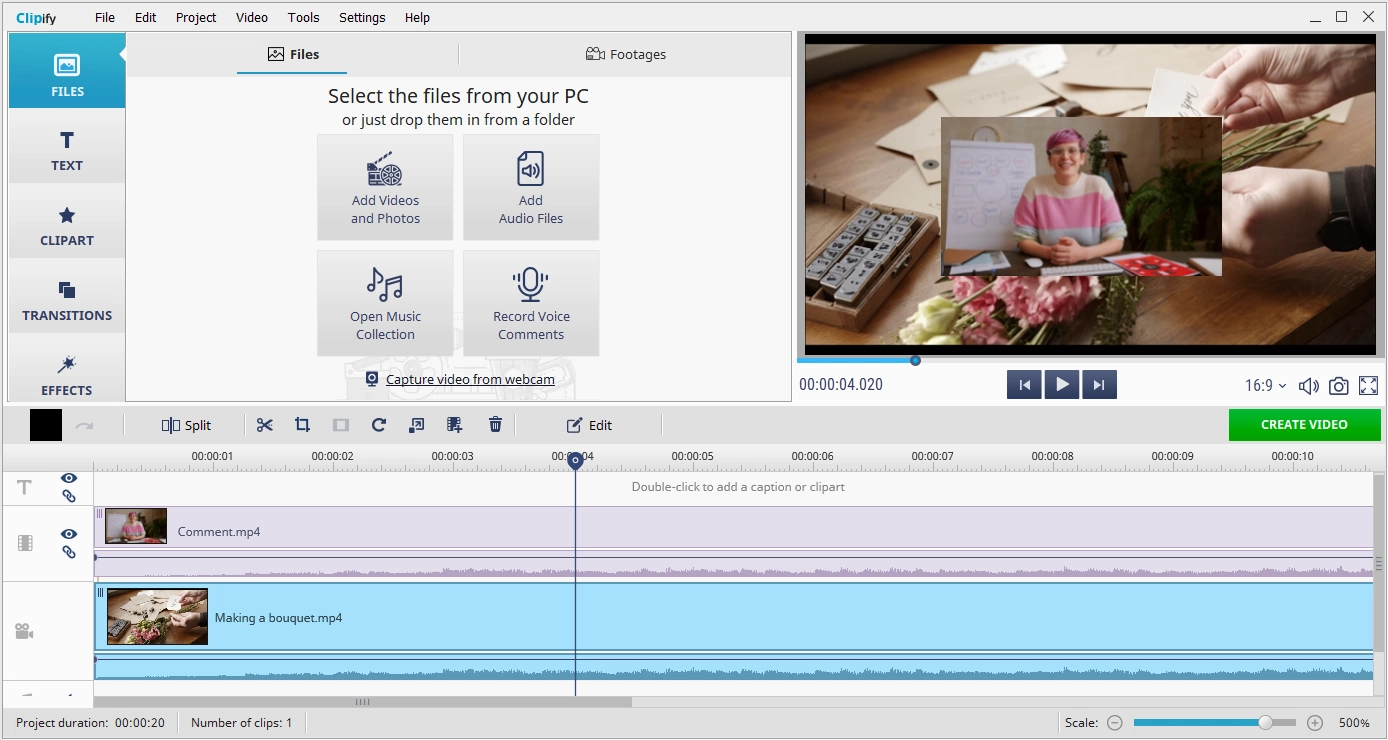 Add a foreground clip
To add graphic, captions, or pictures in video you can go to the Clipart tab and pick any image you need or upload your own.
Step 4. Make Adjustments
In the preview window, change the position, size, and tilt of the overlaid clip. On the overlay timeline, move the clip to the point where you want it to start, and change its duration. To make things more tasty, you can make the clip fade in and out, slide into the frame, and use other animations.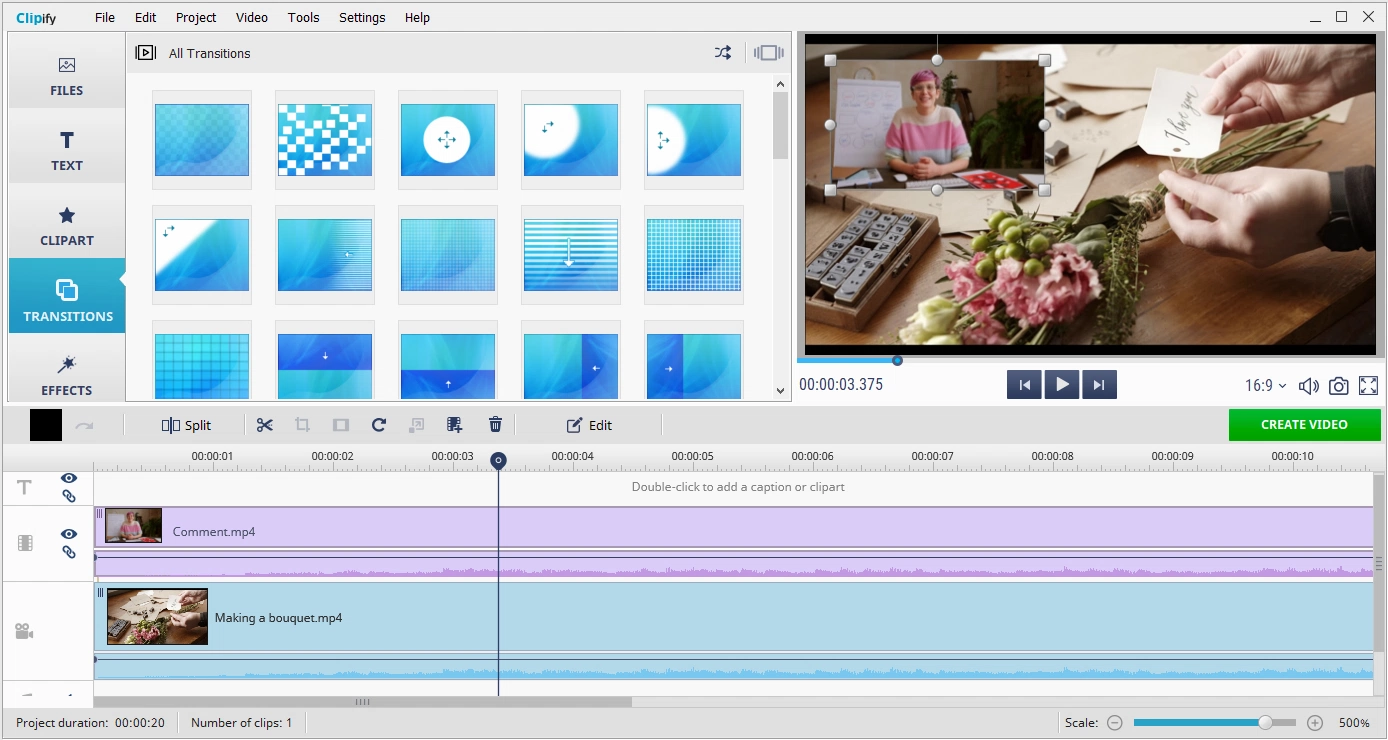 Make the pieces fit
Images and titles also have their own timeline track, and you may resize and animate them as well.
Step 5. Save the Result
Once everything looks the way you want, click the Create Video button under the preview window. Then pick HD video, adjust the resolution and bitrate if you require, and click the export button.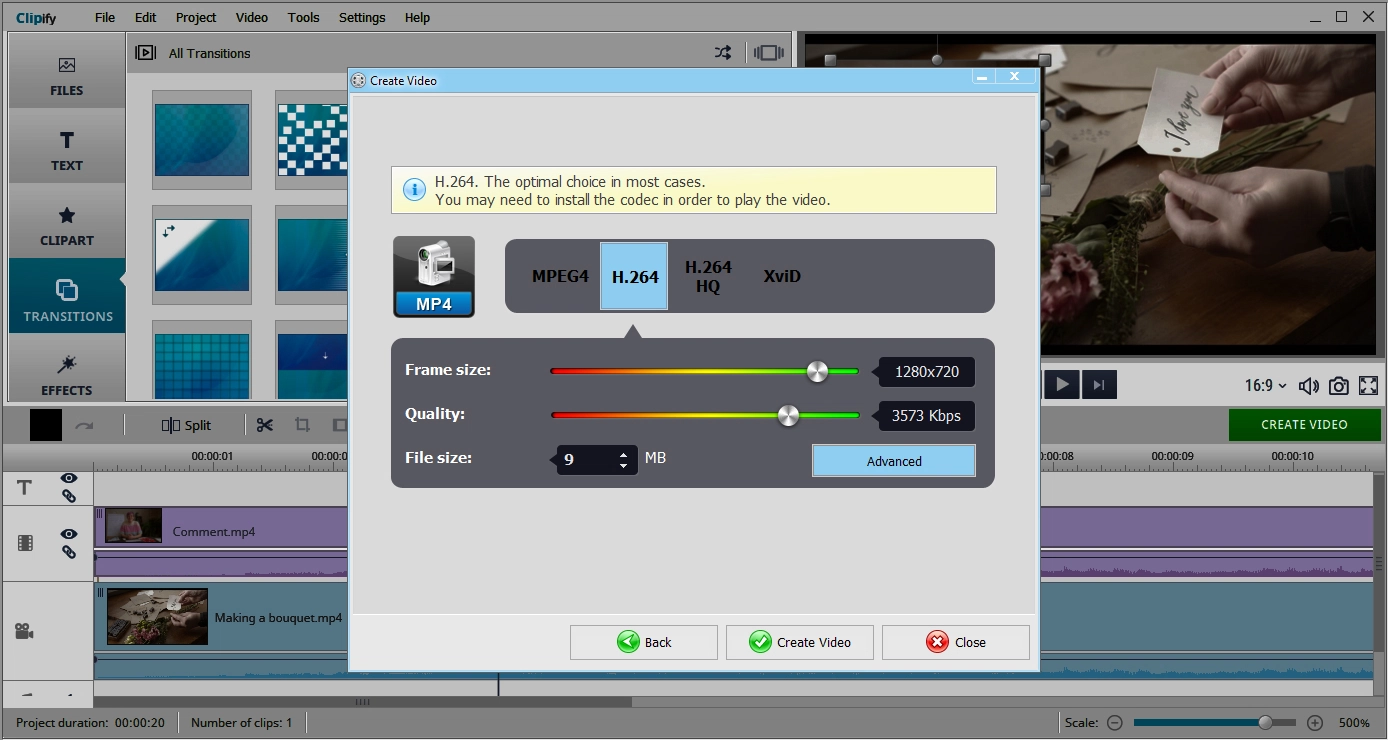 Export the edited video
And that's how to make a picture-in-picture video with Clipify! Combine this method with Chroma Key, transitions, and effects, built-in media library to create intricate and eye-catching montages!
Want to add a video to a video?
Do this and more with an easy-to-use PiP video editor!
Frequently Asked Questions
Can you edit a picture into a video?
Yes, Clipify has a dedicated feature for adding images and clipart to your project. Here's how:
1. Run the app and create a blank project
2. Open your footage in the program
3. Go to the Clipart tap
4. Select a fitting picture or click From File… to open your own image
5. Adjust position, size, and presence duration of the added picture
What apps can change the speed of a PiP effect?
An ability to change the speed of an overlayed clip is actually not commonplace. Here are some apps that do allow this:
● Premiere Pro
● DaVinci Resolve
● PowerDirector
However, even if changing the speed of the overlay is not featured directly, there's an easy workaround. Here's how it works with Clipify:
1. Run the program and create a blank project
2. Open the clip you want to speed up or slow down
3. Select the clip on the timeline and click the Edit button
4. Go to the Speed tab and alter the playback speed
5. Export the edited clip and use it as an overlay in another project
What is the best picture-in-picture editing app?
With Clipify you can put a video or an image over another video to create a picture-in-picture effect. There are plenty of other features that'll help you bring any idea to life:
● 200+ stylish effects, filters, and transitions
● Library of 250+ music tracks and footages
● 450+ images: GIFs, callouts, smileys, etc.
● Automatic one-click enhancement tool
● Full HD and upload-ready export formats
How to do picture-in-picture video editing on iPhone?
You can use any fitting video editor with a picture-in-picture option, such as CapCut. Here's now:
1. Run the app and open the base clip
2. Select the Overlay tool from the menu
3. Pick the media you want to put over the base clip
4. Adjust shape, duration, and position of the top layer
5. Export the edited clip
If you simply want a video from an app like YouTube played over another app, do as follows:
1. Run the app with a video player (YouTube, Twitch, etc.)
2. Play the video you want
3. Swipe up or press Home
4. The video will play in its own small window on top of your screen
5. Now you can use other apps while watching the video