Meet a Top-Notch YouTube Slideshow Maker
Want to make a YouTube slideshow but have no idea how to do it? Tired of seeking a solution for hours? Chill and get some rest; you got to the right place. With the help of SmartSHOW 3D, you can create your first YouTube video in just a few minutes. Enjoy professional templates, ready-to-use effects, and vast music collection with our slideshow maker for YouTube.
Explore Tons of Built-in Features
Pre-Designed Templates
SmartSHOW 3D offers tons of various templates to create a slideshow video for YouTube in mere minutes. There are themes for any occasion - from a wedding to a birthday. Pick a template, add your photos, and the program will do the rest.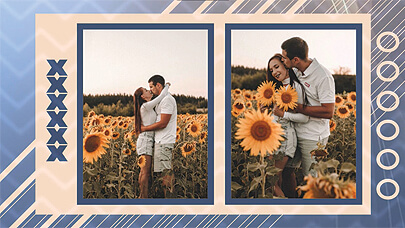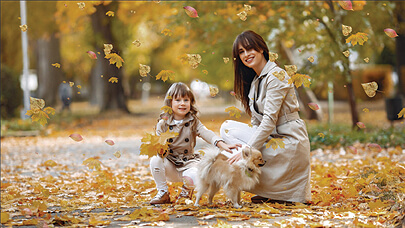 Visual Effects Collection
Spice up your slideshow with hundreds of animations, transitions, and nature effects — from falling snow to fluttering butterflies. Just drag and drop the effect you like and enjoy how it beautifies your slideshow video for YouTube.
Extensive Music Library
Get inspired by numerous royalty-free music tracks of almost any genre. From upbeat and energetic party music to calm and romantic tunes for a true love story. You can use as many songs as you like in your slideshow with music for YouTube.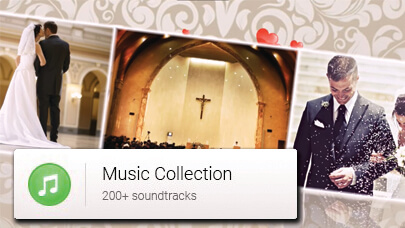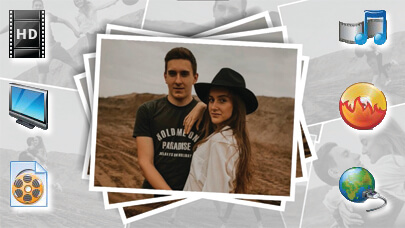 Various Export Formats
Choose from 30+ export options for different devices and web services. Upload your slideshow to YouTube or any other video hosting website with the best quality settings. Alternatively, you can save your creation for mobile devices or a TV.
How to Make a YouTube Slideshow With Music
We've already learned about all the benefits of this slideshow maker with music for YouTube. Now, let's figure out how to create a picture movie from scratch. You don't need any prior experience — the whole process of making a slideshow for YouTube is straightforward and fun!
Step 1.

Get the Proper Software

To start with, download the free trial version of SmartSHOW 3D. Then, install this YouTube slideshow creator to your PC.
Step 2.

Add Your Pics to Your Project

Pick one of the built-in templates or go with the New Project option to create a slideshow from scratch. Select the media files you want to use in your slide show for YouTube and add them to your project. There's no limitation — you can add pictures as well as videos.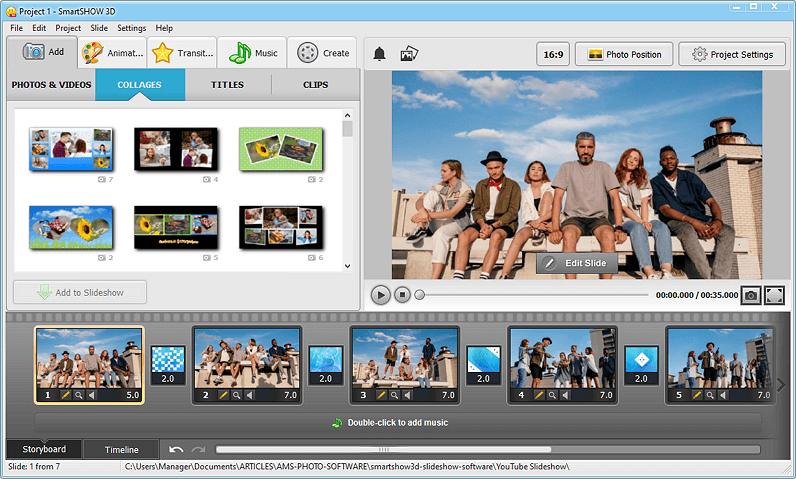 Add as many photos to your project as you want
Step 3.

Play With Visual Effects

Add cinematic intros, catchy captions, and colorful stickers. Make your pictures move with dozens of animated effects, smooth transitions, and absolutely awesome pan-and-zoom effects. Want to add a personal touch? Then create your own animation and 3D camera movements.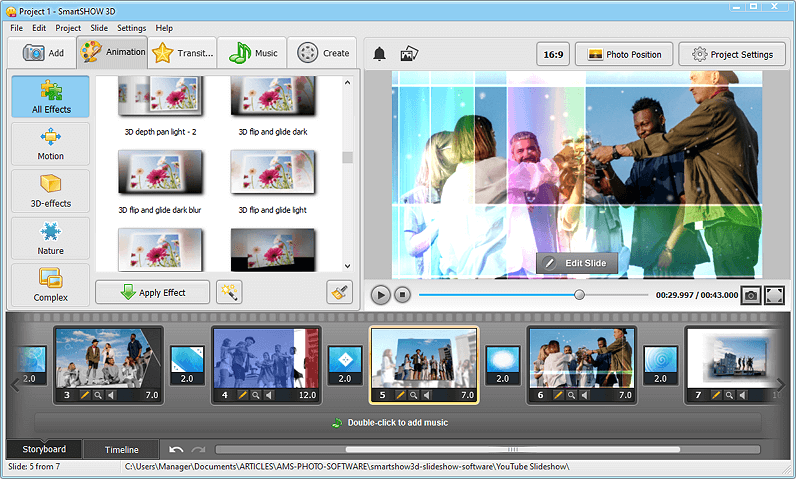 To apply the effect, drag and drop it onto the timeline
Step 4.

Jazz Up Your Video with Music

Let your slides dance to the music. Enjoy the embedded collection of free-to-use soundtracks. There are more than 200 of them for any mood. You can also add any music track of your own choice. Mix tracks together to create a one-of-a-kind YouTube slideshow with music and pictures.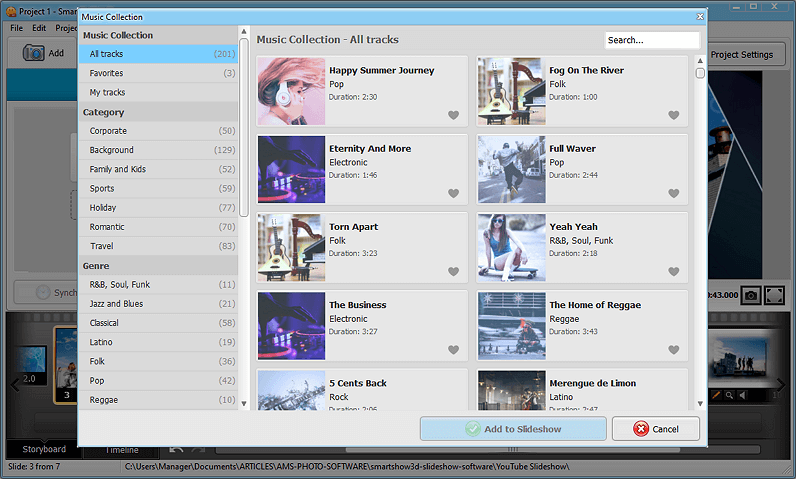 Accompany your YouTube photo slideshow with a tune of any genre
Step 5.

Create Your YouTube Slideshow

Ready to share your work with the world? Let's do it! This YouTube slideshow maker offers you plenty of export options. Apart from saving your slideshow for TV or a tablet, you can save it for popular video hosting sites, including YouTube. Just choose the resolution you need and you're all set.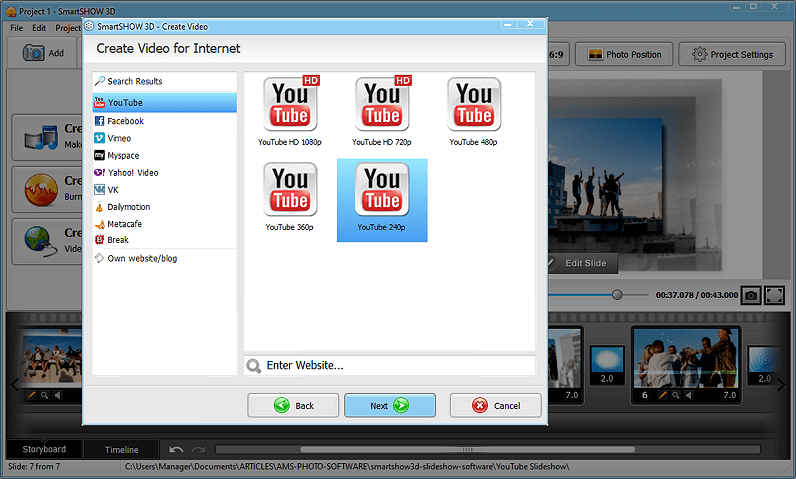 Post your slideshow video with music and pictures right away
That's it - you just got familiar with one of the easiest ways to make a slideshow for YouTube. The vast collection of over 200 templates, 400 effects and transitions, and 200 music tracks make SmartSHOW 3D one of the best slideshow makers for YouTube videos out there. So if you are a PC user, try it today to create a slideshow with music on Windows 10 and older. The only limitation is your imagination.