How to Make a Slideshow on Windows 10 in 5 Minutes





5.0
Votes:

2

(Rated: )
There are plenty of options for Windows users who need to put a slideshow together, but very few "great" ones. In a search for the best slideshow program, you'll probably come across several softwares that are easy to use and understand, but lack important features. The programs that do have high-quality features tend to be expensive and tricky to navigate.
Today's users won't settle for one or the other. They are looking for a slideshow maker for Windows 10 that gets the job done, without breaking the bank or requiring hours of practice to master. That's why so many are flocking to SmartSHOW 3D and not looking back.
Looking for the best slideshow maker for Windows 10?
Try SmartSHOW 3D that is fully compatible with all Windows systems:
Watch What SmartSHOW 3D Can Do
With a unique library of over 200 templates, it's easy to get started making incredible videos and slideshows. Check out this fun example of a vacation video, complete with 3D effects, exciting transitions, and upbeat, royalty-free music. When you're done watching, you can create your own picture slideshow using the quick and easy steps below.
Step 1. Prepare to Create a Slideshow with Music on Windows 10
Click the button below for a speedy download of SmartSHOW 3D, then find the program on your computer and open it up! The startup wizard will appear to help you begin. Now you're ready to get started with your new slideshow maker.
Download
Fully compatible with Windows 10, 8, 7, Vista, XP
Step 2. Add Your Photos to the Picture Slideshow
Get professional results in 5 minutes with a ready-made theme or get creative and start from scratch, it's up to you! With more than 200 templates to choose from, you're off to a quick start either way. Look over a vast collection of themes, then explore the titles, collages, and clips SmartSHOW 3D has to offer as you add photos to your project.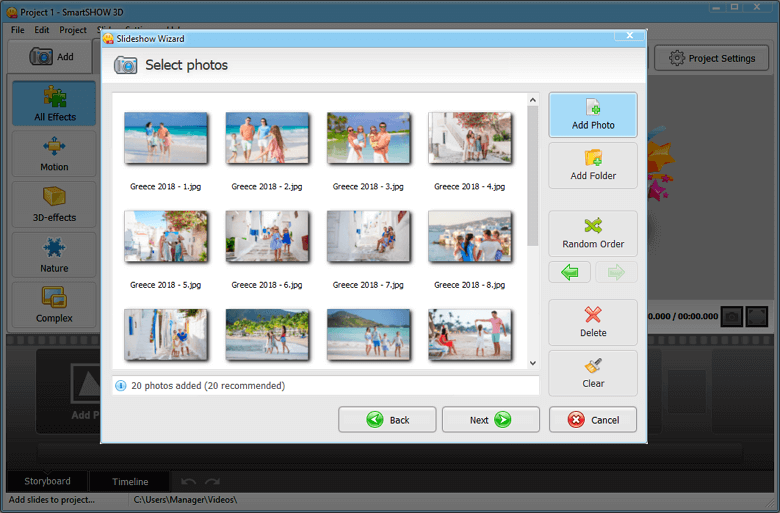 Choose a suitable project format and add your pictures
Step 3. Choose from Hundreds of Eye-Catching Effects
Drag and drop effects into your project with ease using this Windows 10 slideshow maker! Add snow to your winter photo slideshow or use complex effects to combine rotation, zoom, and more into one animation. Incorporate highlights, textures, 3D, and glow effects to really make your photos pop. Make it even more exciting by creating your own transitions in the Transition Wizard.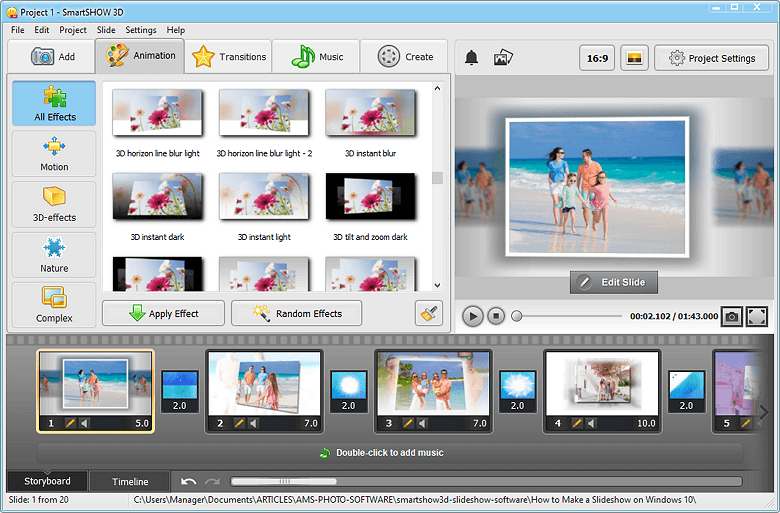 Spice up your slideshow with stunning effects
Step 4. Find the Perfect Music and Record Your Own Comments
SmartSHOW 3D comes with 200+ music tracks and sound effects -- all completely royalty-free! With so many to choose from, you can match the mood of any slide. Synchronize your slideshow with the music for a movie-like experience. Then, record voice commentary with your default microphone to personalize your video.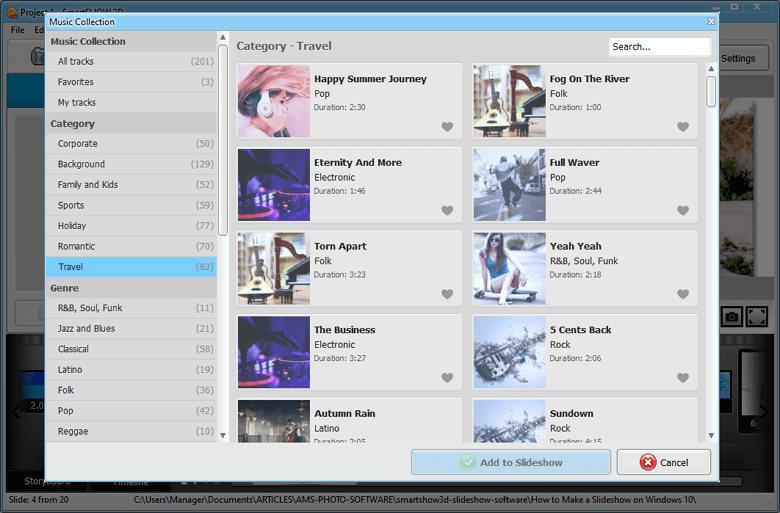 Set the mood of your slideshow with music and add voice comments to tell a story
Step 5. Export Your Project Any Way You Want It
Want to watch your video on the go or share it with millions on YouTube? No problem. After you've perfected your slideshow, use specialized save settings to optimize it for TV sets, mobile devices, or burn it straight to a DVD. Create as many copies as you want or need! Now you're ready to start working on your next video masterpiece.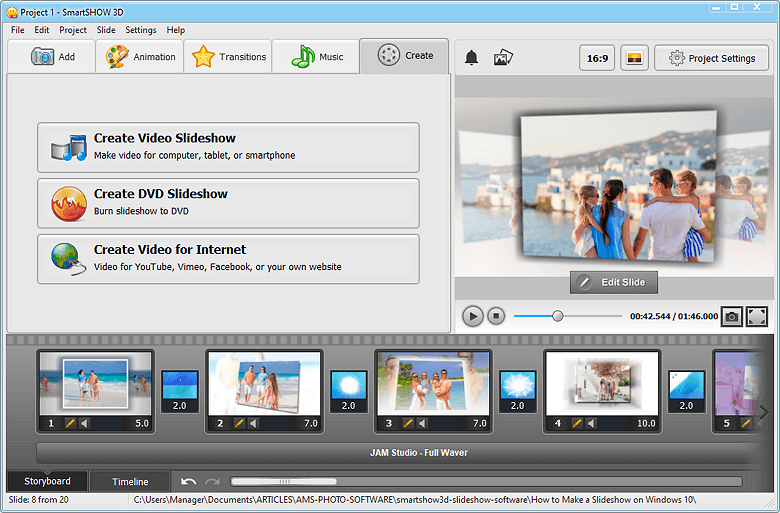 Save your creation in a suitable format to share it with your friends and family
Tired of the Native Slideshow Software for Windows 10?
Are you really getting everything you need out of the current Windows Photo Movie Editor? Although it comes with the operating system, it's lacking in both features and convenience.
The SmartSHOW 3D app comes with over 100 ready-to-use photo and video backgrounds, 85 text styles, and 390+ effects and transitions. But it doesn't stop there! It also offers a high level of customization, with 100 mask layers to create your own pro-grade animations. Try the Transition Wizard add-on to create your own transition effects.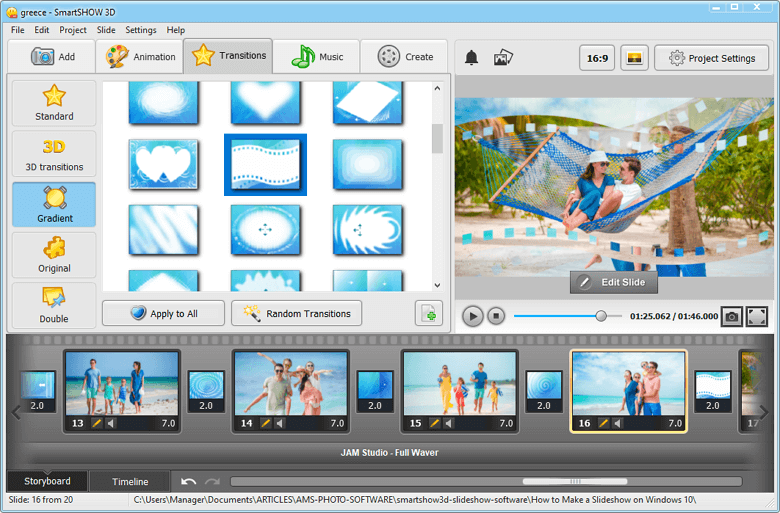 Create your own transitions with the Transition Wizard
Become a Video-Making Maven in Just 5 Minutes
If you've always wanted to create beautiful videos but never developed the skills, now is your time to shine! Get ready to impress your friends, family, and social media followers with a polished, professional-looking photo slideshow. They won't believe you made it in only 5 minutes!
Just use one of SmartSHOW 3D's dozens of pre-designed themes. Whether you're showing off travel photography, sharing treasured wedding memories, or putting together entertainment for a surprise party, it's a snap to create stunning video from photos, every time. Be sure to try the add-on templates for an even wider selection!
Try SmartSHOW 3D Today
Now you know how to make a slideshow with music on Windows 10 with the most convenient, feature-packed program on the market! SmartSHOW 3D photo video program available for Windows 10 users. Ready to see for yourself?
Download
Fully compatible with Windows 10, 8, 7, Vista, XP