Best Software to Make a Wedding Photo Slideshow
In this guide, we'll be looking at the industry's leading wedding slideshow programs. Our rating will include both paid and free softwares, newcomers and oldtimers, as well as programs for different platforms. So let's take a look at our top 15 wedding slideshow makers that will help you relive the best day of your life.
1. SmartSHOW 3D
SmartSHOW 3D is a powerful program with a user-friendly interface. This wedding slideshow software comes with an extensive library of 350+ animations, transitions, and other eye-catching effects. All of the effects are easy to apply, so you can effortlessly spice up your slideshow with soaring doves, glowing hearts, or floating petals. If it's your first time making a slideshow, SmartSHOW 3D has an easy solution. The software offers a huge collection of pre-designed templates to create a wedding slideshow in 5 minutes. Elegant, flamboyant, vintage, or modern - here you'll find wedding templates for any taste.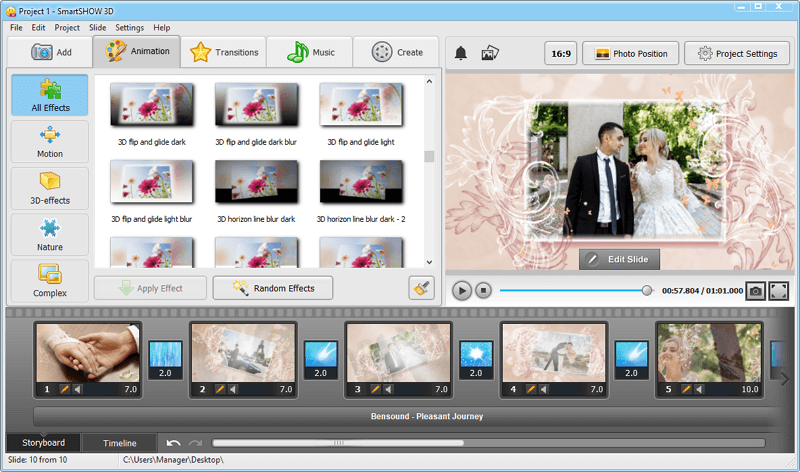 SmartSHOW 3D is the perfect choice if you are looking for complete creative freedom
For those who know their way around picture videos, SmartSHOW 3D offers complete artistic freedom to make a wedding slideshow from scratch. Use a plethora of animation and transition effects as well as create your own - the process is easy and intuitive. This software also has a huge library of royalty-free music tracks. With 200+ tunes at your disposal, you are sure to find the right soundtrack for your wedding slideshow. You can add as many tracks to your project as you want, along with voice comments to tell some behind-the-scene funny stories from the ceremony.
Intuitive interface
200+ templates for quick video creation
370+ effects and transitions
More than 30 saving formats
Works slower with larger projects
Have a look at the sample wedding slideshow created using SmartSHOW 3D and get your tissues ready:
Want to create a lovely wedding slideshow? Get started with SmartSHOW 3D! Download a free trial today:
Download
Fully compatible with Windows 10, 8, 7, Vista, XP
2. Magix Photostory
Magix Photostory is a versatile wedding slideshow maker that is perfect for casual users. The program has a convenient "drag and drop" workflow. It allows its users to import wedding photos in most formats, including RAW files. Magix Photostory also has a "photolooks" feature that you can use to slightly adjust the colors and tone of the imported pictures (because your wedding photos have to be flawless). The software comes with an impressive set of 300+ effects, as well as 850+ music tracks and sounds that should be enough to help you make a lovely wedding reception slideshow. After your video is complete, you can export it in a number of formats, including a 4K Ultra HD video, a video for TV, tablet, etc.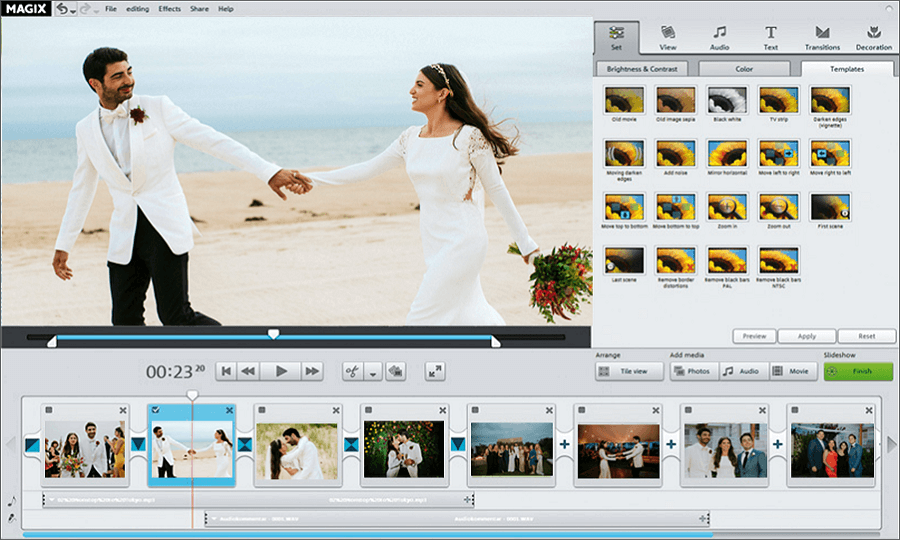 Magix Photostory is a slideshow maker that is jam-packed with effects and templates
Extensive effects library
850+ tunes and sound effects
130+ templates for easy video creation
Support of GIF import
Phone technical support costs extra
3. Animoto
Animoto is an online slideshow creator. It is a cloud-based service that allows you to mix your wedding pictures and videos together into a lovely slideshow. It is super user-friendly, and can work even on mobile devices. This wedding slideshow app comes with an array of pre-made romantic templates, but also lets you make a picture show from scratch if you feel like creating a unique and deeply personal video. Animoto also provides a free music library you can use to elevate the mood of your wedding slideshow. Still, the application is not without flaws, as it needs Internet connection to operate and also subjects the pictures from your ceremony to potential privacy breach since you have to upload them to the website.
Animoto is a sleek cloud-based slideshow creator
Incredibly easy-to-use
Allows to share your video online
A huge music library of 3000 tracks
Requires stable Internet connection
Unable to produce a video without music
4. Movavi Slideshow Maker
Movavi Slideshow Maker is a convenient tool for both Windows and Mac. This program has a stylish dark interface and is quite easy to navigate. This slideshow creator offers two approaches to creating a wedding slideshow. Firstly, you can go with the "Easy" mode that allows you to craft a wedding video in just a few minutes using a pre-designed template. Or you can choose the "Full Feature" mode where you get access to all the effects and transitions the software has to offer to create a one-of-a-kind slideshow from scratch. Besides, this wedding slideshow maker has an impressive library of 150+ filters, 100+ transitions, and 40+ titles that will help you showcase your creative aspirations.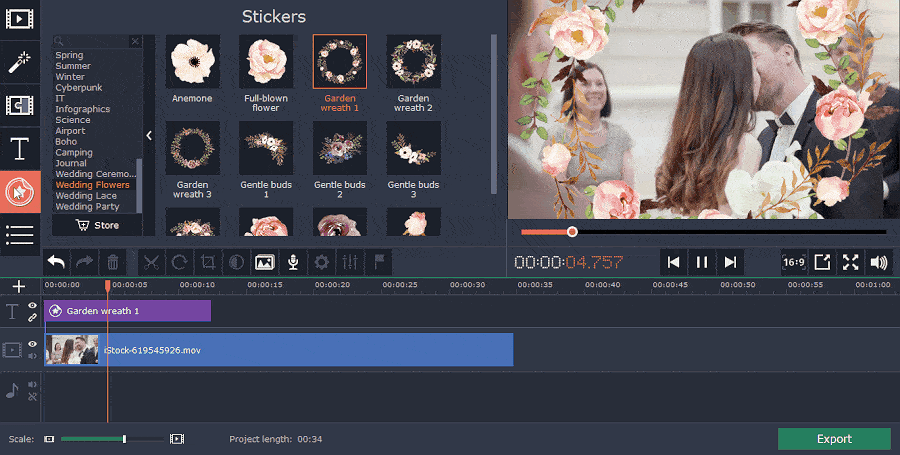 Movavi Slideshow Maker is an efficient slideshow maker for Windows and Mac
Built-in video editor
Vast library of effects
Quite affordable
Can frequently crush
Full-window watermark in free version
5. Smilebox
Smilebox is another web-based application for creating visual presentations. It has an almost full-circle wedding service, since with Smilebox you can craft both ceremony invitations and slideshows. Coming with a plethora of sweet and romantic templates, this software allows you to make a wedding presentation in mere minutes. Smilebox is incredibly easy to use - all you have to do is to pick a template, add your wedding pictures and a suitable tune, then save and share your creation. However, when working with this application, you face a nasty privacy breach hazard, since you have to upload your pictures to the Internet.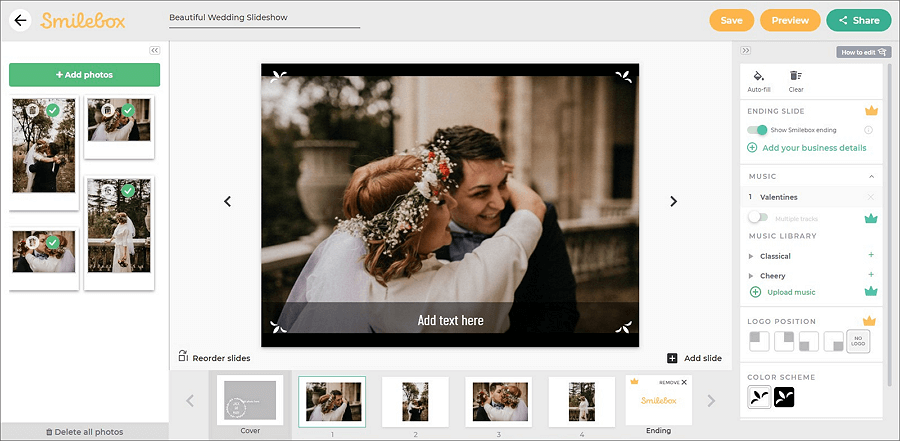 Smilebox is a user-friendly online application with tons of romantic templates
Easy-to-navigate interface
Tons of themed templates
Affordable price-wise
Needs Internet connection
Free version has few templates
6. Wondershare Filmora
Wondershare Filmora is streamlined software aimed primarily at beginners. While it is mostly considered to be a video editor, Wondershare Filmora can technically be used as a wedding reception slideshow maker. You can mix your ceremony videos with pictures, then add any number of music tracks from the software's library. Wondershare Filmora lacks any actual slide animations, but offers 200+ transitions as well as 450+ effects for your video footage. There is also the appropriately named "Easy Mode" that you can use to create a wedding slideshow in a flash - just drop in your photos and videos, and you'll have a lovely video (that cannot be edited upon creation).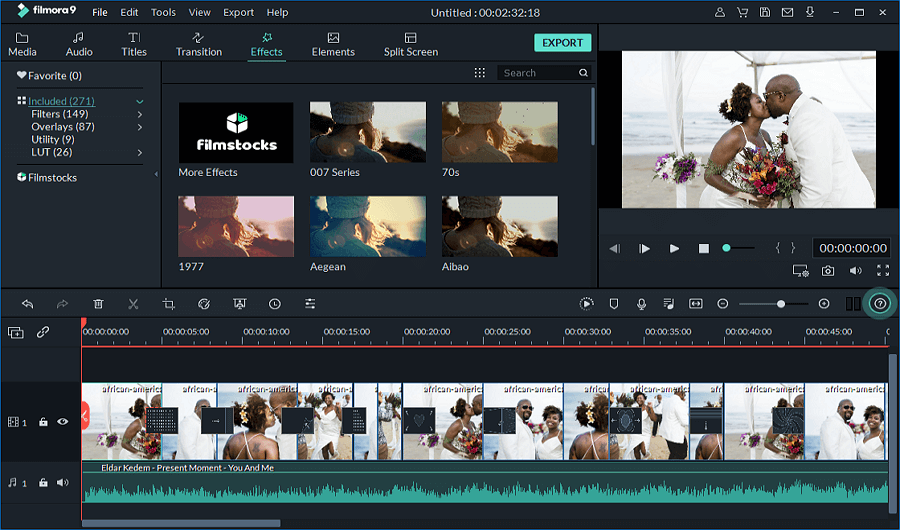 Wondershare Filmora is a great video editor that can serve as a slideshow maker
Sleek interface
Huge media library
For Mac and Windows
More than 50 saving formats
No storyboard mode
No slide animation effects
7. Muvee Wedding Studio
Muvee Wedding Studio is the only slideshow maker on this list that focuses solely on making wedding slideshows. Although the software only comes with 20 templates, the result they produce is nothing short of amazing. These templates have been carefully designed to highlight the most important stages of every wedding, namely the bachelorette/bachelor party, the wedding day, and the honeymoon. You just need to add your pictures to the chosen template, and Muvee Wedding Studio will do the rest (even synchronize your video to the tempo of the music). This wedding slideshow creator has a built-in photo editor that you can use to add more zest to your photos.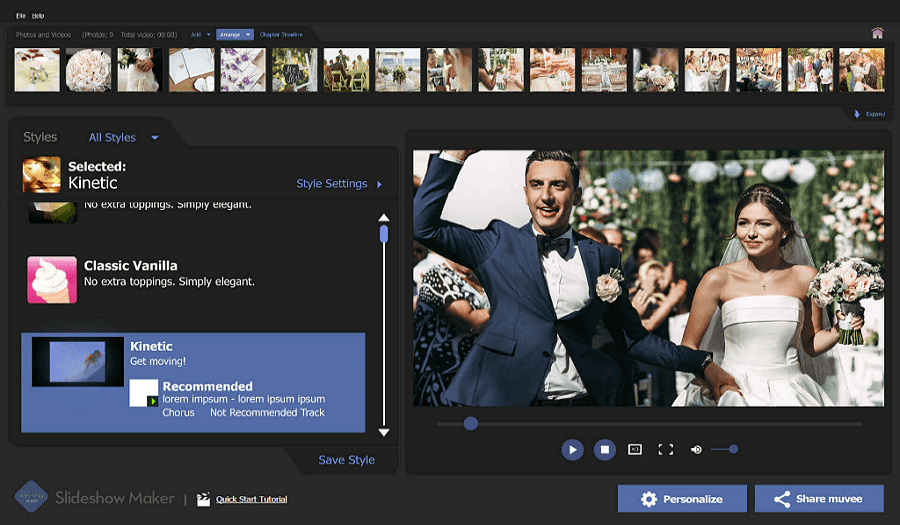 Muvee Wedding Studio is an all-in-one tool for creating stunning wedding slideshows
Intuitive workflow
Beautiful templates
Built-in photo editor
Only few actual wedding templates
8. Renderforest
Renderforest is a free online video and animation maker. Simple in design, this web-based application has a large collection of templates that you can use to create your wedding picture video. The templates feature beautiful animation, transitions, and backgrounds and are perfect for creating a lovely wedding slideshow without any effort. All you have to do is to add your pictures, then choose a tune and/or record a voice comment, then process your wedding picture slideshow. But downloading your video in HD would cost you extra, unless you have a subscription.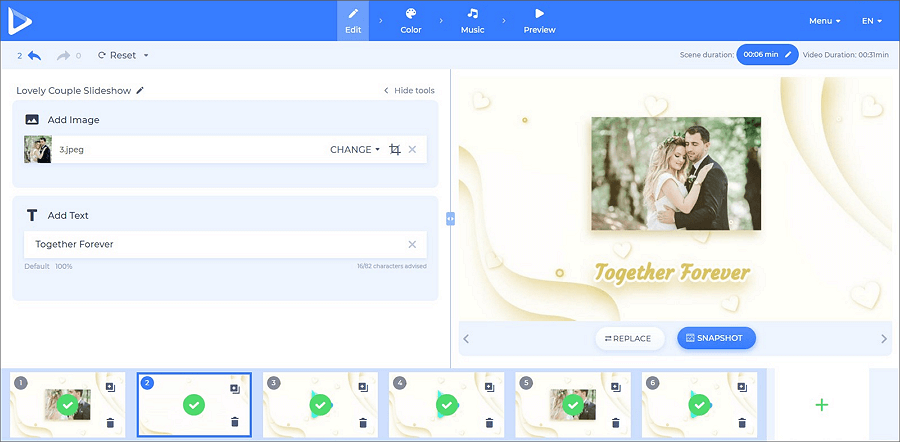 Renderforest is a great online slideshow maker with dozens of templates
Improved user-friendly interface
Massive library of templates
Great choice of background music
Slide duration is not customizable
Takes too much time to process a video
9. Adobe Spark
Adobe Spark is an online service for creating almost any kind of visual content, including - of course - slideshows for a wedding reception. This application allows you to create simple, yet eye-catching videos using your pictures from the big day, background music, voice comments, and romantic captions. When your wedding video is done, you can share it via link or by uploading your video to a site of your choice. Don't expect anything extraordinary from this service - like creative freedom or a limitless templates supply - slideshow making is not the primary function of Spark.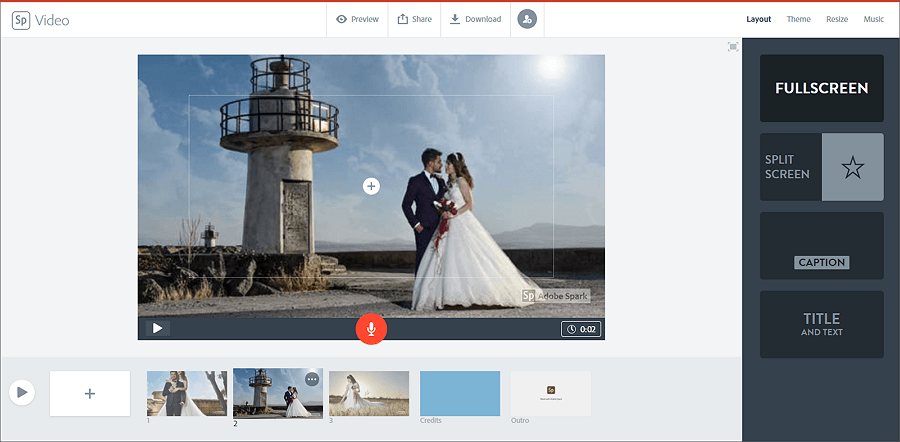 Adobe Spark is an online service for graphics, web pages, and videos creation
Intuitive workflow
Quick video rendering
Peerless performance
Imposes a watermark on videos
Very few customization options
10. LightMV
LightMV is yet another cloud-based platform for creating wedding slideshows. It uses the same workflow formula: you pick a beautiful template from its library, add your wedding pictures and videos, choose an accompanying tune, then create your romantic slideshow. The software offers hundreds of themed templates divided into categories that can help you make a pro-looking wedding slideshow in under 5 minutes. LightMV has a sleek interface and is quite easy to use, however it has the same flaws as other cloud-based applications (like dependance on stable connection and privacy breach threat).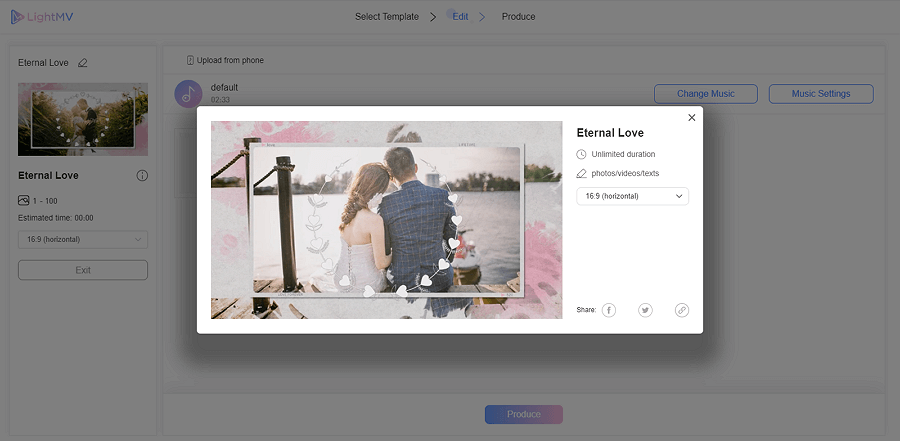 LightMV is a convenient web-based slideshow creator with a huge collection of templates
Clear interface
Huge library of templates
Allows to create HD videos
Requires Internet connection
Slides are not customizable
11. SlideLab
SlideLab is a mobile app for iOS. It is meant for square-format images, which makes it perfect for creating a wedding slideshow to be uploaded straight to Instagram. SlideLab features dozens of filters that can bring zest to your wedding photos and numerous beautiful transitions that can help you create a smooth flow of your video. Besides, it has an extensive music library so you'll surely find the perfect romantic tune. SlideLab's interface is easy and intuitive. With just a click of a few buttons, you'll have a pro-level wedding photo slideshow that you can upload to any social media right from the app.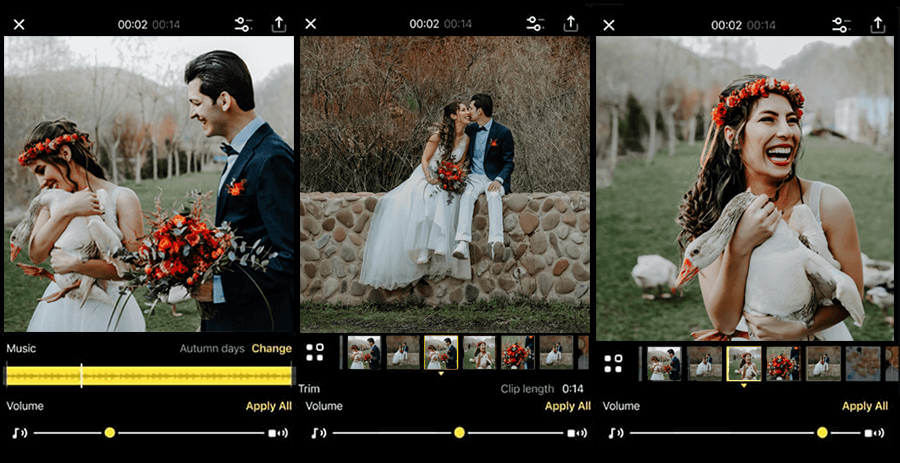 SlideLab is a powerful and easy-to-use mobile application
Sleek and easy-to-navigate interface
Built-in photo editor
A huge library of effects and tunes
12. Scoompa Video
Scoompa Video is a slideshow maker for Android-based mobile devices. It allows you to mix pictures and videos from your phone into awesome wedding slide shows. This application offers a huge library of cute stickers and animated frames you can use to funk up your wedding video. Enhance your pictures with built-in filters to make them even more eye-catching, then set the mood of your slideshow with a sweet tune for the music library - all of this right on your mobile phone. Scoompa Video is easy-to-use, so you can create your wedding slideshow right on the go.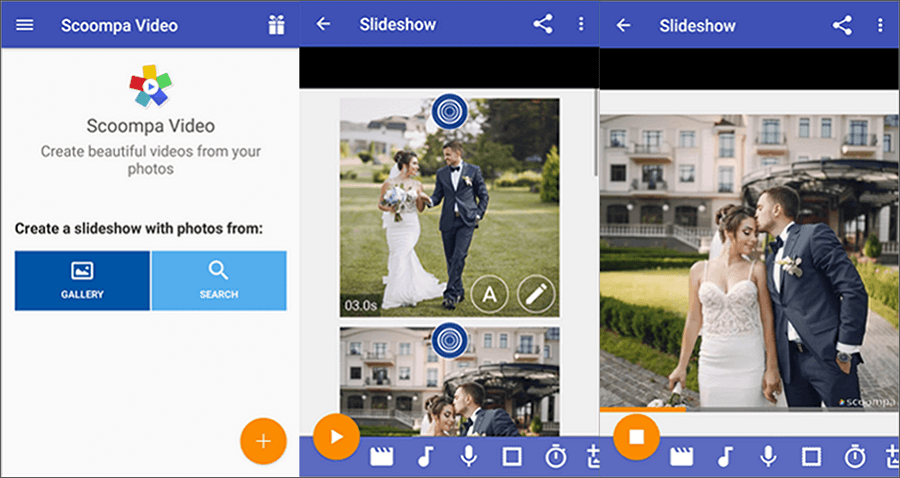 Scoompa Video is an easy-to-use mobile application
Very easy to master
A big library of frames and stickers
Only for Android
Free version is full of ads
13. Photopia Creator
Photopia Creator is a spiritual successor of a user-favourite program ProShow Producer that was a beloved wedding slideshow maker. Photopia Creator uses the familiar drag-and-drop workflow and allows users to add as many pictures and videos to their wedding video as they want. The software comes with 700+ effects and transitions to any liking so that you could seamlessly blend your ceremony photos into a lovely wedding video and control its flow. Although the software doesn't feature a music library, it still offers built-in tools for editing tracks of your own choice or prerecorded voice-overs.
Photopia Creator is a wedding slideshow maker based off ProShow Producer
Huge effects collection
Allows to overlay images in a slide
50+ saving formats
Quite costly
No tools for custom effects
14. PhotoStage Slideshow Software
PhotoStage Slideshow Software is a lesser known slideshow maker, and for a good reason. A bit modest in its features and effects, this software is more suitable for creating basic wedding slideshows. However, the tools this software has to offer are all robust and effective. There is a wide range of transitions, pan and zoom effects, and a decent audio tracks collection. You can mix multiple tracks together and add voice comments. PhotoStage Slideshow Software is a good choice for someone who just wants to turn their wedding pictures into a simple yet effective video without over embellishing it.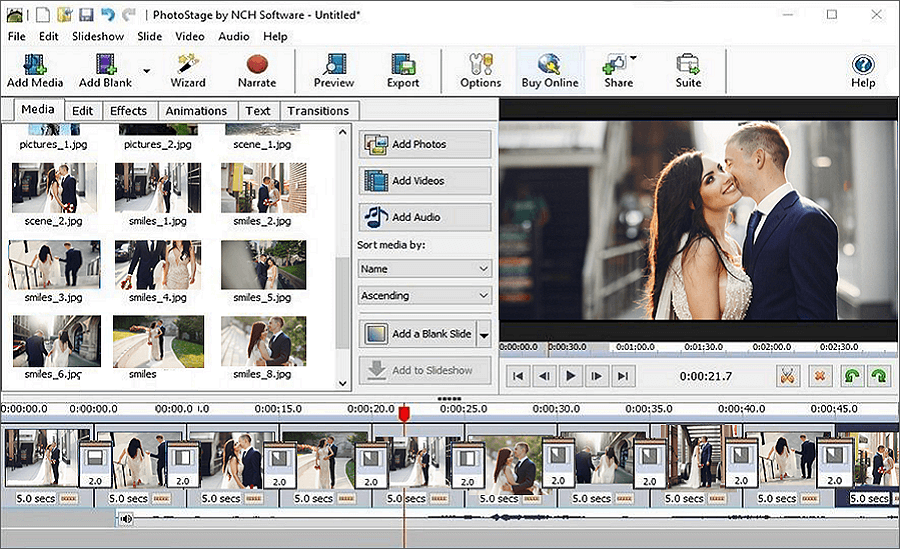 PhotoStage Slideshow Software is a relatively unknown but still quite efficient slideshow maker
Offers subtle & elegant effects
Quite affordable
Bugless performance
Technical support costs extra
15. PicMotion
PicMotion is another mobile app for Android-driven devices. It allows you to create engaging wedding rehearsal slideshows or videos from the ceremony for Instagram, Vine, YouTube, etc. The application has a built-in photo editor that you can use to enhance your pictures. It supports many video filters and features a range of transitions that can help you make your wedding video either smooth and slow or fast-paced and engaging. PicMotion is quite easy to use so you can create a lovely video without any hassle.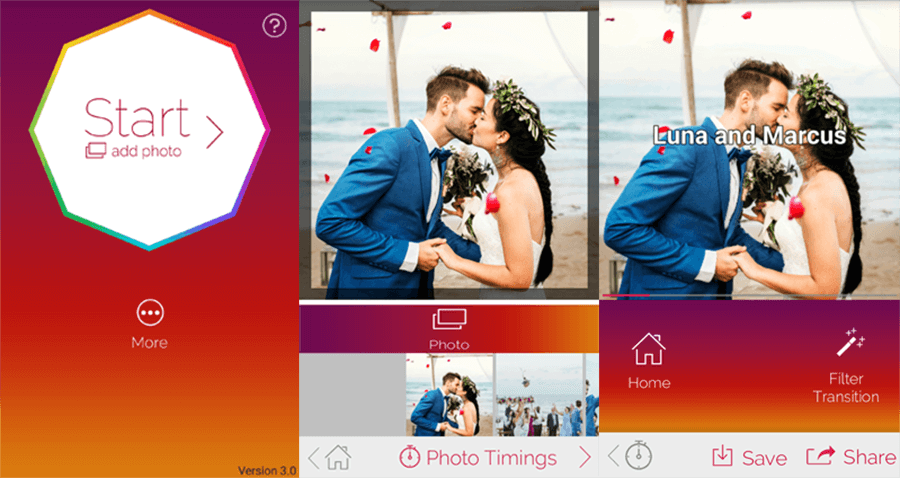 PicMotion is a easy-to-master mobile app for Android
Easy to use
Quick video rendering
No pop-up ads
As you can see, you don't have to resort to traditional Powerpoint to create a wedding slideshow to help you relive your big day. There are dozens of softwares cut for the job, and we tried our best to narrow down your choice to 15 little helpers. The programs we've covered differ in price, platform, and the skill and aspiration they require, so there is an option for everyone.
Despite how tempting it is, it's impossible to find the perfect wedding video maker that would suit everybody. But we believe we have found the next best thing. If you are looking for a slideshow maker that is easy to use and master and at the same time capable of producing a stunning and pro-looking wedding slideshow, then look no further than SmartSHOW 3D. This slideshow maker takes our top spot because how feature-rich it is and how little skill in slideshow making it requires. So if you want to see if the top spot is justified, try this wedding movie maker for free right now: