Automatic Slideshow Maker With Music
Want to make a video surprise for someone? Or wish to share your pics in an unusual way? Create a slideshow with your favorite photos and accompany it with a song you like! It doesn't matter if you have never done it before or have little time. SmartSHOW 3D is an auto slideshow maker that will help you assemble a cool video without undue effort. All you have to do is add your photos and video clips, and the program will do the rest for you.
Check Out SmartSHOW 3D Template Library
SmartSHOW 3D offers over 200 professionally designed templates and 5-minute themes. With their help, you can create an awesome video even if you have no previous experience. Inside, you'll find a template for any occasion: birthday, travel, wedding, and more. Most templates have built-in music, so you just need to drop in your photos, and your digital album will be ready for sharing! Have a look at these slideshow templates and choose the one you like most.
Want to try this handy automatic photo slideshow software?Click the button below and start your free trial today.
How to Make a Video in the Automatic Slideshow Maker
SmartSHOW 3D is perfect if the event is coming up, but your inspiration is nowhere to be found. The software will help you out with your video no matter its theme or occasion thanks to the diversity of templates, soundtracks, and animation effects. Just choose a template and a song, upload your pics and clips, and there you go. So let's see how you can make a beautiful slideshow in 5 minutes:
Step 1.

Choose a Template

Open the automatic slideshow maker and choose the Slideshow in 5 Minutes option. Select a pre-made template from the collection: classic, romantic, modern, all-purpose, and more. Preview the template by clicking Watch Video. Click New Templates if you want to buy exclusive style packs.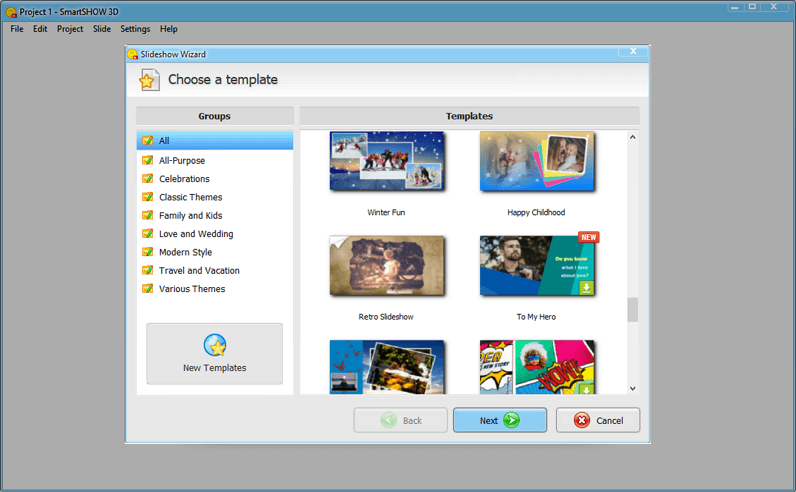 Select a perfect template for your occasion
Step 2.

Add Your Photos & Videos

Once you choose your template, add your pictures and video clips. You can either import them one by one or upload a whole folder. Next, pick music: go with a song of your choice or select from the collection of 200+ tunes. Click Done and your media will be automatically added to the template.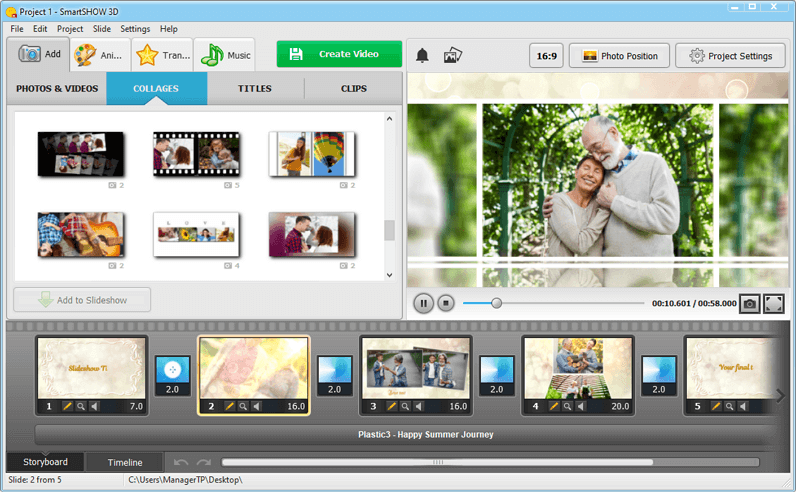 Fill the pre-made template with your pics and video clips
Step 3.

Save Your Slideshow

Click Create Video and choose the export format. You can save your slideshow for TV, smart phone or tablet to watch with your family. You can also save it as a Facebook or YouTube slideshow. Or you can burn your video on a DVD and accompany it with an animated menu.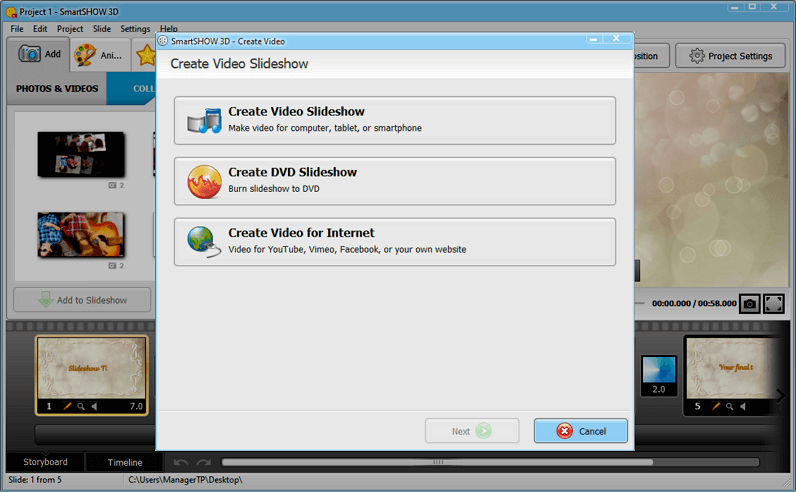 Save your slide show in any of 50+ formats
Now that you know how easy it is to make a sideshow in SmartSHOW 3D, try it with your own photos and videos. Just follow the steps to create photo slideshows for any upcoming occasion.
SmartSHOW 3D Handy Features
SmartSHOW 3D team has put a lot of time and consideration into the design of the program interface to make it accessible to people of all generations and skill levels. So the software is easy to navigate, and you can quickly master it. But at the same time, it is jam-packed with helpful features:

Over 200 Cool Templates
The software offers amazing slideshow templates for all kinds of events: vacation, wedding, kid's party, bridal shower, picnic, memorial, Christmas, and much more.

Time & Effort Saver
No need to study manuals or surf the web for info. There're easy tutorials for every feature. No overthinking. Awesome artistic solutions are pre-designed for you.

Catchy Songs of All Genres
There are 200+ royalty-free songs of different moods and genres to add to your slideshows. You can easily import melodies from your Windows PC as well.