How to Apply Sun Rays in Photoshop & Other Apps





5
Votes:

1

(Rated: )
"Here comes the sun..." you hum to yourself, holding your camera, waiting for the said star to appear from behind the clouds. But it doesn't. Does this mean that your perfect landscape shot will be ruined? Not at all! Even if the sky is cloudy or the sun has already set, there is a way to add a bit of that magical glow to your picture in post-production. How? Well, by applying a realistic looking sun ray effect, of course!
Just imagine how much warmth and depth this effect would bring to your picture. Think about how gentle sun rays can change the mood of your picture from gloomy to hopeful and optimistic! Eager to try? In this tutorial, you'll learn how to apply sun rays in Photoshop. Don't want to go a route this complicated? No worries! Additionally, we'll tell you how to add a sunburst effect in other desktop softwares you might deem a bit easier, as well as in a mobile app and an online service. So let's add a little sunshine to your pictures right now!
Before
After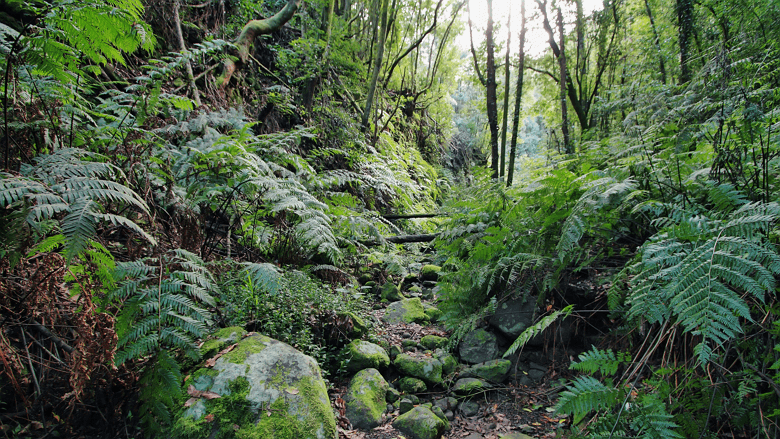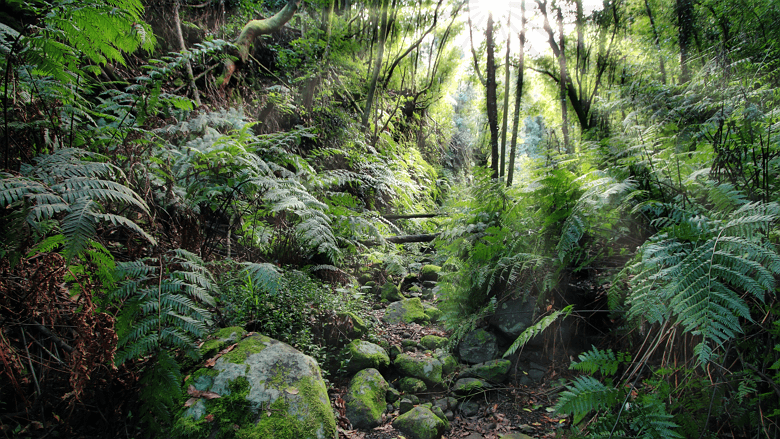 Add a little warm glow and tender sun rays to your picture with a smart photo editor!
Click the button below to download your free trial!
Way 1. How to add a pinch of sunlight in Photoshop
Way 2. How to draw sun streaks in Lightroom
Way 3. How to apply a sun ray effect in PhotoWorks
Way 4. How to make sun beams or flares online
Way 5. How to paint sun rays in a mobile app
Now, let's learn how to add that pinch of magic to your pictures. We'll look at every method in turn to help you find the one that would best suit your needs and skills. Shall we begin?
Way 1. How to Add Sun Rays in Photoshop
Photoshop is the staple of profound photo editing and for a good reason. This software is packed with tools, from basic to more (and most) advanced and lets you do virtually anything you want in terms of image editing. Still, this functionality comes at a heavy price, since Photoshop is notoriously difficult to master. And yes, it's pricey as heck. But nonetheless, let's have a look at how to get sun rays in photos with this popular Adobe product.
Step 1. Create a Gradient Adjustment Layer
Choose the Layer submenu, then click New Fill Layer -> Gradient Fill. Create a new Gradient Layer. Adjust it by changing the Location setting to 36%.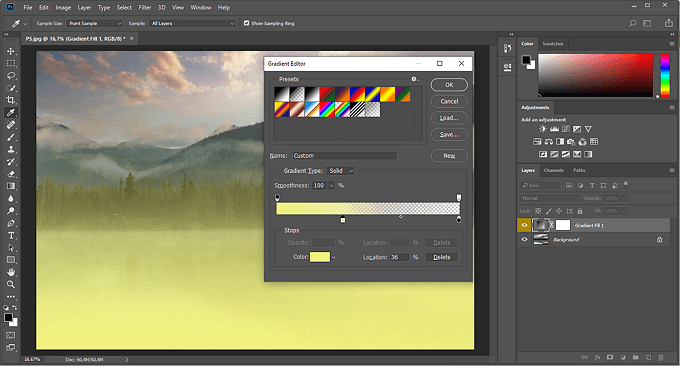 You can try other colors than yellow to create a surreal effect
Step 2. Turn the Layer Into the Sun Disk
Change the Style of the gradient to Radial. Move the sun disk around to find the perfect spot for it. Change the blending mode of the sun silhouette to Screen.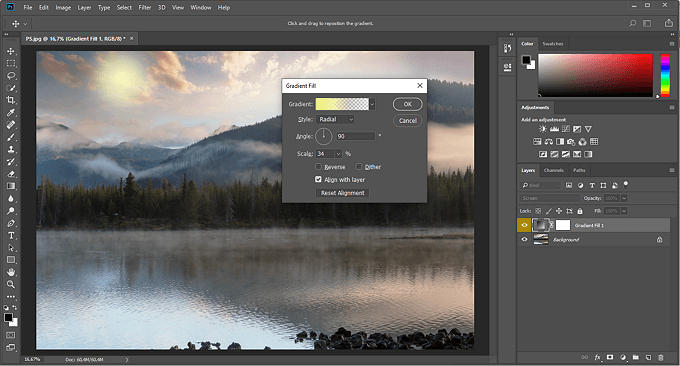 Keep in mind that the Gradient window should be active in order to move the object around
Step 3. Draw Some Sun Rays
Create a new fill layer of solid color. Pick the Brush tool and paint several dots of various sizes at the center of the image. Go to Filter -> Blur -> Radial Blur and choose the Zoom option.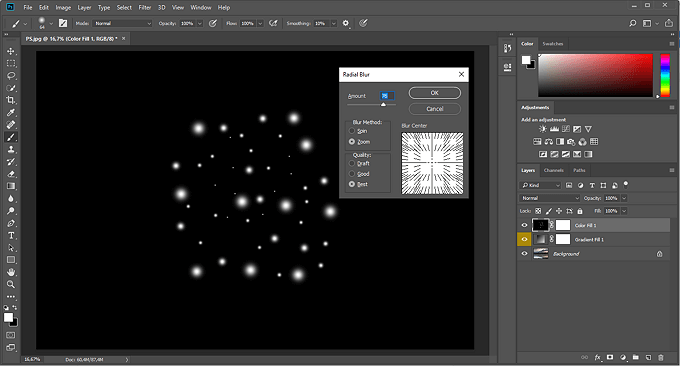 To create the most realistic rays, apply the Radial zoom more than once
Step 4. Combine the Disk and the Rays
Set the Blend mode for the rays layer to Screen. Move the rays to the sun disk to frame it. And you're done!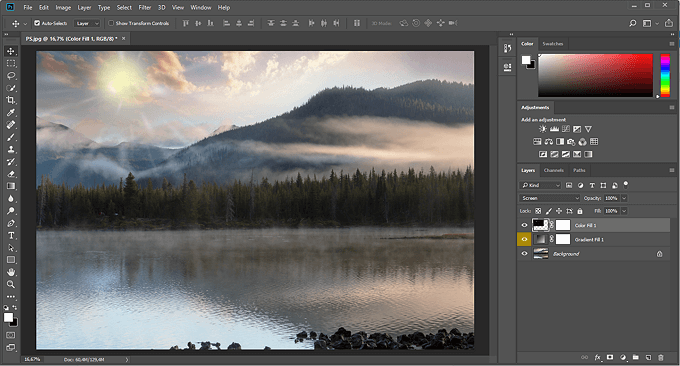 Now this is a lively image thanks to sun rays peering through the clouds
This is not the only way you can add sun rays in Photoshop. There are other tools like custom-made brushes, various actions or ready-made templates. Still, whichever option you choose, these instruments are still hard to apply, especially for a newbie. But don't lose your hope just yet! There are other ways you can add a bit of glow to your shots. Try this software to add sun rays to a photo!
Way 2. How to Add Sun Rays in Lightroom
Lightroom is often regarded as Photoshop's little brother. And, apparently, certain things run in the family, since Lightroom is also hailed for its functionality and is criticized for its confusing workflow. How about we take a look at how to add sunlight to your pic with this software?
Step 1. Pick the Radial Filter
Open your picture with Lightroom, then zoom it out. Pick the Radial Filter from the toolbar or simply press Shift+M to activate the tool.
Let's take this landscape and grace it with sun beams
Step 2. Draw a Ray of Light
Now, draw a radial filter so that its edges go beyond the edges of the pic. Make the selection narrower and tilt it a bit. Adjust its exposure, saturation, etc.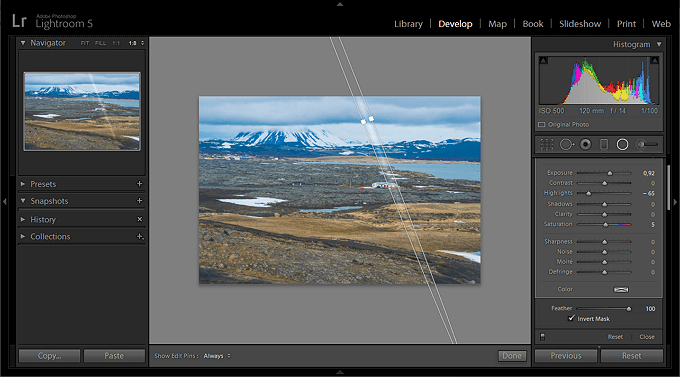 Make sure that you choose Invert Mask to make the changes inside the selection
Step 3. Add More Sun Streaks
Overlay more Radial filters to light the sky. Play with the angle, size, feather, and other setting of the filter to make the rays as diverse as possible.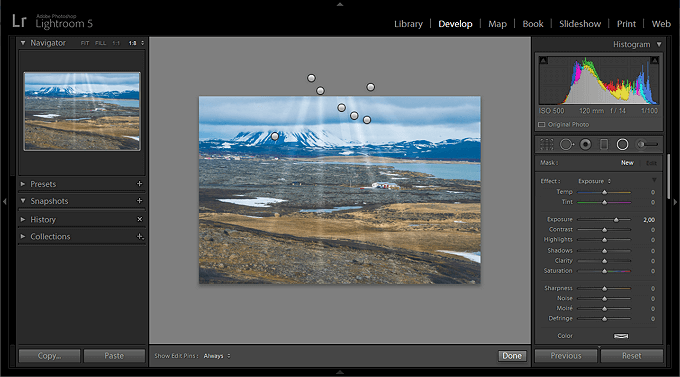 Don't overdo on the number of streaks - they have to look natural
There are more methods of making sunbeams in Lightroom. However, other ways revolve around manual selection and drawing as well. So if you are looking for a way to add realistically looking sun rays in just a few clicks, you won't find it in Lightroom.
Way 3. How to Make Sun Rays in PhotoWorks
Wouldn't it be great if you could strip Photoshop and Lightroom of their difficulty, but leave the coolest features intact? Wishful thinking, you say? It's because you've never tried PhotoWorks. This photography software for PC is filled with powerful features and tools that allow you to turn any dull or ruined shot into a masterpiece. And the best thing is that it only takes a click!
Want to know how to draw sun rays with PhotoWorks? Here's a short guide for you:
Now let's walk through this process again and fill a cold and unappealing image with warm sunlight.
Step 1. Pick the Sunrays Tool
Open your picture with PhotoWorks. Switch to the Effects tab and choose the Sunrays tool.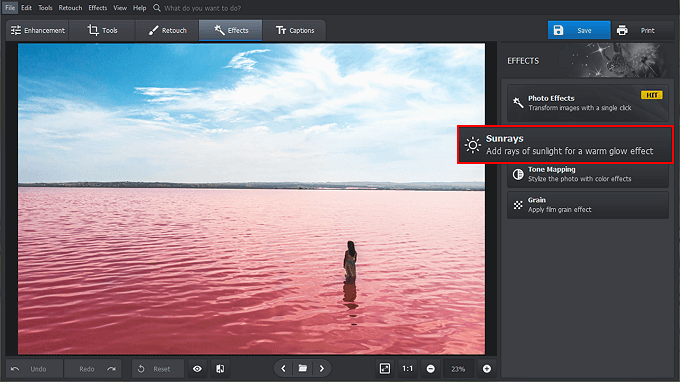 This serene shot is in bad need of a sun glow
Step 2. Adjust the Rays
Play with the rays settings. Change their number and length, adjust their smoothing and lightness.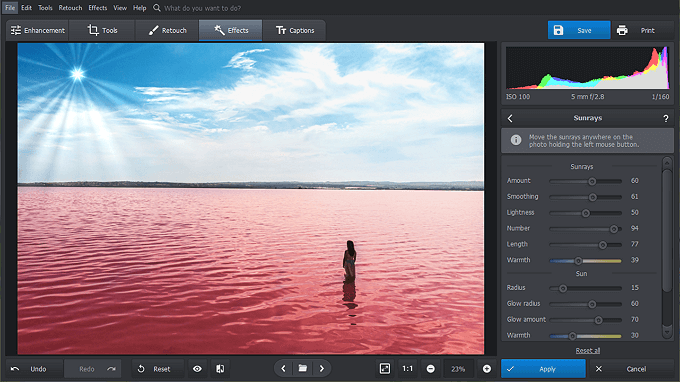 Make the sun beams stark or almost transparent depending on the effect you want to achieve
Step 3. Edit the Sun Disk
Drag the sun around your image to find the perfect spot for it. Change the size and the glow amount of the disk to your taste.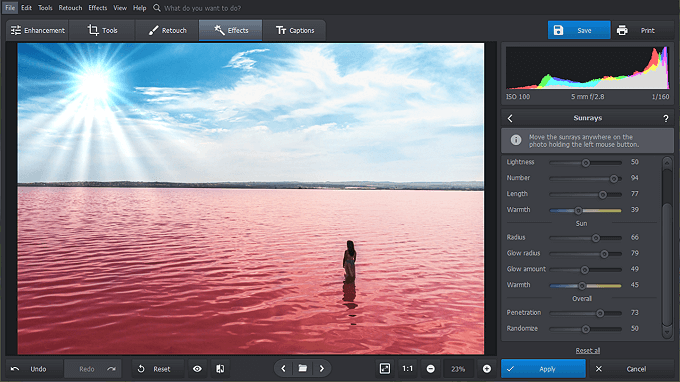 You can go for a colder or a warmer hue depending on your picture's palette
PhotoWorks is rich in powerful effects that can transform your picture in a single click.
Download this photo editor to add an artistic touch to your otherwise dull images.
Download
Fully compatible with Windows 11, 10, 8, 7
Way 4. How to Create Sun Rays Online
What if you don't have any photo editing software installed, but you still want to adorn your pic with some glow? In that case, web-based applications really come in handy. Let's learn how you can add a bit of warmth to your shot with BeFunky, a popular online editor.
All you have to do is to open your pic with BeFunky, switch to the Effects tab and pick the Lens flare filters. Try them all to find the one you like most and apply it to your photo. It's really that easy. Still, there are a couple major drawbacks to this method. The first is that you need a stable Internet connection to make it all work, and the second is that you have to upload your picture to the site (which could lead to an unpleasant privacy breach).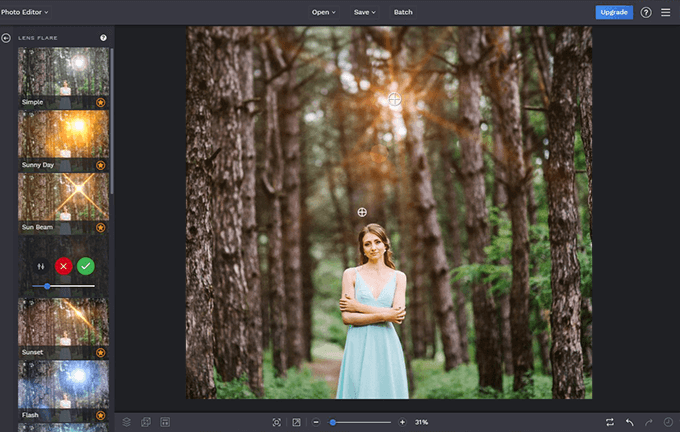 With over a dozen flare presets, you are sure to find the effect you'll like
Way 5. How to Paint Sun Rays in a Mobile App
Love to take pictures with your iPhone camera? Did you know that you could add sun rays to your pic right on your smartphone? That's right! You don't have to upload your picture to a site or to your computer. All you need is a convenient app called Rays. Just open your picture, add shafts or rays of sun, then change their opacity and color. While a great tool for its title purpose, this app lacks any more advanced adjustments (and any other features, for that matter). And yes, it is only for iOS.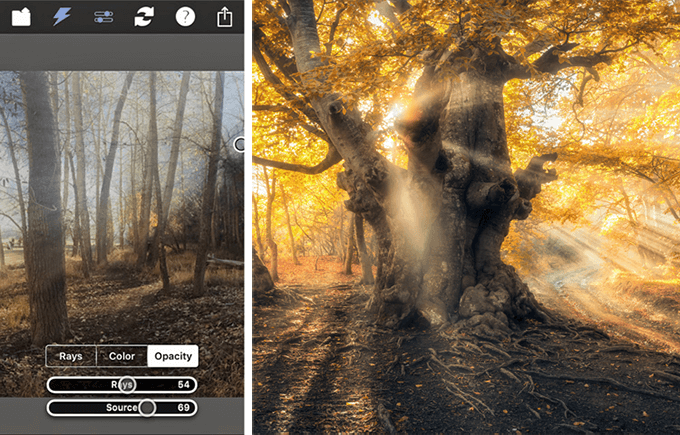 Who told you that you can't create a piece of art with your iPhone? It's time to disprove it
Let the Winner Step Into the (Sun)Light
Have you ever noticed that, even on the worst of days, a little light that shines down on you is enough to lift your mood? The same is true about your images. Now you know 5 ways you can add sun rays to your gloomy pictures. If you feel confident about your photo editing chops and have time to spare, then opt to using Photoshop and Lightroom to achieve a beautiful result. If you need a quick fix and you are not bothered about artistic merits, then online and mobile apps are for you.
But if you are looking for a perfect balance of both - an impressively realistic effect and ease of use - then go with PhotoWorks. With this intelligent photo editor, you can not only add mesmerizing sun beams to your picture in a click, but also stylize your images with creative effects, change the photo background with ease, retouch portraits in one click and so much more!