Make Your Own Fancy Pregnancy Announcements
Just discovered that your baby is coming soon? Wanna tell the world about your happiness? Well, there is a creative way to do that - pregnancy announcement cards! You won't need any professional skills and hours of hard work to make them. Create printable cards in just a few clicks, using a heartwarming pregnancy announcement creator with themed templates, stylish frames, and tons of cliparts.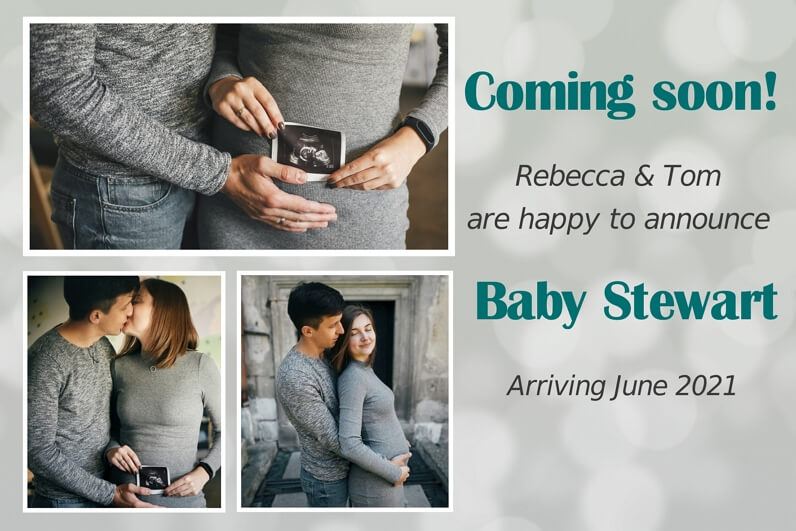 Are you an environmentalist? There is an alternative just for you! Make digital pregnancy announcements instead of printed ones. Such ecards are eco-friendly and easy to share via email and social media. What's even better, you can create these pregnancy announcements in the same program. Wanna try it? In this guide, we'll teach you how to make a baby announcement and show you lovely examples of pregnancy cards you can make yourself and celebrate your upcoming maternity.
How to Make a Pregnancy Announcement with Fun
Worrying that the cards produced by printing services would not meet your expectations? With Photo Collage Maker, you will get the exact design you want. Pick stunning templates and drag & drop your photos. If you wish to have a one-of-a-kind kiddo card, you can create your own baby announcement collage from scratch. Just decorate your photos with frames, effects, and masks, and try playing around with fonts. There is a lot of embellishments to choose from, so pick whichever suits you best.
Can't wait to announce your pregnancy?
Download an easy-to-use pregnancy announcement app for PC!
Once you are all set, follow these steps to make your own baby announcement:
Step 1.

Choose a Pregnancy Announcement Template

Open the baby announcement app and click Create New Project. Use adorable templates if you want to create your custom card in under 5 minutes. Already know the gender of your baby? In the Greeting Cards and Children sections, you'll find both "it's a girl" and "it's a boy" templates. Making ultrasound pregnancy announcements is also a nice idea. Prefer modern and minimalistic cards with fewer decor and more photos? Switch to Page Layouts. Wanna make a one-of-a-kind design? Switch to Blank Project and create your personalized collage from scratch.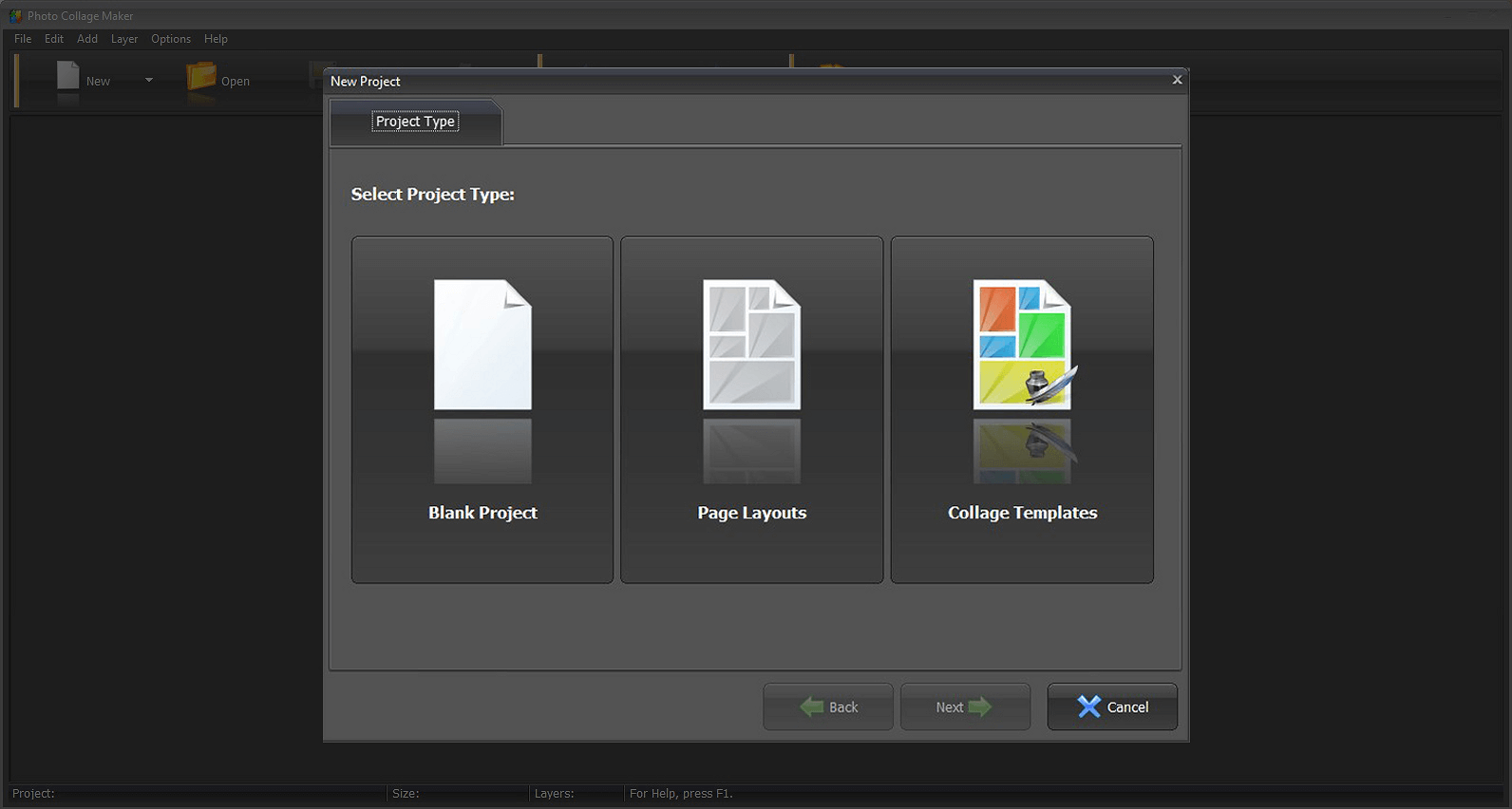 Choose among three collage-making options to get a start on your pregnancy card
Step 2.

Bring Your Pregnancy Photos into the Template

Now, drop your favorite pics into the empty photo frames. The pictures will automatically adjust to the shape and size of such boxes. If some objects are accidentally out of sight, you can fix that by clicking on your photo and using the toolbar at the top. With its help, you can easily crop, rotate, flip, and resize your image. As a result, all the objects that you want will be visible and will take the desired positions. By the way, it is an excellent idea to attach a photo of your sonogram or your belly showing.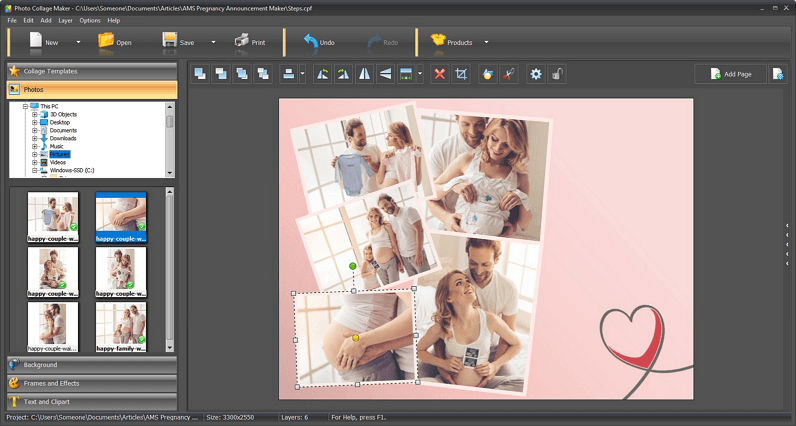 Drag & drop your photos into the photo frames and adjust them if needed
Step 3.

Decorate Your Pregnancy Card with Adorable Cliparts

Once on the Frames and Effects tab, you can change the mood of your announcement. Make your card truly unique by decorating it with flower or baby cliparts, stylish or cute frames, funny or geometrical masks. Filters will fix minor lighting flaws and add the final touch to your collage. If you decide to change the whole vibe of your card or achieve a specific effect, replace its background. To do that, move to the Background tab on the left. There you can select a solid color, a gradient, a texture from the software's collection, or upload your own photo.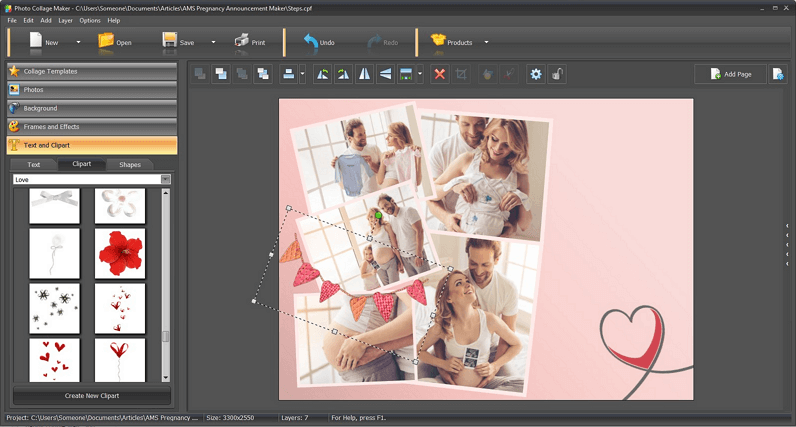 Add frames and cliparts, use effects and filters to decorate your card
Step 4.

Add Touching Pregnancy Announcement Text

While on the Text and Cliparts tab, type in your caption, set its font and size, and play around with colors. Your text might look better if it's filled with a gradient or texture. Guess what? You can do that in the settings menu as well. Alternatively, choose premade text styles to save yourself time. Have chosen a text style but have no clue what caption to use? Here are some fun ideas for you: "Welcoming our little one in (due date)" or "You + me = three." Having twin pregnancy? Use one of these: "One dream became two" or "Miracles come in pairs."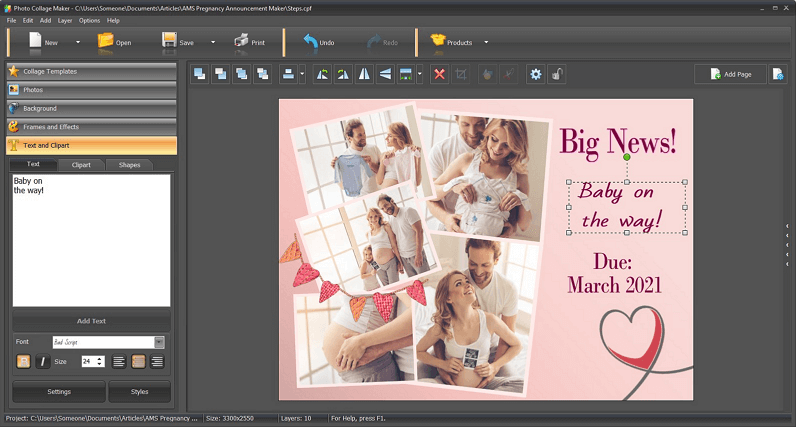 Decide on the caption, use premade text styles or play around with fonts and colors yourself
Step 5.

Save or Print Your Pregnancy Collage

Is your homemade printable announcement ready to share? Click the Save icon at the top left and save your design in JPG or PNG. JPG is better in case you want to announce the baby's birth on Facebook or send the baby card to your loved ones as a message. To print the card right away, click the Print icon. Then, choose the preset, adjust the resolution and orientation, and preview your announcement on the selected paper format. A red warning at the bottom means that your design doesn't fit the chosen format - choose another preset. Finally, set the number of copies and hit the Print button.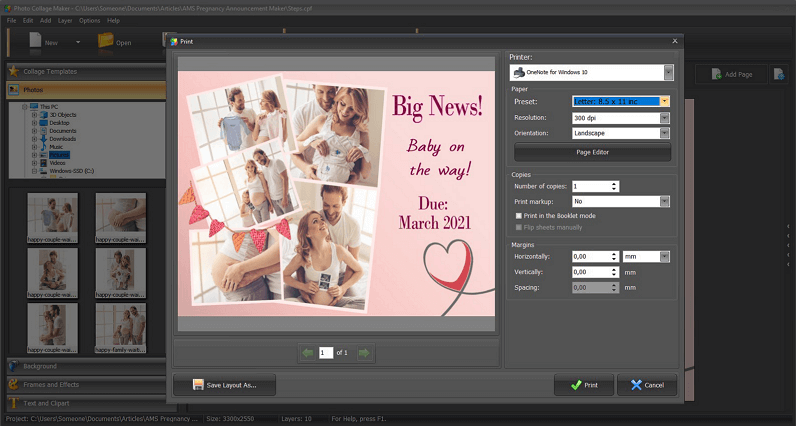 Hit the Save or Print icon once your design is complete
Expecting a baby and can't wait to spill the news?
Do it with an easy birth announcement maker. Start your free trial today!
6 Incredible Holiday Baby Announcement Ideas
Are you that person that saves the date until a major holiday to make your announcement even more exciting? Pregnancy needs the perfect day and way to be announced. If you are unsatisfied with trivial and simple pregnancy announcement designs from bookstores, be creative and make DIY baby cards.
Here are some of our special day ideas, but you're not limited to that. Come up with your own to make the day of the announcement unforgettable.
Valentine's Day Pregnancy Announcement
A V-Day's pregnancy announcement would be an excellent surprise for your significant other on this holiday of love. Print it out, put the card into an envelope with the name of your beloved one on it, and pretend that it is a business letter from someone else. Be ready to film the pure reaction when your significant other finds out that your baby is on the way. You can use this touching video for your future creative ideas!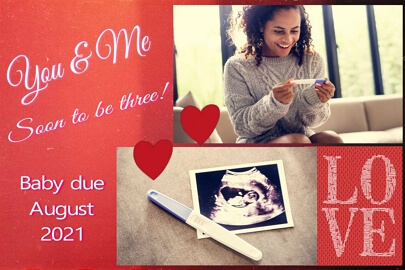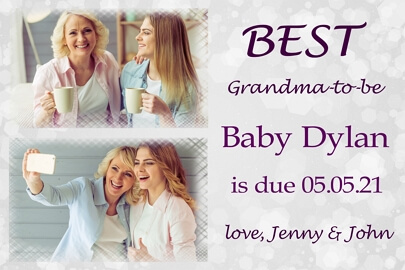 Mother's Day Pregnancy Announcement
Found out about your pregnancy before Mother's Day? Hold the news! There is an excellent way to present it to your mother. Design your baby announcement as a family album featuring your family members and your soon-to-be-born baby. Another idea is making a collage with your and your mother's joint photos and adding a caption, "I wish I will be a mother like you!" That will break the news and bring you two even closer.
Halloween Pregnancy Announcement
It is October, and your baby is on board? A great fan of the spooky season? Then have a Halloween photoshoot in advance and create your themed pregnancy announcement. You can draw a pumpkin, a cobweb, or a hand, pushing from inside, on your stomach with body paint. Such cards will drive your friends nuts and cause a whole bunch of emotions, so you can even use them as Halloween party invitations.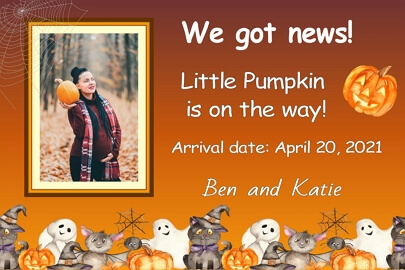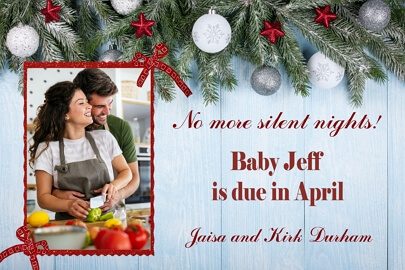 Christmas Pregnancy Announcement
Too late for a Thanksgiving birth announcement? Do not delay making your own baby announcement because Christmas - the warmest family holiday - is just around the corner! Imagine telling your loved ones about your little angel at the Christmas dinner. Capture the beautiful memories of this moment for all your family members. It is helpful that the baby announcement generator has many Christmas templates to choose from.
Wedding Pregnancy Announcement
Wedding's soon to come, but no one knows you're pregnant? Be creative to fix that. A wedding is a special day by itself, so no one will be expecting more to happen. You can make pregnancy cards and include them into quest bags or put them on the dining tables. A creative idea is to project your announcement during your wedding dance or song. You can also make a poster announcement in the baby announcement creator.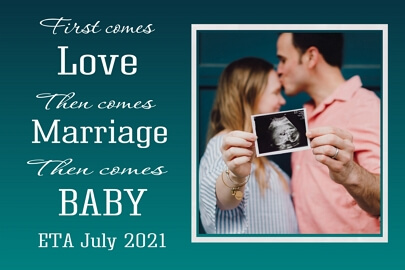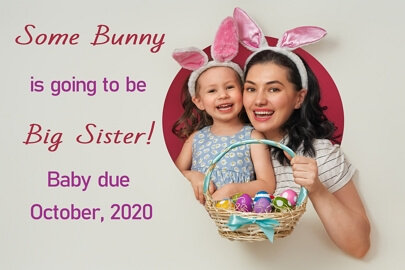 Easter Pregnancy Announcement
Easter is a beautiful holiday that associates with the bright colors of the coming spring, nature, and youth. For this reason, many couples enjoy using this holiday to tell their family and friends about their soon to be born chick. It is a holy holiday, which makes it even more special and symbolic. The baby announcement maker allows you to design cute "We're expecting" cards using themed cliparts and nice pastel colors.
Try This Pregnancy Announcement Generator!
Pregnancy should be captured, just like the birth of your child. Photo Collage Maker allows all the mothers of the world to save those memories in a beautiful card and spread good emotions. Its intuitive interface is pretty accessible even to newbies and people with no editing experience. A valuable addition is 400+ themed templates and 400+ effects that will help the products of your imagination come to life. So pick your best photos and make a collage on Windows 10.

370+ templates

400+ effects

Smart printing
Download this pregnancy announcement maker
and start making your baby cards today!
© 2003-2022 AMS Software. All rights reserved.