Love Collage Maker to Create a Romantic Gift
Need a touching gift for your anniversary, St. Valentine's or any other special day? Want to surprise your loved one for no particular reason? Take a bunch of your and your partner's photos and turn them into an "I Love You" сollage. It will only take you a few minutes to create a unique romantic artwork with a love collage photo editor! Choose from more than 400 templates and decorate your romantic photo collage the way you like it.
Love Picture Collages Ideas
It may be difficult to come up with a whole new design yourself. But no worries. We'll have a look at some examples to get inspired! Then you'll have no trouble creating an I Love You photo collage for your significant one yourself. Ready? Here we go.
Picture Collage For Girlfriend
Surprise her with a romantic heart-shaped collage! The form of the layout itself tells how tender your feelings are. Fill the collage with beautiful photos and make it even more personal by adding some text. It can be a line from her favorite song or a lyrical poem that matters much much for both of you.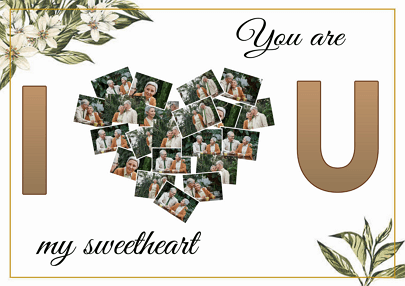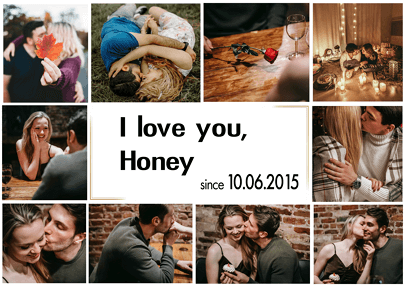 Tender Couple Collage
You have lots of shared memories and funny moments together. Show how much you cherish them! Tell your love story through a relationship photo collage. This way you won't have to choose only one of your favorite couple photos to put in a frame. Pick a variety of them, upload to a template, add your personal message and celebrate your time as a couple.
Picture Collage For Boyfriend
Honor him with a sweet collage made with your favorite photos. It will not only make him smile, but remind your dear one of how much you love him. Every time your man will look at this awesome collection of your lovely photos, he'll recall those magic moments spent together. So he will not only know about your feelings for him, he'll be encouraged to show his love to you.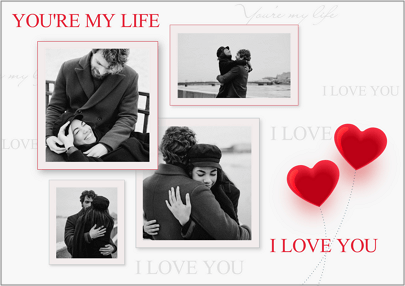 How to Create a Love Collage for Your Special One
Want to make a collage but have never done it before? No worries, it's easy with Photo Collage Maker. This software offers more than 400 templates and doesn't require any previous experience! All you need is a bit of inspiration and many cute photos.
Step 1.

Install the Software on Your Computer

Click the button below to download a free trial of this love picture collage maker to your computer.

The installation process is really easy: launch the installer and follow the wizard. A couple of minutes and you're ready to start! Run the program and click Create New Project.
Step 2.

Choose a Love Pic Collage Template

Now you have several options. You can pick one of the ready-to-use templates and fill it with your photos. Сlick Collage Templates and select the one you need. You can also make an automatic photo collage. Click Auto Collage and decide on the collage type you like most: grid, shape or text. Want to create your own design from scratch? Then select Blank Project. Once you pick the option, you'll need to set the size of the page and its orientation. Now you can add your photos.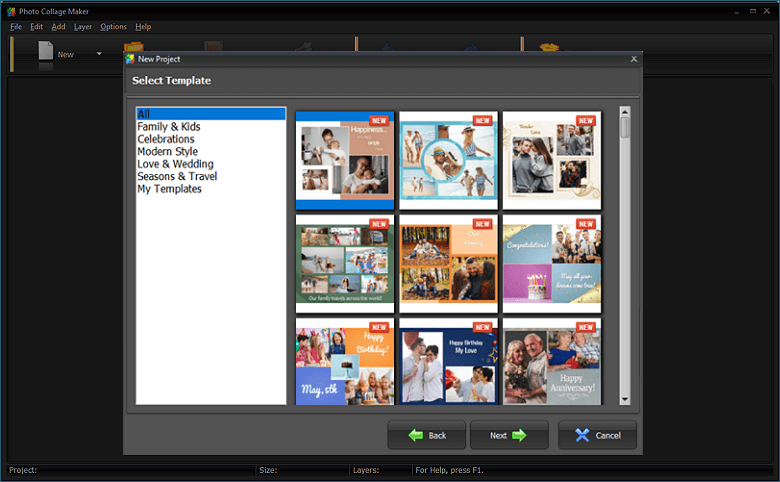 Pick the layout that suits you best
Step 3.

Customize the Design to Your Liking

The background doesn't look pretty enough? Then change its color or add a gradient effect. Alternatively, pick a new image from your picture gallery. You can also change the positions of the photos and arrange them the way you want. Add a frame or a mask to embellish your pictures.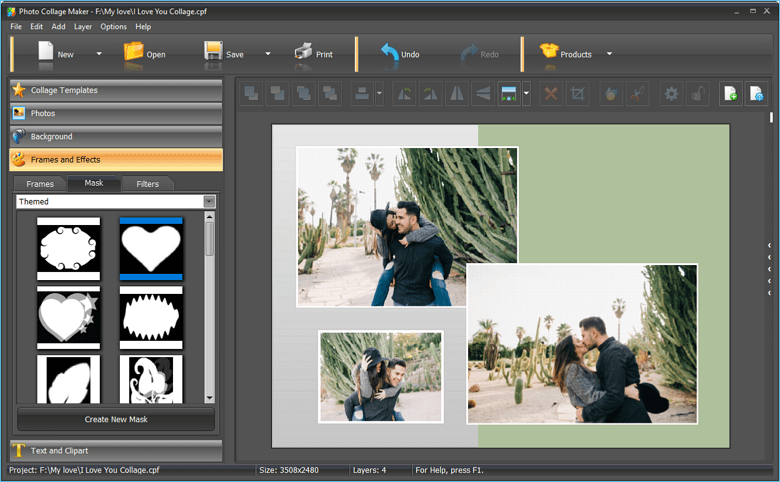 Decorate your artwork the way you like it
Step 4.

Add Sweet Captions to Your Collage

Once your collage looks great, make it speak of love with text. For instance, add a romantic message or a quote from your favourite love poem. Click Text and Clipart, then type your text. You can set the font and size for your caption. To customize your text even more, click Settings. Now you can adjust the text's position, rotation or add some colors to it.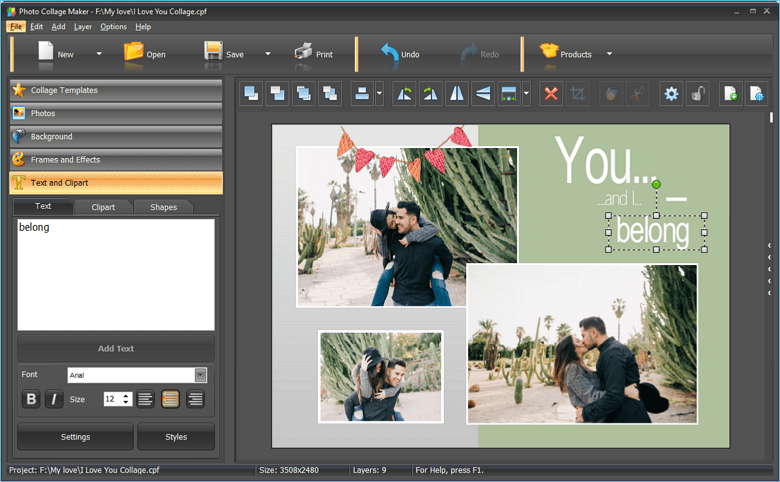 Cute messages will add charm to your present
Step 5.

Print Your Collage or Save It

Happy with the result? Then click Print, choose the paper format and print your collage in the best resolution. A touching gift for your loved one is almost ready! Put it into a frame to hang on the wall or set on the bedside table. Can't print it right now? Then save your collage as a PDF or TIFF to print it at any photo service. Or email it to your dear one to make a sweet surprise on a workday!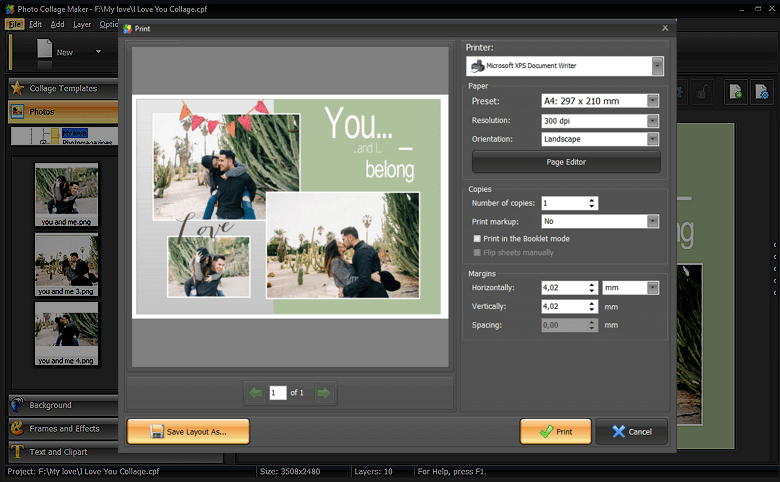 Put your picture into a beautiful frame before you give it
Now you know how to turn a heap of your photos into a beautiful romantic collage. It can be a unique gift for your loved one. You can give it on both a gift-worthy occasion and a regular day as well. Why not make a similar present for your family or friends? Tell your family history in pictures. Mix some old pics with the new ones from a recent photoshoot. Celebrate the arrival of a newborn family member with baby collages. Just imagine a sweet collection of such memorable instants. Keep all the treasured moments forever with Photo Collage Maker!
Create a unique present with the love photo collage maker.
Download and try it for free!
© 2003-2023 AMS Software. All rights reserved.