Baby Collage Maker: Frame the Happiest Memories





5.0
Votes:

364

(Rated: )
Oh, kids… Those little rugrats that make our life meaningful, while also making it unbearable at times. We love watching our kids grow, and we love taking pictures of them. Tons and tons of pictures. And what do you do with your children's pictures? Just store them on your hard drive? Don't do that! Turn them into a baby photo collage instead!
Collages are a great way to merge pictures into a single artwork. All you need is a bunch of your little one's pictures, a handful of inspiration, and a powerful baby collage maker. Don't know the right software for the job? Go with Photo Collage Maker! This user-friendly program is filled with templates and effects that will help you create a scrapbooking masterpiece. Sounds too good to be true? Then give Photo Collage Maker a try!
Enjoy the Cuteness Overload of Baby Templates
Photo Collage Maker comes with a huge collection of 400+ templates, including kids-themed. There are templates for both boys and girls, as well as gender-neutral ones. Just add your little rugrats' pictures to the template and marvel at the cutest result:
Start creating cute baby photo montages today!
Download a free trial of Photo Collage Maker:
Don't these posters look adorable? Want to create a baby collage of your own? Then let's learn how to craft a similarly cute artwork in a few easy steps!
How to Create a Baby Collage in a Few Simple Steps
We know what it's like to be a parent and we know how little spare time you have. So that's why Photo Collage Maker is just perfect for you! With this program in hand, you can create a lovely babies collage in no time at all. Here's how you do it.
Step 1. Start Photo Collage Maker
Download and install Photo Collage Maker to your computer. Run the software. You'll have an option to create a collage, a greeting card, an invitation, or make a photo book. Since we're here to craft a baby collage, let's choose the Collage option.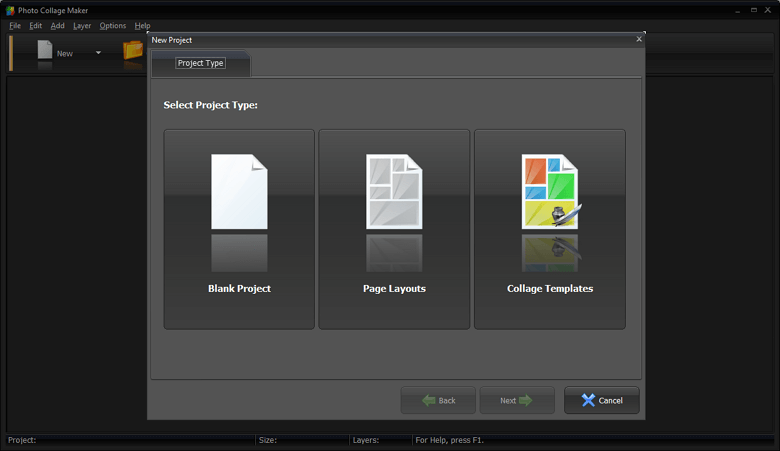 Start Photo Collage Maker and choose the project type
Step 2. Choose a Baby-Themed Template
Photo Collage Maker offers three project types: a blank sheet that allows you to create a collage from scratch; various grid layouts for minimalistic and elegant collages; and themed templates for bright and clipart-filled artwork. We'll go with the collage templates. Browse through a vast collection of presets and pick the one you like.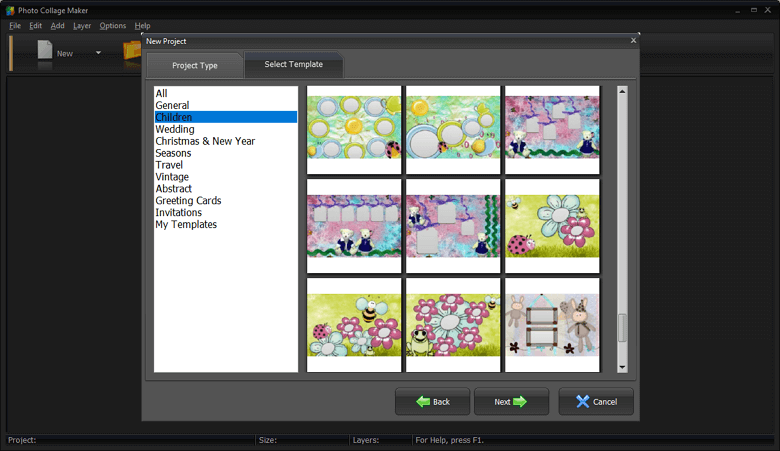 Browse through a large collection of baby templates
Step 3. Add Your Baby's Pictures
Now fill the template with pictures of the baby. Just click on an empty frame and choose the image you want to place there. Adjust the photo's position to keep the best part of the picture inside the frame. Move the picture or any element of the template to improve the composition.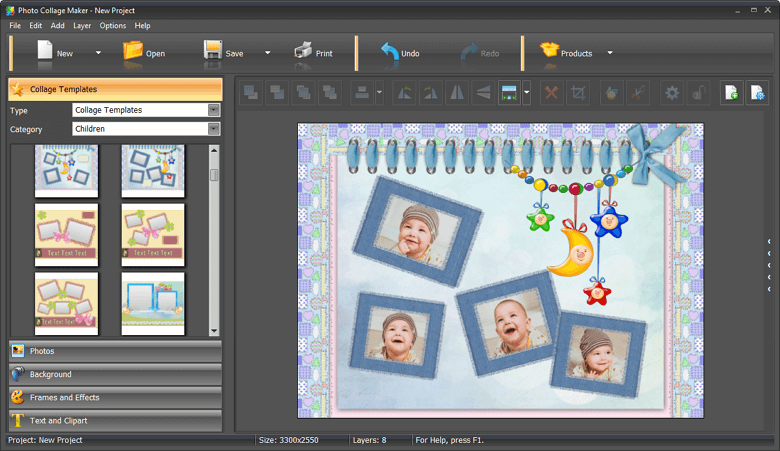 Fill the chosen template with your baby's pictures
Step 4. Apply Lovely Effects
Want to add a personal touch to your baby pic collage? Photo Collage Maker offers a collection of 650+ masks, frames, and cliparts. Spice up your collage with cute pictures of teddy bears, lollipops, and other kids-related imagery. Use creative masks and frames to add more style to your collage. Apply various filters to your pictures to make them stand out.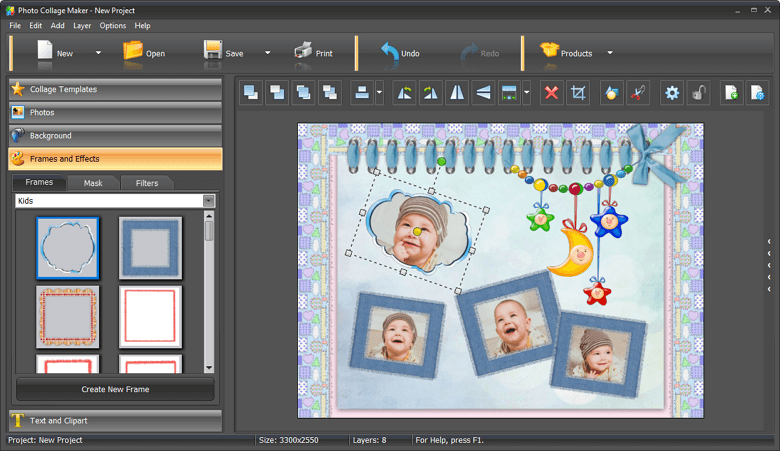 Use cute masks, frames, or cliparts to add zest to your collage
Step 5. Save Your Baby Collage
Save your creation as JPEG or PDF. You can also save the collage as a project if you want to continue working on it. You can even save your baby picture collage as a template to use it later as a basis for other collages. Alternatively, print your collage right away. Choose the paper size, and Photo Collage Maker will adjust your collage automatically for zero-waste printing.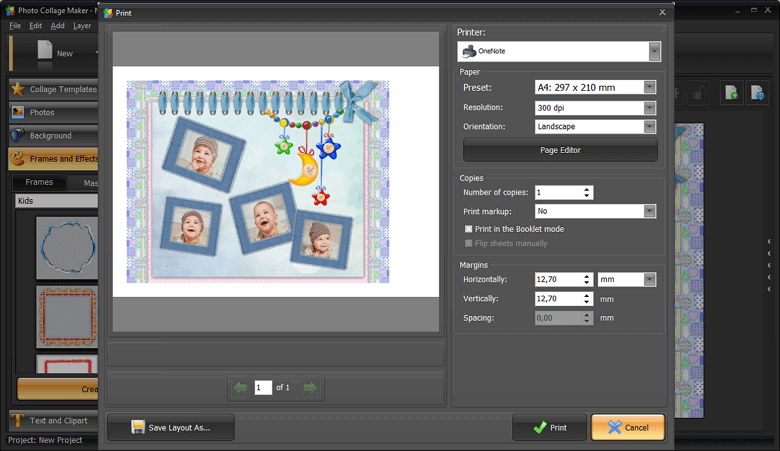 Save and print your lovely baby collage
Want to create colorful baby collages yourself?
Then get started with Photo Collage Maker!
Download
Fully compatible with Windows 11, 10, 8, 7
Awesome Baby Collage Ideas to Try Yourself
Want to create a jaw-dropping baby photo collage, but struggle to find an idea you'd want to realize right away? Don't worry! There are so many concepts that baby collages might as well be an art of their own! We have surfed the net to find some of the best baby collage ideas for you:
Chronicle your baby growing month after month by placing them against the exact same stuffed toy every time. Marvel at how your little one becomes bigger and more lively as the time goes by. What a spectacle it will be!
Take monthly baby photos of your kid against a plain background, then add hilarious doodles to the photos, as if your baby is involved into some adult activity. What could they be doing at 3 months? Riding a bike! At 6 months? Fishing!

Get inspired by great baby collage ideas



Every month, put your baby into a onesie with a number on it. 1 at 1 month, 2 at 2 months, and so on. It's better to use plain backround as well as plain onesies so that nothing would distract from the milestone written on them.
Make a shower-styled collage to surprise your family and guests at the baby shower party. Add it's a boy pictures or it's a girl pictures, embellish it with cute clipart, frames and info about the baby. First, let people guess the child's gender and name, then show them your DIY collage.
Create a 12 month photo collage by taking pictures of your baby sitting in an armchair and adding a single balloon every time your baby hits another age milestone. By the time they are 12 months old, the picture is going to be a jolly and colorful collage with all those balloons.
Take pictures of your baby against a chalkboard that would state the baby's age, height, weight, their favorite activities and what they enjoy the least, as well as their big achievements. This one works great with toddlers, too!
Endless Creative Possibilities with Photo Collage Maker
Photo Collage Maker is truly a discovery for DIY enthusiasts. Apart from collage making, this software allows you to craft greeting cards, invitations, multi-paged photo books, and basically any type of scrapbooking. 400+ themed templates, cool-looking layouts, 650+ masks, frames, clipart, and endless customization possibilities make this software perfect for those who like to create funny artworks out of their pictures. Need some proof? Then see Photo Collage Maker in action:
So don't let your pictures be stored away on your hard drive. Turn them into stunning artworks instead. Create pregnancy announcements, festive baby shower invitations, lovely newborn collages... And don't limit yourself to just kids-themed collages either. With Photo Collage Maker, you can easily create posters and photo books for every life occasion: wedding, graduation, travel, national or family holiday, birthday - you name it! Preserve your memories in style with this powerful collage making software!