Make Your Own Photo Calendar for 2023 in No Time





5.0
Votes:

258

(Rated: )
Calendars help us organize our life, keep important events in mind, and make plans for the future. But why would we need printed calendars, if there are built-in apps in our smartphones and PCs? The answer is simple: calendars with photos are pleasant to look at and even more so if the photo is our own. Personalized photo calendars make great birthday or anniversary gifts, but you can also create them for yourself: they will remind you of happy moments and fill your heart with joy.
Want to add a personal touch to your time management routine? Design your own calendar with the help of a feature-rich program - Photo Calendar Creator. It allows you to choose any format: wall posters, spiral-bound, pocket, booklet, etc. There are 250+ time-saving calendar templates in different styles and color schemes, photo enhancement tools to edit your picture, and support for holidays of different countries. What's especially useful is that you can add your own events to keep them in mind: relatives' birthdays, anniversaries, vacations, and personal goals.
Watch this 5-minute video guide on Photo Calendar Creator.
Ready to create personalized calendars? Download Photo Calendar Creator and try it for free!
OK, let's give it a whirl now. If you have no prior experience, don't worry! Our step-by-step guide with sleek design ideas will help you make your own printable calendar in no time.
How to Make Your Own Calendars in 5 Easy Steps
All you need is 5 minutes of your time, a good picture (or a bunch of them), and Photo Calendar Creator. Got everything at hand? It's time to get started!
Step 1. Run the Program and Pick a Suitable Template
Run Photo Calendar Creator and click New Project. First, you need to choose the calendar format: a wall calendar, a desk calendar, a monthly planner, a spiral-bound, or a custom calendar. After that, pick a template to your liking (don't worry about the default photo now, you will replace it with your own pic later). By the way, if you choose Custom Calendar, you will see some less conventional options: 365 day calendars, 3-year calendars, quarterly calendars, weekly planners, perpetual calendars for any year, and more. Pick the format which is the most useful in your case.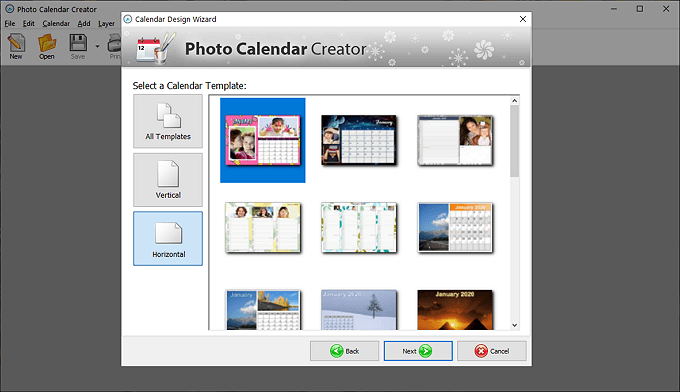 Pick a suitable template for your calendar with pictures
Step 2. Add Your Own Picture or Create a Collage
Switch to the Photo tab to either insert a single photo or create an eye-catching collage. The editing options of Photo Calendar Creator allow you to change brightness, contrast, and saturation, as well as adjust the photo transparency and rotation angle. How about decorating your photos? There are elegant frames, funky masks, and multivarious cliparts. Besides, it's possible to replace the picture background with a different one (from the built-in library or your own collection).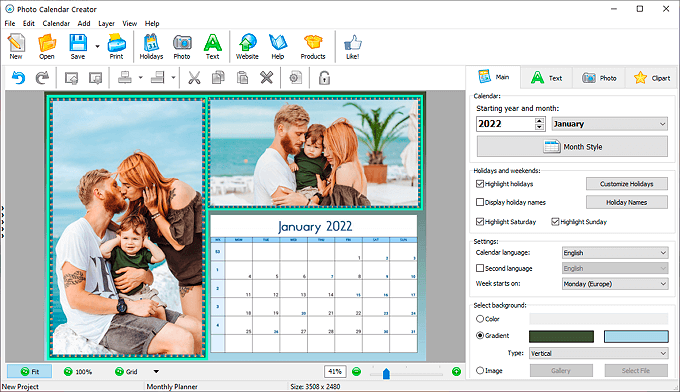 Choose a picture and decorate it to make your calendar special
Step 3. Customize the Grid How You See Fit
Browse through different grid templates to find the one that will look best on your calendar. Go with classic, table, one-line, monthly calendar, etc. If you want to change or modify the grid of your own picture calendar, click Month Style to open a pop-up Template Editor. You can change the color and style of month headers, weekday names, weekends, holidays, etc. Go to the Template tab to swap the existing grid for a totally different one.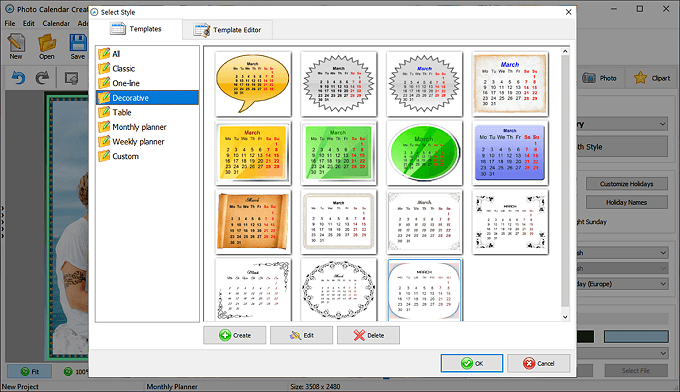 Click Month Style to adjust the grid or change it completely
Step 4. Add Personal Holidays and Important Events
Click the Customize Holidays button and tick off the holidays you want to be included in your calendar. You can also create your own group of holidays and include the birthdays of your relatives and friends. Add any events worth remembering - wedding anniversaries, classes, training sessions, etc. In this holiday calendar creator, you can even insert pictures or cliparts into calendar cells to make the reminder more visually-pleasing. Choose the table grid if you want the holiday names to be displayed right in the cell.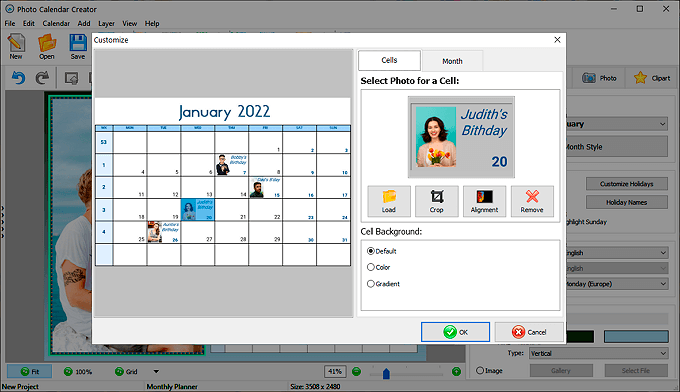 Choose national holidays for your country and add personal events
Step 5. Save the Project and Print Your Own Calendar
Thanks to the built-in printing module, you can print all kinds of custom calendars at home. While it is quite tricky to print desktop calendars and booklets, Photo Calendar Creator automatically arranges the pages so that you won't have to do it manually. If you don't have a printer, then you can save your project as a PDF or TIFF file and take it to a print shop. Want to make more calendars for the years to come? Save your project as a template and use it again later.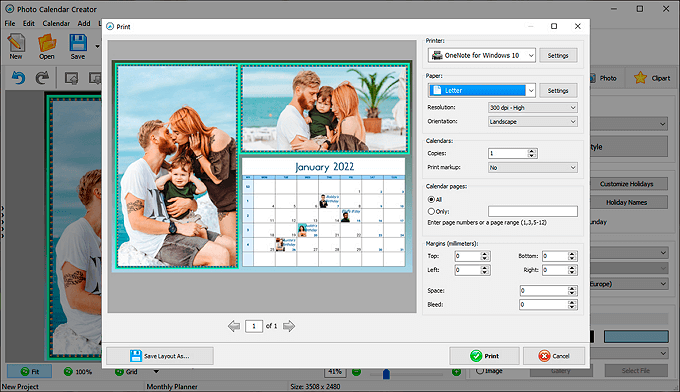 Print your calendar in premium resolution at home or at a print shop
As you can see, there is nothing difficult in making personal calendars with pictures when you use Photo Calendar Creator. Download the free trial of this easy-to-use calendar software to get going!
Download
Fully compatible with Windows 11, 10, 8, 7
5 Great Calendar Ideas for Your Inspiration
Feeling stuck at the very beginning? Here're 5 stunning calendar examples that will get those creative juices flowing!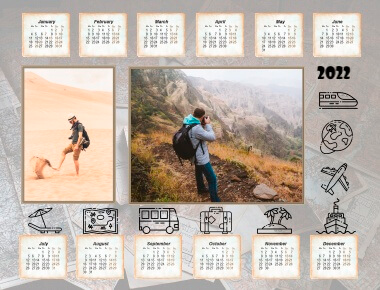 Traveler's Wall Calendar
If you travel a lot throughout the year, you probably have lots of breathtaking pictures. Create a wall calendar with a collage made using the best photos from your trips (as a source of inspiration for the upcoming year). If one of your friends or relatives is a keen traveler, you can make a personalized gift calendar for them.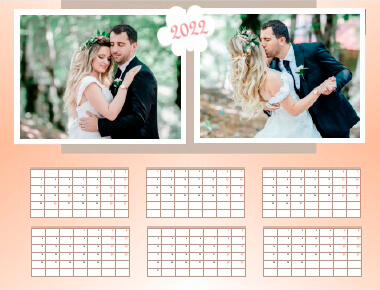 Family Desk Calendar
Make your own calendar with your wedding pictures to rekindle your love for each other, or with your kids' old photos to remember the happy years you've spent together as a family. Can't pick a single picture? Make a creative collage with frames and masks. Such a calendar will make a great birthday or wedding anniversary gift.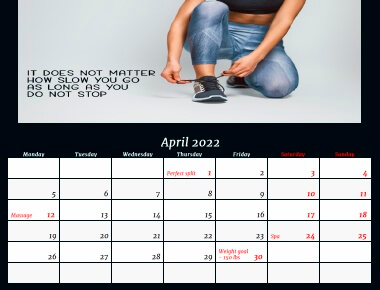 High Achiever's Calendar
If you want to be more productive, build your own calendar to help you achieve your goals. The spiral-bound format will work perfectly here. Think of one high-priority goal for every month and find inspiring quotes and illustrations that will help you focus on your objectives. And here's how you create an awesome calendar.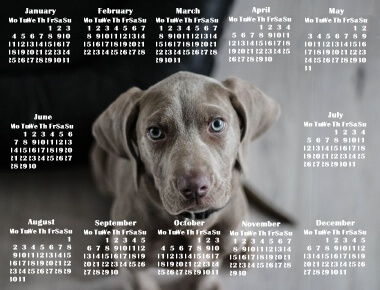 Adorable Pets Pocket Calendar
If you (or your friend) are an animal lover, how about creating some pocket calendars with funny pets pictures? Dogs, cats, parrots, hamsters - these pictures will help you start every day with a smile. You can also add your pets' birthdays to the calendar grid, so that you won't forget to buy some tasty gifts and munchies.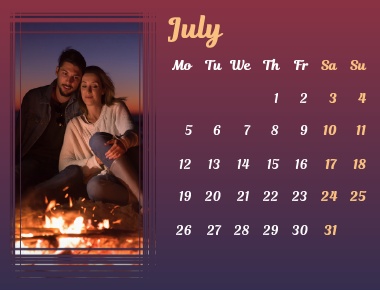 Last Year's Favorite Moments
Cull twelve pics from your photo collection, each photo representing a correspondent month (winter sports for January, seaside pics for July and so on). Then, make your own photo calendar with the last year's best moments. It will make you feel happier each time you look at it. It can also be a great gift for your friends, too.
A personalized calendar with your own photos is not so much a planning tool as a source of positive emotions in your daily life. Of course, you can order such a calendar online, but your customization options will be extremely limited. Online services don't allow you to make pretty picture collages, choose the grid style, or add your own events. As a fresh alternative, Photo Calendar Creator offers vast personalization and customization opportunities. Besides, the license cost is quite affordable - about the same as the price of one calendar ordered at an online printing portal. You will be able to create your own calendars - as many as you'd like! Make one right now and keep an eye on it!