Make a DIY Birthday Calendar with Photos and Names





5
Votes:

1

(Rated: )
We often use printed calendars to mark the birthday dates of our dear and near. Have you noticed that a handwritten text doesn't catch your eye at all? Besides, it can fade and become unreadable. Here's an idea - сreate a happy birthday calendar of your own design and print it! Just imagine a calendar where all the birthdays would be marked with the celebrants' pictures. You can keep such calendar at home as an effective reminder of your loved ones' birthdays. Or you can also give it to one of your friends as a heartwarming gift.
Want to know how to create such a B-day reminder? Below, you will find some cool-looking examples of custom birthday trackers for inspiration as well as a step-by-step guide on how to make a family birthday calendar.
Birthday Calendar Ideas for Work and Home
A person's birthday is an important event for their relatives, friends, and colleagues. But what happens if you forget about someone's birthday in the rush of daily life? They may feel really upset. To avoid such an unpleasant situation, keep a birthday tracker at home or in your office. Here're some ideas that you can use to design a unique calendar with your own photos.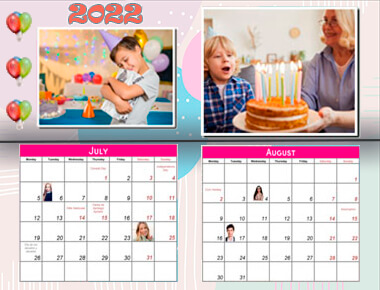 Booklet Birthday Calendar
Have a lot of friends and acquaintances? If so, it must be quite a challenge to remember everyone's birthday and get gifts in time. How about getting a DIY booklet calendar for birthdays with all the celebrants' names and ages? Insert each friend's picture into the calendar grid if you have trouble remembering who is who (just kidding!).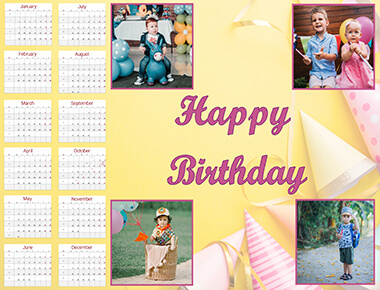 Hanging Birthday Calendar
If your relatives are sensitive when it comes to their birthdays or anniversaries, you can save yourself a lot of trouble by creating a wall calendar with all the family birthdays in one place. Or maybe you need a birthday reminder so that you could buy gifts in advance? A happy birthday calendar on the wall will keep you informed.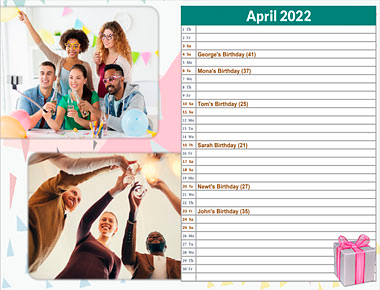 Office Birthday Calendar
Birthday celebrations are a great team-building activity. However, if there are a lot of people in your department, it's hard to remember all the important dates. How about making a birthday reminder calendar? Use a desk planner format and keep this calendar in sight - this way you'll be able to keep track of all the birthdays.
Want one of those calendars at home or in your office? Get started with Photo Calendar Creator, a smart program offering hundreds of time-saving templates and lots of customization options.
With Photo Calendar Creator, you can build custom calendars using 250+ templates of various formats. Besides, the program allows you to add birthdays to the calendar and insert photos into the grid. The pictures of your dear and near will bring you joy every time you look at them! What's more, you can add any other custom holidays or important events to keep them in mind.
Create printable birthday calendars with powerful birthday calendar software. Download Photo Calendar Creator and try it for free!
How to Make a Birthday Calendar with Your Friends' Photos
Even if you don't have any prior experience in calendar design, you won't face any difficulties! Follow our step-by-step guide and create your own birthday planner in just a few minutes.
Step 1. Choose a Birthday Calendar Template
Decide on the format of your calendar and choose one of the 250+ time-saving templates: desk, wall, spiral-bound calendars and more. If you want to stray away from regular yearly and monthly calendars, go to the Custom section: there you'll find perpetual, 3-year, and quarterly calendars, as well as other non-conventional formats. Once you've chosen the template, upload the title picture.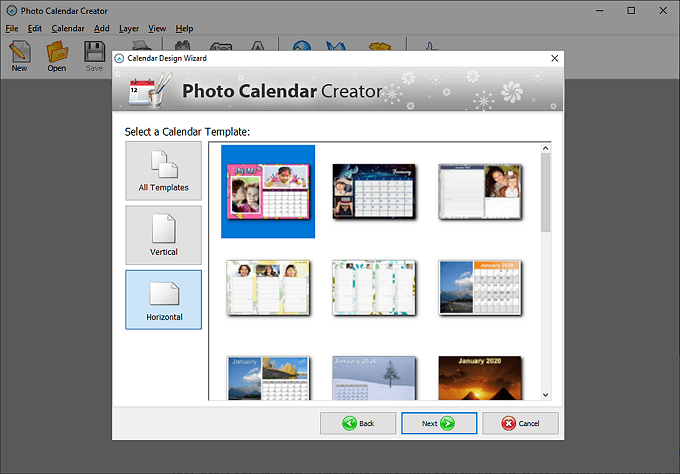 Choose one of the 250+ sleek templates and upload the title picture
Step 2. Customize the Month Style to Your Liking
Click the Month Style button to change the grid template. You can choose from a great variety of grid styles: classic, table, column, one-line, transparent, etc. We recommend going with a table grid for a birthday calendar because it displays the name and age of each birthday celebrant and allows you to add pictures to the grid cells.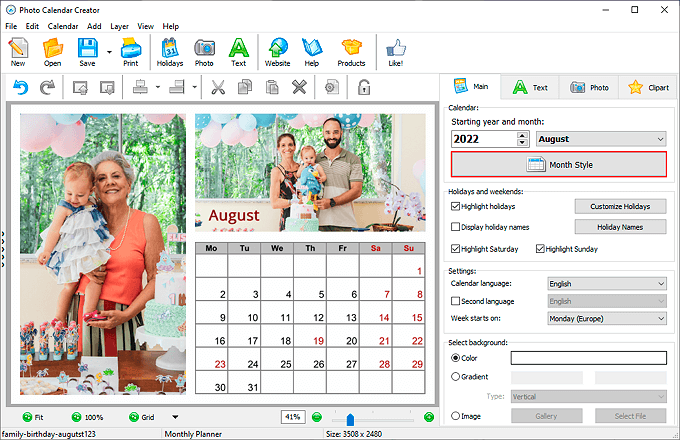 Change the grid template by clicking the Month Style button
Step 3. Add Your Own Events to Your Calendar
Next step is to add personal events and holidays, including your friends and relatives' birthday list. Just add a date and the program will calculate the age of each person and show how old they will be on their upcoming birthday. Two birthdays coinciding is not a problem: you can fit two events into one date cell so that no one would be forgotten.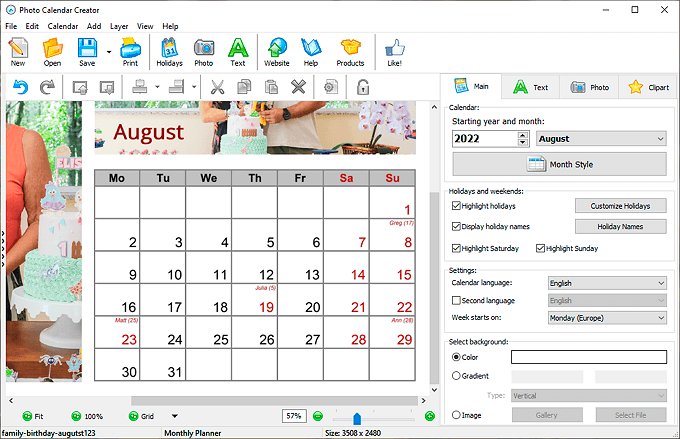 You can see how old the birthday person is turning right in the cell
Step 4. Insert Pics of Loved Ones to the Grid
Want your birthday calendar to be more visually-pleasing? Add portraits of the birthday celebrants right to the grid cells, and decorate them with colorful cliparts. Besides, you can turn the title picture into a creative collage right in the program. Elegant picture frames, creative masks, and clipart images will make your collage look awesome!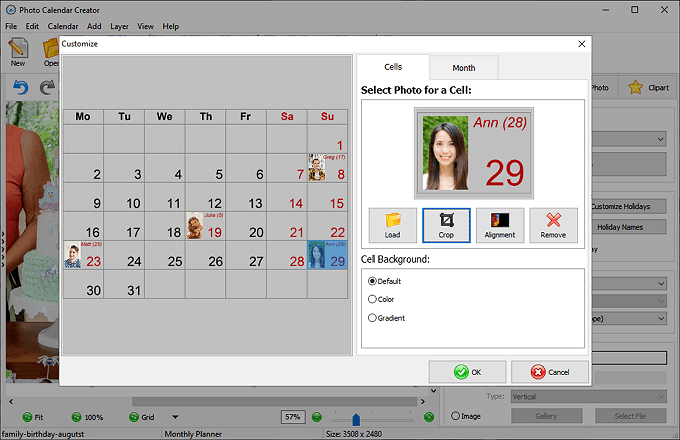 Spice up your calendar with the celebrants' baby photos
Want to use professional-quality pictures to design your calendar? Get more happy birthday images that will brighten up your project!
Step 5. Save or Print Your Family Birthday Calendar
Now you can easily print all kinds of calendars thanks to Photo Calendar Creator's built-in printing module. Desk calendars can be somewhat tricky, but the module will automatically arrange the pages so that you won't have to do it manually. If you don't have a printer at home, you can save the project in PDF or TIFF and have it printed somewhere else (in the nearest print shop or at your friend's place).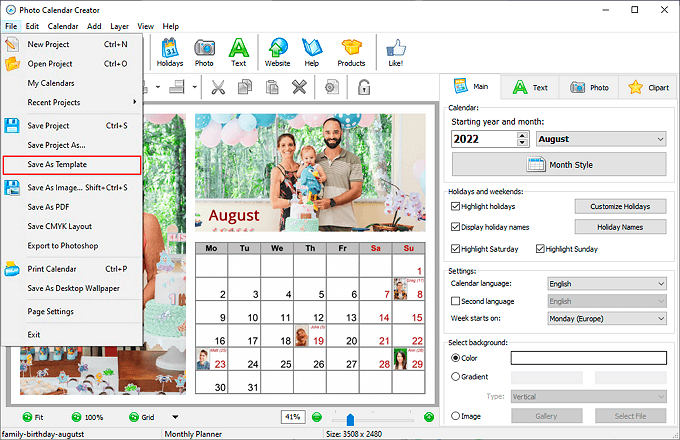 You can also save your B-day calendar as a template for further use
Creating custom calendars with birthday pictures has never been easier. Download this birthday calendar maker for free!
Download
Fully compatible with Windows 11, 10, 8, 7
Personalized birthday calendars with photos can make great gifts or become lovely elements of home decor. Calendar apps on a smartphone or PC can't match them, being too impersonal and bleak. Want a birthday tracker that can truly fill your heart with joyous anticipation? So get creative right now and design your own B-day calendar!