Halloween Collage Maker: Let the Fun BOO-Gin!
Vampires and ghosts, mummies and zombies…. Yep, it's that time of the year again. Kids running around the house dressed up as pop culture icons or classic monsters, wreaking havoc. And their long-suffering parents snapping picture after picture to capture this moment of pure craziness and fun. But what to do with all the photos after the trick-or-treated candies have been eaten and costumes have been taken off? Don't just store your pictures in the depths of your hard drive or smartphone - create a cool Halloween-themed collage instead!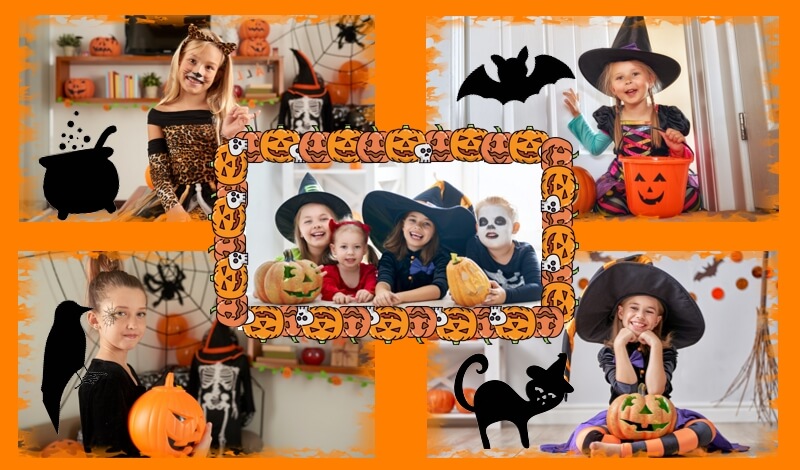 You don't need to be a graphic designer to pull that off. With a proper Halloween collage maker, you'll be able to create an artwork that your kids will absolutely love and proudly show to their friends. So how to create a collage to remember this scary but jolly time? In this article, we'll show you Frankenstein monster-approved collage examples and teach you how to make a Halloween picture collage yourself. Let's put on some bedsheets and get rolling!
Spider Web-Covered Halloween Collage Ideas
See any ideas you like? Then take a cue, cull the best pictures of your children, and start creating. But before you do, make sure that you have convenient software at hand.
Download this Halloween photo collage maker for free by clicking the button!
Now, let's get this creepy party started and make a personalized collage!
Create a Halloween Collage in Terrifyingly Little Time
Now that you have a concept in mind and suitable pictures at hand, it's time to enter the fascinating world of collage crafting. Let Photo Collage Maker be your guide to this fun DIY activity. This software is jam-packed with templates and features that will not only make the collage creation process easy but also immensely fun. Just follow these simple steps:
Step 1.

Choose a Template You Like

Open Photo Collage Maker and pick the New Project option. Now, you'll need to decide on the Project type. You can go with a blank project (just a blank page that you can decorate the way you want), a page layout (an organized grid without any embellishments), or a themed template (this one is completely ready to go). Let's go with a jumbled grid.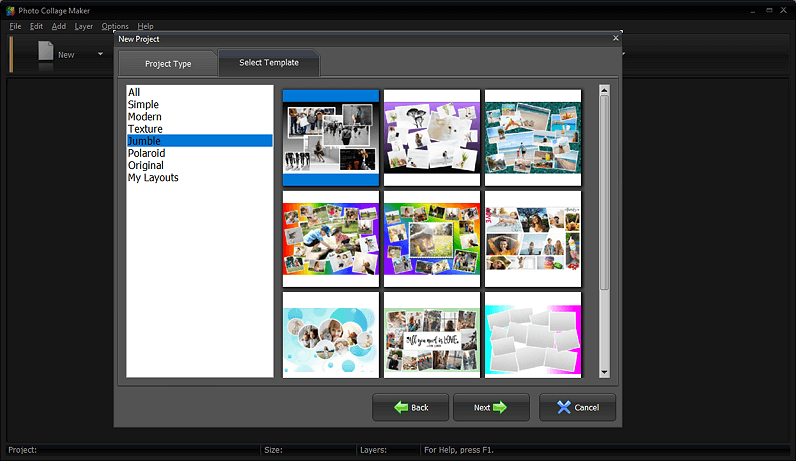 Browse through dozens of templates to find the perfect one
Step 2.

Add Your Pics to the Project

Now you need to add your kids' pictures to the grid. All you have to do is to double click the frame, then insert your picture. Move the photo inside to make sure that its best part is in focus. Move them around to find the perfect layout.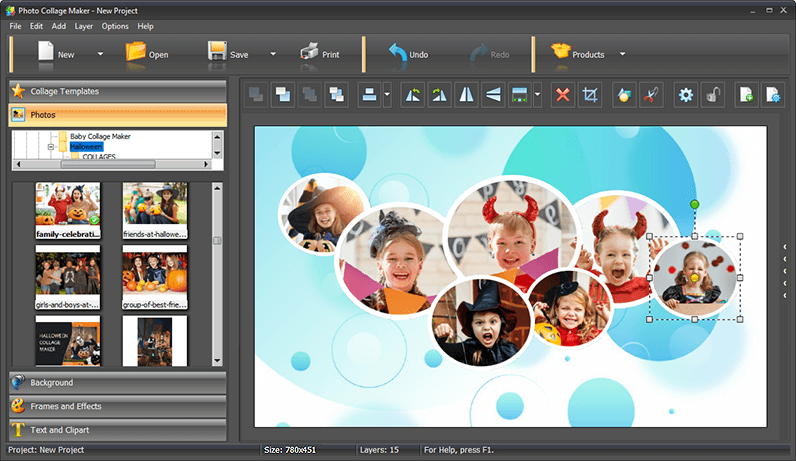 Hold the green marker to rotate your photos to improve the composition
Step 3.

Apply Eye-Catching Effects

Here comes the fun part. Decorate your pictures with photo frames and masks, cliparts, shapes, and captions. This collage maker has an impressive library of 650+ elements. You can apply the effect with a single click. Sprinkle your project with jack-o-lanterns, candies, and other Halloween cliparts.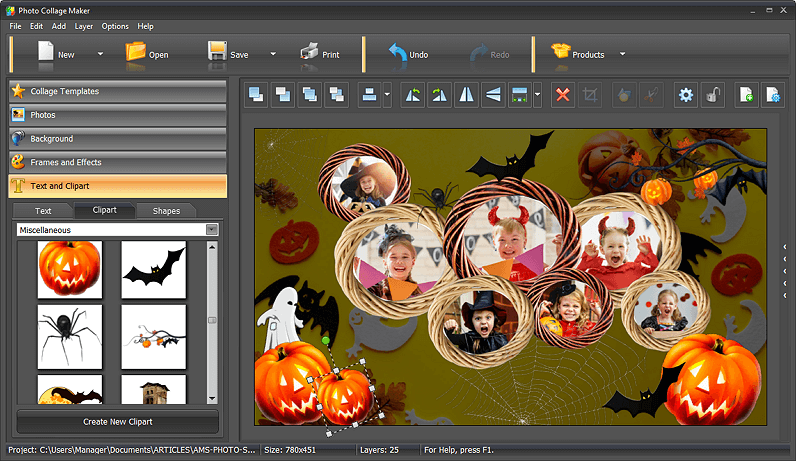 Use photo effects to make out pics stand out on your collage
Step 4.

Save Your Halloween Collage

Now it's time to save your scary creation. Save your collage as a JPEG or PDF to either post it on your social media page or to send the proud grandparents as a Halloween gift. Otherwise, you can print the collage right away if you have a printer at home. Photo Collage Maker will adjust your artwork according to the paper size that you choose.
Consider saving your Halloween collage design as a template for the next year
And there you have it - a great Halloween-themed design with your kids' pictures! Now go scare your rugrats with your deliciously spooky artwork.