Christmas Photo Collage Maker: Love at Frost Sight
Don't you just love Christmas? It's a wonderful time when all the family members get together to exchange gifts, eat delicious treats, and take pictures together. Don't let those lovely pics go to waste. Use them in a creative way instead! For example, make lovely collages from your kids' pictures and print them as Christmas photo collage cards.
If you have school-age children or grandchildren, you can make Christmas photo collages together with them. It's a great pastime that inspires creativity and strengthens family bonds. All you need is your photo collection and a handy Christmas collage maker.
Choose a Christmas Photo Template to Your Liking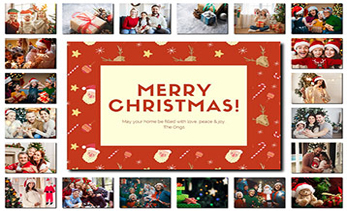 Christmas Photo Grid Design
Creating a grid collage every December can become a beloved family tradition. Get a Christmas collage app, choose a grid layout, and fill it with happy photos of all your family members. Add elegant frames, themed cliparts, and funny captions. Print the collage and stick it into your photo album.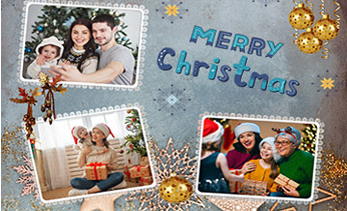 Festive Postcard Collage
Have relatives or friends who live far away? Surprise them a personalized greeting card with a photo collage! Launch a Christmas card collage maker and choose a themed template. Cull some family pics, decorate them with cliparts, add heartfelt wishes - there you go, your Christmas card collage is ready for printing.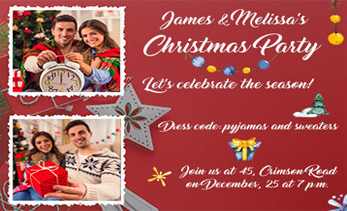 DIY Party Invitation
Throwing a big party? Printed DIY invitations with a Christmas photo montage would be a nice touch. Choose a suitable template in the Invitations category and insert your family photos or some religious Christmas pics and decorate them. Then add the date and time of the party, and you are done.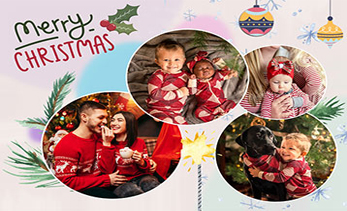 Matching Clothes Collage
Do you love Christmas morning pictures in matching outfits? So, let's create a funky collage of your pics in matching pajamas and share it on Facebook. Pick a themed template that appeals most to you and insert a few cool photographs. Don't forget to add Christmas photo frames and funny captions!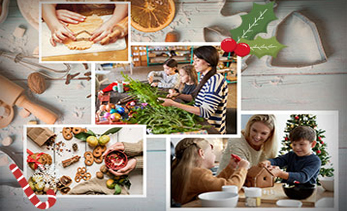 Family Traditions Collage
Have any special traditions? Capture them in a Merry Christmas photo collage. It can be skiing, skating or hiking in a forest. Or it can be making s'mores by the fire pit or baking gingerbread cookies. Take pictures of all the things your family likes about this holiday and create a jumble collage of Christmas day photos!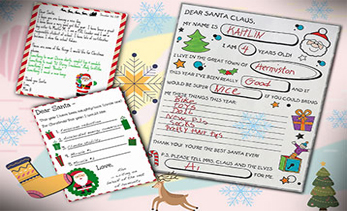 Letters to Santa Collage
If you have kids, you probably have a collection of photographed letters to Santa. What were their first letters about? Did they ask for a magic sword, or a hoverboard, or a rainbow unicorn that produces ice cream? Choose the most touching messages or the most hilarious ones and add them to your Xmas collage.
Already hear the bells jingling? Then it's time to create a lovely Christmas photo collage.Click the button below to download a Christmas card collage maker for free!
How to Make a Christmas Collage in Just a Few Clicks
Are you ready to make your own artwork? Apart from cool Xmas pics, you will need an easy-to-use program for that. Try Photo Collage Maker — a feature-rich tool that will help you create classy collages in just 5 minutes. The software offers hundreds of themed templates and layouts of different formats. Pick the best Christmas images and decorate them with frames, masks, and cliparts. Here's our step-by-step guide on how to create an awesome Christmas collage with this program.
Step 1.

Choose a Christmas Themed Template

First, download Photo Collage Maker for free. Then launch it and hit Create New Project. Click Collage Templates and select Christmas & New Year. Here, you'll find almost a hundred Christmas photo collage templates featuring snowmen, snowflakes, baubles, gift boxes, socks, and Santa Claus. Pick whichever template is to your liking!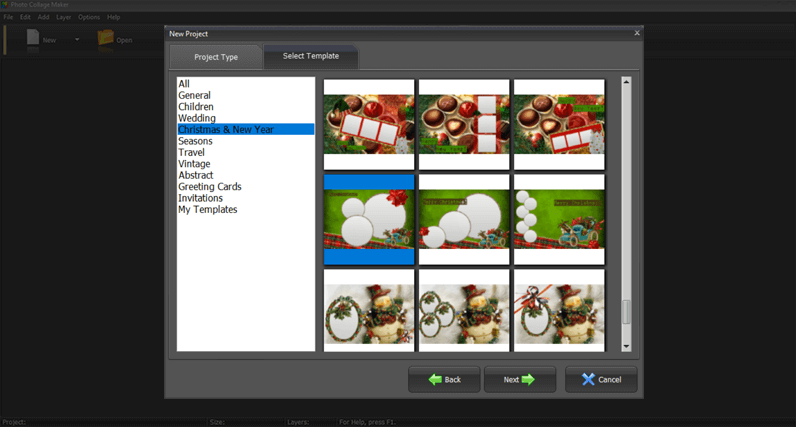 Launch the software and choose a themed template for your project
Step 2.

Insert Your Favorite Xmas Pictures

Once you open the template you like, you will see a Christmas background with empty frames where pictures should be (they are labeled "Drop photo here"). Click on those frames and insert your Christmas photos. If you aren't quite satisfied with the position of the pics or background elements, you can easily adjust them. Move the collage elements around, resize, or tilt them as you like.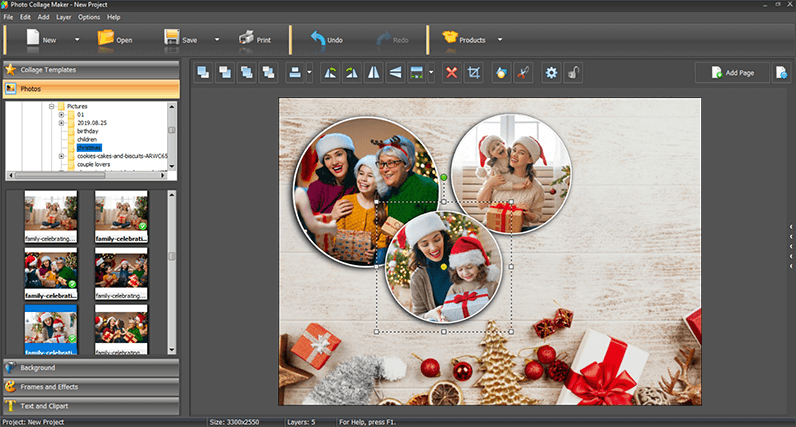 Insert suitable photos from your collection and adjust their position
Step 3.

Apply Effects and Add Decorations

Go to the Background tab to replace the backdrop with your own images, add a new texture or gradient. Under the Frames and Effects tab, you'll find all kinds of masks, filters, and Christmas pic frames that you can use to jazz up your project. There are hundreds of decorations at your disposal - try them with a single click.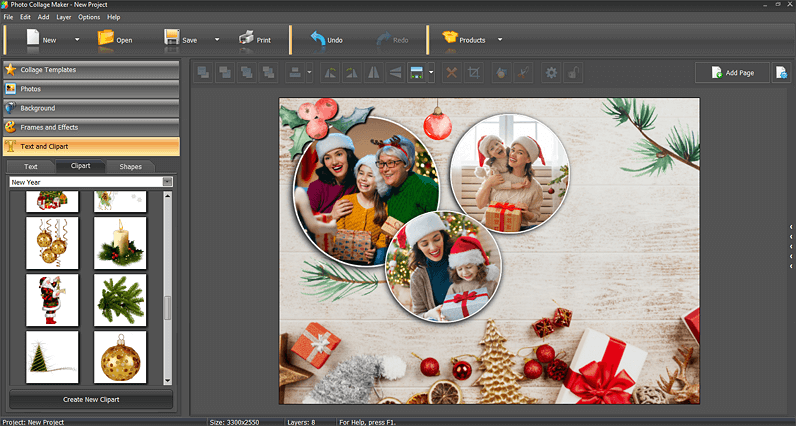 Customize your collage: add decorations, filters, masks and frames
Step 4.

Insert Funny Captions and Good Wishes

Once you're done with pictures and effects, go for the must-have of all Christmas picture collages: texts and cliparts. Add good wishes, funny captions and lovely winter images to create the perfect holiday mood. You can fully customize text captions to fit the style and the color scheme of your collage: change font and size, fill the text with color, add shadows or outlines.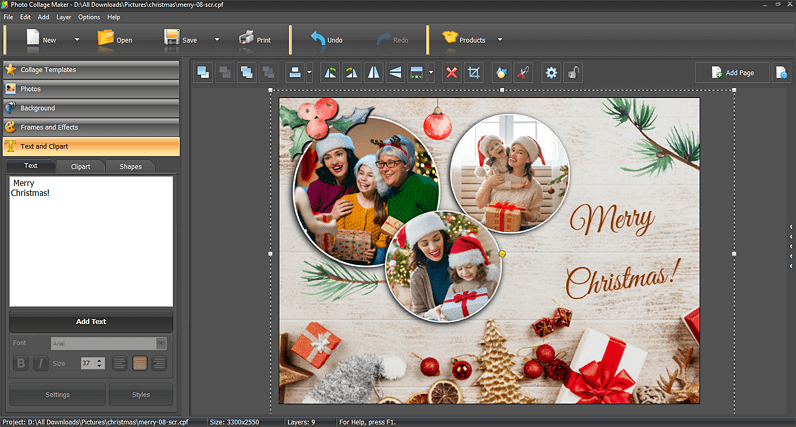 Add some text captions to make your collage funny or inspiring
Step 5.

Save Your Collage and Print It

Once your Christmas photo collage is finished, it's time to save and print it. The program supports saving in a variety of image formats (JPG, TIFF, PNG, etc.) and in PDF. You can print the collage on your own printer thanks to the convenient printing module. Make sure to set the high resolution (600 dpi) so that your collage looks flawless.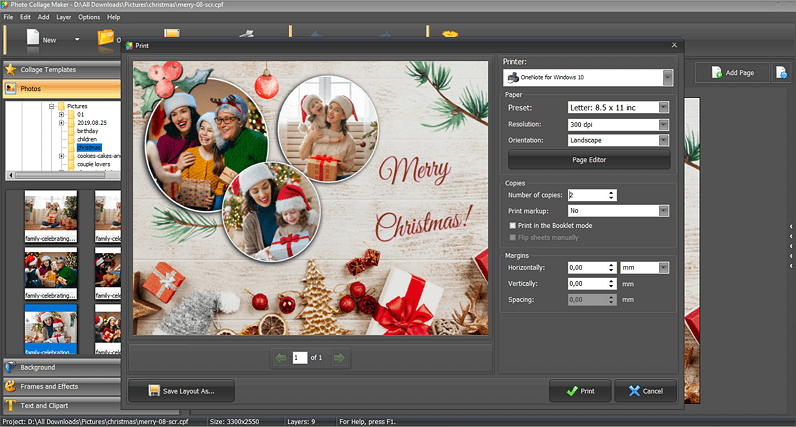 Save your collage of Christmas pictures as an image or a PDF file and print it
Photo Collage Maker: Perfect Xmas Software
The intuitive interface of this program makes collage creation extremely easy. Even complete novices won't face any difficulties when creating their first project. But easiness doesn't mean that the result will be dull. The program provides 370+ templates that help create fancy collages for all occasions. Besides, there are virtually unlimited customization options and an extensive library of filters, masks, effects, cliparts, and text styles. With Photo Collage Maker, you can even create digital scrapbooks and multi-page photo books. So put on your deer sweater, get yourself a cup of eggnog and get creative!
Download the free trial of this Christmas collage maker to create personalized gifts & multi-photo Christmas cards!
© 2003-2021 AMS Software. All rights reserved.