Visa Photo Cropping Tool for Smooth Traveling





5.0
Votes:

2

(Rated: )
If you are an international traveler, you know that preparing documents for a visa is pretty stressful. Many visa applications are regularly rejected just because ID photos don't comply with the official requirements. Even turning to a professional, which is pretty expensive, can't guarantee that your picture will be 100% approved. Besides, all of us hate the long time spent in crowded photo studios.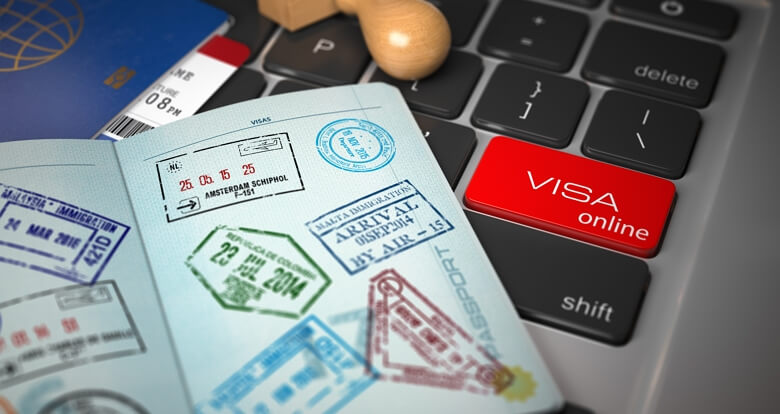 Why not save the trouble and prepare the photo yourself? An intuitive visa photo cropper will help you with that in a couple of minutes. In this guide, you will discover such a tool and learn about its functions. What's more, we will share some advice on how to take and edit your image, as well as show you a few examples of acceptable and unacceptable visa photos. So, let's hit it.
Perfect Visa Photo Editor for You
There are a lot of editing tools you can use to make a visa picture: built-in Windows programs, smartphone apps, or Adobe editors. However, those are not meant for preparing ID photos. So you would have to adjust the image size yourself without the auto-cropping function or predesigned templates. That would require much time and skill, which most people lack. Some software developers and state organizations created their own visa photo solutions to ease the process.
The U.S. Department of State has an online ID image maker called Photo Tool aimed at making pictures for any U.S. document right at home. Just upload your formal image to the website, and you'll have your ID photo in a sec. However, the tool is temporarily unavailable since Adobe Flash Player has been discontinued. There is no info about whether Photo Tool will resume its functioning soon.
You may still use other cropping tools, but some of them only work through Internet Explorer, while others can't guarantee to keep your data secure. How can you beat that? Opt for a multifunctional visa photo tool! It needs no additional plugins and is sure to keep your personal data private.
Need a visa photo maker that won't let you down?
Download its free trial now & start making your visa photos!
Download
Fully compatible with Windows 11, 10, 8, 7
Handy Software for Making Visa Photos
Are you looking for a way to make your ID photos with minimum effort? Then Passport Photo Maker, an all-in-one visa photo tool, will be just right for you! With this program, you can turn your images taken at home into studio-level official photographs without any prior experience in photography. What's more, you won't have to leave the comfort of your own home to get yourself a perfect visa picture - using Passport Photo Maker, you'll get the job done in under 5 minutes.
Here is why Passport Photo Maker is such a valuable find: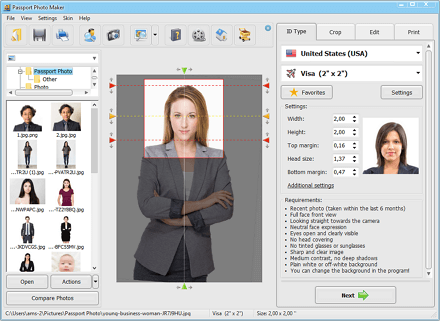 Use Templates to Crop Photos
The tool offers ID photo templates for 130+ countries. So you'll be able to prepare a photo for any travel visa. Just choose the country and document type and drag & drop your photo into the visa photo template. The program will automatically crop your image according to the requirements.
Switch Background & Clothes
Need to look more formal in a photo? Is there something in the background? Switch to the Edit tab, click Replace Clothes and find a selection of digital clothing for men and women. If you need to replace the picture backdrop, click Change Background and choose the required color.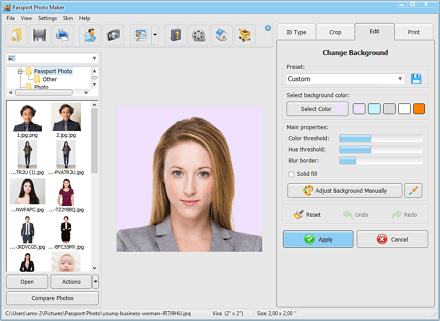 Save & Print Photos
Go to the Print tab and choose the number of images. You can combine photos for different IDs on one page if you want to be zero waste. To do this, just copy & paste your photo and change it to another ID type. Click Save to File and get your digital visa photos if you are applying online.
Visa Photo Requirements to Keep in Mind
Even though visa photo specifications are unique for every country, some requirements apply to all visa images. For instance, your head should be in the center; your eyes have to be open, clearly visible, and without the red-eye effect; you must look straight towards the camera and keep a neutral facial expression. We recommend that you wear clothes that would be in contrast with the background. Mind that no object or shadows should cover your face. Also, your photo must be sharp and clear.
Check out the U.S. visa picture requirements if you are planning to travel to the United States sometime soon: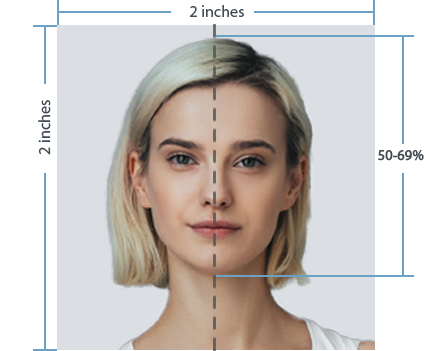 The image should be in color
The background has to be plain white
The visa photo size should be 2x2 inches (51x51mm)
The picture must be taken within 6 months before the application
Your head must be between 50% and 69% of the picture height
Head coverings or jewelry may be worn only for religious reasons
Uniform or any electronic devices are not allowed to be in the image
Spectacles or sunglasses are not permitted
Tired of surfing the net for numerous photo requirements adopted by different countries? Good news - apart from the auto-cropping tool, Passport Photo Maker offers you exhaustive lists of official image requirements. You can check the ID photo specifications for many European, Asian, and American countries right in the program.
Want to prepare your ID photos on the go? Learn how to crop photos on iPhone with the help of an automatic passport & visa photo making app!
Surefire Visa Photo Quidelines & Tips
Don't feel confident about the U.S visa photo requirements yet? Have a look at the commonly asked questions below and clear up some of your misunderstandings:
I have poor vision. Am I allowed to have my glasses on in the photo for my visa?

No, you must take your glasses off if you are taking a picture for a U.S. visa. However, some countries allow spectacles to stay on for medical reasons.

What resolution does my U.S. visa photo have to be?

The resolution of your visa image has to be at least 300 pixels per inch (12 pixels per mm).

May I use my good-quality selfie and replace the background with white for my U.S. visa?

You have to be careful with images for U.S. visas, so you may not use a picture with a switched background. Ask someone to take your pic in front of a plain white piece of cloth instead.

Am I permitted to have my hijab on in my visa photo if I am a Muslim woman?

Although yes, you may have it on, make sure it does not cover any part of your face.

May I hold my child while taking their visa photo?

Certainly. However, make sure your hands or other body parts are not in the frame, and neither is your shadow.

There is no visa photo service near my place. How should I take my picture?

If you are unsure where to take your visa photo, you can always ask your friend or relative to photograph you at home against a plain white background. But make sure to follow all the U.S. visa photo rules.
Why Go With Passport Photo Maker?
It doesn't matter whether you need a Spanish or Korean passport or a visa to China, Mexico, or France. No problem if you are traveling to Singapore or Canada or simply need a driver's license. Passport Photo Maker has photo templates for all the ID images you might ever need. With just a couple of clicks, you'll have a 100% acceptable photo for any of the 130+ countries from the database of the software.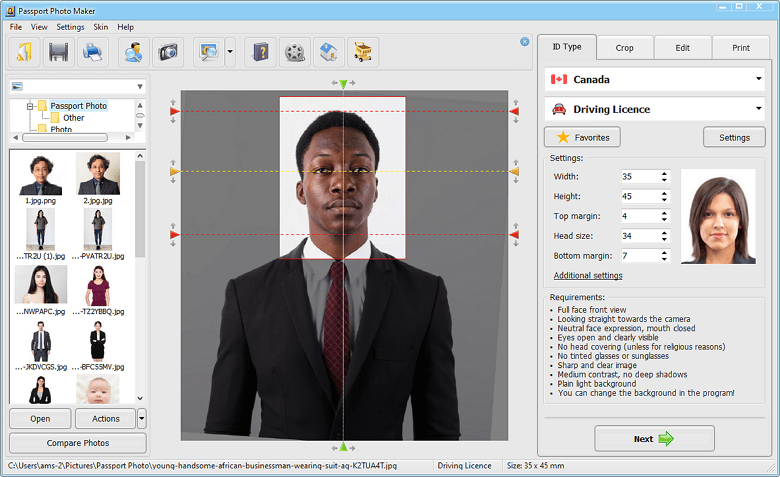 Making a driver's license with Passport Photo Maker
No worries if you need to apply for a USA visa like L-2 or H-4. With Passport Photo Maker, you can make sure that your picture won't ever be rejected. The data in the program is always up-to-date, which allows you to create a perfect image even for the annual Diversity Lottery.