How to Take a Passport Photo With Your iPhone





4.5
Votes:

45

(Rated: )
Last updated: 21.06.2023
Need to make a passport photo ASAP? Don't want to spend a fortune in a photo studio? Take your own passport photo with an iPhone. It's a pretty easy and cheap way to try right at home. And with this guide, it will be even easier! Here you will discover helpful tips on shooting photos with your smartphone, and learn more about official picture requirements: size, format, background color, etc. As a bonus, we will offer you a convenient app to create digital passport photos without any hassle.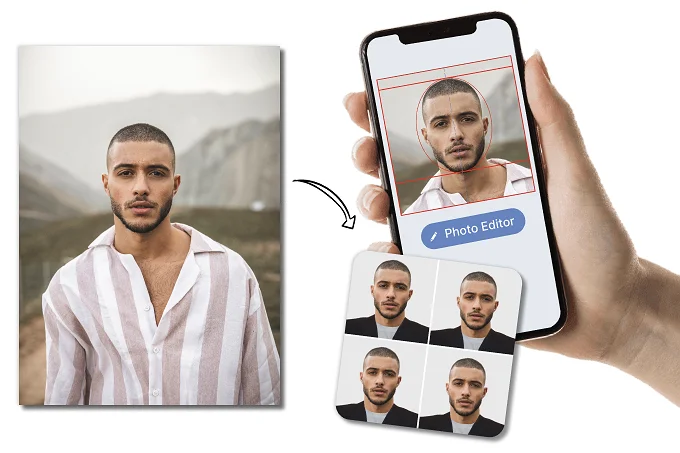 Wondering how to take an ID photo with your iPhone?
Click the button below and get started with a passport photo making app now.
1. US Passport Photo Requirements
2. How to Take a Passport Photo with an iPhone
3. How to Edit and Print a Passport Photo Using an iPhone
4. Automatic iPhone Passport Photo & ID Maker
5. FAQ
US Passport Photo Requirements
While creating passport pictures on your iPhone, you need to make sure that the final photos comply with the latest official requirements:
The image size should be 2x2 inches (51x51 mm)
The head size must be between 1 and 1.4 inches (25 and 35 mm)
The photo should be taken recently (during the last 6 months)
The eyes must look directly at the camera and the facial expression should be neutral
The background should be monochrome without texture & shadows
The clothes you put on for the photoshoot should be casual
There should be no glasses (including tinted glasses) or wireless headsets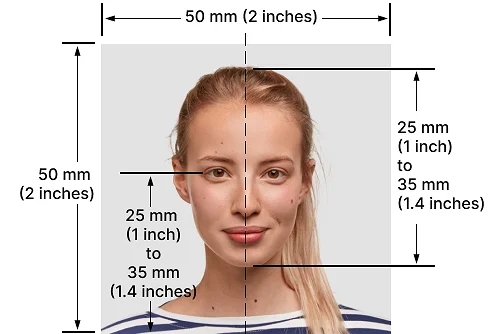 These are only the main specifications, so if you want a complete list – get additional information on the official website of the U.S. Department of State.
Guidelines for Taking a Passport Photo With an iPhone
To get a perfect result on the first try, you need to make some preparations before tapping the Camera button. One of the most important things to understand is: even if you are taking a passport photo with an iPhone, it can't be a selfie. That's why you need to use a tripod with a timer or ask someone for help. Below are additional tips to make the shooting process easier.
Pose and Camera Distance
Stand or sit 1.5 meters (5 feet) away from the camera, and half a meter from the wall behind you. Don't try striking a pose: keep a straight posture, with your shoulders rolled back. Look directly in the camera, head straight. To avoid having a double-chin, thrust your jaw a bit forward.

Lighting Adjustment
You need a medium light source that will cast even lighting on your face. The light should not be bright, otherwise there will be strong shadows. You can place a lamp behind the camera or high above you. Alternatively, you can insert the light source into your camera's hot shoe.

Tips on Background
When it comes to making passport size photos, many people think that a pure white background is the best choice. It's a mistake - sometimes white surroundings can cast stronger lights and even create glares. Pick plain light gray, light blue, or creamy walls. Don't stand in front of patterned or complex backgrounds. Also, there should not be any objects within the frame.

Clothes You Can Wear
Put on clothes you wear on a daily basis (not a uniform, though). Avoid pure white color - these clothes will mix up with a light background. The headwear is not allowed since your hairline must be visible. However, there is an exception if you have to put it on for religious reasons. As for glasses and hearing devices, they are normally forbidden, but if you have a prescription, you can wear them.

Proper Face Expression
Try keeping a neutral facial expression. Do not frown, open your mouth, show your teeth, or smirk. A wide smile is also prohibited, but you can look amiable by keeping your mouth corners slightly up. Avoid tilting or turning your head. The eyes should be wide open and clearly visible.

How to Make a Passport Photo With Your iPhone
Now that you know how to take a passport photo at home with your iPhone, it's time to act. Of course, it's possible to edit a photo with a built-in app, however, there is no guarantee the final image will comply with all the official requirements. So there is a high chance it'll be rejected. So, how do you get a perfect image without visiting Walmart or a local photo studio?
Use a handy app - Passport Photo & ID Maker. It is very easy to grasp and allows you to take and crop photos directly on your iPhone. There are built-in tips and a list of official requirements for each document type. While the app is free to use, it offers one of the largest databases. You can create passport photos for 130+ countries all over the world. What's more, you can replace the background & clothes in your images, fix picture distortions with precision, and print your photos in a jiff with pre-made paper layouts.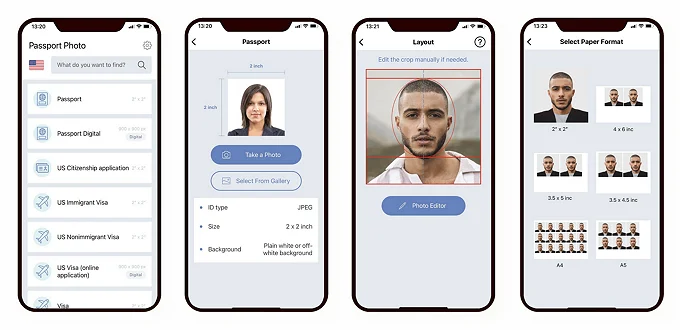 Want to make a passport photo for free?
Get the powerful Passport Photo & ID Maker for your phone!
Can you take a passport photo with an iPhone without downloading any apps? The answer is yes. You can use the Travel.State.Gov tool to crop your passport photos properly. All you have to do is to visit the website and upload your image, then the program will do the rest automatically. Note that the tool can't fix a slight head tilt or recolor the backdrop, so you'll have to load a compliant photo there.
Follow these steps to learn how to take ID photos with your iPhone right now:
Step 1. Select the ID Type
Get started with choosing your country and the document type you need. You can use a convenient search field to find everything in mere seconds. The ID types which require only a soft copy of your photo are marked with the Digital label.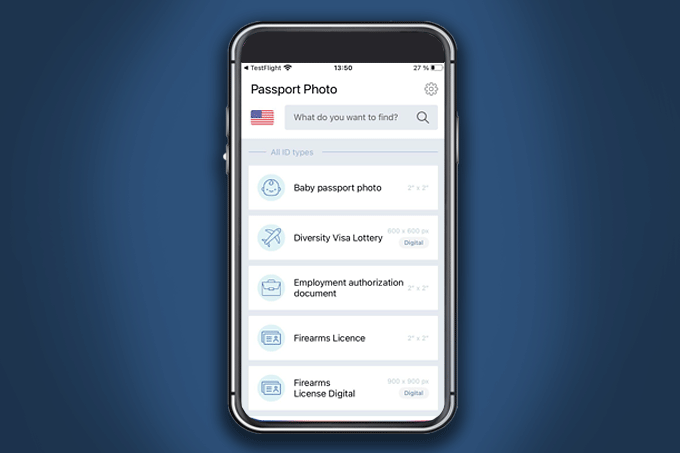 Pick the country and the ID type using the Search field
Step 2. Take a Photo With the App
Passport Photo & ID Maker lets you take a photo directly in the app. There is a convenient camera layout with facial area, crown, and jaw lines. All you need to do is to fit your face inside the oval and tap the button. What's more, you can open and read the latest official requirements for this document type while taking the shot.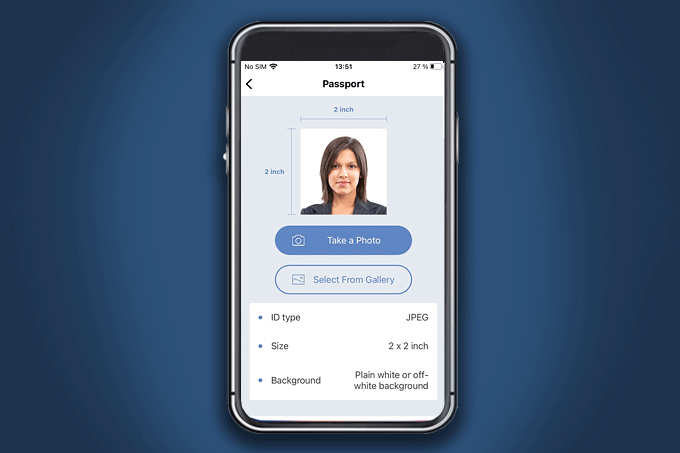 Take a photo with the app or upload your own
Step 3. Crop Your Image in a Tap
After you've taken the shot, you can convert the photo to passport size right on your iPhone. The app can do it automatically, but if you prefer to have control over the process, you can crop the pic manually. Just zoom in or out the image with your fingers to fit the face into a special layout.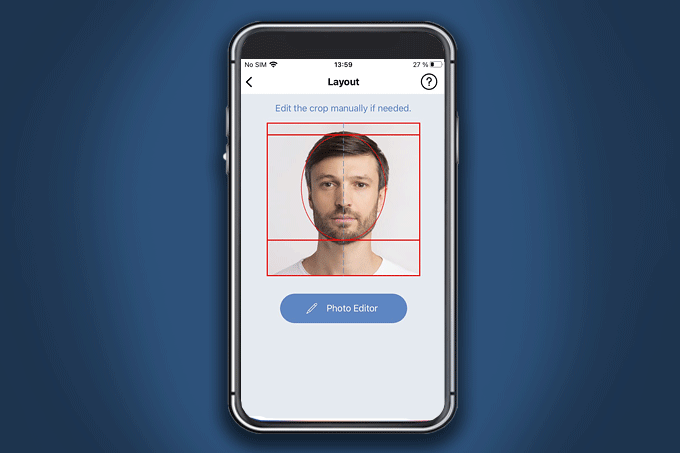 Crop your picture to the required size
Step 4. Replace Clothes in the Photo
Not everyone has a suit or an office gown at hand. With Passport Photo & ID Maker, you can change clothes directly on your image. There are 60+ items for men, women, and children, so you will definitely find something that suits your unique style. Pick the clothes you like, then drag them onto the photo with your fingers. Once satisfied, move to the next tab.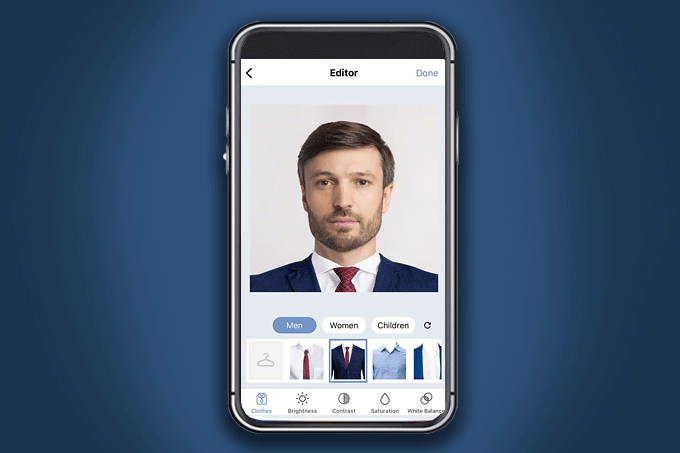 Change your clothes directly in the photo
Step 5. Save or Print Your Image
When you're done, save your photo to the gallery to print the picture from your iPhone at CVS or local store. Wondering how to print a passport photo from your iPhone at home? If you have a printer, you can get hard copies of your image right away. Just select the number of pictures, pick one of 10+ built-in paper formats, and tap the Print button.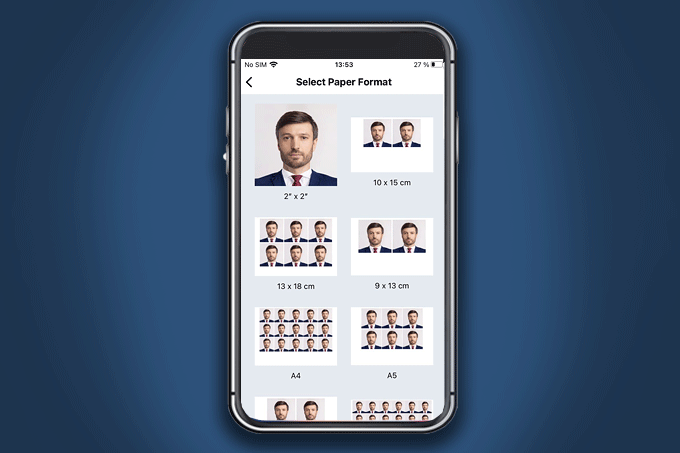 You can print your pictures at home or save a layout for printing later
Need a passport or visa photo urgently?
Get the app and turn ordinary pics into ID images in a jiff.
Besides passport photos, this app allows you to prepare pictures for the Green Card lottery as well.
Why Should You Use Passport Photo & ID Maker?
Passport Photo & ID Maker is considered to be one of the best passport photo apps for iPhone. Why? First, if you try other apps, most of them are paid, with lots of ads, unfriendly interfaces and few document types. As a result, you will waste lots of time making just one picture. Passport Photo & ID Maker is free to use, offers lots of possibilities, and a clear UI.
Second, most apps are one-tricks. So you can't do much except DIY passport photos on your iPhone (with no guarantee they will comply with the requirements). Passport Photo & ID Maker offers you a huge database with templates for passports, visas, ID cards, driving licenses, etc.
Third, not all apps allow you to print your photos right away. Some only let you place the order at a local store and you have to pick your images up at Walgreens or Costco. Using Passport Photo & ID Maker, you can print photos directly from your iPhone. You don't need to leave your home: connect the phone to the printer, make a few taps, and get your freshly printed hard copies.
Apart from these three advantages, you can enjoy lots of other things like:
Database for 130+ countries
Biometric facial features recognition
Automatic cropping & processing
Image quality improvement
Built-in picture editor
Clothes replacement
Sharing images via social media
Now it's high time to start preparing your own photos. Get your phone and make perfect shots using our tips and Passport Photo & ID Maker!
Passport Photo & ID Maker – App Reviews
Milo, 31.07.2020

I loved the fact that you don't have to sign up to work in this app, and you can upload a picture in any format to convert it. Used the app twice and certainly will be using it later.
Al Morrison, 28.07.2020

It was my first experience with applications like that, so I have nothing to compare it to, but this program worked fast, and I got 4 ID photos that were accepted by the officials, so thank you!
Dhon, 31.07.2020

Amazing job. Had to use it to get a visa pic ASAP, it worked out just fine.
FAQ
Can I use my iPhone to take a passport photo?
Absolutely! The official authorities let applicants submit self-taken photographs for passports. To ensure that you follow all the latest requirements, use Passport Photo & ID Maker. This application contains an extensive database of official requirements for various document types from 130+ countries.
What is the best way to take a passport photo on an iPhone?
Just use Passport Photo & ID Maker on your Apple smartphone to shoot passport photos or convert ordinary pics into credential images in accordance with official requirements.
How do you make a 2x2 picture on an iPhone?
If you're wondering how to take a 2x2 photo on your iPhone, get yourself the Passport Photo & ID Maker app. Thanks to the automatic photo cropping tool and ready-made ID templates, you can easily crop your images to the required 2x2 size within the application.
How can I take a passport photo for free on my iPhone?
Get yourself the free Passport Photo & ID Maker app for iPhones. All you have to do is to take a picture right in the program or upload a ready-made one, and select a passport template of your country to crop the image. Then, you can modify the backdrop if needed and choose a paper format for printing.
Where can I print a passport photo taken with an iPhone?
You can visit your local department store, drugstore, or post office that provides printing services. Just pay about 35¢ at Walmart, CVS, Target, or FedEx to print out passport photos made with your iPhone. For comparison, you can spend about $15 at a photo studio to have your photo taken and printed.