Easy-to-Use Green Card Photo Tool





4.6
Votes:

47

(Rated: )
Last updated: 11.10.2022
Pursuing the American Dream? Then apply for a Green Card. It gives you an official permission to live and work in the United States. Although the U.S. government tries to keep the requirements simple, getting this card is not easy. Approximately 10 million people try to acquire this card every year and only a few thousands of them succeed.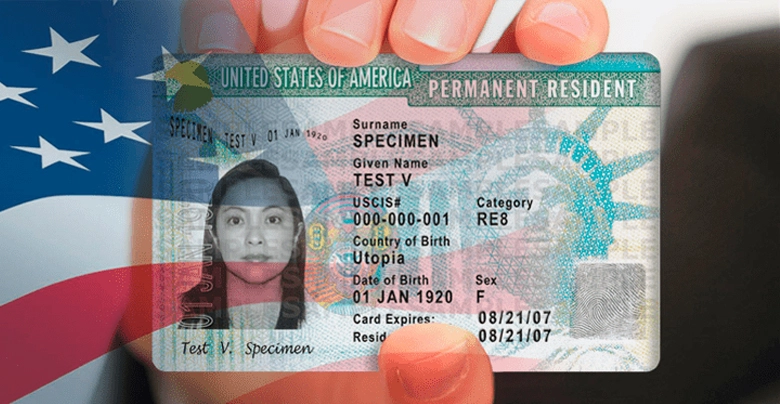 If you are lucky enough to be picked, your Green Card application should be perfect. However, getting a photo that meets all the requirements can be a real challenge. Apart from just taking a photograph, you have to make sure its dimensions, cropping, background color are correct. Want to cut the corners and go to a local photo studio? Be ready to pay money. Instead of paying a huge sum and wasting time, check out Passport Photo Maker.
With this Green Card photo tool, you will be able to make a perfect photo in no time, all by yourself. Thanks to biometric features recognition, automatic cropping and background replacement, you will be able to quickly create a picture for your Green Card.
Need a powerful Green Card photo maker to prepare your own picture?
Click the button below and download this software for free:
Try Now
Fully compatible with Windows 11, 10, 8, 7
Read on to find out if you are eligible for getting this card and learn its official requirements. For all those who decided to make a photo themselves, we also prepared a step-by-step guide on creating a Green Card image.
1. Green Card Eligibility Categories
2. Green Card Photo Requirements
3. How to Make a Green Card Photo on PC
4. How to Make a Green Card Photo on Your iPhone
5. DV Lottery Photo Checker
6. FAQ
Who Can Apply for Green Card?
So, who is eligible to apply for a Green Card? First, it's those people who acquire this document for the first time. Secondly, if a person already has the card, but needs to prolong or replace it, he or she can submit a new application. Besides these two categories, there are other groups of people as well. You can obtain a Green Card, if you are:
Immediate relative of a U.S. citizen: a spouse, an unmarried child under the age of 21 or a parent of a U.S. citizen who is at least 21 years old.
Other relatives of a U.S. citizen, who fall under the family-based preference categories: for example, F1 - unmarried children (older than 21 years old).
Fiancé or fiancée of a U.S. citizen or their child (K-1 and K-2 nonimmigrant).
Widow or widower of a U.S. citizen.
VAWA (Violence Against Women Act) petitioner. If you are a spouse, a child (unmarried and under 21 years old), or a parent of a U.S. citizen, and you experienced domestic violence in the U.S., you can apply for a Green Card under this condition.
Student who studies at the U.S. college or university using F1 visa. Once you graduate, you can turn this visa into a Green Card.
Spouse or unmarried child (under 21 years old) of the L1 business visa holder. You can accompany your relative to the USA by applying to L2 visa. Then you can get a Green Card.
Want to learn more about these categories? Check out the official website and get all the info.
Don't fall under any of these categories? You can still apply for a Green Card by participating in the annual Green Card Lottery. Just fill in the application form on the official website of the U.S. Department of State, attach your photo and submit it to the lottery. If your application is accepted, you will get a code that you can enter to the online validator and check if you've won or not.
Green Card Photo Requirements & Specifications
What are the official requirements for a Green Card photo? For your convenience, we've compiled the full list for you. Here it is: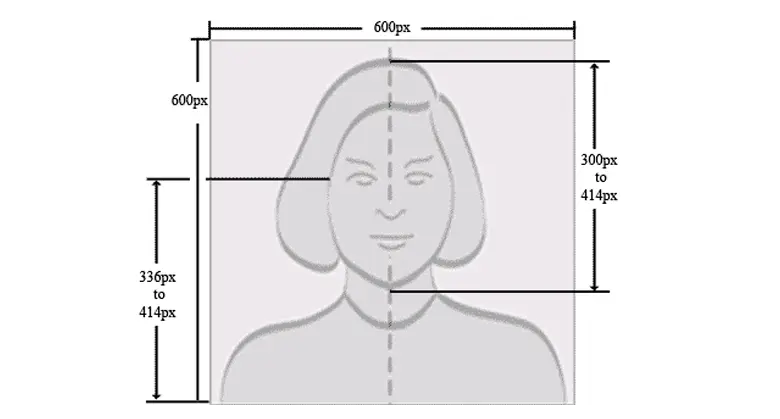 Photo must be 2x2 inches (600 x 600 px)
Head size is between 1 inch and 1 3/8 inches (22 mm and 35 mm)
Plain white or white-off background
Recent photo (taken within the last 6 months)
Maximum file size: 240 KB, JPEG format
Image must be in color, color depth: 24 bits per pixel
Full face front view, eyes are looking straight towards the camera
Neutral face expression, eyes open and clearly visible
Sharp and clear image, with medium contrast, no deep shadows
The U.S. Department of State created an online editor called Photo Tool. With its help, you can make an image for any official American document, including a Green Card. However, the tool doesn't always work well. People report numerous glitches, for example, it's impossible to fit both hair and face into the grid, or, what's even worse - the submission progress gets lost. Also, this tool is a no go if you have an unstable Internet connection.
How to Make a Green Card Photo with Passport Photo Maker
The biggest advantage of Passport Photo Maker is its ease of use. You just need to make a few clicks and the software will crop your photo according to the USCIS requirements. Thanks to the biometric features detection, all those tricky millimeters will be counted and cropped out correctly. Also, there are built-in hints and guidelines for all document types, so you can be sure your photo will correspond to all the requirements and will be accepted by the officials.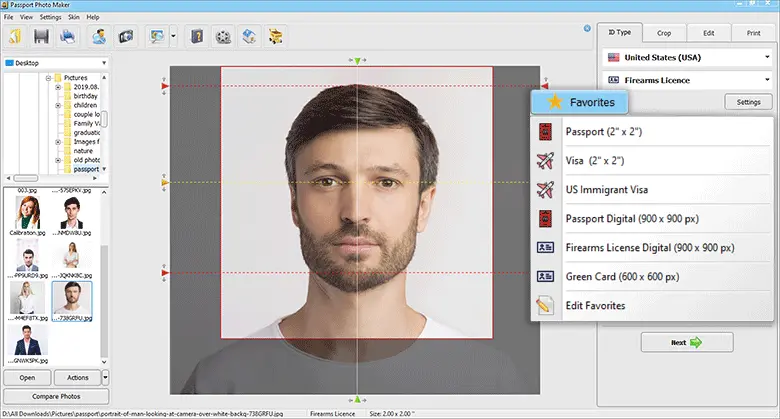 Add the ID types you often use to Favorites for a quick access
Now let's see how you can create a Green Card photo using Passport Photo Maker. You need to follow these 5 easy steps:
Step 1. Open Your Photo
Start Passport Photo Maker and open your picture. You can do that either by clicking the Open photo button or dragging the image directly from its folder.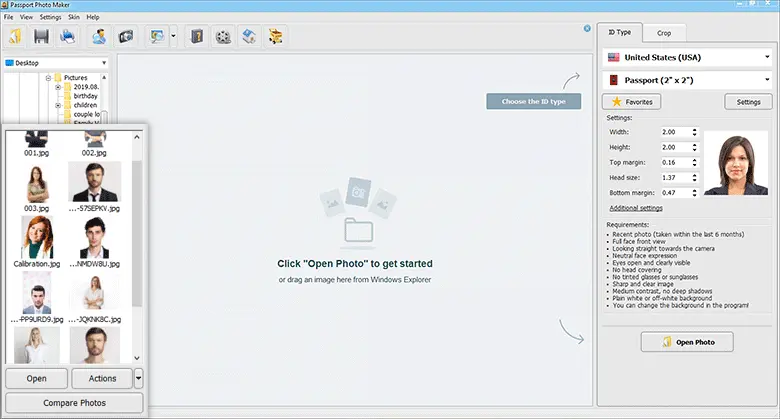 You can pick a photo from the navigation panel on the left
Step 2. Select the Green Card Type
You don't have to scroll through the whole database. Just type in the country name - United States - in the Search field. Then select "Green Card" from the ID types list.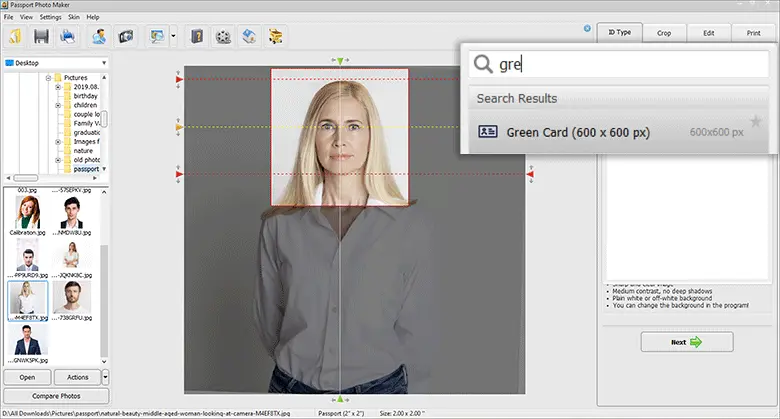 Use the Search option to quickly find the ID type you need
Step 3. Crop the Photo
Once you select the ID type, the software will automatically crop your image to the Green card photo size. Read the guidelines on the right to check if other requirements like a background color are correct.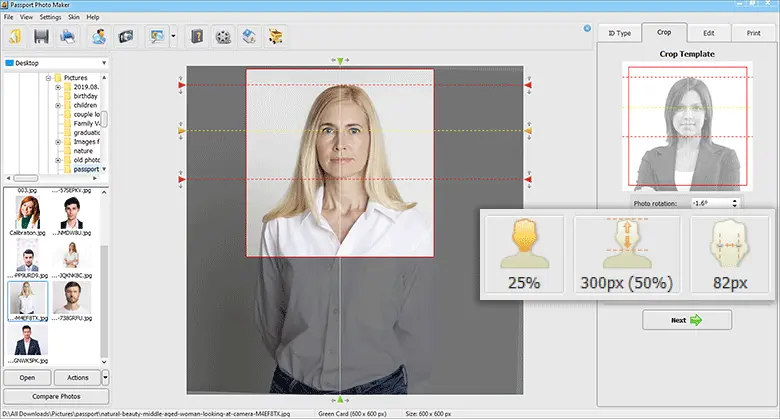 Check if the eye distance, head size and facial area are within limits
Step 4. Change the Background
You photo doesn't have a white background? Move to the Edit tab and click Change Background. Select the white color and fill the background with this color in a single click.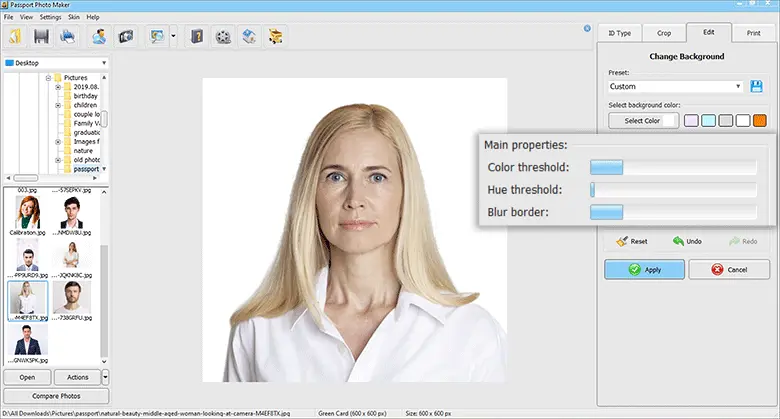 Adjust Color Threshold to replace the old background completely
Step 5. Save Your Photo
Save your photo. Go back to the Edit tab and click Save Photo to File. Check the size and DPI, then click Save File. Now you can upload your photo to the official website together with the application.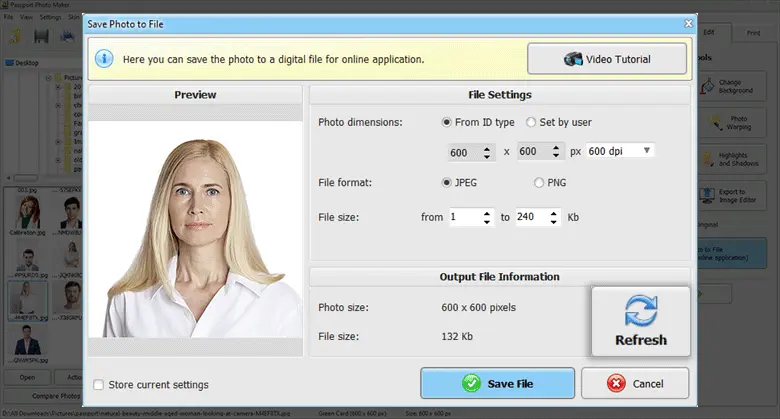 If you changed any settings, click Refresh to update the output file information
Download the Green Card photo tool and follow these steps to prepare your own photos according to the official requirements!
Download
Fully compatible with Windows 11, 10, 8, 7
How to Make a Green Card Photo on Your iPhone
If you are not a fan of editing photos on your PC, here is a mobile alternative: use Passport Photo & ID Maker. It's an application for iOS specialized in preparing official images. With its help, you will quickly make an approvable Green Card picture. The app also has a database of ID photo templates for 130+ countries and their local IDs. That means you can use it to make other official photos whenever you need them. Check out the easy guide below to get started in the app.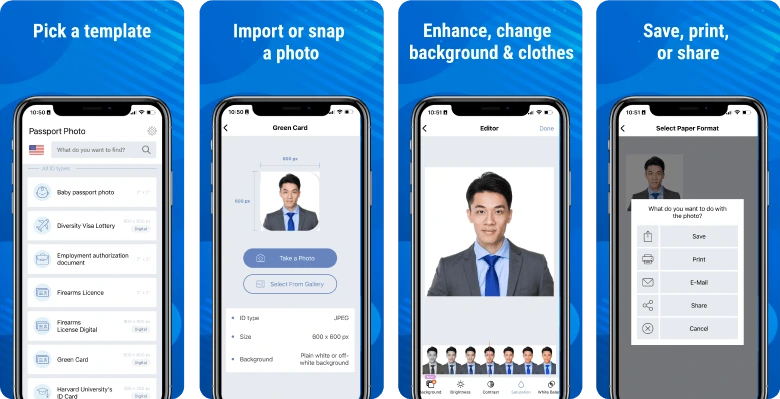 Prepare your Green Card photo ASAP using a mobile editor
Have a busy schedule or no access to a Windows PC?
Prepare your Green Card picture using a free ID photo app!
Step 1. Pick the Green Card Template
After you download the application from App Store, open it and tap the flag icon. Choose the United States in the search field and scroll down to find the Green Card photo template.
Step 2. Import Your Picture
You can either use a photo already taken or snap a new one right in the app with the Take a Photo feature. The app will show proportion markers to help you take an appropriate picture. You will also get prompts on the official requirements your image has to follow: format, size, and background.
Step 3. Edit the Cropped Photo
Open the built-in Photo Editor tool. Here you can replace your clothes, change the ID photo background, adjust brightness, contrast, and saturation, and fix the white balance.
Step 4. Save Your Green Card Image
Once finished editing, tap Done. Then pick your ready-to-go official image and choose the export option - save, print, e-mail, or share via some platform online.
DV Lottery Photo Checker
Passport Photo Maker is run by an artificial intelligence engine that recognizes the biometrical facial features of the person in the image and ensures that the photo follows all the guidelines issued by the officials. The Green Card lottery photo checker sees if you have the right facial expression, makes sure the proportions of the picture are right, checks if there are any shadows or objects in the background, etc. Besides, the editor provides you with helpful prompts regarding your appearance, background, and image format.
As a result of this DV lottery photo check, you get an appropriate picture and increase the chances of winning since a failed photo is often the reason why an application is rejected.
Get the free version of the handy DV lottery photo checker
and ensure your image will be approved by the officials!
Download
Fully compatible with Windows 11, 10, 8, 7
Top Green Card FAQ
Even after reading the official requirements, many people still have some questions. For example, how many photos they need, where to take them, is it possible to wear glasses or a cap, etc. For your convenience, we've compiled a list of FAQ:
Are there any special requirements for clothes?
Put on clothes you wear on a daily basis. Headwear is not allowed unless it's a must for your religion. In this case, you will have to attach a signed statement saying that you wear this head item daily.
Can I wear my favorite sunglasses?
You can wear glasses only if you have a prescription from your doctor. However, tinted glasses are not allowed in any case.
Can I smile when taking a photo?
Smiles and any unusual expressions are not allowed. Be calm and look directly at the camera when taking the shot.
Do children also have to take a photo (including babies)?
Yes, they do. The child should be the only subject in the frame (no support should be seen, mechanical or human).
Can I take a photo at home?
If you have a good digital camera, you can take your photo right at home. Just don't forget to stand in front of a plain background (messy or dark backgrounds are not allowed).
If I can take a photo at home, can I just submit a selfie?
No. The official requirements demand a clear, front view, with correct and sharp focus. Selfies often have distortions and wrong camera angles.
Can I enhance my photo? For example, apply a smoothing filter to my skin.
You can't retouch or enhance the photo in any way, including basic contrast and brightness adjustment done with an image editor. However, you can change the background if it's not appropriate and fill it with the required color.
How many photos do I need to take?
You need one photo, but it's better to have a couple more, just in case.
Why It's Better to Pick Passport Photo Maker?
Passport Photo Maker is extremely easy to use, so you can make a Green Card photo in just a few clicks, without hiring a professional photographer. What's more, you can create photos for other documents thanks to the built-in passport, student card, driving license, and visa photo sizes. If you like traveling, this software will be a real treasure for you since it has one of the largest databases with 130+ countries. The smart printing module lets you print several ID types on one paper sheet. So you will be able to save money on both taking photos and printing them.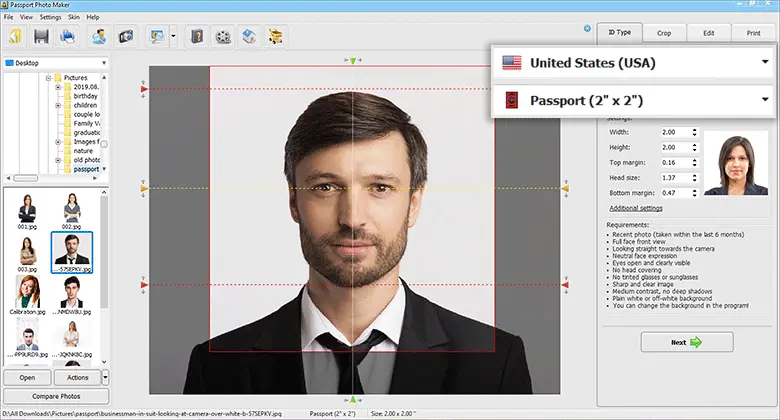 Make a photo for the U.S. passport in a click
The long list of official requirements often looks intimidating. However, with Passport Photo Maker, you'll be able to create a photo that meets all of them pretty easily. Don't have a Windows PC or feel better off with a pocket photo editor? Equip yourself with Passport Photo & ID Maker compatible with iPhones, iPads, and iPods, or use it on your Mac. Don't let your American dream go away. Create a Green Card photo right now, and maybe your dream will come true this year.