4 Easy Ways to Turn a Video into a Timelapse





5.0
Votes:

3

(Rated: )
Last updated: 26.12.2022
How do you watch an hour-long video in a minute? This question may seem weird, but it has a clear answer – convert a video to a timelapse. This technique, also known as hyperlapse, allows you to pack long spans of time into short video fragments due to a very small frame rate. Normally, the timelapse effect is created by shooting the video in a certain way. But can you timelapse a video after it's recorded? Yes, and there are different ways to achieve it.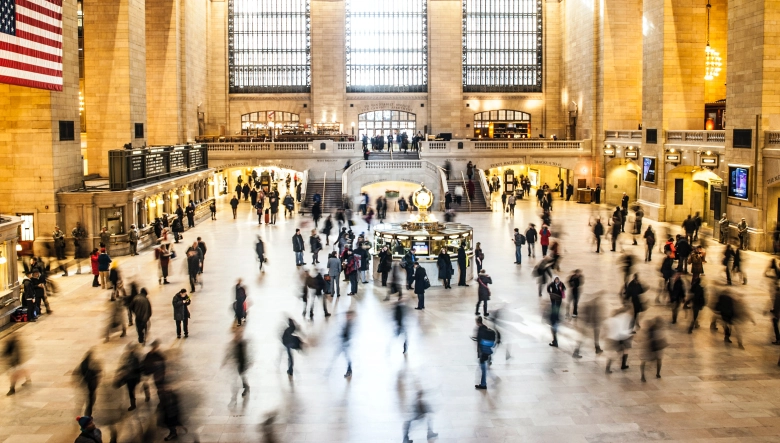 Fit an hour into a moment with timelapse
Want to create mesmerizing timelapse videos?
Click the button and get started with Clipify for free:
The most accessible way of timelapsing is to edit an existing regular video. In this guide, we will show you how to make a video timelapse in three ways, one for each major platform – personal computers, mobile devices, and online. Without further ado, let's jump into it!
Ways to Convert Video to Timelapse
1. On PC – Clipify video editor
2. On mobile – iMovie & CapCut
3. Online – Clideo video tools
Convert a Video to a Timelapse Video on a PC
To create a time lapse video on your PC, you'll need an editing program. Our program of choice is Clipify – a video editor packed to the brim with features for professionals and rookie enthusiasts alike. Casual users will enjoy an intuitive interface, lots of one-click effects, a variety of themed templates and stock media. A seasoned videographer will be able to use curves, chroma key, animation, and other advanced tools. Here's how to turn a video into a timelapse with Clipify:
Step 1. Install the Program
Click the button below to download the Clipify installation file. Then run this file and follow the installation wizard instructions. Once the program is set up, run it from the desktop icon.
Download
Fully compatible with Windows 11, 10, 8, 7
Step 2. Open Your Video
Firstly, select the Blank Project option. Then click Add Videos and Photos to find your footage via the file browser, or drag the clip you want to edit into the program window.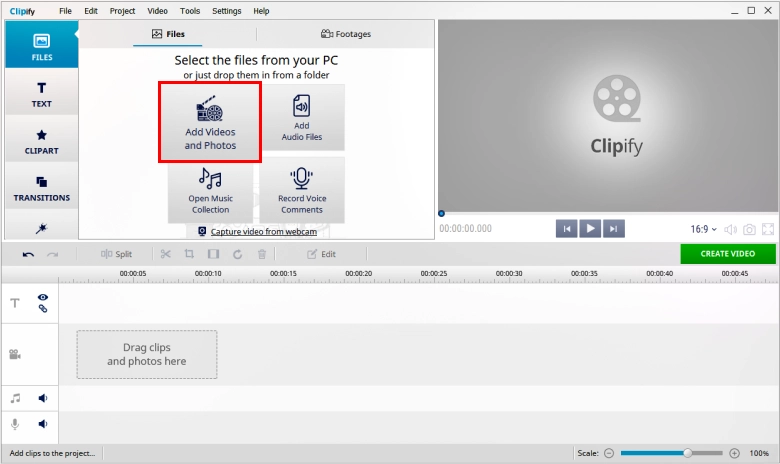 Open a long clip in the program
Step 3. Speed the Footage Up
Select the video that you want to turn to timelapse on the timeline and click Edit. Go to the Video Speed tab and adjust the speed by moving a slider or choosing a preset.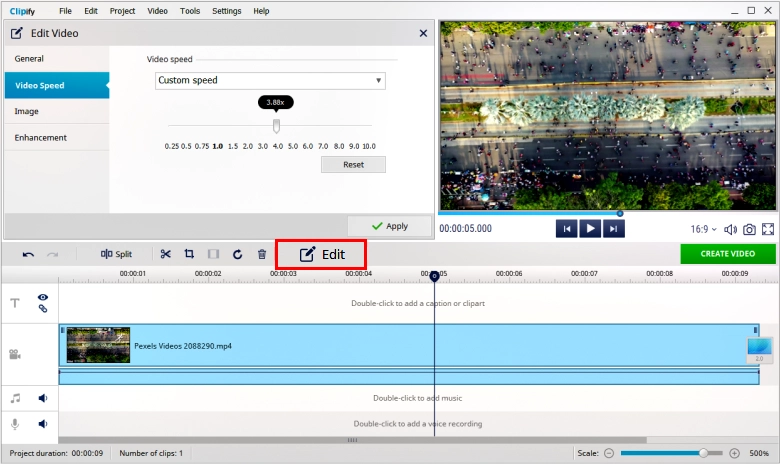 Make the clip's span much shorter
Step 4. Export the Result
Once you strike the desired balance between the speed and length of the video, click the button under the preview window, select Create HD video (or other preferable format), adjust the output parameters, and hit the Create Video button. Done!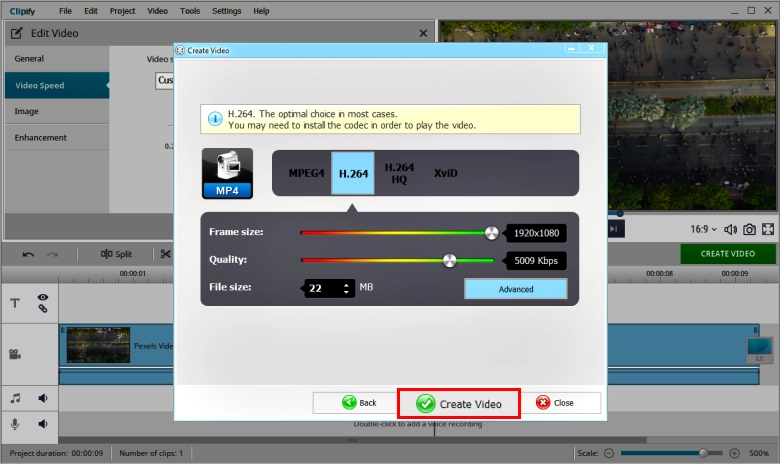 Save and share your work in an instant
And that's how to time lapse a video with Clipify. If you want, you may enhance the result with fitting effects, music, and clipart. You can also use the speed adjustment feature to do the opposite – slow the footage down to convert a time lapse to a normal video.
Click the button to download Clipify!
Start making time lapses and other cool edits right away!
Download
Fully compatible with Windows 11, 10, 8, 7
Convert a Video to a Time Lapse Video on Mobile
Mobile phones are always with us, and the latest models have enough computing power for video processing. And since a lot of phones have decent cameras, it is also one of the most common sources of footage. So, why take your clips anywhere else if editing can be done right then and there? Let's take a look at how to make a time lapse video on an iPhone and an Android device.
How to Make a Time Lapse Video on an iPhone
If you are an iOS user, then you already have a perfect time lapse video editor – iMovie. This vendor-supplied app is preinstalled on most Apple devices, but it is also available at App Store. And, despite being default and free, it is regarded as actually good and beloved by many users, pros and amateurs alike. Here's how to timelapse a video with iMovie:
1. Open a clip. Run iMovie on your device and go to the Projects tab. Then tap Create Project and open the footage you want to edit.
2. Adjust the speed. Tap the clip on the editing timeline, then tap the clock icon. The speed adjustment bar will pop up. Increase the speed until the clip looks as you want it to.
3. Export the video. When you are happy with your iMovie time lapse, tap the Done button to save the edited clip or share it right away.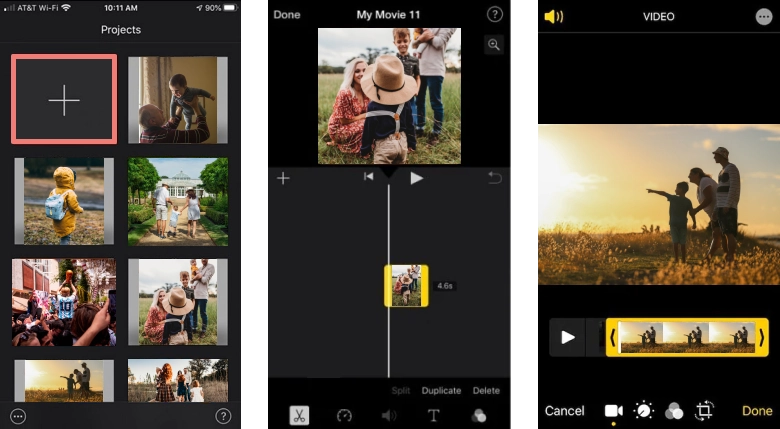 Making a hyperlapse effect in iMovie
In case you're wondering how to slow down time lapse on an iPhone, you can follow the same routine – open a clip, change the speed, and save it. The only difference is that you'll have to slow the video down during step 2.
Now you know how to time lapse a video on an iPhone. But did you know that you can record already lapsed videos? Access this mode from the camera app and shoot lapsed clips without any editing!
How to Turn a Video into a Timelapse on Android
If you want to change a video to a time lapse on an Android device, you are likely to need a third-party editing app. Google Play is filled with hundreds of options, and before you are riddled with choices, we recommend trying CapCut – a great and accessible time lapse video maker. After you download it, follow these steps:
1. Import the video. Run the app and tap the New project button. Then select the clip you want to edit from your device gallery.
2. Speed it up. Select the clip on the timeline, then tap the Speed button on the toolbar below. There choose Normal, increase the speed with a slider, and tap the checkmark to apply.
3. Save the timelapse. Once you are happy with the result, tap the Export button in the top right corner of the screen.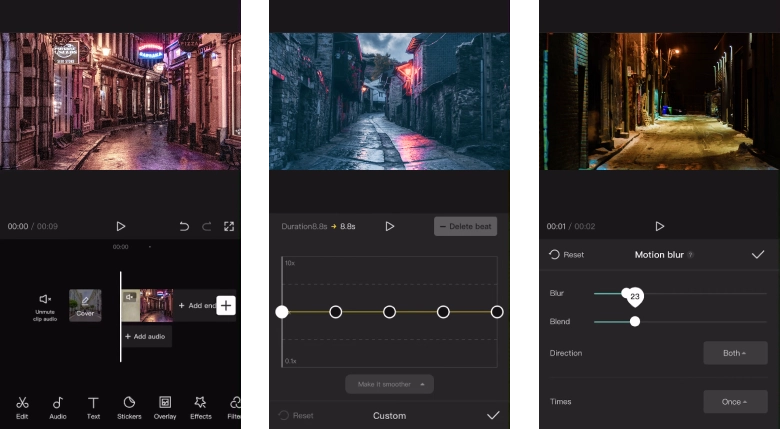 Making a timelapse with CapCut
And that's how you convert video to time lapse with CapCut. There are a lot of other apps, but, fortunately, most of them share the same design philosophy. So if you want to try something else, it's safe to expect a similar workflow.
Convert a Video to a Timelapse Video Online
In case you can't or don't want to install anything, good news – you don't have to. There are plenty of cloud-based video editors you can use as a time lapse video converter, such as Clideo. If you are willing to go this way, here's how to turn video into a timelapse with Clideo:
1. Upload a video. Open the Clideo website and select the Speed tool. Then upload your footage, either from your device gallery or from cloud storage.
2. Increase the speed. You can choose a preset from a panel in the right part of the window, or adjust the speed manually with a slider.
3. Save the result. Take a look at the edited footage. If everything is fine, click the Export button. Then you can download the edited clip, save it in the cloud, or open it in the editor.
Speeding the footage up in Clideo
And that's how to turn video into timelapse online. The downside of this method is that online editors tend to have file size limitations (such as 500 MB for Clideo) and depend on speed and stability of your internet connection.
Final Words
Now you know 3 easy ways to turn a normal video into a time lapse clip. This is an easy editing trick you can do on any device. You can make a time lapse in iMovie or CapCut on iOS and Android devices respectively. Clipify turns any video editing on a PC into a walk in the park, whether you're a pro or a rookie. And if you want to turn video into time lapse online – Clideo is the way to go.
Looking for a way to make timelapses on a PC?
Then try out this easy-to-use and versatile video editor!