Cinematic Bars — How to Add Black Bars to a Video





5.0
Votes:

2

(Rated: )
Last updated: 28.12.2022
Want to give your viewers a more cinematic experience with your video? That's actually quite easy to do. Adding two black bars above and below can make your video instantly look and feel like a real movie. This widescreen video effect is as simple to achieve as it is fundamental since it is directly involved with the mechanisms of human attention.
Before
After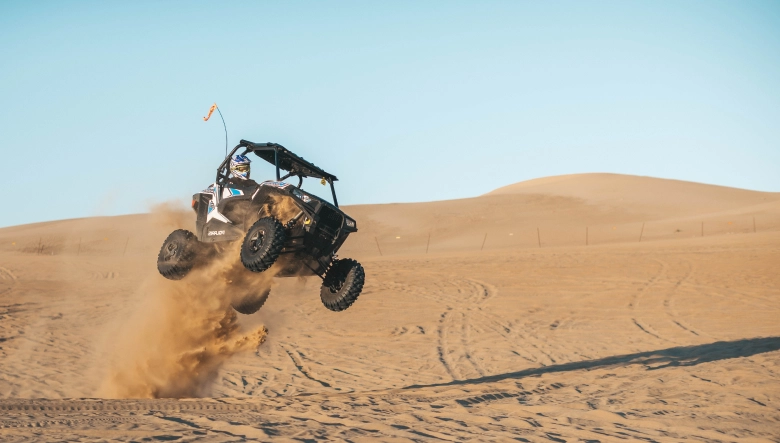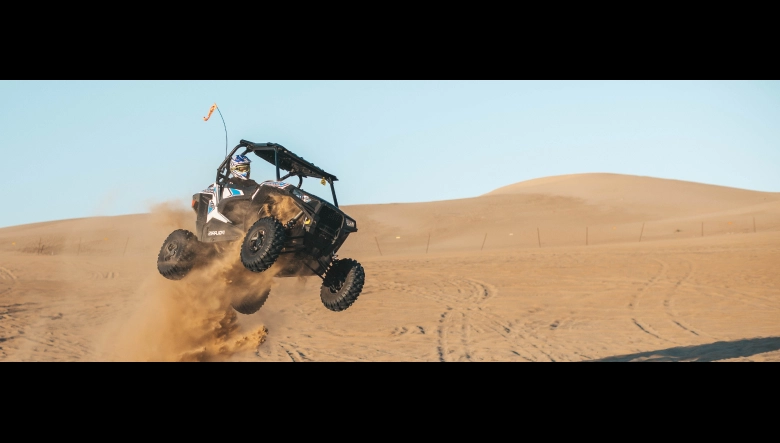 Raise the cinematic bar of your video production
Need to add movie-like black bars to your video?
Get an easy-to-use video editor now and do so much more!
Slapping cinematic black bars on a video may look simple, but this trick still has some nuances. There are quite a lot of standards regarding the aspect ratio and definition, and any video editing enthusiast should be aware of those. From this guide, you will learn more about various aspect ratios, along with ways to apply cinema black bars with different software. So, let's dive into it!
1. Cinematic aspect ratios
2. How to create widescreen bars
3. Frequently asked questions
Cinematic Aspect Ratios
One thing you should keep in mind is that "cinematic" is a subjective characteristic. That being said, aspect ratio (and black bars as a result) goes hand in hand with filmmaking and video production. This is important to know since aspect ratios are many, but most displays are 16:9. So, you have to be aware of how your video might fit into a generic screen. If you are wondering what is the size of movie bars for different aspect ratios on a standard 16:9 screen, look at this figure: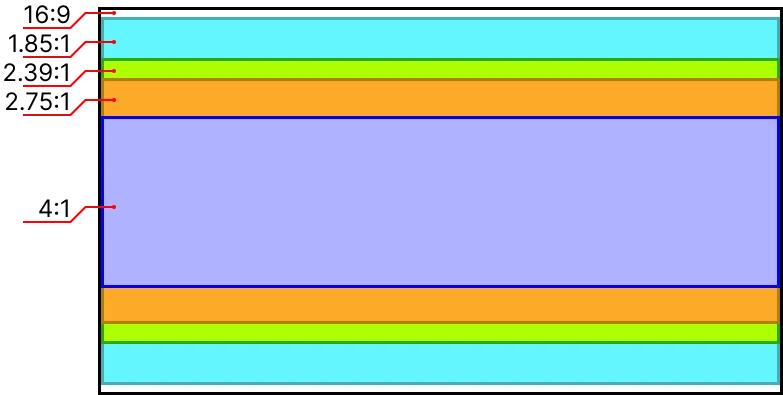 Various aspect ratios on a 16:9 screen
Sometimes you can see video files accompanied by certain abbreviations, such as HD or DCI, for instance. Those abbreviations usually stand for certain resolution and aspect ratio values. This is a good way for letting the viewers know the characteristics of a video before they even open it. Here's a table of some of the common aspect ratios and resolution pairs:
A table of resolutions and aspect ratios
How to Create Widescreen Black Bars
Time to move from theory to practice! Let's go through the process of adding black bars to videos using two handy tools – one for casual video makers, and another for more seasoned users.
How to Add Cinematic Black Bars in Clipify
Looking for a tool that can compete with heavy hitters while being simple to use? Look no further than Clipify! This is an intuitive PC video editor with a wealth of features. It manages to be user-friendly while including pro-level tools. Here are two ways to add black bars to a video with Clipify.
1. How to add black bars by cropping the frame
2. How to add black bars without cropping
1. How to Add Black Bars by Cropping the Frame
Step 1. Install the program. Click the button below to download the Clipify installation file. Then launch it and follow the installation wizard instructions on your screen. Once all is set, run Clipify from the desktop icon.
Step 2. Upload the video. Select Blank Project, then click Add Videos and Photos and navigate to your footage through the file browser. Alternatively, drag and drop the clip you need into the program window.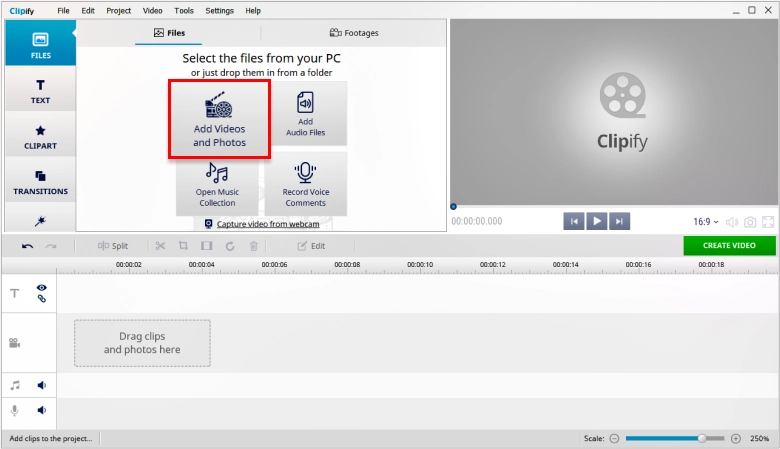 Open your regular-sized footage
Step 3. Crop the edges. Select the clip on the timeline and click the Crop button. In the new window, you can either crop the top and bottom of the clip manually or type in the new resolution value to get the desired aspect ratio. Then adjust the frame position and click Save.
Choose a part to frame with the black bars
Step 4. Save the result. Click the Create Video button under the preview window, pick the HD video option, adjust the resolution and bitrate if you need, and hit the export button. Done!
Export your movie in a desirable format
2. How to Add Black Bars Without Cropping
If there is not a single bit in your footage that you would cut off, there is a different method for you to try. You can make the black bars appear by changing the aspect ratio of the whole video, much like what happens when a widescreen movie is shown on an old TV. Here' what you need to do:
Step 1. Install Clipify. Click the button to download the installer. Once it is ready, launch the installer and follow the on-screen instructions. Then run Clipify from the desktop icon.
Step 2. Open the video. Run the program and add some footage by either clicking the Add Videos and Photos button or dragging the video you need into the program window. You can open several files at once and edit them all at the same time.
Step 3. Change the aspect ratio. Click the aspect ratio button under the preview window and select a ratio different from the original from the drop-down list. For example, if your footage is 16:9, pick 4:3 to create the desired bars.
Create some room for black bars to fill in
Step 4. Save the result. Note that changing the aspect ratio this way applies to the whole video you are going to export, thus taking effect on all the uploaded media. To save your movie, click Create Video, pick the HD video option, and hit the export button.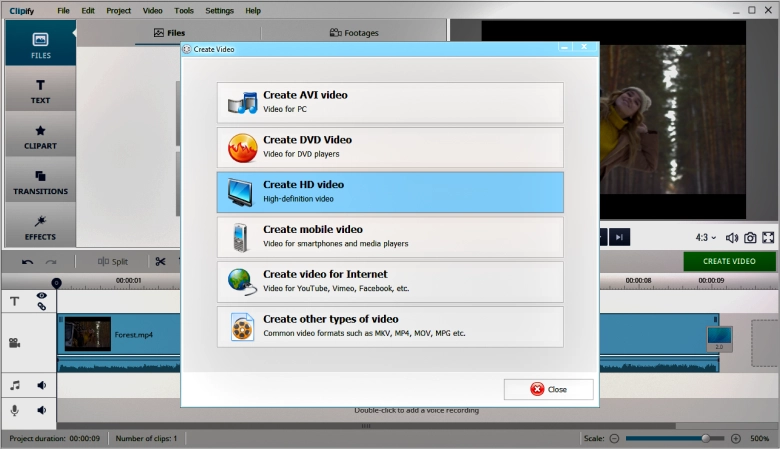 Export the video with cinematic black bars
How to Add Black Bars in Premiere Pro
Adobe Premiere Pro CC is one of the biggest names in the industry. This is a pro-level software with a steep learning curve, so you should be willing to invest some time, money, and effort to master it. However, making a black bar overlay is quite a simple operation you can do without much experience. Here's how to add black bars in Premiere Pro:
1. Open your footage, go to the Essential Graphics panel, and select New Layer.
2. Choose Rectangle from the drop-down menu.
3. Go to the Appearance tab, click Fill, and switch the color to black. Then go back to the Essential Graphics panel, right-click the bar layer, and pick Duplicate to make an identical bar.
4. Drag the bar edges on the timeline to make it stay for the entire span of the video.
5. Adjust the shape and position of the bars and the source clip to achieve the shot composition you need.
6. Click the Export button and save the result.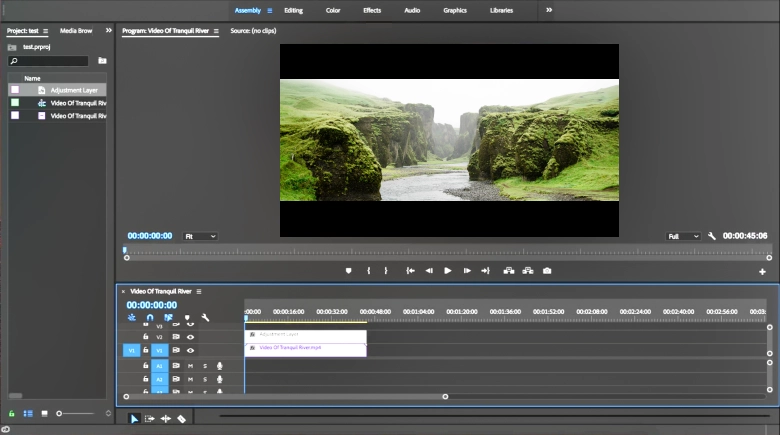 Applying some movie tricks with Adobe Premiere Pro
FAQ about Cinematic Black Bars
What are cinematic bars useful for?
Firstly, cinematic bars help focus the viewer's attention and highlight the centerpiece of the video. Secondly, the bars may create a certain feel or mood, due to direct association with movie theaters in general. Movie black bars are an easy yet effective way to add depth to the composition and make certain details stand out.
What is the importance of aspect ratio in film?
In filmmaking, aspect ratio means the ratio between the width and height of a frame. Many different standard aspect ratios have come into being over the years and are still used to this day. Although there is a globally known "Academy Standard", filmmakers from different countries follow their own guidelines regarding black bars cinematic.
The most ubiquitous aspect ratio of today is 16:9 with a 1920x1080 resolution since the majority of devices have such displays. As a result, many videos you can find on the Internet are made in accordance with that fact. There are a lot of modern movies and series that are shot in 16:9 specifically for streaming without common 1080p black bars.
Why do movies have black bars?
The aforementioned widescreen bars appear as a result of letterboxing – a process of adapting an originally widescreen movie for TV standards. The bars appear because movies are generally narrower than an average TV screen or monitor. The video can also undergo image distortion or lose some bits of the frame space on the sides.
Want to frame your video with cinematic borders?
Download Clipify and tap into movie magic now!