Top 12 Video Editing Software to Try in 2023
In the list below, we will compare video editing softwares of all kinds: offline and online, free and paid, professional and beginner-level, for Windows only and universal for all operating systems. Just decide on the priority characteristics you would like to see in your future video editor, and let's get down to business. By the end of this review, you will choose a perfect video editor for you personally.
1. Clipify
Clipify is the best free video editor for Windows. This lightweight software is helpful for people with any skill level. It offers a solid toolkit to help you rotate, reframe, split and merge, color correct your clips, and accompany them with music. Besides, Clipify has a decent library of captions, stickers, and titles for decorating your videos. Exclusive content of the editor includes 250+ engaging visual effects, beautiful greeting card templates, 200+ royalty-free soundtracks, and dynamic transitions. Complete beginners will appreciate the automatic Wizard tool, while experienced users will enjoy the easily applicable Chroma Key, Curves, stabilization, voice over feature, and webcam capture. However, Clipify is available only for Windows.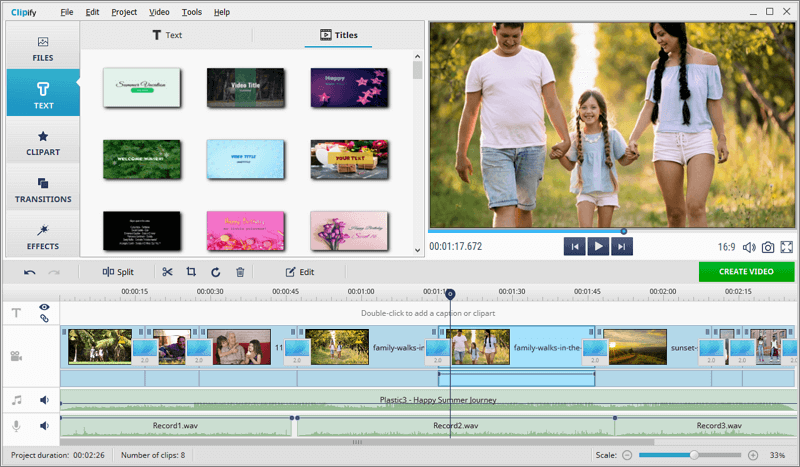 Clipify is an editor for people with any proficiency level in videography
Free plan with an essential video editing toolkit
Collection of titles, captions, and cliparts
One-click professional videography features
Compatible with old and new PCs and laptops
Easy export in 30+ formats (MP4, MOV, MPG)
No cloud storage
Some advanced features are unavailable for free
Seeking the best free video editing software for Windows 11?
Download Clipify, an easy editor for videography enthusiasts!
2. Adobe Premiere
Adobe Premiere is a program that can't go unmentioned when talking about videography. It's the absolute leader in the industry, loved by professional movie makers, vloggers, and videography enthusiasts. The editor has versatile features built in, opening endless possibilities to users. Also, the software employs seamless integration with other Adobe programs via Creative Cloud: Photoshop, Audition, Frame.io, and After Effects. That allows you to structure your video post-production process and make movies of the best quality possible. The downside to Adobe Premiere is its expensive subscription and complicated workflow that beginners will find challenging to figure out.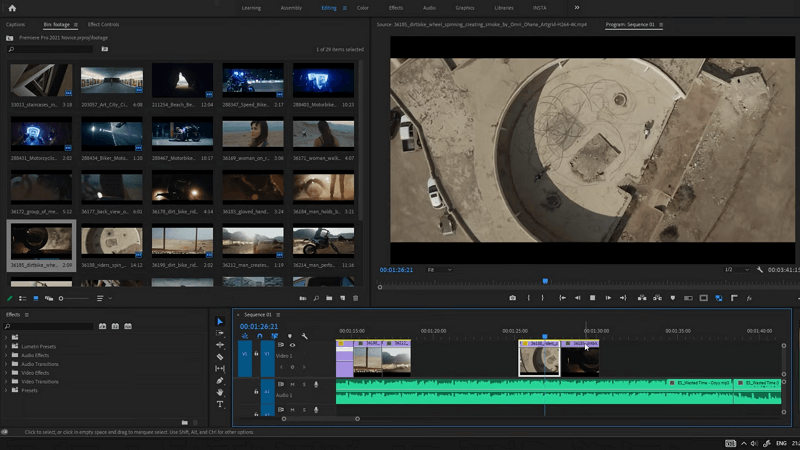 Adobe Premiere is the professional videography industry leader with endless capabilities
Extensive features for pro videographers
Integration with other Adobe products
Customizable interface
Cloud storage for your projects
Allows third-party extensions
Too complicated for amateurs
Pricey subscriptions
3. Kapwing
Kapwing is an online platform for photo and video editing. It is accessible from any device with a stable Internet. Besides, it allows collaboration, and you can use it for group projects. The editor has all the primary video post-production tools - for reframing, splitting, enhancing, embellishing your clip, and changing its speed. Also, the platform offers helpful features for influencers, businesses, and gamers: screen, camera, and audio recorders, a background remover, an automatic subtitle tool, and templates for social media posts. However, the free plan has limitations: duration cap, little stock content, and few built-in templates. Meanwhile, the premium subscription is pretty expensive.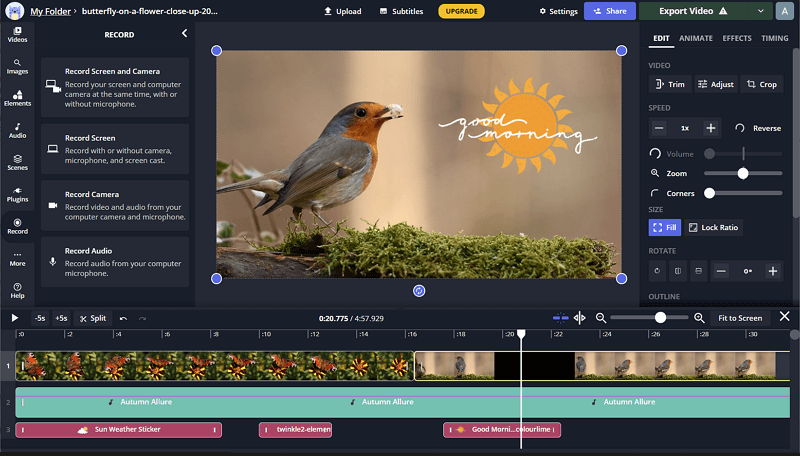 Kapwing is an all-in-one editor for influencers and active social media users
Accessible via any device with cloud storage
Exclusive AI-powered features for influencers
Self-explanatory interface with a collaboration suite
Pre-installed content, templates, and plug-ins
No watermark on exported video clips
Many limitations in the free plan
Expensive Kapwing PRO subscription
4. OpenShot
OpenShot is one of the best free video editing programs. It's an open-source video editor compatible with the latest versions of Windows, Linux, and Mac. Besides, the software has a customizable and simplified interface granting an easy workflow for beginners. It offers a convenient timeline with unlimited tracks and a decent toolkit of essential features. OneShot will come in handy if your video doesn't need any detailed editing or a lot of visual effects. Also, this video editor has creative options to make your clips more engaging: video templates, title cards, captions, and 3D animation. Nevertheless, OneShot won't give professionals and experienced videographers the result they would get from the more popular programs in the industry because of its modest package of features.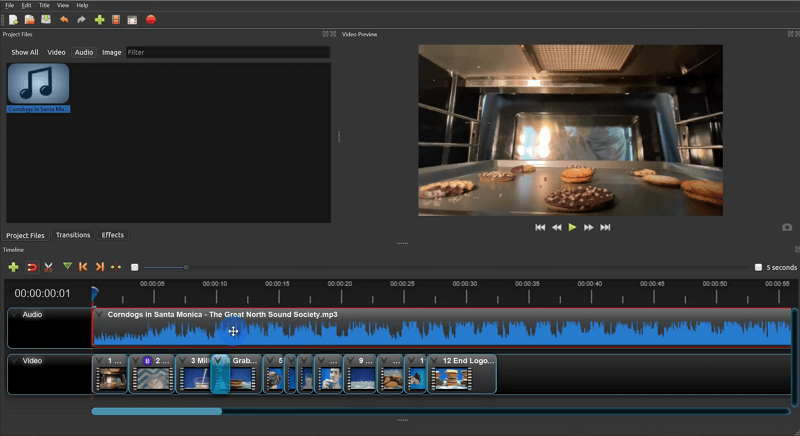 OpenShot is a flexible video editor for casual users
Adapted for multiple operating systems
Available in 70+ languages
Unlimited tracks on the timeline
Allows extracting audio from videos
3D animation effects and title cards templates
No extensive features for precise video editing
No free footage stock
No suite for collaboration
5. CyberLink PowerDirector
Want a professional yet affordable video editing program? Try PowerDirector, the best video editing software under $100. It has an unlimited free plan called PowerDirector Essential and inexpensive subscription options: monthly, yearly, and lifetime. Along with basic editing tools, it has a helpful AI-ran audio enhancer, object detector, and other user-friendly features experienced editors will appreciate. One of the most remarkable features of PowerDirector is its 360-degree video editor. Despite automatization, newbies and casual users might find the program too complicated and time-consuming. But you could still give the free version a try.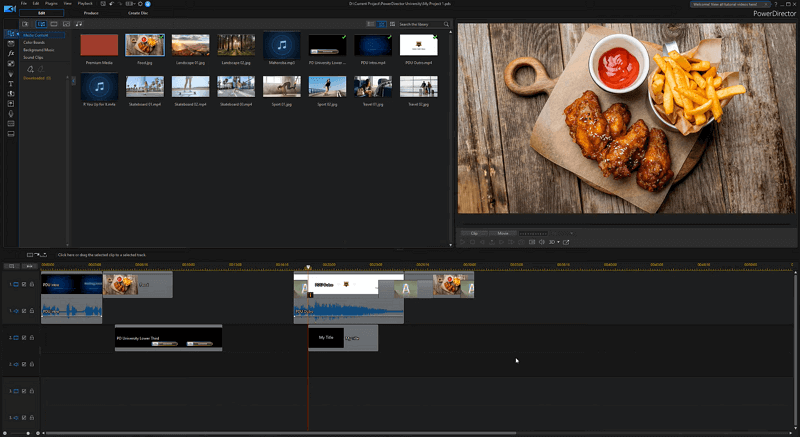 CyberLink PowerDirector is a cheap editing engine for videography enthusiasts
Low cost
Includes an unlimited free plan
AI-based professional video editing features
Diverse visual effects and slow motion
Easy alternative to the industry's giants
Complicated for beginners
6. Clipchamp
Clipchamp is another online drag-and-drop editor for you to try if your job revolves around social media. Its handy brand kit and diverse video templates for gamers, small businesses, vloggers, and influencers make this platform special. The video editor has an uncluttered interface, and it's convenient to work within it. Also, it is compatible with cloud storages like Google Drive, Dropbox, and OneDrive and with online services such as Zoom, Pinterest, TikTok, LinkedIn, etc. That will be helpful for people who manage their work while traveling. However, to use this editor, you need to create an account and most likely purchase a subscription, since the free plan is too limited to use for business.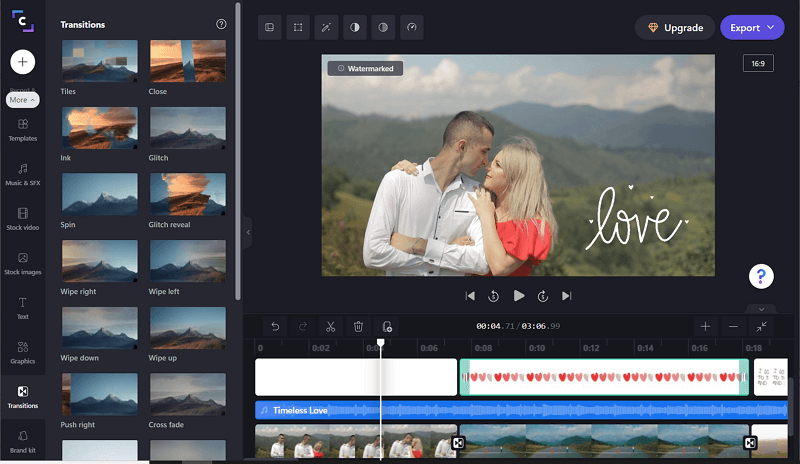 Clipchamp is an easy-to-use online editor for small businesses and entrepreneurs
Built-in video, audio, and picture stock library
Templates for holiday clips, ads, tutorials, streams
Diversity of subscription plans
Handy tools for editing and recording videos
Compatible with many online services
Export quality cap
No commercial‌ use for stock content
Unavailable via Firefox
7. VideoPad Video Editor
VideoPad Video Editor is the best video editing software under $50 designed for people with little technical knowledge. It doesn't have a wide selection of advanced tools yet offers everything necessary for fine-tuning your family video or embellishing a social media clip: manual video color correction, 50+ visual effects and transitions, features for reframing a clip and changing its speed, video stabilization, sound effects, text styles, and many plug-ins that give you even more freedom within the editor. The developers packed all of this inside a simple interface. However, some users might find it confusing. One of the key features available in the latest version of the editor is merging regular video recordings to 360-degree ones for watching on a VR set.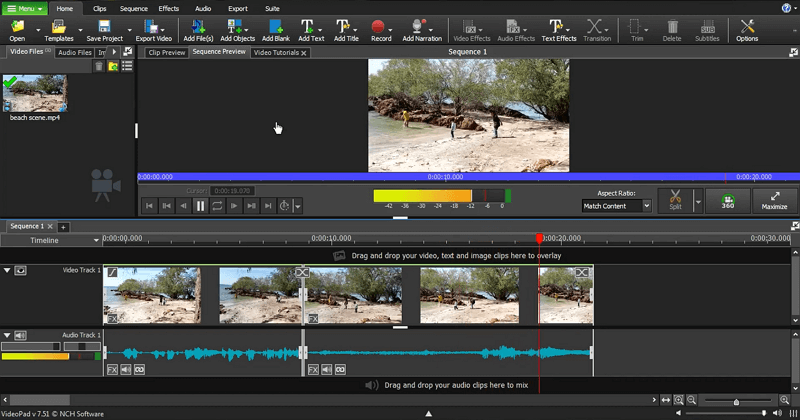 VideoPad is a feature-packed program for beginners in the video making industry
Has a free version
Handy subtitle tool
Easy export and burning to DVD and Blu-Ray
Pre-designed video greeting card templates
Works with the latest versions of Windows and Mac
Cluttered interface
The free version allows non-commercial use only
No social media sharing without a subscription
8. DaVinci Resolve
Are you an experienced videographer looking for a new instrument for your job? Consider DaVinci Resolve. Professionals in the industry widely acknowledge this node-based software because it makes complex tasks much easier to complete. This editor offers handy color correction, advanced video trimming, diverse special effects and motion graphics, top-notch video stabilization, a multi-cam editor, Chroma Key, and a powerful audio post-producer. But what makes DaVinci Resolve genuinely outstanding is its recent AI-driven noise reduction and color matching, fast editing features, and face recognition. However, this feature-packed editor has no pre-made templates and is too complex for casual users. Besides, it requires powerful hardware to function well.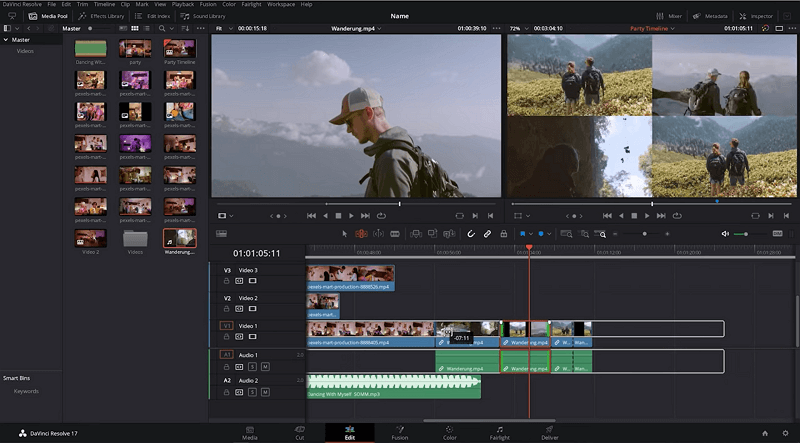 DaVinci Resolve is an advanced yet budget-friendly editor appreciated by millions
Allows collaboration and remote access
Audio editor with 200+ royalty-free tracks
A free version for casual users
Compatible with Windows, Mac, and Linux
Allows export in up to 8K quality
Large installation package
No video stock library or templates
Overwhelming for newbies
9. Hitfilm Express
Hitfilm Express is one of the best free video editing software for PC designed for professionals. It has a customizable interface you can adjust to your convenience. Apart from essential features, it supports 360-degree videos, a green screen, and 3D models. Also, it allows color grading and helps create animation effects. If you don't feel like spending much time on video editing but still want your clip to be dynamic and engaging, you can use the editor's 400+ built-in visual effects and presets. But like other advanced programs we have listed, Hitfilm Express has a steep learning curve. So it will take time for you to make sense of it. Besides, the free version of Hitfilm Express will put a large watermark on your video.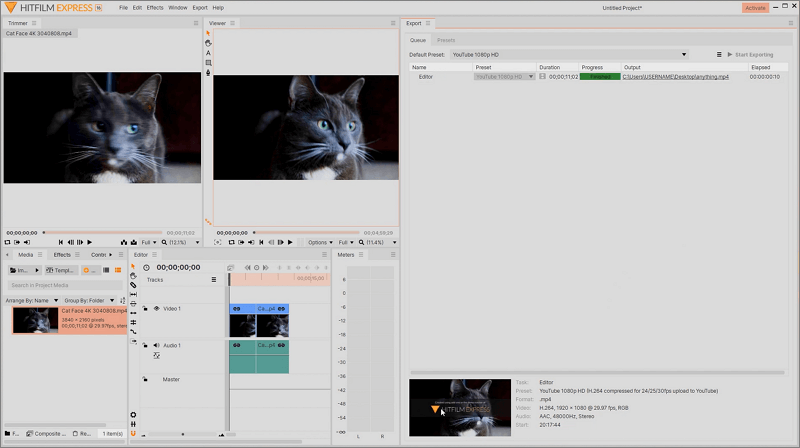 Hitfilm Express is a budget alternative to professional videography software
Diversity of professional movie-making features
Extensive VFX toolkit
Pay What You Want subscription policy
Free plan available
Compatible with the latest Windows and Mac updates
Steep learning curve
Requires a computer with a high performance
Distractive watermarks on videos in the free plan
10. Lightworks
Lightworks is a top-rated program that was used for the post-production of many legendary movies. This non-linear editor has a clean interface compared to its professional segment alternatives. Experienced videographers respect Lightworks for its convenient video trimming tool, helpful audio controls, many templates for social media, and customizable motion graphics. The program saves your modifications automatically and grants easy access to cloud storage. Besides, Lightworks has a free version and a few subscription plans. However, there is a limit on the export resolution (up to 720p) unless you subscribe. Also, users report occasional lags within the editor, and there is no free tech support you can consult with.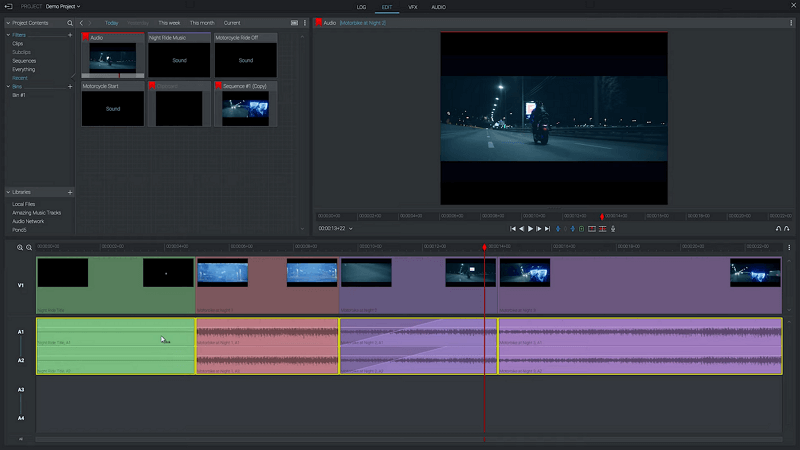 Lightworks is the reliable classic in the professional videography world
Compatible with Windows, Mac, Linux
Extensive audio tools - noise removal, treble boost
Automatic syncing to cloud storage
Multicam support, smart editing, auto quality check & fix
800+ customizable motion graphics, real-time filters
Export resolution cap
Recurring glitches
Export only in MPEG
11. VSDC Free Video Editor
VSDC Free Video Editor, as its name suggests, is software you can get without paying a penny. Despite that, the editor has a lot to offer: video and audio effects, a compressor, an enhancer, a color correction tool, diverse transitions, a 360-degree video creator, and all the basic video editing features. Unlike many free apps, this one supports HD and 4K video export. Besides, it is compatible with various video formats, has a convenient YouTube and social media unloader, and offers a handy DVD burner. However, VSDC Free Video Editor won't give you too much creative freedom. Besides, it will show you third-party promotions during the installation process.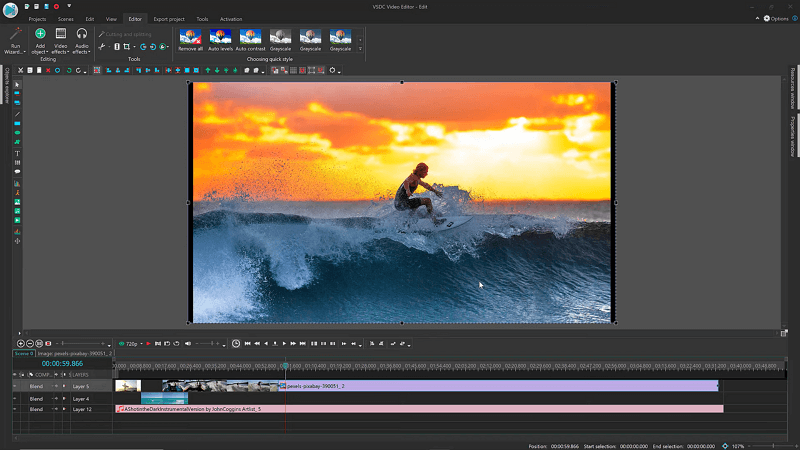 VSDC is one of the top free video editing software for emerging videographers
Supports a variety of devices
Produces high-quality video clips
360-degree video creation
Allows many export options and burning to DVD
Many features for free: enhancing, embellishing, editing
Unwelcoming interface with many small buttons
No advanced features or ready-to-use templates
Lacks collaboration suite and footage stock library
12. Windows 11 Video Editor
Looking for built-in video editing software like the iMovie application? Check out Windows 11 Video Editor, also referred to as the Photos app. You can actually get a decent clip after editing with this free editor. Its features allow you to enhance, embellish, split and cut your video, apply filters, and change the playback speed. Windows 11 Video Editor also offers a collection of background music, fun 3D effects, and a package of video greeting card templates. Finally, there is an automatic video mixing tool for combining your short recordings into a simple movie and sharing it with your loved ones. Thanks to the face recognition of the Photos app, you can also choose the starring person, and the program will make a fun video revolving around them. However, this program has no advanced tools for in-depth editing.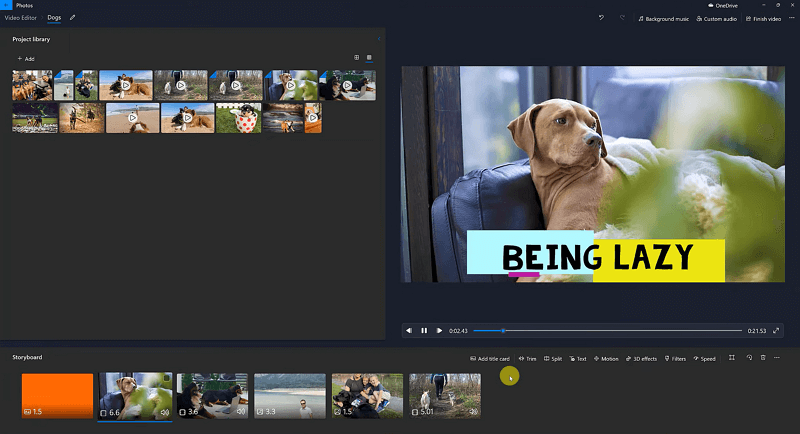 Windows 11 Video Editor is the best video editing app for PC you have pre-installed
Clean interface with no ads
Decent collection of background music
Organization and access to projects via OneDrive
Automatic video generator and templates
Allows doodling over your video clips
Primitive video editing tools
Export only up to 1080p
No free stock library
What is the Best Video Editing Software For You in Particular?
These were the 12 best-rated video editors compatible with Windows 11. You probably have already come across a couple of programs that suit your editing process requirements. If you haven't decided which one to choose yet, check out our favorites by category. Clipify is the best free video editing software for beginners. It has an easy-to-navigate interface, a decent package of essential features, and one-click professional adjustments. Besides, it grants creative freedom and efficiency, thanks to its easily applicable effects, templates, and embellishments.
If you need a reliable tool for professional video editing, get Adobe Premiere Pro. With its seamless integration system and Creative Cloud storage, you will make unique videos involving your projects from other Adobe software - soundtracks, animation, pictures, graphics, etc. Finally, we recommend that active social media users try Kapwing. This is the best free video maker you can find online. Thanks to its intuitive interface and ready-to-use templates, it will save you much time. And its built-in decorative elements like embellishments and animation effects will help make your content engaging and unique.