Best Green Screen Video Software for Pros and Newbies





4.7
Votes:

6

(Rated: )
Want to use the Chroma Key technique and transport the object of your video to any place imaginable? Or you're a streamer and prefer to go live from different places without actually leaving your home? Just shoot your video against a blue or green background, then employ a video editor to completely remove these colors from the movie and blend it with a new background. Since сhroma keying is not a tedious process anymore, you can easily create videos for your blog or turn your family videos into a stunning film! But it might be challenging to find a proper video editor. No worries! We've done the job for you and tested lots of green screen editors. Check out the list of the best green screen editing software below and pick the program that meets your skills and budget.
1. Clipify
Clipify is one of the best chroma key software for Windows. Due to a user-friendly interface, this free and handy editor suits novice filmmakers. The program doesn't take much memory and works well even on slower computers. To create your unique movie, you need to upload your video shot against a green screen and select the background video. Then mark the color that you want to eliminate and replace with a new backdrop. And just like that your brand new movie is ready! You can save your project in the format you need. Once finished with the background swap, you can further edit your green screen video with Clipify. It takes a few clicks to improve the quality of your movie. Moreover, you can change the speed of your footage or add a soundtrack to it. In case you want to literally tell your story add some text or stickers to your video.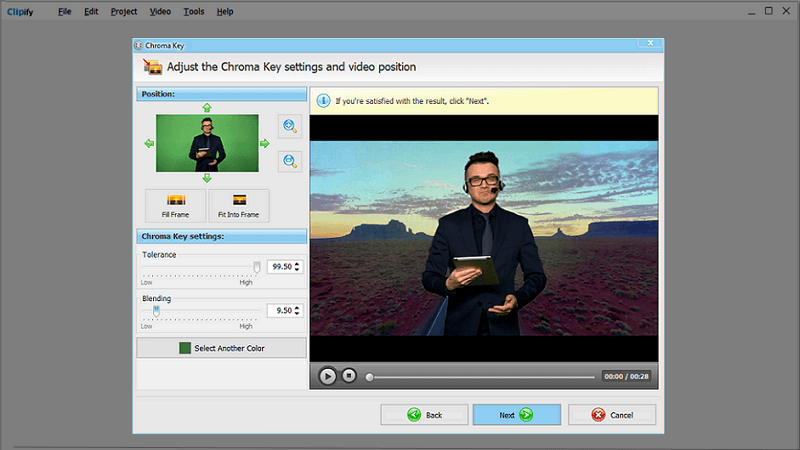 Try Clipify to change the backdrop of your video in a couple of clicks
Supports import/export MP4, AVI, WMV, 3GP, MKV
Built-in video background collection
Video duration is not limited
Auto video stabilization
Modest system requirements
No Mac or Linux version so far
Want to easily swap the background of your video? Download the best free green screen software.
Start creating your stunning movies with Clipify!
Download
Fully compatible with Windows 11, 10, 8, 7
2. Adobe Premiere Pro
Looking for professional software and don't mind paying a high price? Then you can opt for Adobe Premiere Pro. You can choose a monthly or yearly subscription plan. Once you have it, import your footage and create a new sequence with your video. You'll need to replace the layers and add the Ultra Key effect to the one with a plain background. Then select the green area with the eyedropper to remove the backdrop. When finished with that, you'll need to fine-tune the clip a bit more. If the process seems a bit too complicated is because it is. Adobe Premiere Pro is notoriously complicated software.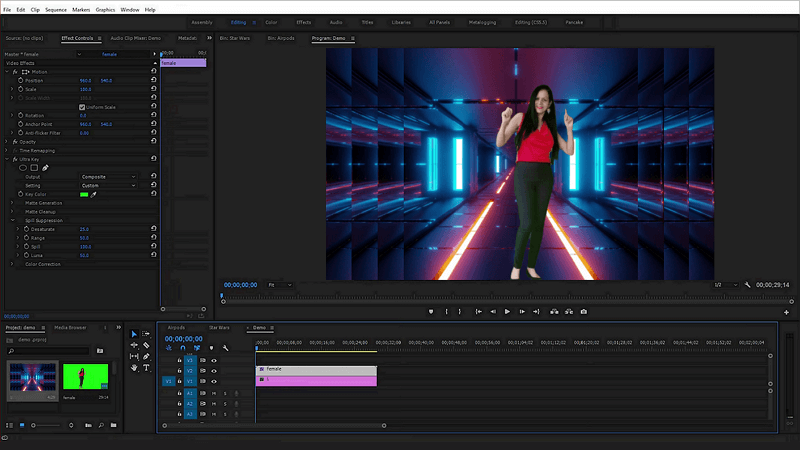 Professional-level software can change the background in two ways
Available on Mac, Windows, Linux, Android and iOS
Preserves the quality of the video file
Steep learning curve for beginners
Quite complex interface
High subscription price
3. iMovie
iMovie is a chroma key program available only for Apple users. If you own an iPhone or Macbook, then you have this software preinstalled. This program allows you to start editing your movie on an iPhone or iPad and then continue with a Macbook or vice versa. To swap the background with iMovie, you need to add the background clip first, then place a green screen video over it. The editor will finish the task itself. But you can make some adjustments if necessary. Be sure your device has enough memory since the output videos can be close to 1 GB.
With iMovie, you can create your film on any Apple device with a recent iOS version
Easy to use
Built-in sounds and filters
Too expensive for what it can offer
Available on Mac and iOS only
Demands recent version of OS
4. VSDC Free Video Editor
VSDC Free Video Editor is a free video editor that works with low graphic resources. The new version of this software allows its users to employ the Chroma Key tool. After you upload the video and select Transparency, the editor will apply the effect only to a part of the clip. So remember to mark the footage area you need. For a more precise selection, you can use the eyedropper tool and choose the background color manually. Since there's no preview, you can watch your video only after you've saved it. It isn't convenient at all in case you'll need to make some changes.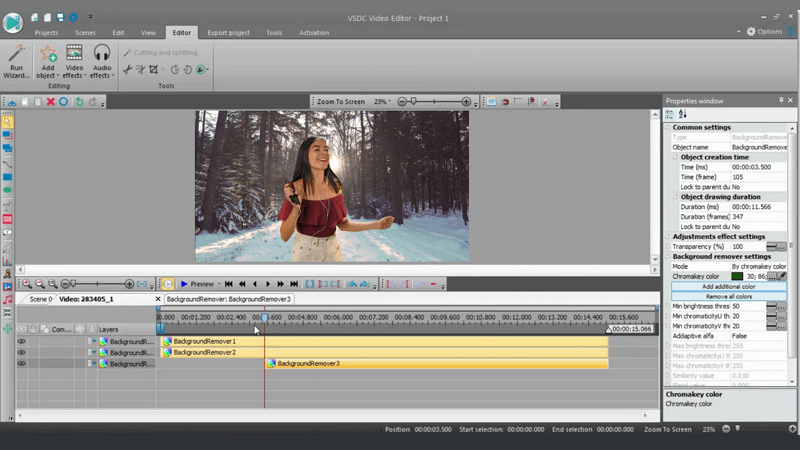 VSDC Free Video Editor is a free green screen editor with no trial period
Lightweight
Low system requirements
No watermarks
Steep learning curve
Not clear interface
Available on Windows only
5. Lightworks
Lightworks is free chroma key software that you can use for no longer than 30 days without an account. After you've uploaded your green screen clip, you can use a still image or a video as a new background. In this software, you'll also need to use the eyedropper tool to determine the backdrop you need to remove. You'll have to set the Saturation and Luminance to help the software better detect the background. When finished, you can export your video as a MP4 in the free version of Lightworks. Want more options? Then purchase the paid subscription.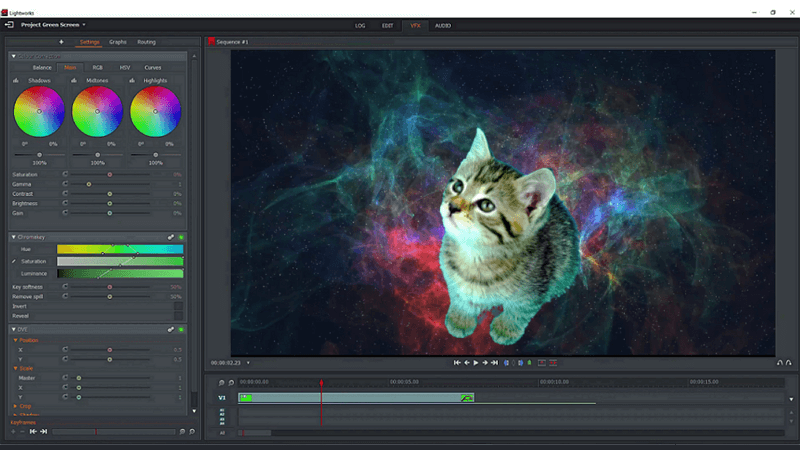 You can use this green screen editor without an account for 30 days
Compatible with Windows, Mac and Linux
Allows direct export to social media
Limited capabilities in the free version
6. Kapwing
Kapwing is an online tool to change the background in your video. To perform that, upload your video and mark the backdrop color. You'll need to adjust the tolerance of the removal filter to remove narrower or wider color values. Only when finished with that you can upload a new background video. Since Kapwing is a web-based editor, you do need a fast Internet connection. There's a free version or two paid plans to choose from. With the free version, your video's limited to 30 minutes for a single movie and not more than 3 hours overall. When finished, the editor allows you to upload your clip or paste the link to your video from YouTube or other social media.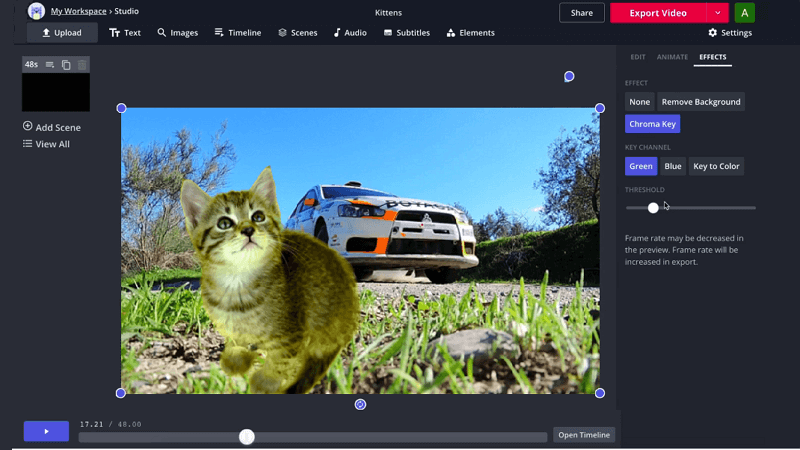 Kapwing is a good choice for occasional users with fast Internet
Supports images and GIFs
Works in any browser
Limited export options
Upload videos not more than 250 MB
Depends on the quality of the Internet connection
7. Sony Vegas Pro
Sony Vegas Pro is a costly green screen editor. Due to its quite complicated interface, the software can be challenging for beginners. But once you've mastered it, you can upload fore-and background videos. You'll need to set the same duration time for both movies. Only after that you can start removing the background. Apply the chroma key effect and choose the backdrop color, it'll turn transparent. Be sure to check the preview window while performing the task. Also keep in mind that the editor sometimes crashes while rendering, even on lightweight simple projects.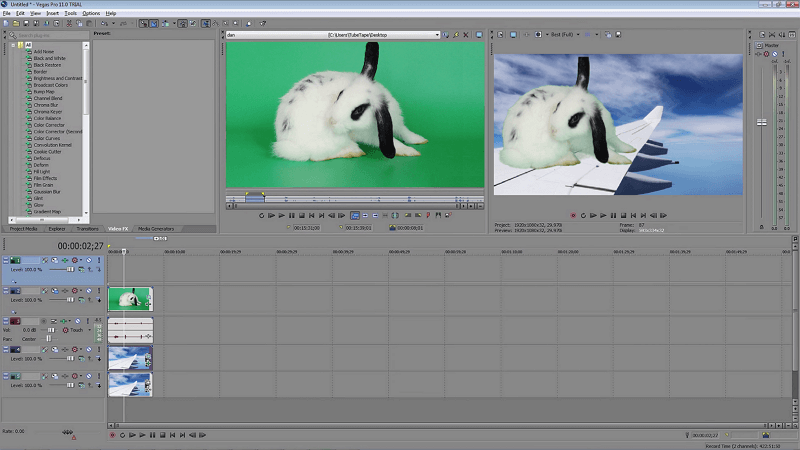 Sony Vegas Pro is an expensive alternative for professionals
Can convert any file format to any other
High price
Complicated interface
Windows only
8. OBS Studio
OBS Studio is quite simple green screen software available on Windows, Mac and Linux OS. Due to the limited functions of this editor, a beginner at video editing won't get confused. To swap the background, upload your video and apply the Chroma Key filter. The editor will do most of the job itself, but you'll still need to apply some manual corrections. If your computer is quite powerful, then you can use the live streaming option. Sometimes the editor continues recording even after you've stopped it and saves more videos to your hard drive than needed. So quitting the program can be challenging.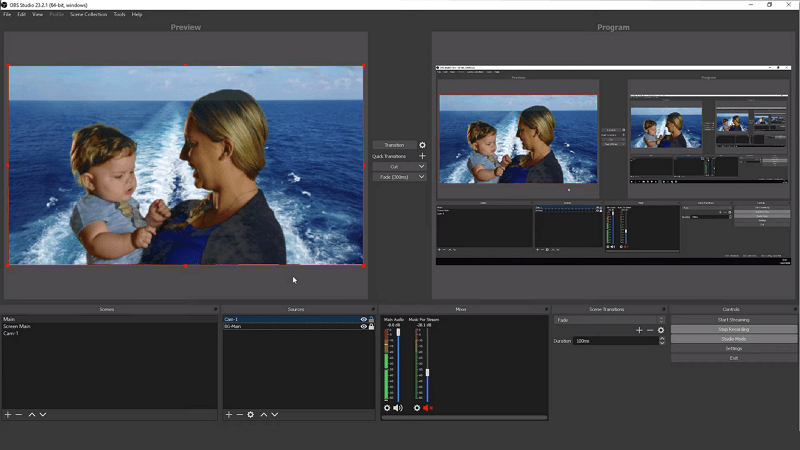 OBS Studio is a free option for live stream bloggers with powerful computers
Suitable for novices
Regular updates
Limited functions
Needs a powerful computer
9. HitFilm Express
HitFilm Express is a mostly free green screen editor, but the Chroma Key effect is the one you'll need to pay for. In case you've bought this software, you can change the video backdrop in a few ways. Apply the Color Difference Key effect and fiddle with sliders to determine the background area. Alternatively, you can use a more time-consuming Hue and RGB key effects. Since the software can unexpectedly crash, it's better to manually save your video from time to time while editing.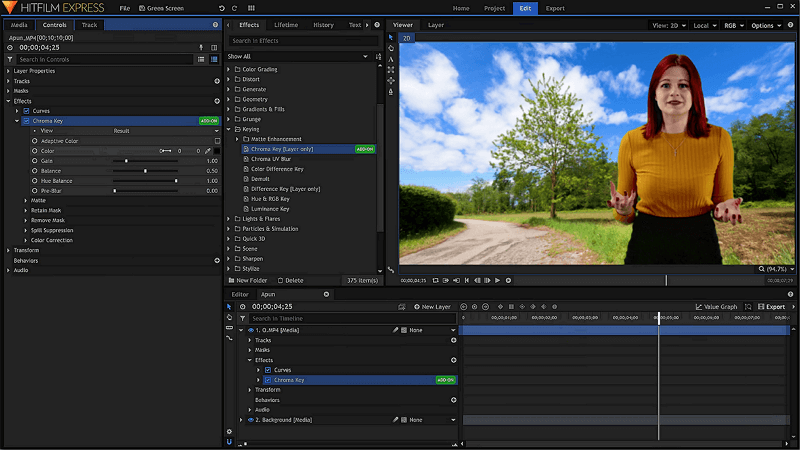 Green screen option is available only in the pro version of HitFilm or its pro keying pack
Compatible with most video formats
360-degree video support
No watermarks
High system requirements
Relatively long rendering times
10. Wondershare Filmora
Wondershare Filmora is green screen video software that is really user-friendly. In this editor, you need to place both your background and main videos onto the Timeline. After that, choose the eyedropper tool to determine the backdrop color for erasing. You can adjust offset and tolerance for a better result. The program is available with an annual or perpetual plan that you can purchase after a free trial period. The perpetual plan is a better option if you want to employ this software only to change the green screen background. But you'll need quite much time anyway - the rendering process isn't that fast.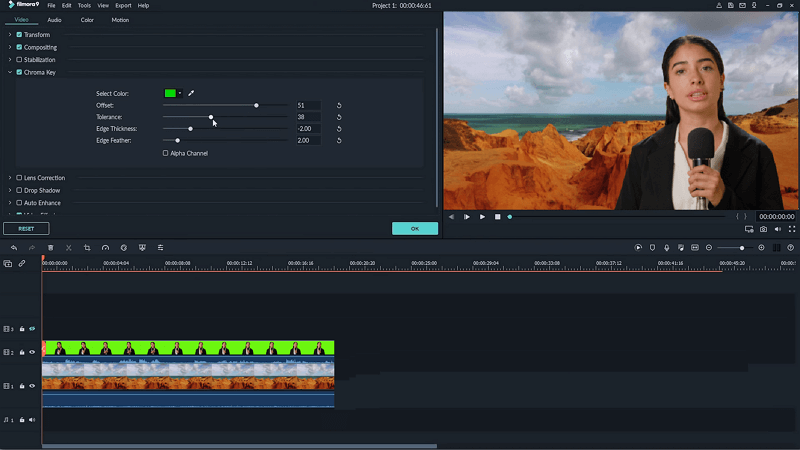 Wondershare Filmora is a paid editor available for Mac and Windows OS
Keyboard shortcuts for a quicker editing
Handy for beginners
Watermarks on videos during free trial
High price tag
11. OpenShot
OpenShot can be complicated for total newbies, but suits those who have some video editing experience. To use it as a green screen remover, you need to drag and drop both videos to the Timeline, then add the Chroma Key effect. Then you'll need to fine-tune it. When finished, the two movies will get blended into a high quality video. Sometimes the editor can crash while you're performing your task, so you'll have to be patient and start editing all over again.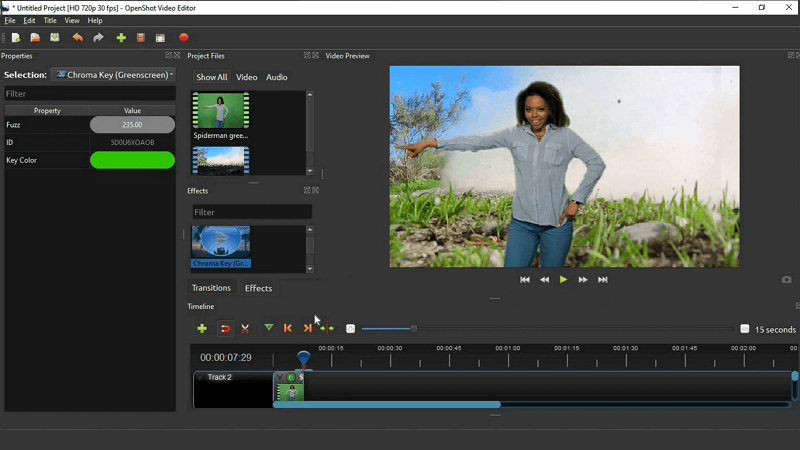 OpenShop can be a handy tool if you have some video editing experience
Intuitive and customizable interface
Cross-platform support
Not beginner-friendly
Can crash while editing
12. WeVideo
WeVideo is one of the top web-based editors, so you can use it from wherever you are, if there's a fast Internet connection. To start blending your videos online, you'll need to create a free account. The platform will give you 1GB of cloud storage where you can save your movies. But keep in mind that the free plan limits the duration of your videos to a maximum of 5 minutes a month. If you need more, then choose from four paid plans. To use green screen effects, you'll need to put the background video to the bottom layer and your main video to the top layer and then export your movie. If you're using the free version of WeVideo, the output videos will be watermarked.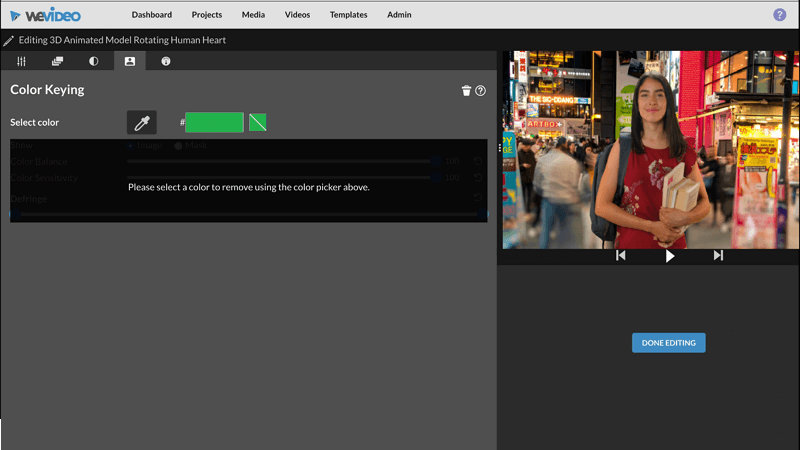 WeVideo is a helpful tool for those who like editing videos on the go
Supports Windows, Mac, Android, iOS
Optimizes videos for social media
Movies are watermarked
No auto-save function
Video duration is limited in the free version
13. Hippo Video
Hippo Video is one of the best green screen apps for mobile devices since it's quite simple to use. But this basic video editor is quite expensive. The editor was initially aimed at marketing and sales business users, so it's not that handy for home video editing. Anyway the green screen effect is one of the main features of Hippo Video. So when you upload your clip, select the background color with the color picker tool. Then you'll need to adjust the tolerance value - this way you'll completely remove the virtual green screen. Just after that you can upload a new backdrop video.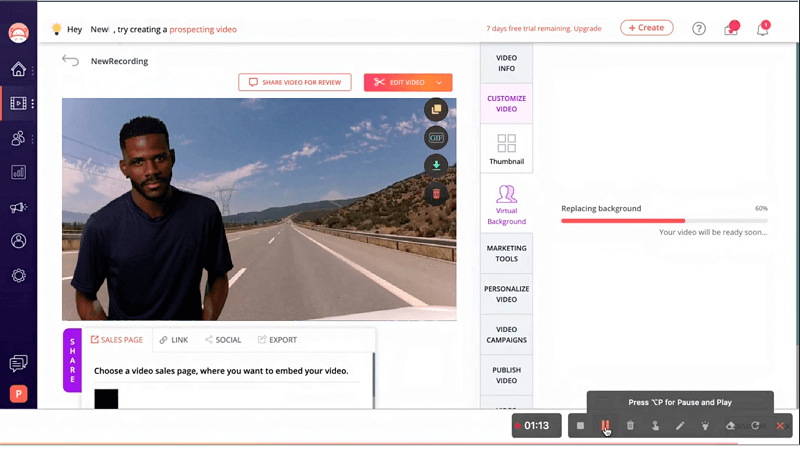 Hippo Video was created for sales and marketing business users
Packed with sales and marketing features
Requires Android 7 and higher
Free trial limits videos to 10 minutes
High price
14. Movavi Video Editor
Movavi Video Editor is one of the best green screen programs. After you've installed the software to your PC, you can add back- and foreground videos to the workspace. After you add both movies, you'll need to choose the backdrop color to turn transparent. You can also fiddle with the Tolerance, Noise, Edges, and Opacity parameters before you save the video. Movavi Video Editor allows you to choose the video format and quality for your short film. But during the free trial period the editor allows you to save only a half of your short movie with watermarks. To enjoy full-length videos, you can opt for a license.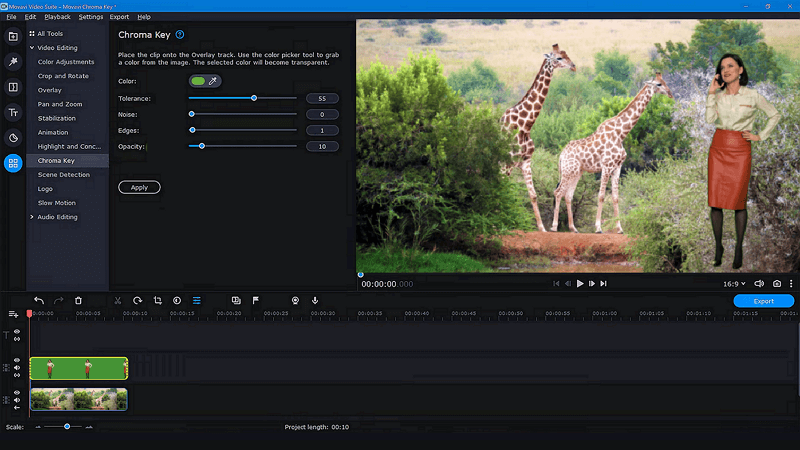 You'll need to buy Movavi Video Editor, if you want to use the full set of its features
Intuitive interface
Compatible with Windows, Mac, and iOS
Output videos are watermarked during the 7-day trial
Can't upload videos online
Need to pay extra for access to special effects
15. Final Cut Pro
Final Cut Pro is professional green screen editing software. It allows you to replace the backdrop using the Keyer effect. You'll need to apply it to the background video. Once finished with it, adjust all the changes on the Inspector Window and save your movie. It'll take a few seconds. This green screen editing app was initially created as an advanced tool for professional users, so it can be too complicated for newbies. Moreover, the software is available only on Mac.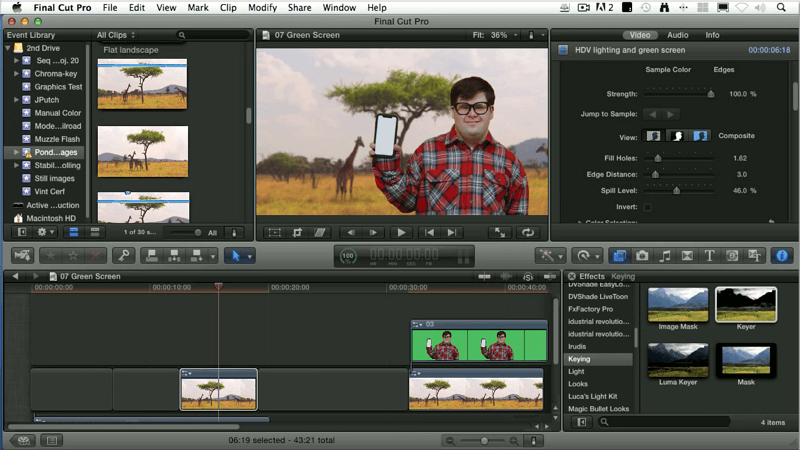 Final Cut Pro is a professional video editor for Mac users
Integrates with various templates
Works with 360° video
Only Mac version
The price is too high
16. Clipchamp Green Screen Software
Clipchamp Green Screen Software is an online tool to change the green screen background of your videos. You'll need to create an account to start chroma key editing. Then you can use your own videos or pick one from the stock library. Just make sure the two videos are on the timeline, then you'll need to find and apply the Green Screen filter. In case you want to change the background video, just drag the new one onto the Timeline. Sometimes green screen removal can be slow.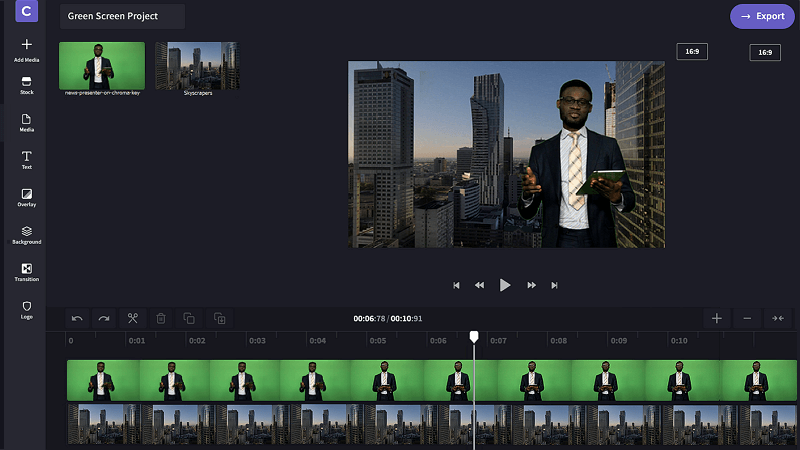 Clipchamp is an easy but slow tool to swap the background of your video
Intuitive to use
Stock videos
No complex functions
Slow processing
17. The Simple Green Screen App
The Simple Green Screen App is a beginner-friendly editor. You can easily get it with an active Microsoft account. When you've installed this app, you can remove the green screen from the video and change the background color. The software allows you to swap the backdrop with an image or a new video. The app often fails adding a background video file. In case you don't need to further enhance your short film, this software can be a handy option.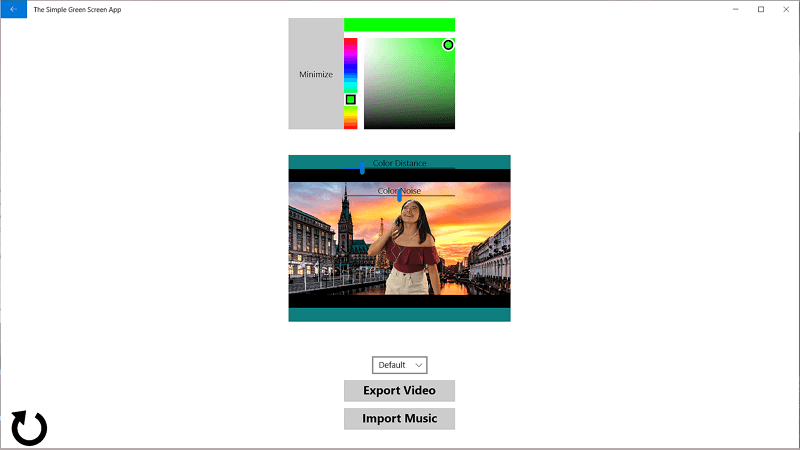 The Simple Green Screen App is a free tool to replace the green background of the video
Easy to use
Available on HoloLens, PC and mobile devices
Download may not be available in some countries
No Mac or Linux versions
Too basic
18. Blender
Blender is free open-source software for green screen. The editing process is quite complex. You'll need to create a new object track. Then select the backdrop color by placing tracking markers on the different parts of your video. This way the software will better detect the color you need to erase. The program lets its users customize shortcuts and windows layout. Blender is available on Windows, Mac and Linux as well.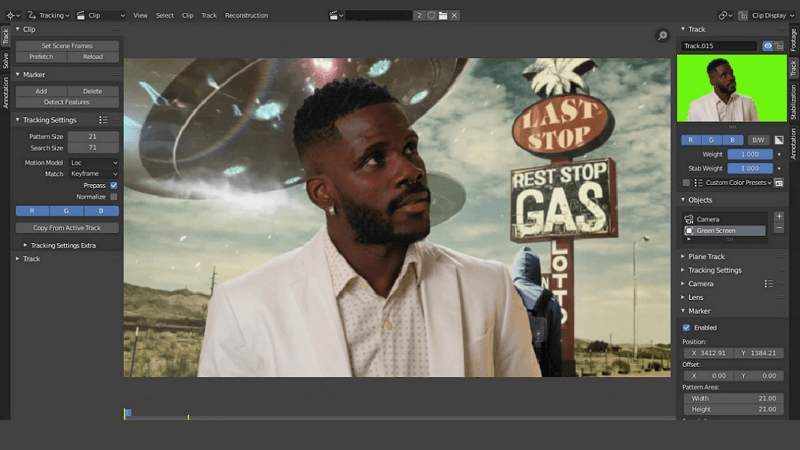 Blender is a free green screen editor for experienced users
Simple interface
Live preview of the edited video
Tricky learning process
Can be difficult for newbies
Requires large computer RAM
19. Wax
Wax is a handy green screen program for professionals and experienced home users. The software has its plugin version and can be used with video editors without a Chroma Key option. But in both cases you'll need to learn how to use Wax. When ready with that, you can upload your videos to change digital backdrops. What makes this editor different is that you need to drag the Chroma Key effect onto your main video not the background one. The editor can only process AVI files.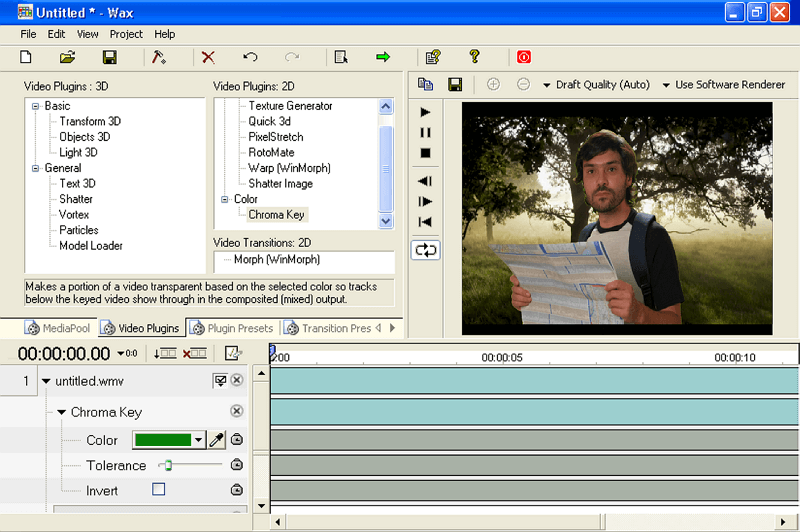 Wax can be used as standalone green screen software or a plugin
Supports many video formats
Can be used as a plugin
An outdated interface
Available only on Windows
20. Cyberlink PowerDirector
Cyberlink PowerDirector is software available for Mac and Windows that is far from cheap. According to green screen software reviews, this editor is quite complicated. Some of the features can be hard to find. But if you use it as a chroma key editor, you'll need to upload both videos and apply the green screen effect. Then you'll need to adjust the hue, saturation, and luminance tolerance. Only after that the background of the desired video will turn transparent. Although the editor is paid, constant advertisements ask you to upgrade.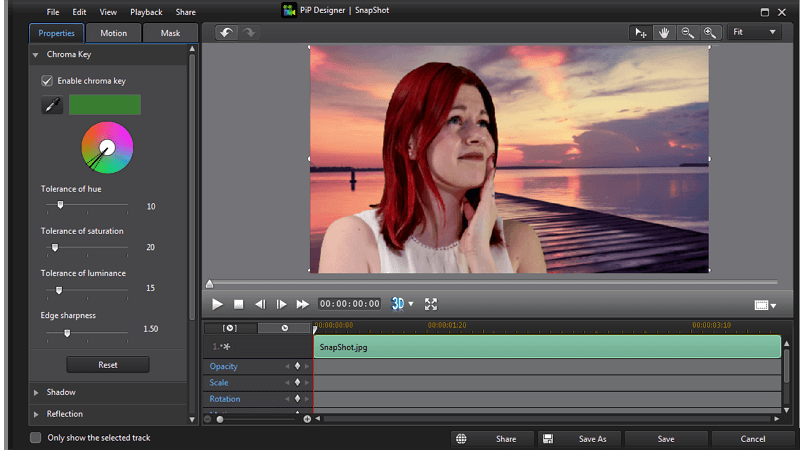 Cyberlink PowerDirector lets you upload the result video directly to social media
Complicated to use
Annoying adds
What's the Best Software for Green Screen Editing?
Now you've read about the top chroma key softwares and are hopefully ready to pick one matching both your needs and budget. There are free and costly tools for beginners and pros, editors that work online or don't need the Internet at all. We've highlighted the best of them by nominations:
Clipify - the best green screen software for Windows. Due to its functions and the quality of output videos, Clipify suits both complete newbies and experienced users. This software won't take a lot of hard drive memory and it's free!
Adobe Premiere Pro - the best professional software. It's available with a costly monthly or yearly subscription. This video editor is challenging for newbies because of the steep learning curve.
iMovie - the best video editor for MacOS and is suitable for home use. The software lets its users start editing a video on their phone and continue doing the job on MacBook or vice versa.
OBS Studio - the best tool for streamers since this software supports online translations and lets its users go live with the desired backdrop. It's better to use this software on a powerful computer.
Kapwing - the best online video editor available from any browser provided a fast Internet connection. The website supports images and GIF files but has limited export options.
Now we've reviewed all the video editors from our list. As you're acquainted with their pros and cons, it's up to you which one to choose. Pick the best for you and enjoy the video editing process.