Graduation Slideshow Ideas and Tips





5.0
Votes:

2

(Rated: )
Last updated: 14.06.2023
A school or college graduation ceremony is a pivotal moment in life and a memory worth keeping. That's true for everyone involved – teachers and students, parents and children. Taking a lot of photos is a common way of preserving these memories. But why not go a step further and use those pictures to make a slideshow?
Graduation slideshows have lots of perks. They are easy to share online and help to preserve your photo archive in a digital form. If you want to try making a slideshow – great! We are here to help you and show you where to start. So, keep reading to discover how to make a graduation video montage from your photos, along with some creative ideas.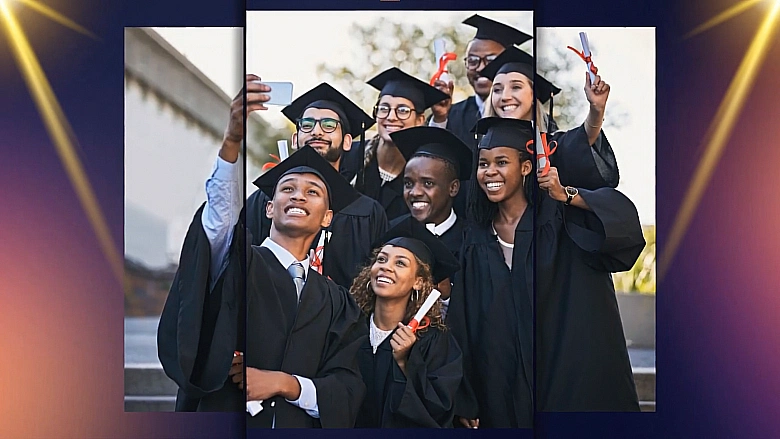 Graduation slides showtime

Graduation slideshow templates
What you need to make a slideshow
Slideshow editing step by step
Ideas for your inspiration
Graduation Slideshow Templates
In case you don't have a clear picture of what your slideshow should look like, you can start with a themed template. Most slideshow-making software have either free graduation slideshow templates or just something fitting the theme. This way, you'll have a solid base for your project.
If you want to see one such template in action, check out the video below – it was made with SmartSHOW 3D, an easy-to-use slideshow maker. In addition to templates, this program offers lots of useful features, such as a built-in music library, 500+ effects and animations, and much more.
Want to use this template for your project?
Click the button below and try an easy slideshow maker for free!
What You Need for a Graduation Slideshow
Before starting your project, you need to gather the content you want to include and pick a slideshow creation tool. Here's what you need to make a slideshow:
Photos. Talk to friends and family, yours or your students', and ask them to provide fitting photos. You can also write congratulations or messages from parents and teachers next to those photos. In general, to make a 5 minutes long video, you'll need at most 50 images with 4–5 seconds per image plus transitions.
Videos. The footage gathered over the years is a welcome addition. Alternatively, you may offer everyone involved to record video messages to include in the slideshow. Remind the participants to keep it short, so that everyone could fit in. Variety spices thing up, so the videos can be as diverse as you wish – vertical, horizontal, shot from different angles.
Music. A proper soundtrack will give your slideshow an emotional charge and set the tone. A mellow instrumental is perfect for a heartfelt message from an older generation. Something upbeat will be in the spirit of fun celebration. It is also a good idea to just look for some popular graduation music online.
Fancy extras. Add stylized texts – names, sayings and what not. Embellish the slides with fun themed clipart. Make the slides flow with transition and animations. You can even pick specific colors for almost any element to make the whole design adhere to the color of your college.
A slideshow maker. While PowerPoint is a popular tool for making slideshow presentations, it may not provide all you need for making a spectacular video. Your slideshow maker should have themed templates, ability to add clips, music and comments, and other creative tools.
How to Make a Graduation Video with Pictures and Music
Now that you have everything at hand, let's get down to business! In this guide, we will be using SmartSHOW 3D – an easy-to-use tool that brings pro-tier slideshow editing to a casual audience. Themed templates will help you put together a video in 5 minutes. With 500+ effects and animations, you can turn a set of pictures into an artwork. And built-in music tracks will let your projects have a unique sound. Here's how to make a graduation slideshow with SmartSHOW 3D:
Step 1. Install SmartSHOW 3D
To try the program for free, hit the button below and download the installation file. Launch it and follow the setup wizard instructions. Once all is set, run SmartSHOW 3D from the desktop icon.
Step 2. Add photos and video clips
In the Files tab, find the folder with the photos you want to use. Then drag the photos onto the storyboard. You may either arrange them in a particular order (chronological, for example), or shuffle them randomly. In case you have room only for, let's say, a 3 minutes long video and too many photos to show, then try packing multiple images into a single slide using collage templates.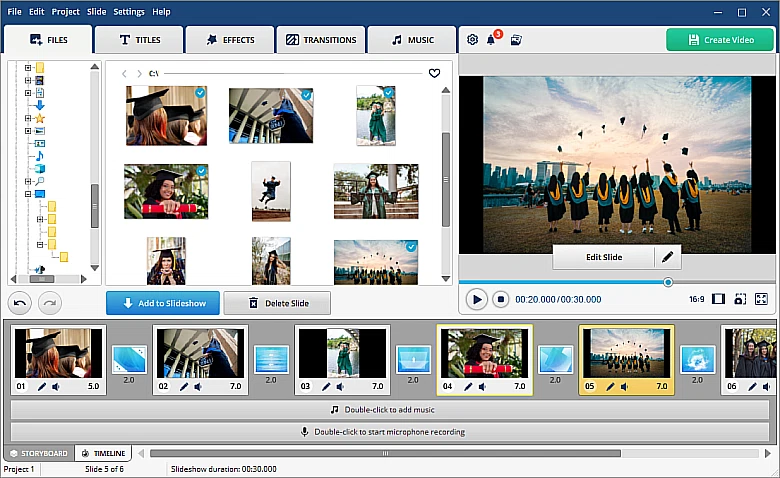 A good idea is to use pics from senior photo shoots
Short on time? Then use the Slideshow in 5 minutes mode! That's where you'll find quick templates for graduation and other events and themes.
Step 3. Add Captions and Effects
Apply festive visual effects and add education themed clipart. Premade text styles will help you easily fit any text (names, quotes, congratulations etc.) into the overall style. With transitions, your slides will flip like pages of a book. You can also edit animations, layers, text, and sounds for each slide – there's plenty of room for experimentation.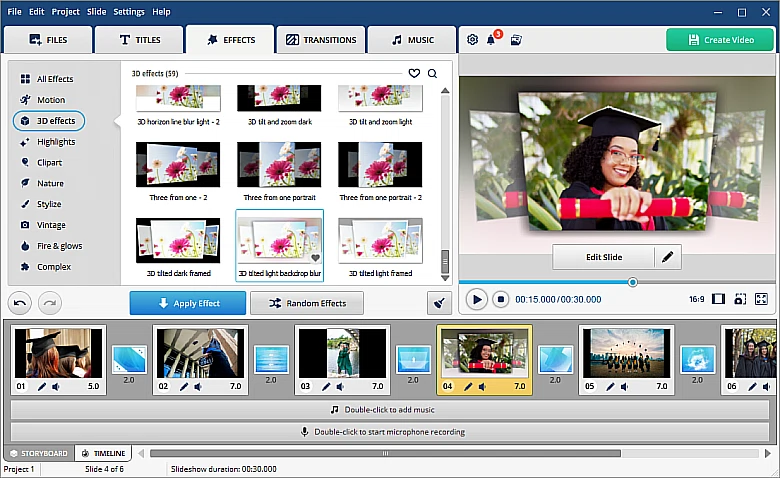 Make your slides look and turn like album pages
Step 4. Jazz it up with music
The easiest way to find a melody that sets the desired tone is to use the built-in music library. 200+ tracks are conveniently sorted by mood, tempo, genre, and other categories, so you can quickly find a proper one. You may also add your own audio files as well. Then you can either align the slides with music manually, or simply click the Synchronize button.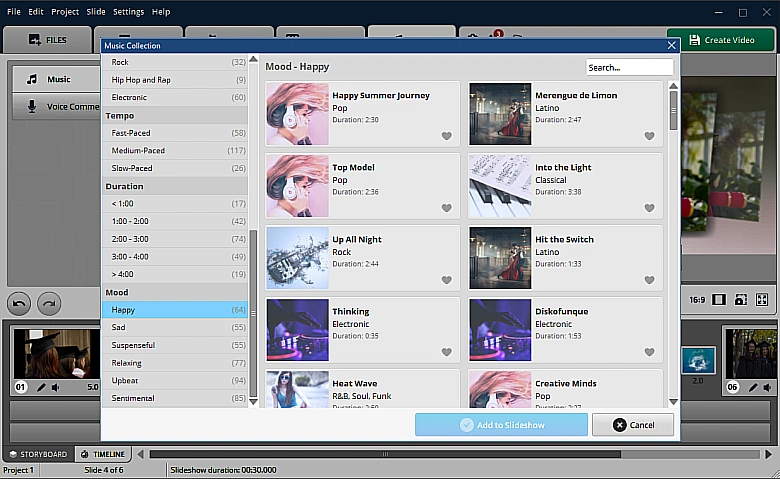 Set the tone with a fitting tune
Step 5. Create your graduation video
Take a look at the slideshow in the preview window. If everything looks good, click Create. Then pick a suitable format. If you want to share your video online, pick a preset for YouTube, Instagram, Facebook, Vimeo, or other popular websites. There also are presets for smartphones of numerous brands and models: iPhone, Samsung, Sony, and many more. Then hit the Save video button. Done!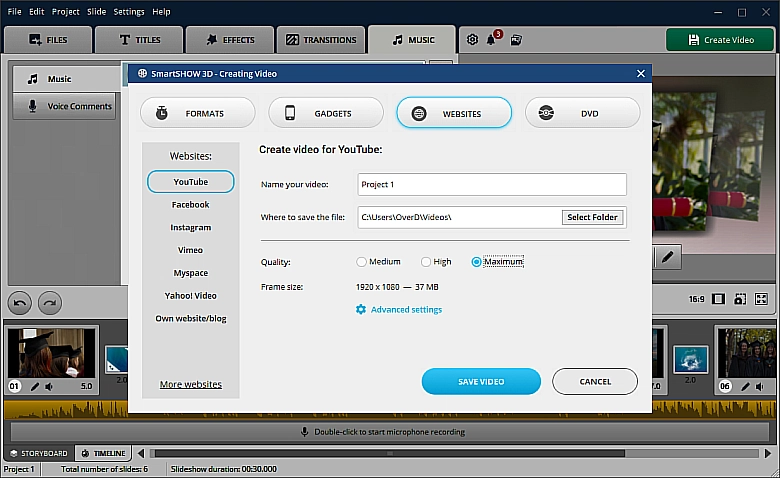 Finalize and share your slideshow
Want to turn your graduation photos into an emotional slideshow?
Do it now with SmartSHOW 3D!
More Graduation Video Makers for You to Try
In case you want to explore what other software has to offer, here are a handful of other programs you can try right away:
Microsoft Photos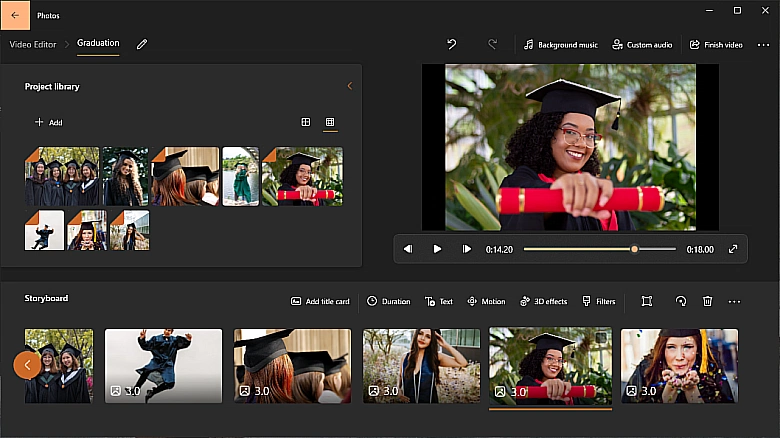 Photos – a free tool for Widnows
Photos is an app integrated into the latest versions of Windows, so it is absolutely free. This is a viewer and organizer first and foremost, but it is also equipped with basic photos and video editing tools. Photos can even create a slideshow automatically, although the results are somewhat basic.
iMovie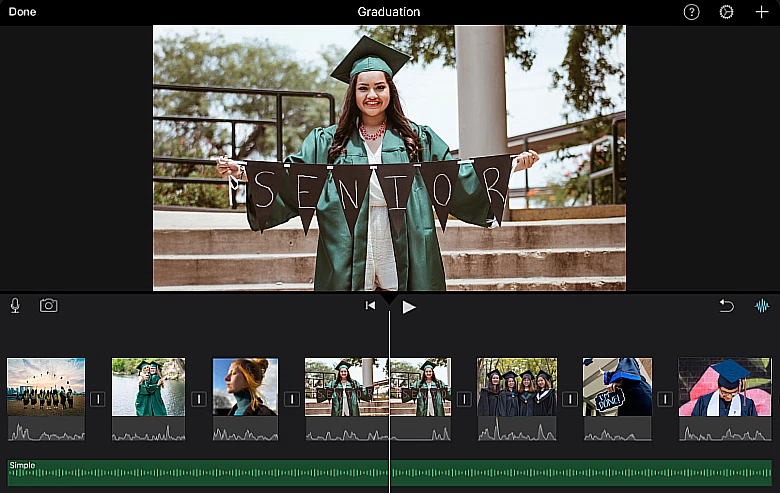 iMovie – available for all Apple gadgets
Mac users can try iMovie – a vendor-supplied app for most Apple devices. This is an all-around video editor for a casual audience. It can help you save lots of time with a variety of themes that basically work like templates, including a few themes for graduation. iMovie may not be the most feature-rich tool out there, but it still offers more than you'd expect from a free program.
Adobe Spark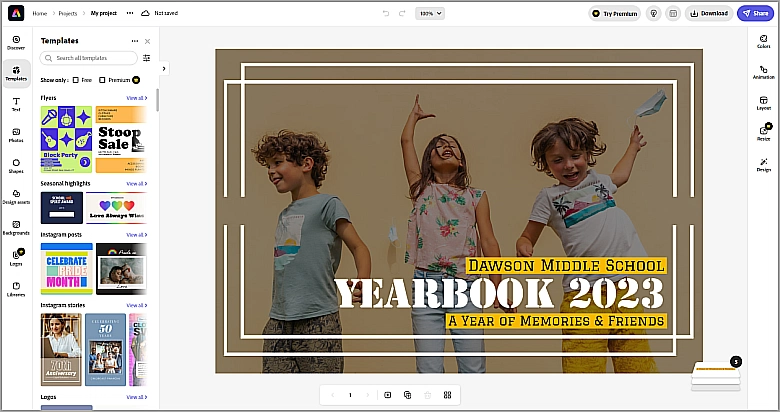 Adobe Spark – a feature-rich online platform
Adobe Spark is a web-based video editing platform that is, contrary to most Adobe products, actually quite simple to use. It is a perfect solution for uncomplicated edits that you can share across social media right away. It is also available in the form of a mobile app, making it a great tool for editing on the go without using a PC.
Want a tool with more advanced features at your disposal? Then try SmartSHOW 3D – it offers 700+ of effects and transitions, one-click sync to music, 3D collages and animations, and much more!
Graduation Slideshow Ideas for Your Inspiration
It is absolutely fine to throw your photos into the program, use graduation slideshow templates, and let the algorithms do the work for you. But why not give it a more personal touch? After all, graduation is not something that happens to you or your close ones on a regular basis. So, if you do want to make a worthy tribute and a heartfelt memento, here's some food for thought. You can use the graduation slideshow ideas for high school, college, or even kindergarten ceremonies.
Popular graduation songs
Music is important for setting the mood, be it upbeat and energetic or a little melancholic. Whichever you want, one of these tracks should set the tone just right:
Vitamin C – "Graduation (Friends Forever)"
The Rembrandts – "I'll Be There For You"
The Wonder Years – "My Last Semester"
Katy Perry – "Firework"
Birdy – "People Help the People"
Avicii – "Wake me up"
Blink 182 – "Going Away To College"
Journey – "Don't Stop Believin'"
Green Day – "Waiting"
Kelly Clarkson – "Breakaway"
Louis Armstrong – "What a Wonderful World"
Queen – "We Are The Champions"
Quotes for graduation slideshow
Including some wise words in the slideshow is a common practice. So, here are some examples of deep, heart-warming, or just funny sayings for you to pick from:
We don't stop going to school when we graduate.
Don't worry, school isn't really over. You'll always have your loans.
It takes courage to grow up and become who you really are.
I promise I won't ask what you're doing after graduation.
What sculpture is to a block of marble, education is to the human soul.
You're now hotter by one degree.
Education is the most powerful weapon you can use to change the world.
It's amazing what hard work and a lot of coffee can do.
You get in life what you have the courage to ask for.
Congrats on your new piece of paper!
More montage ideas
Here are a few more graduation video ideas for you to consider while you work on your slideshow:
Show the graduate's journey
To give the graduation photos more weight, start with pictures from early school years, and go all the way through the education to the graduation. There's hardly a person that won't be moved by watching a kid grow up in front of their eyes.
Make personal portraits
Give everyone a moment in the spotlight of your senior slideshow by showing a portrait photo along with the name and some fun facts about the person.
Keep it entertaining
There are many ways to make your slideshow more interesting. For example, you can design it as a comic book with speech bubbles. Let your creativity loose and see what else you can come up with!
Conclusion
The day of graduation is a big day, and it deserves both joyful celebration and remembrance. Even if you don't have much input in the ceremony itself, you still can do a lot to preserve these fond memories to relive them again someday. So get yourself a slideshow program, find some inspiration, and get down to work – it is well worth it.