Best Skin Color Change Apps, Photo Editors and Online Tools





5.0
Votes:

2

(Rated: )
Last updated: 17.04.2023
Took a great shot, but the skin looks too pale, dark, or pinkish? This happens in the photography world all the time. Skin color can come out distorted in a photo for different reasons: white balance wasn't adjusted right on the camera, the lighting was poor, etc. But it can be easily fixed if you have the right tool at hand. Whether you need to correct a mistake you made while shooting or just want to try out a new skin color and ask yourself "How do I make me black" or "How can I make me white", stay on this page and you'll find the best skin retouching apps in this article.
For starters, we'll introduce a feature-packed photo editor for altering the skin tone on Windows. Then we'll discuss popular mobile apps that also allow you to color correct the skin in a picture. As a bonus, we'll show you a handy skin color changer for online editing. And best of all? You'll discover a step-by-step guide on how to easily tweak the skin tones on any picture. As you can see, by the end of the article, you're going to know everything about enhancing a skin color. So, let's jump right in.
1. Top 3 Skin Color Change Apps
2. Best Skin Color Changer for PC
3. Best Mobile Skin Color Change Apps
4. How to Change a Skin Tone
5. FAQ
3 Best Skin Color Change Apps
PhotoDiva - Best for PC

PhotoDiva is a perfect choice for both beginners taking their first steps and professionals pressed for time. The laptop-friendly software offers 100+ filters and effects for stylizing your photos and is crammed with AI-powered tools - you can quickly remove blemishes, replace the background, change the hair color, etc. In PhotoDiva, it will take you just a moment to apply skin tone changes - a drag of a slider, and it's ready to go!
Get this all-in-one photo editor today
and try different skin tones for free!
AirBrush - Best mobile app

Among countless mobile skin color change apps, AirBrush is one that really stands out. With this photo editor, you can even out the skin tone or apply a new one to enhance the quality of your portrait. Not only is the program user-friendly, but it also modifies photos seamlessly, so no one will notice your picture was altered. In AirBrush, you'll find both manual and automatic tools to perfect your images any way you want.
LunaPic - Best for editing online

If you need a skin color changer photo editor for online use, then LunaPic is the platform you've been looking for. It's an Internet-based image manipulation program that offers a fully automated tanning tool. All you need to do is upload a picture and wait till the service lets you preview the result. Needless to say, the skin tanning process with LunaPic will require no effort.
Best Skin Color Changer Photo Editor for Windows
If you're looking for a user-friendly photo editor to alter images on your PC, go for PhotoDiva. Here, you can change the skin color using an embedded skin tone editor with just one click. How does it work? PhotoDiva employs AI-powered technology that recognizes the face of the model all by itself. The only thing that's left to do is pick a subtone and adjust the amount of the applied effect.
But with this skin tone photo editor, you can go far beyond fixing a skin color. PhotoDiva will help you seamlessly reshape the body to make it look fit and healthy, remove skin imperfections, and even apply stylish makeup digitally. Besides, the capabilities of PhotoDiva are not confined to performing portrait retouching tasks - there's also a powerful toolkit for switching up the image background, erasing unwanted objects, color correction, and more. So if you don't want to spend a fortune on Photoshop any longer, PhotoDiva will easily substitute it.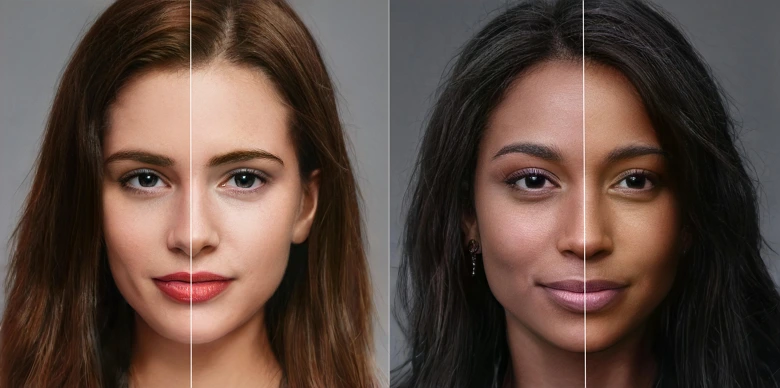 Want to achieve stunning results like these?
Use PhotoDiva to take your pictures to a new level!
Best Skin Color Change Apps
Would you like to edit your photos on the go? Then grab your smartphone and download one of the following mobile apps to make you look tan or pale - they are best for skin color enhancement:
Apps to Change Skin Color: Pros and Cons
Can't decide what program to use? Read these brief overviews of the best 5 mobile skin color changers and discover the pros and cons of each photo editor. Now let's find out which app will suit you better.
1. AirBrush
For retouching portraits, you can use AirBrush, a mobile app for iOS and Android. Its skin improving tools are available in both manual and automatic mode, so you can do it the way you like depending on your mood, experience, and amount of free time. But if you doubt they both work well, you have nothing to worry about - they all work smoothly, you'll just have less control while using the AI technology. So, one way or another, your edited image will look natural.
By the way, AirBrush supports RAW files, so you can edit them without having to download a file converter or an advanced photo editor. It also allows you to edit pictures while taking them in real time.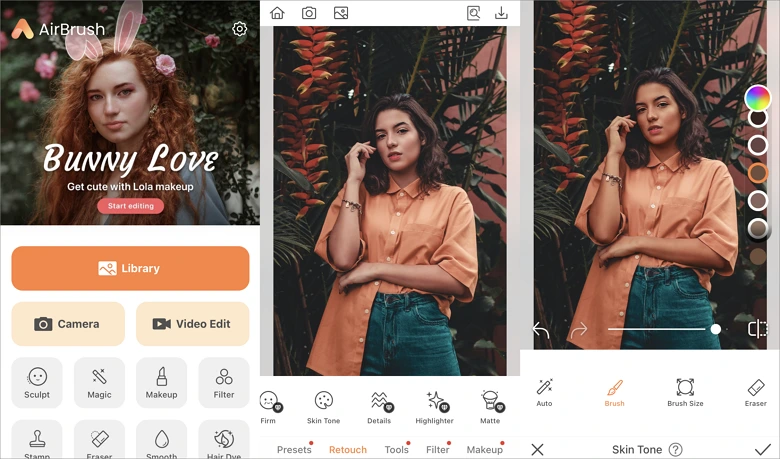 AirBrush, an easy-to-use retouching app
Perfect for quick edits
Real-time camera editing
RAW support
2. YouCam Perfect
YouCam Perfect is a user-friendly skin whitening app that you might also like to try. It doesn't feature any sophisticated tools, but making the skin look tan or pale will be a piece of cake. Apart from skin editing, you can touch up the facial features, change the background, add animation, and erase people from your shots. So, if you need a mobile photo editor for preparing content for social media, YouCam Perfect will serve you well.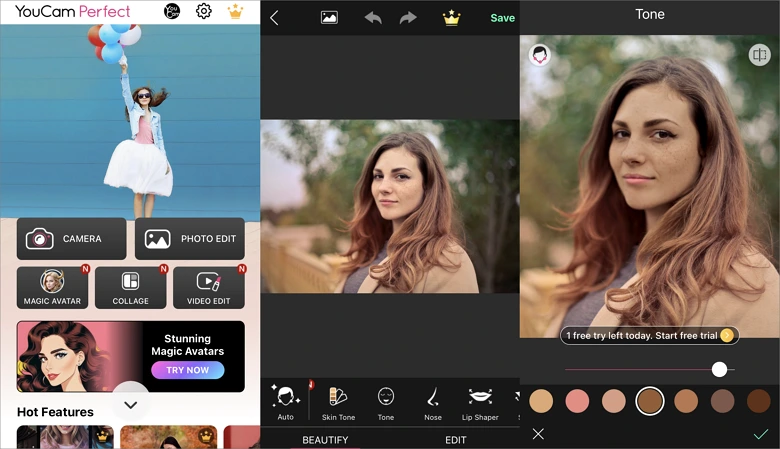 YouCam Perfect skin color changer
Simple skin enhancement
InstaFit tool for direct sharing
Expensive in-app purchases
3. Facetune
Facetune will become your best friend for enhancing your selfies - you can quickly apply digital makeup, add a different type of lighting, change your nose, lips, and eyes, etc. When it comes to its built-in skin tone changer, here is what you need to consider. You can adjust the subtone to your liking and apply the changes with a special brush, but the app doesn't recognize the face, so you'll have to make the selection yourself. Facetune is a free program, but it will require a paid membership for the majority of its features.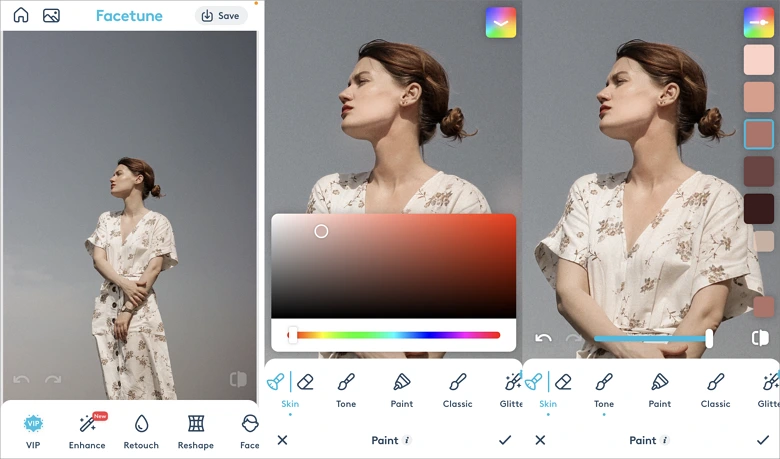 Facetune, a mobile face editor for everyday use
Semi-automatic retouching tools
Takes up too much space
4. Picsart
Picsart is another popular program for mobile devices, both Android and iOS. It gained popularity for its cool-looking filters, drawing tools, built-in collage maker, and background eraser. To alter the skin undertone in the app, you'll have to adjust the Skin Tone brush and paint over the needed area. However, some users complain that it's difficult to select the area precisely on a phone screen. But if something goes wrong, you can use an eraser to fix it.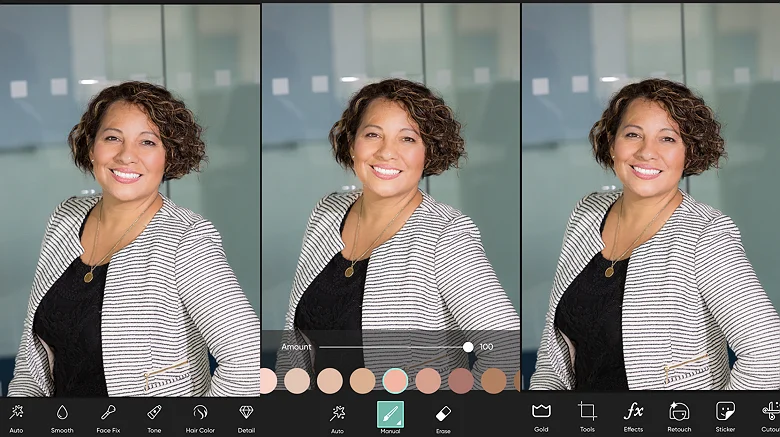 Picsart is a face editor with a built-in skin tone changer
No automatic skin retouching
Many pop-up ads
Few free tools
5. Snapseed
Snapseed is a multipurpose mobile photo editor with an intuitive layout that anyone without prior experience should be able to use. If you often need to remove objects from photos, want to color correct pictures using Curves, or like the double exposure effect, this app will be the right choice for you.
Tanning and whitening the skin in a photo is also available in Snapseed. Even though there's no tan filter designed specifically for changing the skin color, you can use the Selective tool. You'll need to define the area where you want to alter the skin and adjust such settings as Brightness, Saturation, etc. This might take you more time than editing in the automatic apps we discussed above, but Snapseed gives you much more freedom and control over the process.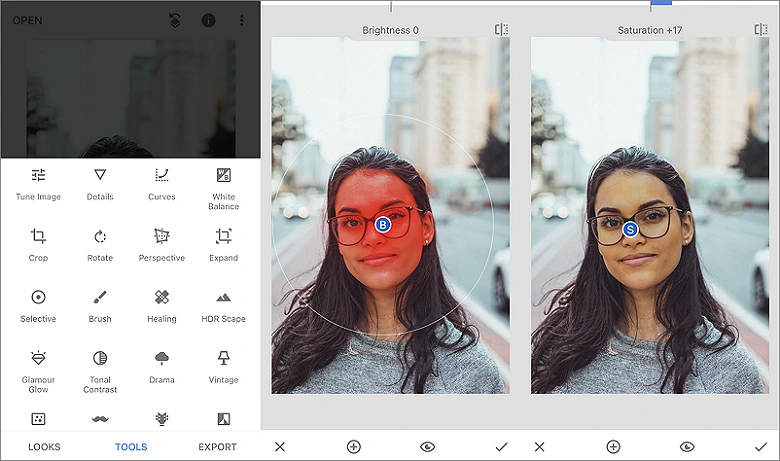 Snapseed, a photo editor for manual skin tone enhancement
Free to use
Pro-grade tools
User-friendly interface
Only manual tanning available
How to Change the Skin Tone in a Photo
Ready to make photos that you'll be proud to show off? Then read the guide below. We'll walk you through the steps for how to change the skin tone in the best app for Windows - PhotoDiva, an easy-to-use photo editor that provides your images with a precise and natural-looking enhancement in no time.
Step 1. Run the Skin Color Changer Photo Editor
Install PhotoDiva on your PC by downloading the installation file and following the wizard. Then launch the program.
Step 2. Import Your Picture
Upload your image by clicking Open Photo. Alternatively, you can drag and drop the file to the startup screen.
Step 3. Apply a Preset
If you want to change the skin tone in one click, you can apply one of the ready-to-use presets. On the Retouch tab, choose Auto Retouch and select the preset you need: Light tan, Dark tan, Remove redness, or Lighten face.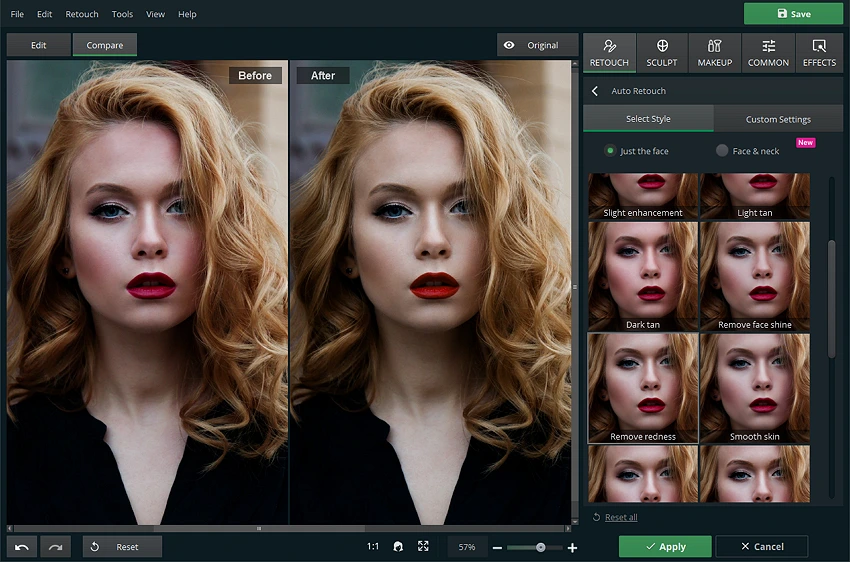 The model's skin looks pinkish, so we'll remove redness from her face
Step 4. Adjust the Skin Tone
For more precision, go to the Custom Settings. Now, if you like the tone suggested by the app, simply move the Amount slider to adjust the intensity of the effect. To pick another tone, uncheck the Auto box below the slider. Then, select the desired color in the Lighting and Color Balance panel that pops up. Finally, adjust how bright or dark you want the new skin tone to be - drag the Skin Tone control to the left or right.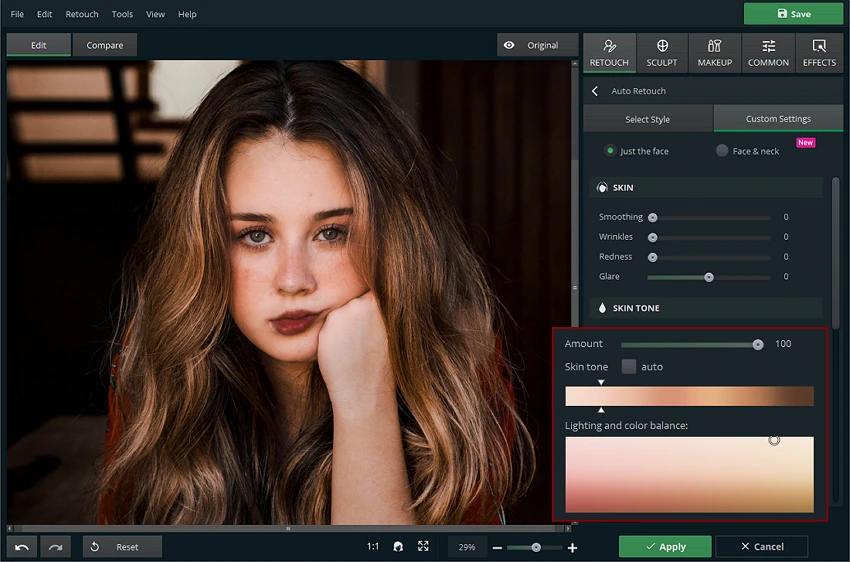 Let's whiten the girl's skin
Step 5. Save the Edited Image
Click and hold Original to compare the before and after. You can also click Compare to see the original and the edited photos simultaneously on the preview page. If you're happy with the result, hit the Apply button. To export the image to your computer, click Save and choose the format you want: PNG, JPEG, BMP, or TIFF.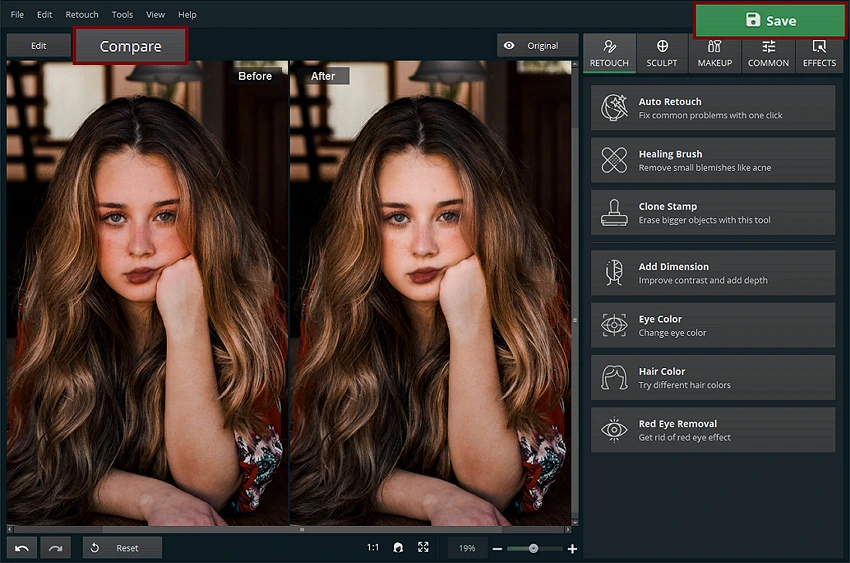 Now the portrait looks more natural
Skin Color Changer FAQ
How can I change my skin tone in a photo to look natural?
For realistic skin tone enhancement, download PhotoDiva and follow these simple steps:
Step 1. Upload your photo.
Step 2. Pick the desired face tone and adjust the intensity of the effect.
Step 3. Export the edited picture.
Is there a skin tone app?
There are tons of mobile apps available for Android and iOS devices. Here are the top 5 skin color editors:
1. AirBrush
2. YouCam Perfect
3. Facetune
4. Picsart
5. Snapseed
What is the best online background remover?
Each skin tone contains a certain amount of yellow, blue, and red. The skin looks different depending on the ratio of these colors. Now a question like "How do I change my skin color in an app?" might arise. To make your skin look tanned, you'll need to add yellow, but for a blush effect, you'll have to increase the amount of red. If you want to whiten the skin color, reduce the amount of yellow and red.
Want to retouch portraits with minumum effort?
Try PhotoDiva, the easiest skin editing program!