5 Fast Ways to Remove Watermarks from Photos





5.0
Votes:

255

(Rated: )
A watermark is a great way to copyright images. But what if you need a clean picture, but the only thing you have is a watermarked copy? It doesn't matter whether your hard drive died, destroying all the originals, or you failed to disable data insertion on your camera. The fact remains - you are left with a picture that cannot be used in a project. So is there a way to remove watermarks from photos? Of course! We will show you 5 methods to remove text, a logo or any other eyesore to save your pictures.
Please note that removing a watermark from a copyright photo is illegal. These 5 methods of cleaning your picture should by no means be used to commit a felony.
In this article, you'll learn how to get rid of a watermark on photos using the industry giant Adobe Photoshop, up-and-coming software called PhotoWorks, an easy-to-use photo editor for Mac, and a convenient web-based application. All the methods slightly range in difficulty, so let's look at each of them closely so you can make the right choice.
Way 1. Remove a watermark from a photo in a few clicks
Way 2. Get rid of watermarks using Adobe Photoshop
Way 3. Erase any watermark on your Mac
Way 4. Delete watermarks with an online image editor
Way 5. Cut undesired watermarks from your pics
Way 1. Remove a Watermark from a Photo in a Few Clicks
Wouldn't it be great if you could edit your picture with just a few clicks even on weaker hardwear? Well, there is software capable of just that. It's called PhotoWorks and it is both easy to use and powerful. Perfect for both newbies and pros, this photo editing software for low end PC is filled with efficient tools to enhance your images. And yes, they include a watermark removal tool.
For those who are new to the world of photo editing: please note that you'll get the best result if your watermark is relatively small and is positioned against a plain background.
Before
After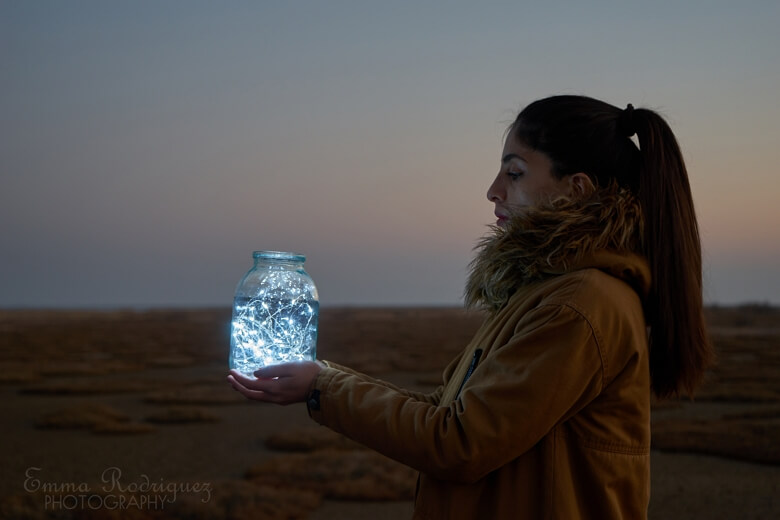 A neat result, isn't it? Let's see how to remove a watermark from your photo using PhotoWorks:
Step 1. Open Your Picture
Download and install PhotoWorks. Import your watermarked picture.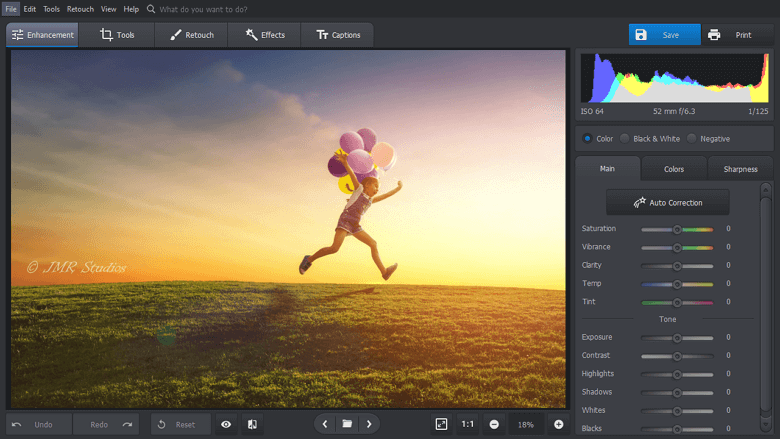 Open your picture with PhotoWorks
Step 2. Pick the Healing Brush
Switch to the Retouch tab and choose the Healing Brush tool. Set its parameters (size, feather, etc.) for more precise application.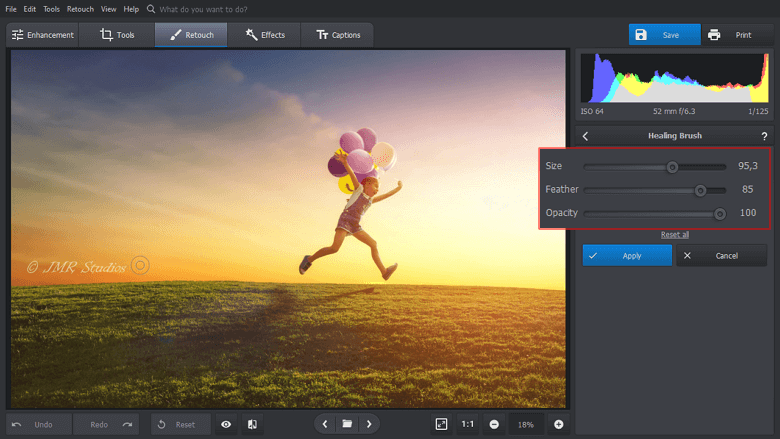 Select the Healing Brush and set its parameters
Step 3. Remove the Watermark
Paint over the watermark. PhotoWorks will automatically delete the unwanted logo.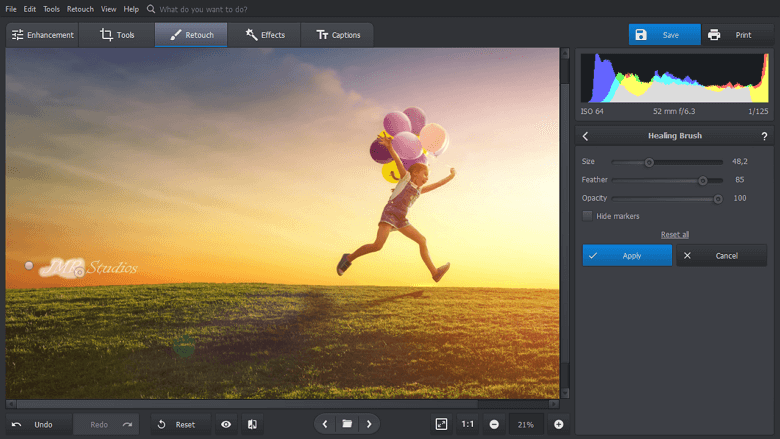 Use the Healing Brush to get rid of the pesky watermark
Step 4. Save Your Picture
Apply the changes and save your restored picture in a suitable format: JPEG, PNG, BMP, or TIFF.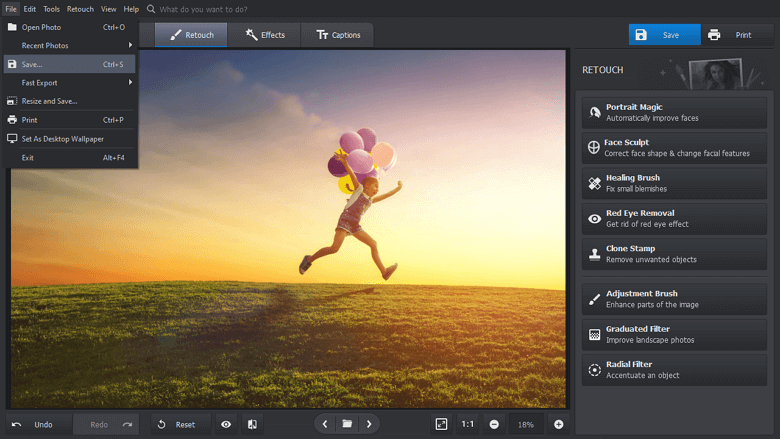 Save your clean picture in a suitable format
Want to delete a watermark from your image with just as little effort?
Download PhotoWorks to salvage your pictures.
Download
Fully compatible with Windows 11, 10, 8, 7
Way 2. Get Rid of Watermarks Using Adobe Photoshop
Even if you have never tried your hand at photo editing, you have probably heard of the mighty Photoshop. This uber-powerful (and expensive) software is filled with tools and features that can do wonders for your pictures. The greatest downside, however, is that Photoshop is too complicated for an average user, making almost any easy task a torment. So let's see whether it's going to be difficult to remove watermarks from pictures with Photoshop.
Step 1. Launch Adobe Photoshop
Run the software, then open the image you want to work on.
Launch the program on your computer
Step 2. Pick the Healing Brush Tool
Select the Healing Brush Tool and choose the Content-Aware fill option to delete the unwanted watermark.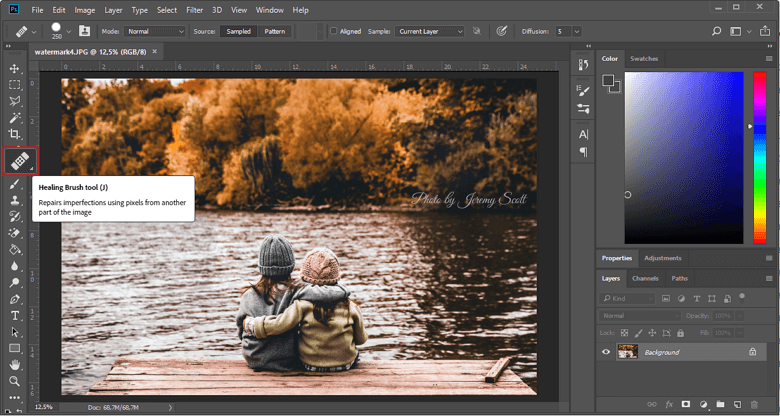 Use the Content-Aware fill option to keep the rest of the photo unaffected
Step 3. Erase the Watermark
Paint over the watermark with the brush and save the changes.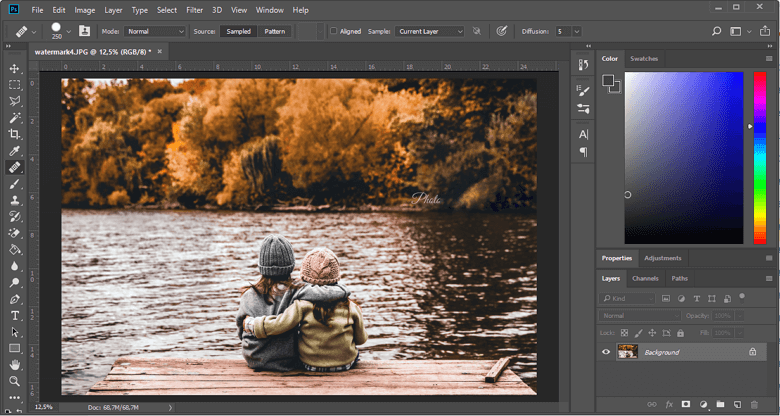 Brush over the watermark to get rid of it
Well, that didn't take much time to perform either. Surely, this method seems easy, but with an important sidenote - you have to know your way around Photoshop. Otherwise it takes quite an effort to find the right tool on the intricate sidebar.
Way 3. Erase Any Watermark on Your Mac
If you are a Mac fan, then try Movavi Photo Editor to remove watermarks from pictures. Download the software and install it on your computer. Launch the program and add the picture that you need to edit. Use the Brush Tool to paint over a watermark. For more precise selection, use the Magic Wand and then click Start Erasing to remove the undesired watermark. Now you just need to save your picture!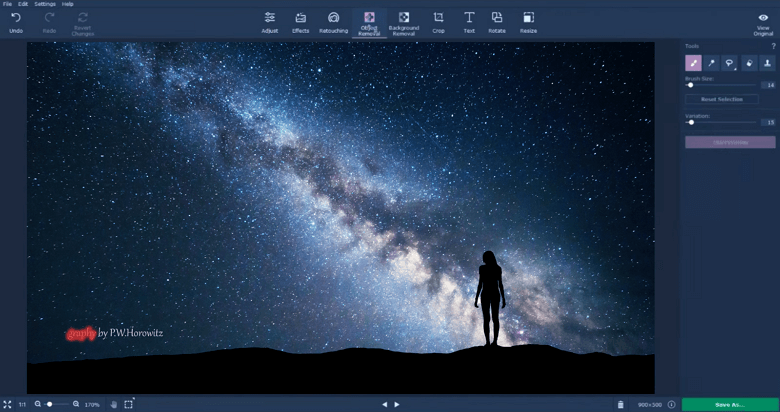 Use Mac software to remove a watermark
Way 4. Delete Watermarks with an Online Image Editor
If you need to have a watermark removed right now, and don't have the time to install and learn various softwares, use an online image editor instead. Let's have a look at what PicMonkey is capable of. First, choose the Clone tool. Click Set Source and select an area of the image that will cover the watermark, then paint over it. And voila - no more watermark.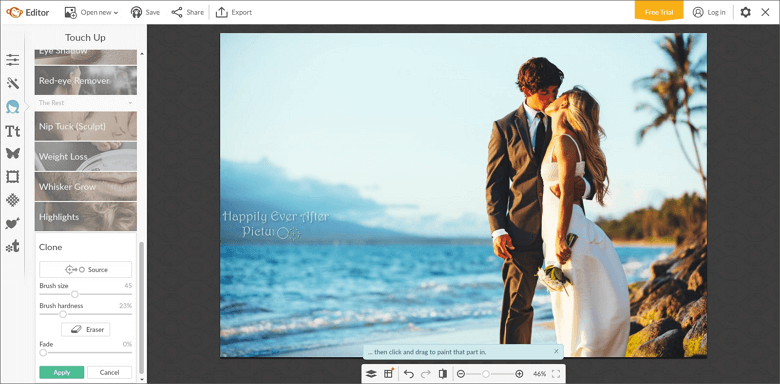 Take off the watermark with a convenient online photo editor
An important side note: despite how convenient this watermark eraser is, you will need a stable internet connection to work with it. Besides, uploading pictures to a website can make them subject to privacy breach. So proceed at your own risk.
Way 5. Cut Out Undesired Watermarks from Your Pics
The easiest method of removing watermarks from your JPEG images is to simply crop them out! Every photo editor, from the most basic to the most sophisticated, is equipped with the Crop tool. You can trust the likes of Pixlr, Paint.NET, Picasa to help you get off the watermark.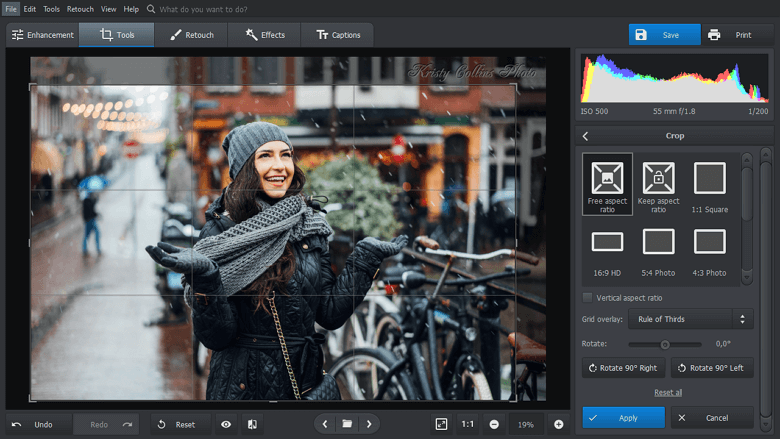 Crop the photo to get rid of the watermark
If you want to crop your picture smartly and not just delete a chunk of it, go with PhotoWorks. This software offers various grip overlays (The Rule of Thirds, The Golden Ratio, etc.) to help you both cut out the watermark and improve the picture's composition.
At the end of the day, there are many ways to remove a watermark from your picture. These methods range from quite hard to fairly easy, and the software cut for the task can be both freeware and somewhat expensive. So pick your watermark remover based on your skill, ambition, and wallet. If you are looking for a perfect balance of functionality, price, and user-friendliness, PhotoWorks may be the best choice for you.
But still, no matter what way to clean your picture you choose, respect the copyright law and never remove watermarks from pictures illegally. Just pay the due respect to the author of the photo you found on Shutterstock or elsewhere, and buy their picture instead.