8 Fast Ways to Remove Watermarks from Photos





5.0
Votes:

255

(Rated: )
Last updated: 21.11.2022
A watermark is a great way to copyright images. But what if you need a clean picture, and you only have its watermarked copy? Whether your hard drive died, destroying all the originals, or you failed to disable data insertion on your camera, the fact remains - you are left with a picture you cannot use in a project. So is there a way to remove watermarks from photos? Of course! We will show you 8 methods to remove text, a logo or any other eyesore to save your pictures.
Please note that removing a watermark from a copyright photo is illegal. These 8 methods of cleaning your picture should by no means be used to commit a felony.
In this article, you'll learn how to get rid of a watermark on photos using the industry giant Adobe Photoshop, up-and-coming software called PhotoWorks, an easy-to-use photo editor for Mac, and a convenient web-based application. All the methods slightly range in difficulty, so let's look at each of them closely so you can make the right choice.
How to Remove Watermarks on Mac and Windows
How to Delete Watermarks from Photos Online
How to Mask Watermarks on Pictures for Free
How to Crop Out Watermarks from Your Pic
Best Ways to Remove a Watermark from a Photo: PC and Mac
#1 Smoothest Workflow

Meet PhotoWorks, a powerful yet lightweight gear for thorough photo editing with a friendly interface under one roof. This AI-run program suits both newbies and pros in editing since it features tools for all kinds of tasks - from color correction to swapping the sky and the backdrop in your picture. The intelligent watermark removal tool is among them. With its help, you will remove any watermark in a brush stroke. Meanwhile, the program's AI engine will do all the heavy lifting - recognize the surrounding pixels and replace the marked ones accordingly.
Features:
Easy tools for erasing large and small watermarks
Smart background and sky swapping
Reliable set of basic photo editing features
Handy portrait retouching and sculpting suite
Diverse stylization options: filters, presets, captions, stickers
Wouldn't it be great if you could edit your picture with just a few clicks even on weaker hardwear? Well, there is software capable of just that. It's called PhotoWorks and it is both easy to use and powerful. Perfect for both newbies and pros, this photo editing software for low end PC is filled with efficient tools to enhance your images. And yes, they include a watermark removal tool.
Download
Fully compatible with Windows 11, 10, 8, 7
Before
After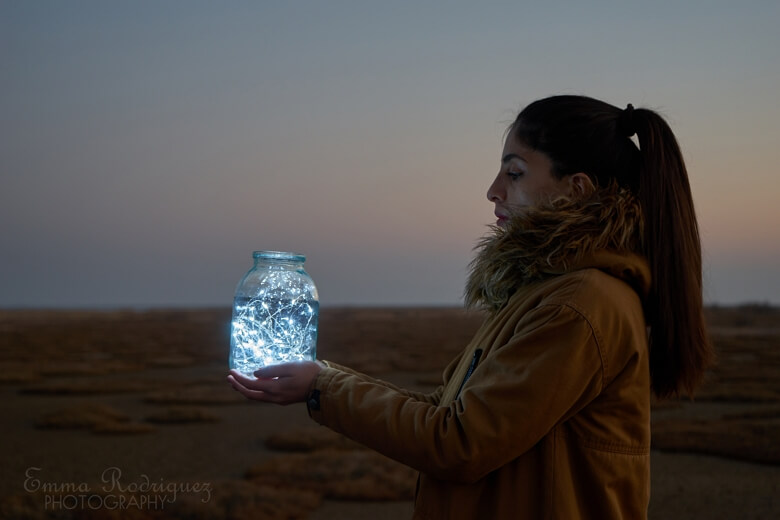 Let's see how to remove a watermark from your photo using PhotoWorks:
Way 1. Remove a Small Watermark with the Healing Brush
If you want to get rid of a small watermark placed on a simple background, the Healing Brush tool might be the way to go. Follow the steps below to clean up your photo with ease.
Step 1. Open Your Picture
Download and install PhotoWorks. Import your watermarked picture.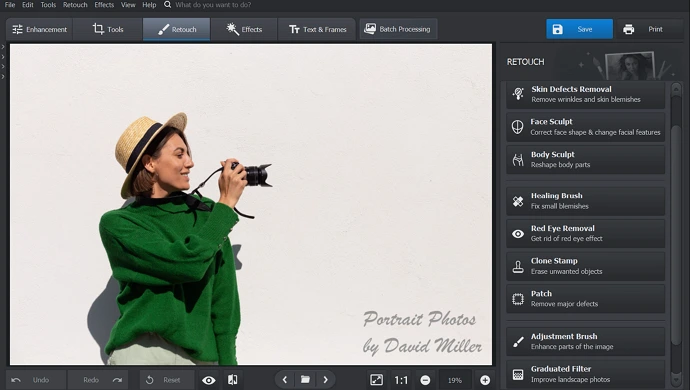 Open your picture with PhotoWorks
Step 2. Pick the Healing Brush
Switch to the Retouch tab and choose the Healing Brush tool. Set its parameters (size, feather, etc.) for a more precise application.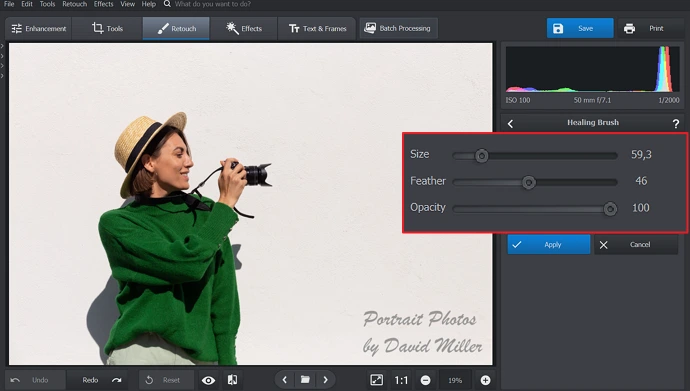 Select the Healing Brush and set its parameters
Step 3. Remove the Watermark
Paint over the watermark. PhotoWorks will automatically delete the unwanted logo.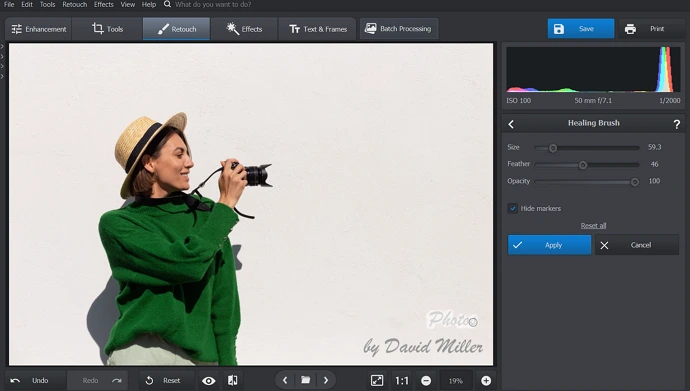 Use the Healing Brush to get rid of the pesky watermark
Step 4. Save Your Picture
Apply the changes and save your restored picture in a suitable format: JPEG, PNG, BMP, or TIFF.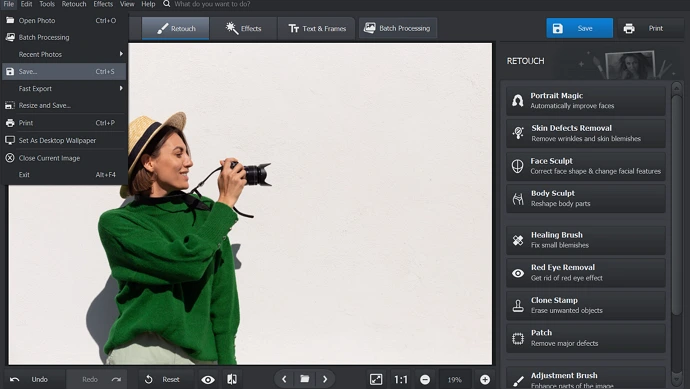 Save your clean picture in a suitable format
Way 2. Remove a Complex Watermark with the Clone Stump
In case you are dealing with a large watermark placed against the entire image, follow the steps below to get rid of it without a trace.
Step 1. Pick the Clone Stamp
Once you open your image, switch to the Retouch tab and pick the Clone Stamp. This tool was designed for removing large objects and complex details from images. Before you draw a selection, set the size, feather, and opacity of the tool for a more precise job.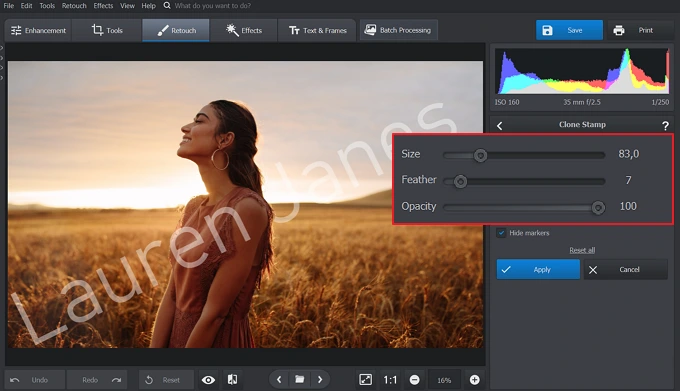 Tweak the settings of the Clone Stamp
Step 2. Erase the Watermark
Paint over your copyright symbol with the Clone Stamp without releasing the left button of your mouse. Then choose the source area that would be an appropriate replacement for the watermarked parts of your image. We recommend drawing numerous selections and masking the watermark little by little.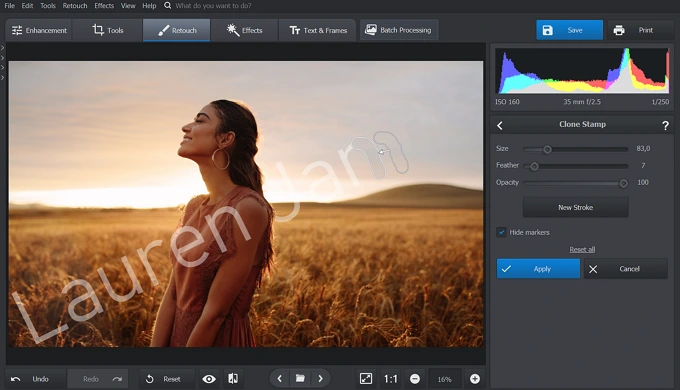 Wipe out the watermark in your image as if it was never there
Step 3. Export Your Picture
Once the digital signature is gone, apply all the changes and hit Save in the upper-right corner of the interface. In the file browser, choose your destination folder and the desired format.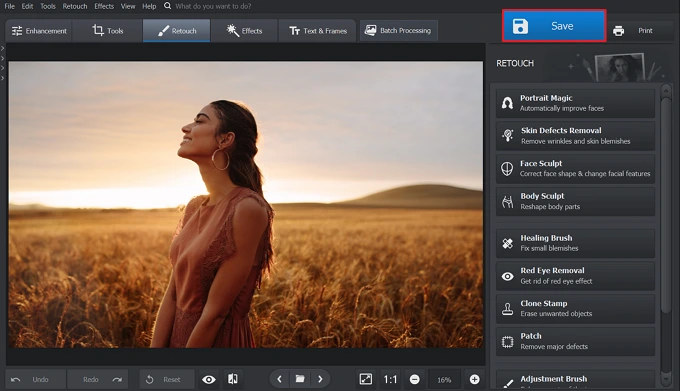 Save your unwatermarked photo in any of the 4 available formats
Want to delete a watermark from your image with just as little effort?
Download PhotoWorks to salvage your pictures.
Download
Fully compatible with Windows 11, 10, 8, 7
#2 Most Recognized Among Pros

You have probably heard of the mighty Photoshop before. This uber-powerful (and expensive) software is full of tools and features that can do wonders with your pictures. The greatest downside, however, is that Photoshop is too complicated for an average user, making almost any task a torment. Thus, it might be challenging for you to remove watermarks with it unless you've used the program before. Check out the tutorial to figure it out.
Features:
Content-aware and precise watermark removal
Extensive toolkit for photography, typography, and design
Advanced system of layers and masks
Cloud storage and integration with other Adobe programs
Compatible with a diversity of plug-ins and extensions
Decided to employ this software for the job? Find out how to get rid of watermarks in Photoshop with the quick tutorial below.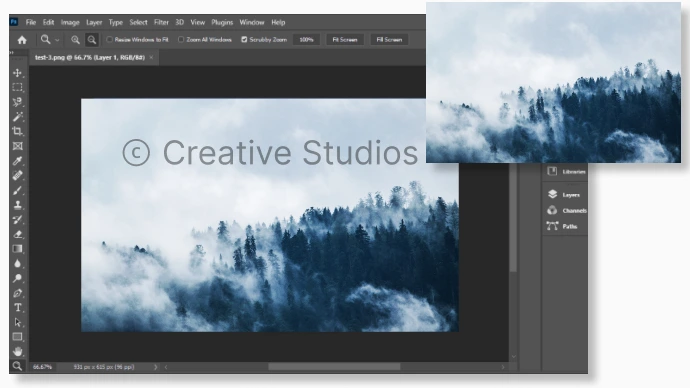 Remove complex watermarks with Adobe Photoshop
Import your image

. Drag and drop your image into the interface of the program or open it by going to the File menu>Open.

Make a selection

. Go to the Layers panel, right-click your image layer, and pick Duplicate Layer to make a copy of your pic. Make the original layer invisible by clicking the eye icon on the left side of the layer bar. Choose the Magic Wand Tool from the toolkit on the left. Click on the watermark.

Delete the watermark

. Go to the Select dropdown menu and choose Modify>Expand. In the Expand Selection menu, set the value at 1-2 pixels and click OK. Open the Edit menu and choose Fill>Content-Aware. Photoshop will automatically replace the pixels in the selection according to the surroundings.

Fix any missteps

. Pick the Clone tool to fix over-processed or awkward-looking parts of the replacement. Press Alt and choose the source area. Then release the key and paint over the pieces of your image you want to fix.

Export your edited picture

. Go to Files>Save As and choose the destination folder and format.
#3 Most Artistic

Luminar Neo is a cutting-edge photo editor with a plethora of ready-made content: skies, presets, and other layer content. The program employs the latest AI technologies to edit and enhance images, has an appealing interface, and uses a convenient cataloging system. As for watermark removal, it analyzes the surrounding of the watermarked pixels and replaces them with an appropriate texture. The editor comes both as a standalone and a plug-in. However, it requires your computer to have a mighty hard drive and doesn't have a text tool for you to add captions to your images.
Features:
Non-destructive object erasing tool
Handy power lines and dust spots remover
Portrait retouching run by artificial intelligence
Extensive library of effects and stock content
Convenient cataloging system
Easy layering for collages and double exposure
User-friendly interface packed with powerful tools
Want to get started with this innovative photo editor? Read the quick guide and follow the steps with your own photograph.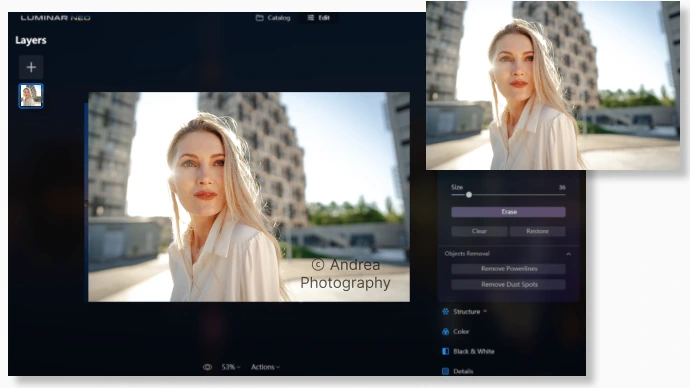 Remove stock photo watermarks in a brush stroke with Luminar Neo
Open your image

. Once you run the program, go to Catalog and choose Add Photos>Add Image. Alternatively, you can import an entire folder.

Remove the watermark

. Switch to Edit>Essentials>Erase. Paint over the watermark with the brush. Use the Space key to switch to the Hand tool and back to navigate your image. Zoom in for precision. Then hit Erase, and the watermark will be gone.

Save your image with no watermarks

. Right-click your photo and choose Export to save your image as a JPEG, PNG, TIFF, or PDF. Alternatively, use the Shift+Ctrl(Command)+E hotkey combination.
Remove Watermarks from Photos Online for Free
#4 Most Inclusive

Pixlr is a suite of apps for all kinds of creative tasks, from basic like cropping images and switching their backgrounds to advanced like creating motion designs for social media. The Editor has a Photoshop-inspired yet simplified interface - it's a lot easier to navigate it and use its tools. The same goes for removing watermarks - the process is super quick and intuitive. You will need Pixlr E - one of the best watermark remover apps. Still, you need a subscription to use the editor to its full capacity.
Features:
Intelligent watermark removal with Clone Stamp
Lots of easy tools for advanced editing under one roof
User-friendly interface
Hundreds of templates, fonts, and other artistic options
Desktop and mobile version
If you feel this editing suite is your go-to, learn how you can remove watermarks online with its help in the step-by-step tutorial.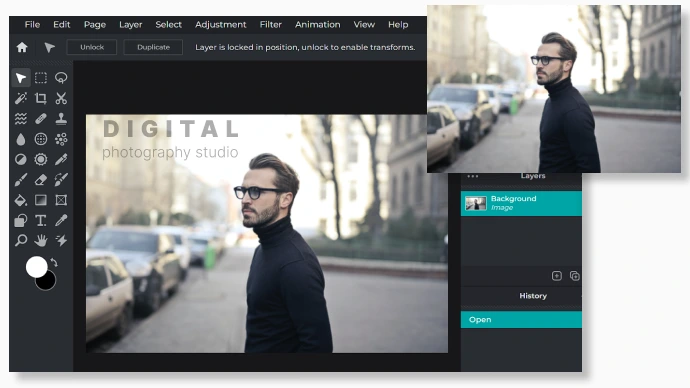 Go with the feature-packed Pixlr to remove watermarks in images
Load your image

. Launch the Pixlr E application on the official website of the editor. Hit the Open Image button and find the photo you want to edit in the file browser.

Erase the watermark

. FPick the Clone tool and choose the source area. Make sure you do that in the Source mode. Set the brush size and opacity and paint over the watermark while in the Paint mode. The editor will replace the watermark according to the content in the source area.

Save the picture without watermarks

. Go to Files>Save or use the Ctrl+S hotkey and choose the desired quality, aspect ratio, and format of the image you are exporting.
#5 Most Straightforward

Inpaint is a free online editor that specializes in removing details and objects in an image. It recognizes the surroundings and uses corresponding textures to replace the affected area. With the help of this photo stamp remover, you can instantly remove watermarks, date stamps, strangers, unnecessary objects, and blemishes or restore old photos. However, unless you purchase a subscription, you won't be able to export your edited images in high definition.
Features:
Content-aware automatic erasing tools
Straightforward interface suitable for any user
Desktop versions for Windows and Mac
Found the idea of employing this editor attractive? Visit its official website and follow the easy steps below to remove the watermark from your photo online for free.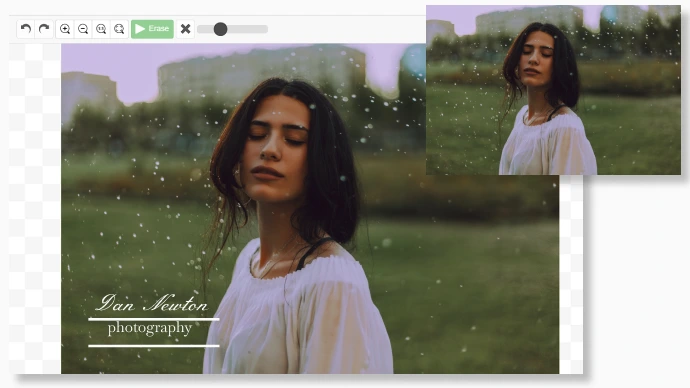 Use the niche's pro Inpaint to instantly remove all kinds of watermarks
Import your picture

. Once you are on the home page of this free watermark remover, click the blue Open Image button or drag and drop your image from a file. The website will automatically throw you into the editor's interface.

Mask the watermark

. The editor offers 3 ways to draw a selection around watermarks: with the Marker, Lasso, or Polygonal Lasso tool. Use the red brush to mark the details you want to mask. You can correct the selection with the Eraser. If the editor fails to find a proper replacement, use the green brush to pick a donor area. When done, click Erase. The program will instantly rid your image of its watermark.

Save your image

. Once the watermark is gone, hit Download in the upper-right corner of the interface to export the edited image to your PC or Mac in JPEG. However, you can do that only in low resolution unless you purchase a subscription.
#6 Most Flexible

Looking for a well-rounded online editor? Meet PicMonkey. It's a web-based photo processing platform packed with all kinds of features for photo post-production, design, and social media promotion. Talking about watermark removal, all you have to do is choose a source area and paint over your watermark with one of the built-in customizable brushes. PicMonkey will do the rest for you. However, most features of the editor are available only with a subscription.
Features:
Handy watermark eraser with custom brushes
Sleek interface
Hub cloud storage
Library of stock photos and videos
Tons of templates, effects, textures, embellishments
Easy integration with the PicMonkey mobile app
Want to try editing with PicMonkey? Follow the steps below to learn how to remove watermarks from your photos with no hassle.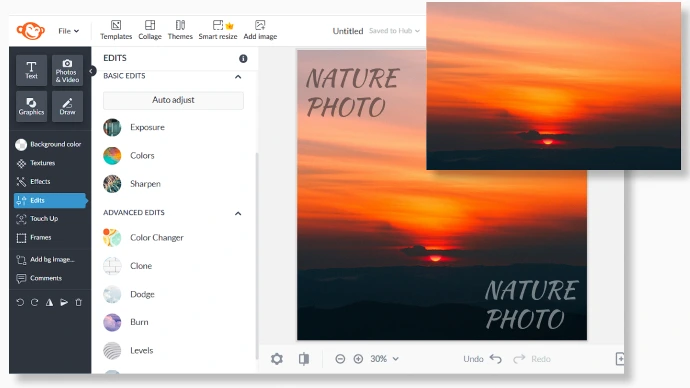 Rid your image of watermarks using the all-around PicMonkey
Upload your photo

. Open the editor's home page and choose Edit New Image>Computer. Find the picture you want to edit in the file browser.

Customize the Clone tool

. Switch to the Edits tab and find the Clone tool in the Advanced Edits section. Here, click the Set Source button to designate the donor area. You can change it later if needed. Now choose a suitable brush and adjust its size, hardness, strength, fade, and other settings.

Conceal the watermark

. Paint over the watermark with the custom brush and watch it disappear. Fix the flaws of the manual work with the Eraser if any.

Save the watermark-free pic

. Once finished editing, navigate to the Download button in the upper-right corner of the interface. Choose the desired format (JPG, PNG, or PDF) and click Download. Mind that the export of edited images is available only to the platform's subscribers.
Employ Free Watermark Removers for Mac and PC
#7 Closest Photoshop Alternative

GIMP is an open-source program that is pretty similar to Adobe Photoshop. It has all the basic tools required for graphic design, photo post-production, and typography. However, if you are planning to use the software for profit, you will have to install paid extensions and plug-ins to complete your project from start to finish. GIMP also has a confusing interface. But it won't be hard to remove a watermark GIMP - it's one of the simplest tasks the editor can help you with.
Features:
Automatic and manual ways to remove a watermark
Powerful layering and masking system
Art, photography, and design tools under one roof
Compatible with Windows, Mac, Linux
Has many extensions available on the market
Not a fan of Photoshop's subscription policy and feel that GIMP is the alternative you've been searching for? In a second, you will learn how to remove a logo and a watermark in this free editor.
Erase the copyright proof in your picture with the free GIMP
Open your image

. Run the program on your Mac or PC and navigate to the Files tab. Choose Open and find the picture you want to edit in the file browser.

Remove the watermark from your image

. Choose the Clone tool, then press Ctrl and pick the source area. Paint over your watermark until it's completely gone.

Export your picture

. Head to Files, click Save, and choose the destination folder and needed format.
#8 Most Old-School

Paint.NET is a photo processing application for Windows which you can get in Microsoft Store completely free. The editor is a simplified version of GIMP and Photoshop. It supports layers, has diverse special effects, and offers all the tools you need for casual photo post-production. As for removing copyright from photos, the process is pretty standard and done with the Clone Stamp tool. However, the program won't be suitable for professional editing or erasing large watermarks.
Features:
Content-aware Clone Stamp
Full package of basic editing tools
Tons of Instagram-style effects and filters
Advanced level and curves editing features
Support of user-created plugins
Unlimited record of changes
Responsive community and tutorials
Want to discover how to remove watermarks from pictures using this uncomplicated photo editor by a respected developer? Check out the easy steps below to get a smooth start.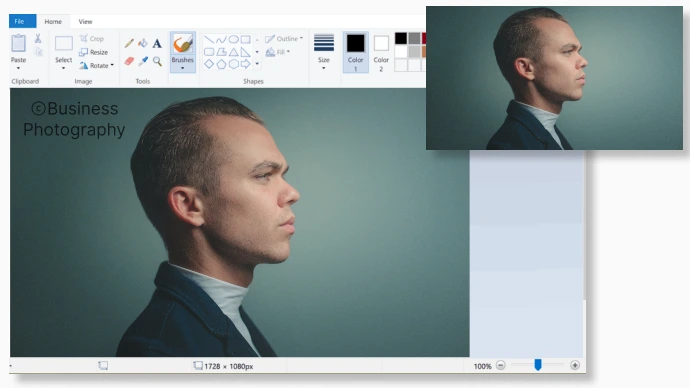 Erase the watermark in your photo with the easy but powerful MS Paint.NET
Open your photo

. Expand the File tab and choose Open to locate and upload your image.

Erase the watermark

. Pick the Clone Stamp tool and set its width for your convenience. Press Ctrl and left-click on the donor area. Then, paint over your watermark until it disappears. You can reset the donor area at any time in the process using the Ctrl key.

Save your picture

. Open the File menu, hit Save, and choose the destination folder and format.
Cut Out Undesired Watermarks from Your Pics
The easiest method of removing watermarks from your JPEG images is to crop them out! Every photo editor, from basic to sophisticated, is equipped with the Crop tool. In fact, you can even crop your photo in the built-in image viewer like MS Photos or Photos on macOS and iOS. Or else, you can trust the likes of Pixlr, Paint.NET, and Picasa to help you get off the watermark.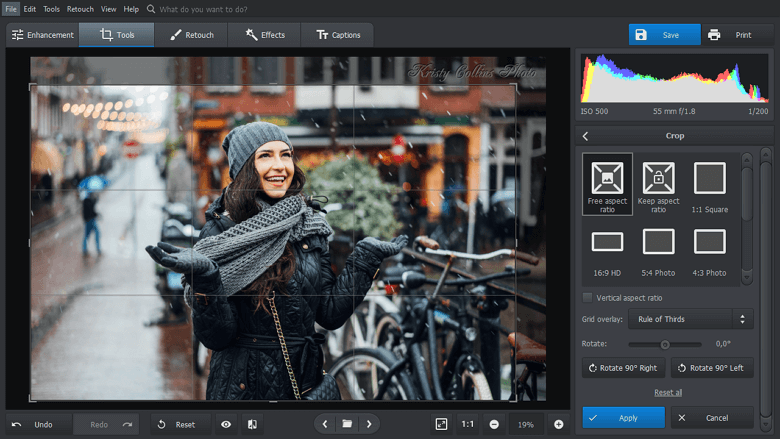 Crop the photo to get rid of the watermark
If you want to crop your picture smartly and not just delete a chunk of it, go with PhotoWorks. This software offers various grid overlays (The Rule of Thirds, The Golden Ratio, etc.) to help you both cut out the watermark and improve the picture's composition.
At the end of the day, there are many ways to remove a watermark from your picture. These methods range from quite hard to fairly easy, and the software cut for the task can be both freeware and somewhat expensive. So pick your watermark remover based on your skill, ambition, and wallet. If you are looking for a perfect balance of functionality, price, and user-friendliness, PhotoWorks may be the best choice for you.
Try Now
Fully compatible with Windows 11, 10, 8, 7
But still, no matter what way to clean your picture you choose, respect the copyright law and never remove watermarks from pictures illegally. Just pay due respect to the author of the photo you found on Shutterstock, Getty Images, or elsewhere, and buy their picture instead.