How to Make Pictures Look Older:
Vintage or Retro Aesthetic
Last updated: 16.11.2022
Want to travel back in time to try on the retro aesthetic of a certain era? Or maybe you love good old movies and would like to see yourself stepping off the screen of your favorite one? An easy way to implement this is to turn your original picture vintage in a handy photo editor.
In this tutorial, we'll demonstrate diverse ways to make your regular images look antique. First, you will learn how to make pictures look older using an uncomplicated yet powerful photo editor named PhotoWorks. This user-friendly software lets you turn your regular photo into a vintage-looking one in seven different ways. We'll also give you an overview of other image editing programs and answer the most common questions on the topic.
Before
After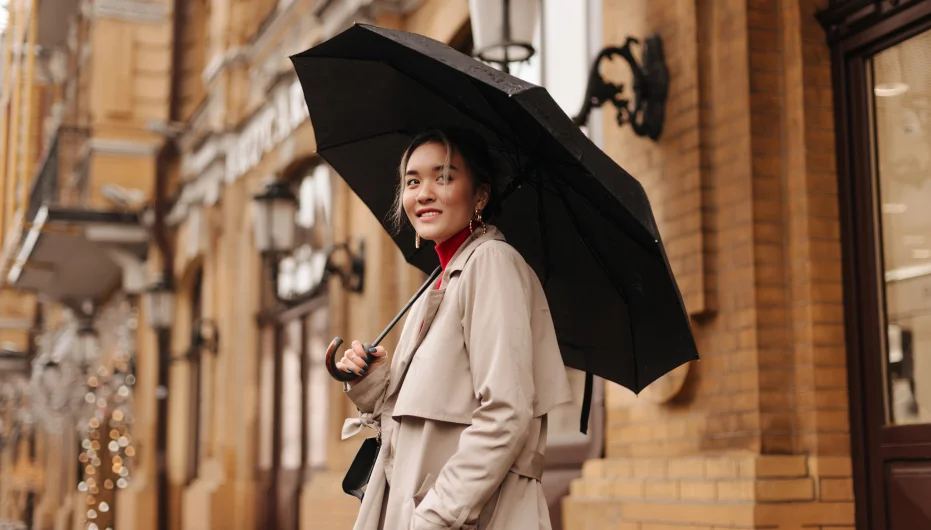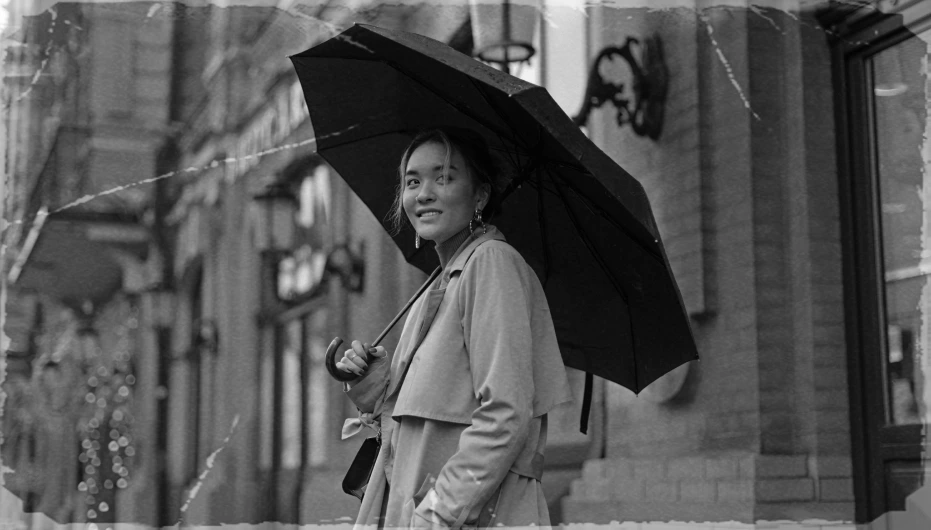 Achieve a dramatic 50s effect on your modern photo with PhotoWorks
How to Make Pictures Look Old: Useful Tips
You don't need to be an expert in photo post-production to stylize your images with an antique vibe. Leave that to PhotoWorks, easy-to-use but comprehensive picture editing software. But before we show you how to make photographs look old with this program in deeper detail, let's pinpoint the fundamental ways to give them a vintage photo aesthetic.
The term 'old photographs' most often describes analog photos shot with a non-digital camera. Old pictures are often black-and-white or have faded colors, creases, scratches, and torn corners. However, you can actually reproduce these features in your modern images without wrecking the original - with the help of special filters and tools in a photo editor.
7 Ways to Make Photos Older
Way 1:

Apply Vignetting
In photography, vignetting means making the peripheral areas of an image darker and leaving the central part light or vice versa. This effect around the corners creates a retro picture effect. This association with old photos arose from the incapability of the old camera lenses to dispense the captured light to the entire image, leaving the edges obscured. Modern cameras are designed to avoid this. If you don't have a vintage camera, you can achieve this effect in post-production.
Way 2:

Reduce Contrast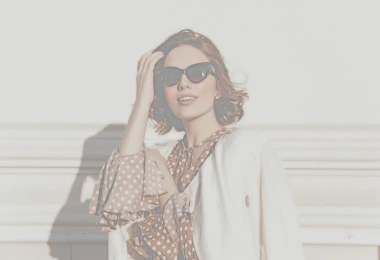 Aged photos fade and look like they've lost contrast, which adds a special charm to them. Low contrast means that light and dark parts blend, making your image look more flat or soft. A faded photo also has little highlights and shadows. Therefore, to recreate this effect on your photograph, you will need to decrease the contrast and increase the brightness just a little bit.
Way 3:

Lower Color Saturation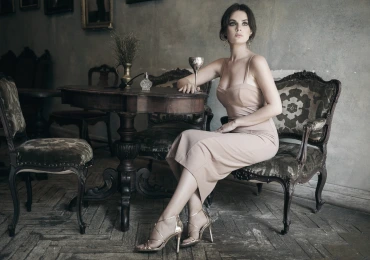 The 1950s saw the debut of color photography. Photographs from that era sometimes show dull colors because they faded over time or because cameras weren't as powerful as they are now. So reducing saturation is a simple way to make photos look old. If you want to achieve an even more authentic vintage look, turn your image into a black-and-white photo by removing saturation completely.
Way 4:

Recreate Film Grain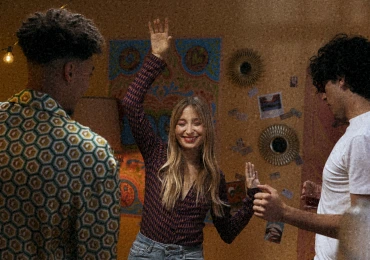 The natural grain texture of the old analog photographs was due to the silver crystals in the film emulsion. The higher the amount of silver, the more convenient it was to use the film in low-light conditions. Thanks to modern technology, one slider drag is all it takes to add graininess to a photo.
Way 5:

Apply Toning Effects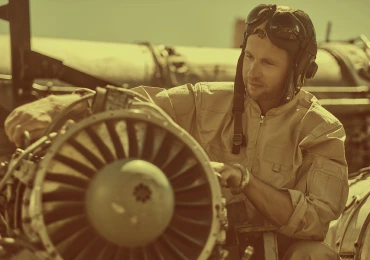 The sepia effect and the brown tint in old images resulted from the chemical process that used to take place in the darkroom. It helped prevent fading and prolong the image's life cycle. Yellow, green, and blue tints appeared on black-and-white photographs because of the age-related deterioration of photo paper and the materials applied to it. You can achieve similar effects using Tone Mapping or manual color correction.
Way 6:

Add Noise and Scratches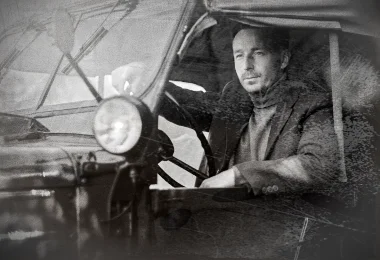 All vintage images contain a certain amount of noise because of weak camera lenses. This noise level varies, depending on the photo's age, era, and how its owner stored it. With a powerful photo editor, you can quickly drop noise to any image. Adding scratches is another surefire method to roughen up your pictures and make them seem decades older, even if you took them with your smartphone a few minutes ago.
Way 7:

Use Dedicated Filters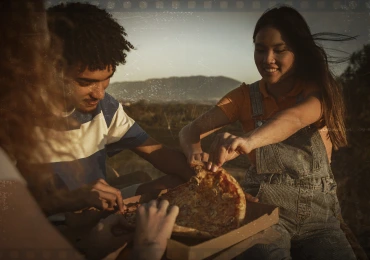 Applying vintage photo filters is the most hassle-free way to enrich your images with old aesthetics and teleport the action in your photo back in time. Retro vibes, subdued colors, and camera imperfections - all contribute to the utterly aged appearance. Some old-time photo filters already combine the effects that we mentioned above.
How to Make a Photo Look Old and Worn Out
In a moment, we'll teach you how to make a picture look older with little effort using PhotoWorks. The program's user-friendly interface allows you to edit images and apply vintage photo filters like in Photoshop, but the workflow is a lot smoother. PhotoWorks' rich collection of intuitive editing tools allows you to give your ordinary photos a noble retro look without previous experience in photo post-production. Just click the button below to download the free trial of the program and start creating aged photographs right the next moment.
How to Make Pictures Look Old with Vignetting
With PhotoWorks, you can add a vignette to your photo in less than a minute. Just follow our lead. But first, upload your image into the program with the Open Photo button on the startup screen or drag and drop it into the workspace.
Go to the Tools tab and choose the Vignetting tool. Move the Amount slider to the left or right to darken or brighten the photo's edges, respectively. Change the vignette's shape and intensity with the Roundness and Feather sliders to emphasize the central object in your image.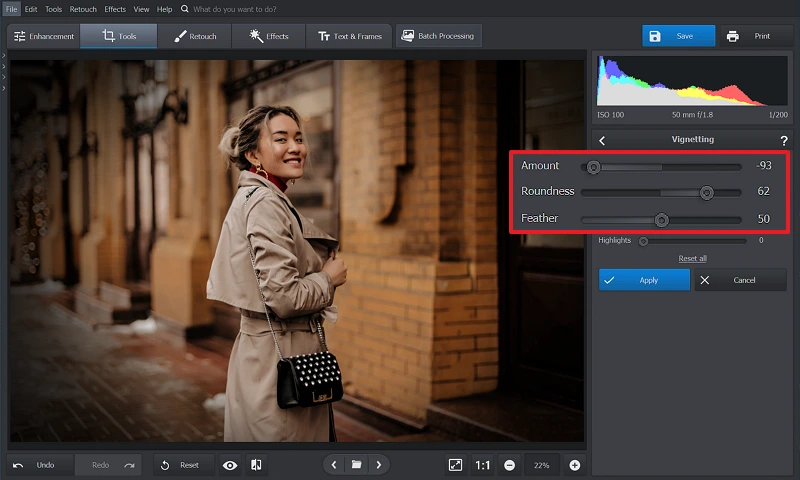 Achieve an old-camera effect with vignetting
How to Lower Contrast to Make Your Picture Look Old
Play with color correction tools to make your image appear as if it has lost contrast over time. Here is how you do that. Switch back to the Enhancement tab and use the sidebar to reduce contrast - drag the corresponding slider all the way to the left. We also recommend that you lower vibrance, increase highlights, shadows, and blacks, but decrease whites to give your photo a sort of flattened and faded look. And just like that, in a matter of a few seconds, you have an antique photograph.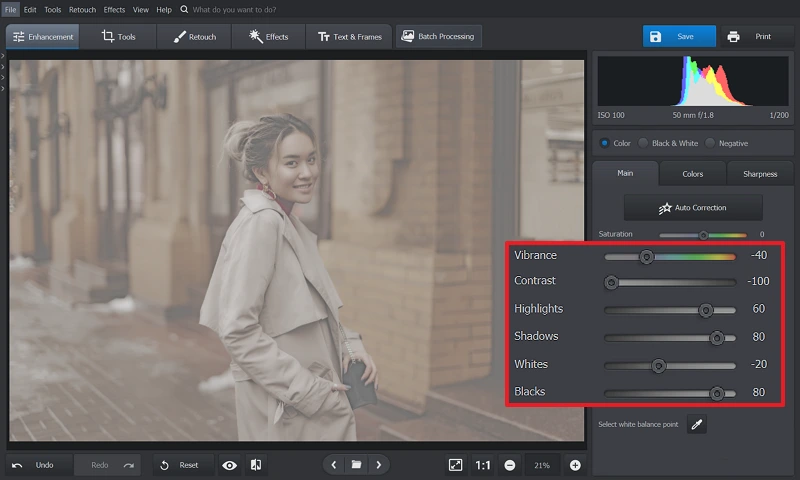 Reduce the contrast for a retro vibe
How to Decrease Saturation to Make Photographs Look Old
To recreate a desaturated retro look on your picture, you need to remove the bold and vibrant colors. To do that in PhotoWorks, go to the Enhancement tab and decrease the saturation by moving the slider to the left. Want to make your picture black and white? Drag the Saturation slider to -100 or tick the Black & White box under the curves color scheme.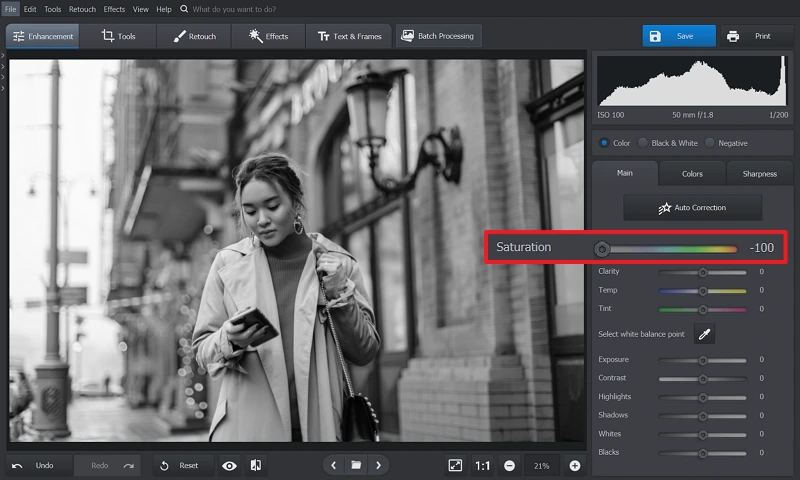 Steal away the colors of your original photo
How to Recreate Film Grain to Make Photos Look Old
If you want to make an aged picture without dramatically ruining the quality of your original image, we recommend adding some graininess. With this uncomplicated technique, you'll quickly achieve the texture of a photograph taken ages ago.
All you have to do to apply grain is go to the Effects tab and choose the Grain tool. To maintain the image's quality, adjust the size and amount of grain. Use sliders to increase or decrease the grain intensity in some places. If you want to leave the central object in the picture unaffected, intensify the graininess only in the shadows.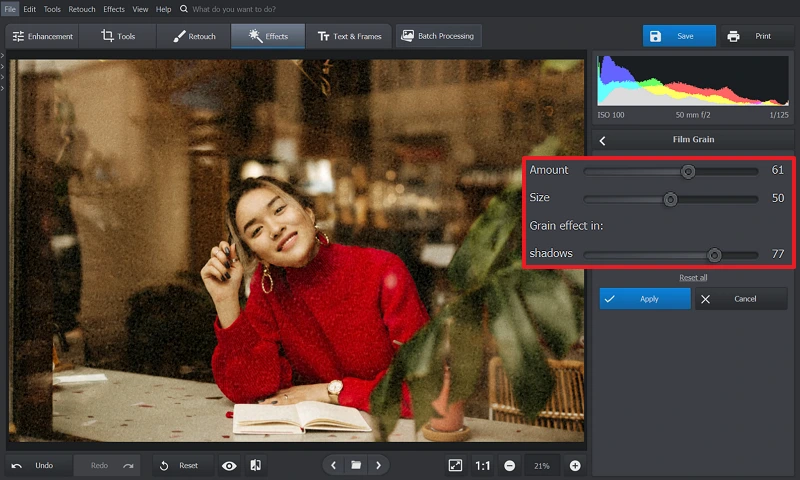 Drop a vintage touch over your pic with grain
How to Make Your Pictures Look Older with Toning Effects
You can fine-tune the color tone of your photo and give it an aged appearance with PhotoWorks' Tone Mapping tool. Choose any vintage hue you like, for instance, yellow, blue, or green. Let's have a look at how to achieve a sepia effect with PhotoWorks.
Pick the Tone Mapping tool on the Effects tab for the task. Choose yellow and orange hues to recreate an 1800s photo filter. Then set the blending mode using the drop-down menu. We suggest that you try Soft Light, Hard Light, or Overlay to make the toning look natural. Finally, adjust the intensity of the chosen effect for a delicate retro touch.
Recreate a monochrome photo with Tone Mapping
How to Recreate Old Photo Effects with Noise and Scratches
PhotoWorks has a built-in collection with over a dozen vintage effects that will help you create nice aged textures in your pictures. Unlike Photoshop vintage filters, these let you add digital creases, scratches, and retro colors to your image all at once. All you've got to do is switch to the Effects tab and pick one of the Old Photo filters. Adjust the intensity of the folds and scuffs with the slider at the bottom of the preview window.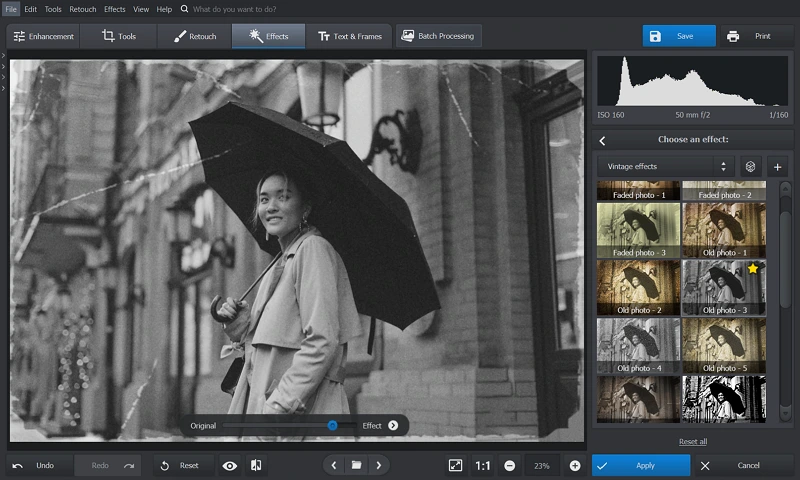 Add antique textures to your photo
How to Make Pictures Look Old Using Retro Filters
Keep browsing through the Photo Effects section. With filters, you can adjust the color in seconds to enrich your photo with a vintage photo aesthetic. Plus, some filters combine several techniques described above (vignette, saturation, grit, etc.), which allows you to age your picture faster and without any hassle. Just switch to the Vintage effects section and choose a filter you like.
Alternatively, try out Photographic Films effects like Polaroid Slightly Soft or Fuji Reala to achieve the vibe of an old-developed film. For a cinematic effect, browse through Movie Effects and try on filters like Home Alone, Titanic, or Blade Runner 1982. Don't forget to adjust the intensity of the chosen effect using the slider underneath the image to make the photo look natural.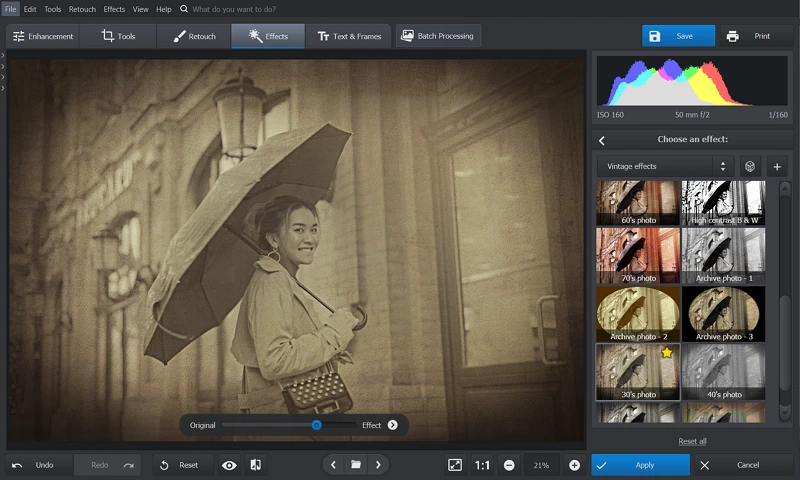 Achieve an eye-catching effect with filters
Everything mentioned above can be done in PhotoWorks.
Click the button below and start creating retro photos right away!
How to Make Photos Look Older: Alternative Ways
Not a Windows user? Or are you simply interested in learning some other ways of how to make a photo look old? As promised, below, you will find a short overview of 4 more editors to help you create old-looking photos.
We'll start with the well-known Photoshop compatible with Mac and Windows. With the help of this powerful software, you can edit the object colors without affecting the rest of the picture, add grain and noise, and apply a vignette to your image. If you don't want to age your photo manually, you'll need to install plug-ins with vintage Photoshop filters. However, the editor's subscription is fairly expensive, and its interface is quite complex. If those things are not an issue for you, check out how to turn your ordinary photo into a vintage-looking one in a Photoshop step-by-step tutorial.
If you don't like the idea of spending extra money on expensive editors but want to add Photoshop-like vintage photo effects, try the free and open-source GIMP. The functionality of the program is like that of the previous one. So to make your photo appear antique without manual editing, download user-developed plug-ins with old picture filters. However, the GIMP's cluttered interface might be a considerable drawback for you. Learn how to create old-looking photos in deeper detail with this GIMP tutorial.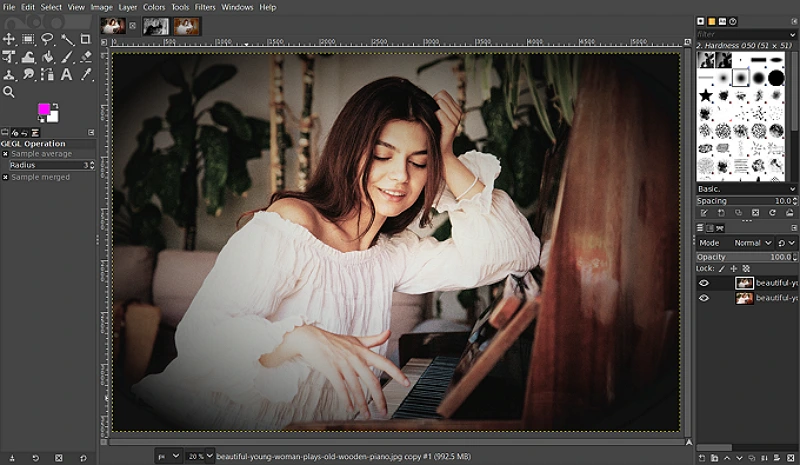 Add a retro vintage aesthetic to a regular photo with GIMP
Want to create a vintage-vibe photo for your Instagram feed on the go? Try the 1967: Retro Filters & Effects app. It has a huge number of eye-catching retro filters that you can apply with a single tap. To access the entire collection, though, you need to make in-app purchases. Don't want to install anything on your device? Apply aged photo filters to your images using the online editor named FotoJet. Apart from offering a decent collection of pre-made vintage filters, the app allows you to create your own. But you need to purchase a subscription if you want to expand the collection of photo filters and other editing features.
FAQ
How can you turn regular pics into 90s photographs?
Photos from the 90s have blurry and grainy textures and overexposed spots. It's not a problem to get a similar effect with PhotoWorks. Simply reduce sharpness to add a blur, apply grain, and overlay the Angular Blow or Corner Exposure filters. And there you have it!
How do you apply a vintage filter to a picture?
Follow the steps below to add a vintage filter to your photo with PhotoWorks:
1. Upload the photo that you want to give a vintage look.
2. Go to the Effects tab and choose one of the lovely Vintage Effects in the drop-down bar.
3. Select the filter you like and adjust its amount with the slider.
4. Save your retro-inspired image. Now it's ready for sharing!

What is the app that makes your photos look old?
There are many apps for iOS and Android for quick and easy photo aging. We recommend that you check out the following:
Huji - an app with a vast collection of vintage filters and custom timestamps, just like on film.


1998 Cam - an app with dozens of retro preset filters and various lighting effects that give your photos an analog film look.


Snapseed - an app with a vast collection of grain filters and color correction tools. But it lacks timestamps and scratched photo effects.
How can I make a picture look like a 2000 shot?
Old camera-inspired effects are the best way to capture the 2000s style and give off a retro mood. Check out the PhotoWorks Photographic Films effects, such as Fuji Velvia 50, Kodak E100S, Polaroid Slightly Soft, etc. to make your images appear like you took them with a 2000s analog camera.
How can you turn regular pics into 80s photographs?
The 80s photos have neon hues and convey a futuristic feel. The colors of those images are a bit faded and saturated. To recreate this aesthetic, apply PhotoWorks pre-made 80s filters like Modern-22 or Modern-08 effects together with a little color correction.
Conclusion
We've provided you with ways to make pictures look retro on any device. Besides, we have made you acquainted with the distinctive features of old photographs. From now on, you can handle the task without going to a photo studio. It's up to you to decide which program best suits your goals, wallet, skill level, and device. If you're editing on a PC, we suggest using PhotoWorks. You are already familiar with the editing process in this program. Besides, you can try its tools and filters for free.
Regardless of which old photo editor you choose, we hope you found our tutorial helpful and will use those tricks for making your recent pictures look like images captured a long time ago.