Best Smile Photo Editors - Apps for PC & Mobile





5.0
Votes:

2

(Rated: )
Last updated: 27.03.2023
Want to put a smile on someone's face in a photo already taken? Good news: you don't have to be a Photoshop whiz to retouch someone's smile. In this article, we'll show you 2 easy ways to make people smile digitally.
Before
After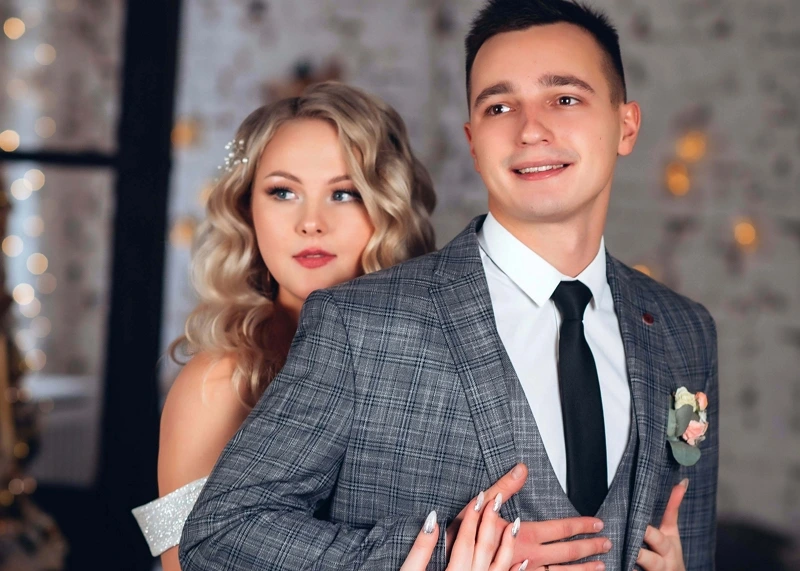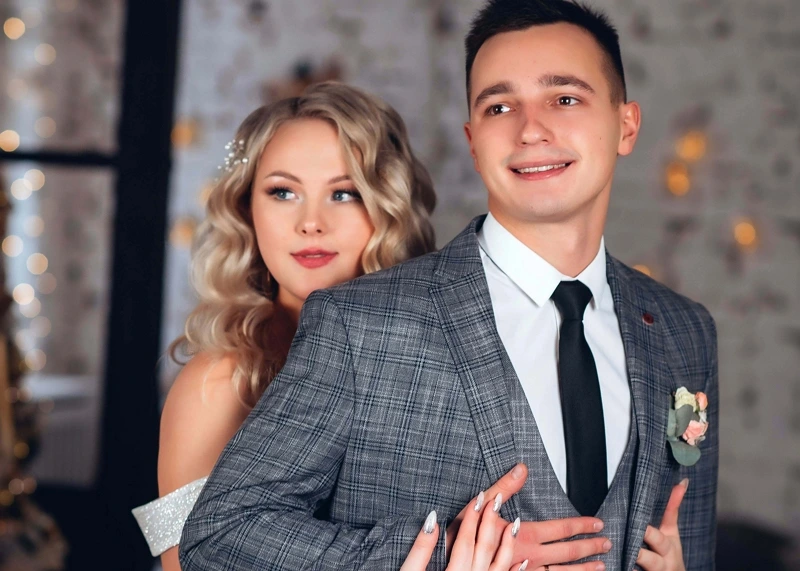 Life's too short to be sad - be happy in real life and in photos as well
Perhaps your models often feel uncomfortable and freeze in front of the camera, or your spouse doesn't look as happy as you do in your wedding picture. Being the only sad person in a group photo is also a common problem you might have encountered. Does any of these sound familiar? Then don't delete the image just yet. You can make people look happier by using a smile editor for pictures.
Unlike advanced photo editors, the programs we'll show you don't require any skills or experience as you don't have to use any complex selection tools. All you need to do is upload a pic and decide how wide you want the smile to be. Ready to try out the best smile apps for online and offline editing that we found for you? Then let's get started!
How to Edit a Smile in a Picture on PC
To add a happy smile to someone's face, you can use the PhotoDiva smile generator. This is an incredibly intuitive photo retouching app packed with smart automatic tools. You don't have to spend hours trying to accurately select a part of the model's body or their facial features. The program will identify them on its own, just drag the sliders and you're done.
PhotoDiva doesn't require an Internet connection, so you don't have to put your privacy at risk by uploading your pictures to the Internet and applying a smile filter online. The photo editor also lets you change or blur the background, remove unwanted objects, and stylize a portrait in a moment with over 100 filters. Whether you're a beginner searching for a program to get started, or a professional photographer pressed for time, PhotoDiva will suit you perfectly.
What else can you do with PhotoDiva?
Apply makeup: lipstick, blusher, eyeshadows, etc.
Remove wrinkles and other skin imperfections
Retouch the body shape, neck, and décolleté
Change the eye and hair color
Whiten the model's teeth
Looking for a smile photo editor?
Try PhotoDiva to polish portraits in mere seconds!
Now that you have the portrait editor installed on your computer, why don't we try to make a smiley face in the app right now? Just follow these simple steps, and you will edit your image without a hitch:
Import a picture.

After you launch PhotoDiva, you'll need to click Open Photo to select the image you're going to alter, or simply drag and drop one to the startup screen.

Add a smile to the photo.

Go to the Sculpt tab and select Face Sculpt. Drag the Smile slider to the right to get a happy face. Then, hit Compare or click and hold Original - this feature helps you check if that smile looks good on your face and makes it easy to compare the before and after.

Save the image.

Hit the Apply button and click Save. Then set the quality and select the file format you need.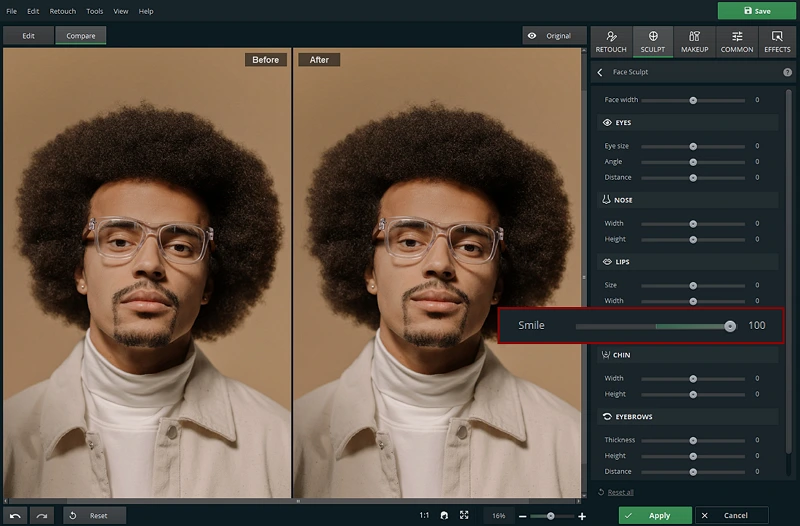 You can make anyone smile with one quick slide
Facutune Smile App for Android and iOS
Facetune is another portrait editing program that you can download from Google Play and App Store. In this photo editor, you can make the skin look smoother, add studio lighting, make the background blurry, and more. However, the smiling face app takes up a lot of space, so make sure you're not running out of storage before installing Facetune on your smartphone. Here's how to edit a smile in a picture with the mobile application:
Select a photo.

When you download and start the program, choose the picture you'd like to edit.

Retouch the image.

Now you can tap Face and choose Smile to apply a smile filter. Move the slider to change the amount. Tap the tick icon to save the changes.
As you can see, you don't have to be a seasoned professional to make your pictures smile. We showed you 2 simple ways to edit a face. To retouch someone's smile on a computer, you can try the beginner-friendly PhotoDiva that comes with an embedded photo smile editor. To edit photos on a smartphone, download Facetune on your Android or iPhone and alter images in a few taps. Both smile apps are powerful and easy to use and will help you quickly polish your portraits.
Searching for a simple smile fixer?
Get the intuitive PhotoDiva to try its face smile generator today!