Top 10 Photo Editing Software for Windows 11
In this guide, we'll tell you about handy apps for complete newbies as well as for experienced users. You'll explore not only free photo editors and paid programs for your PC but some online alternatives as well. Dive in and find the best free photo editing software for Windows 11 that meets both your budget and all your creative needs.
1. PhotoWorks
PhotoWorks is one of the handiest AI-powered photo editors. The program lets you correct your image in terms of composition, colors, sharpness, and exposure. What's more, the software allows you to easily change the background of your photo, remove any odd objects, and further enhance your photos with built-in filters and 3D LUTs. One more useful feature of PhotoWorks is batch processing. It lets you improve, embellish or watermark lots of images at once.
The software can boast of having an AI-powered beautifying module. So when it comes to portrait retouching, PhotoWorks lets you use ready-made beautifying presets or do the task manually. You can get rid of skin imperfections, whiten the teeth, and add some tan. With this powerful software you can edit the face and body features of your model in mere minutes.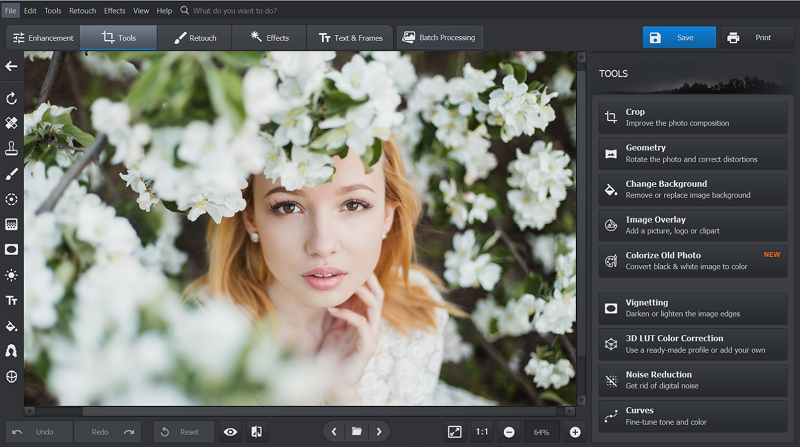 With PhotoWorks, you can improve your pictures both automatically and manually
Content-aware photo enhancement
Batch photo processing mode (editing, watermark)
450+ RAW formats supported from latest cameras
Background change without cumbersome selections
Works even on low-end computers
Not all functions are available in the free version
Ready to start enhancing your pictures?
Then download this Windows 11 photo editor and try it for free!
Download
Fully compatible with Windows 11, 10, 8, 7
2. GIMP
GIMP is one of the best free photo apps for Windows 11 that is surprisingly powerful. With GIMP, you can rotate, scale, flip and shear your photos. If you're editing your portrait shot, then you can make use of the healing and clone tools as well as color correct your photo. What's more, this open-source software works really well even on slow and quite old computers. Keep in mind that it takes some time to learn even the simplest functions of this program. But there are tutorials available on the official website to help GIMP users start editing their pictures faster.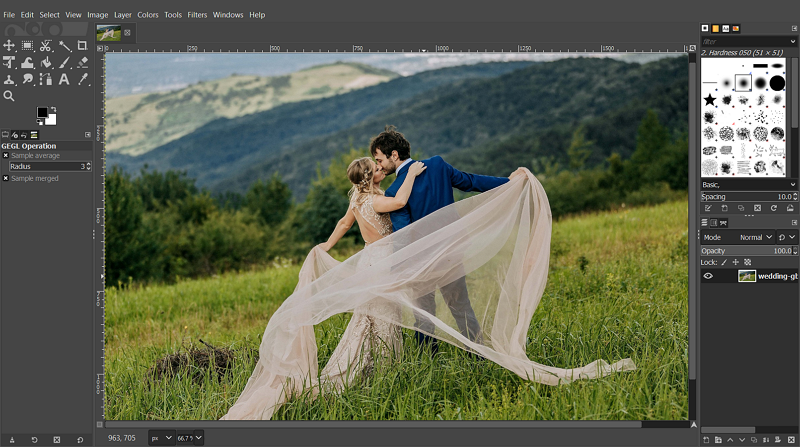 With GIMP, you can edit your images even on a slow PC
Completely free
Supports a wide range of formats
Lightweight
Customizable interface
Steep learning curve
Can sometimes crash while editing
3. Luminar
Luminar is one of the first fully AI-powered photo editing software. The program is equipped with a library of pre-made templates. You can use them as presets to enhance your photos in a click. In case you want to edit your images all by yourself, you can manually correct color balance and exposure, and crop or rotate your pictures. Luminar can also help you retouch your portraits on a basic level. There are some tools to remove blemishes, slim the face and smoothen the skin.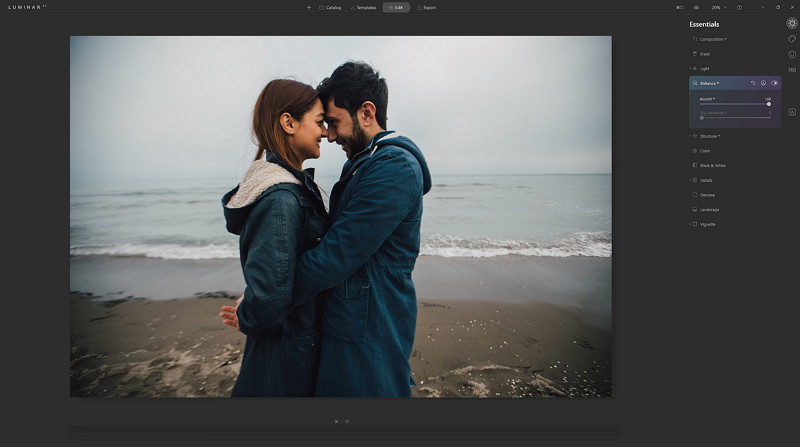 Luminar can edit your photo automatically and with a decent result
Artistic AI-powered tools
User-friendly interface
Library of built-in presets
Quite a reasonable price
Needs a powerful PC
Portrait editing is too basic
4. PicsArt
PicsArt is a generally free online tool that has a paid Pro version now. If you use Picsart for free, you can edit your photos, draw on them with layers, and use collage templates to your liking. You can also buy effects or stickers that you want to apply. When finished with improving photos, you can share your pictures with all the PicsArt community as well as on other networks. But this service has downsides as well. It can sometimes crash or be slow to respond to the user's commands.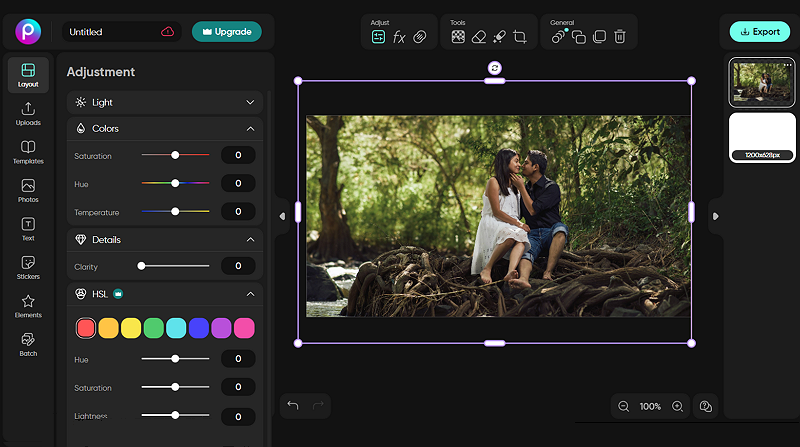 You can purchase new stickers or templates within PicsArt
Ad-free editing
Frequent updates
Professional collage templates
Can be slow
Occasional crashes
5. Adobe Photoshop Express
Adobe Photoshop Express is one of the more famous photo editing programs from the Adobe company. This fact alone makes us pay attention to this app. This PC-based app allows you to open a picture from your computer or shoot a photo with your web camera. You can crop photos, fix red eyes and apply enhancing presets to your picture for free. Some handy options like selection, overlays, layers, noise reduction and HSL editing are available only in the costly Pro version.
Employ this entry-level photo editor to improve your shots
Free download
User-friendly interface
Lots of photo editing options
Needs a paid subscription for extra features
Quite weak retouching possibilities
6. Paint.NET
Paint.NET is software created to edit photos on Windows 11. The editor allows you to use its extensive library of plugins, fix brightness and contrast, improve hue and work with curves, levels, and layers. Paint.NET is full of special effects, so you can blur, distort and sharpen your photos. One more useful feature is the support for the history of all the improvements you make. Paint.NET doesn't really suit professionals due to a quite limited toolkit. But it can be a good choice for newbies.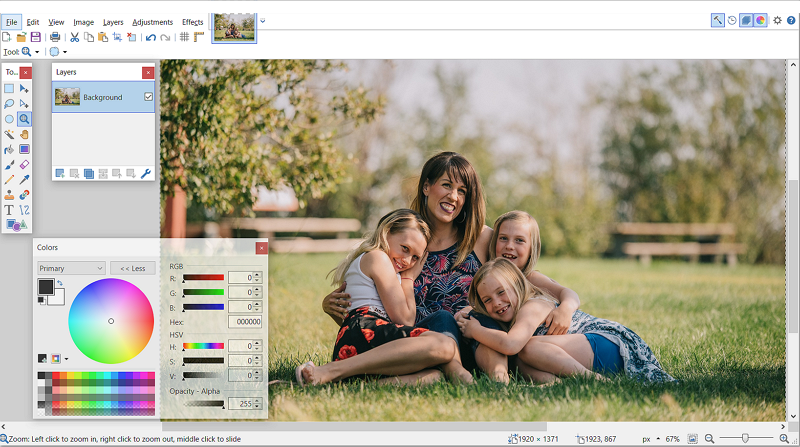 Paint.NET isn't a pro-level tool at all but you can use it for basic photo editing
Free
Works on low-end PCs
Supports plugins
7. PhotoScape
PhotoScape is one of the best photo editing software for Windows 11. You can use this app for free or buy a Pro version in case you need more tools. The basic version is packed with a number of filters, frames, and brushes. There are also some shape cropping and smart cut-out tools, as well as a color picker and a few clone stamps. In case you want to edit multiple pictures at once, you can use the batch editing feature to save your time. Alternatively, the editor allows its user to create Animated GIFs or convert pictures from RAW into various formats like JPG.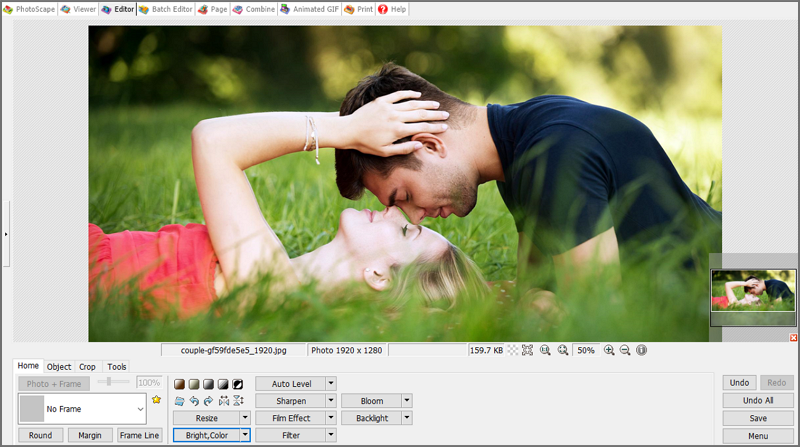 You can use PhotoScape not just for photo editing but for creating GIFs too
Easy-to-use for beginners
Constant new updates
Sometimes freezes while editing
Outdated interface
Confusing menus
8. Canva
Canva is one of the most wide-known tools for graphic designers. To start using this online service, you'll need a stable Internet connection and a free account. With it, you can resize, crop, and sharpen your images. Canva also allows you to fix the brightness, contrast, and saturation of your photos. What's more, you can add text to pictures and apply filters and effects to them for free. In case you want to upload your logo, remove the background of photos or resize your images to various formats for social networks or photo printing, you'll need a costly Premium subscription.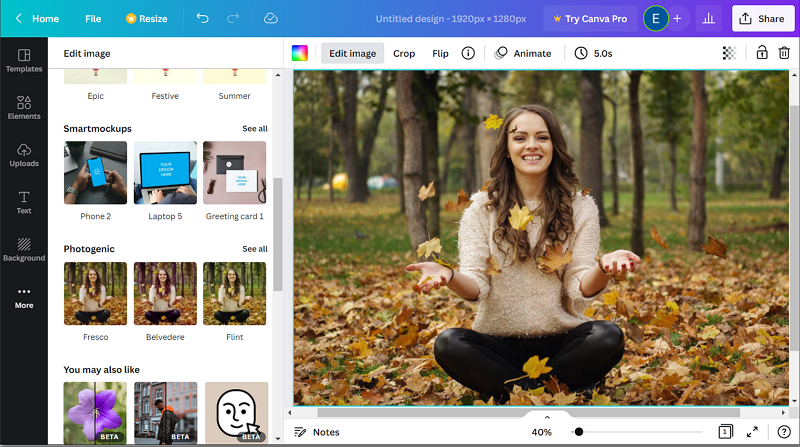 You'll need to buy a subscription to use all the features of this online photo editor
Free trial of Premium version
Built-in cloud storage
Extensive library of designs and templates
Needs a reliable Internet connection
Extra features are paid
9. Pixlr
Pixlr is one of the best free photo editing apps for Windows 11. This online tool is perfect for beginners or basic image editing. You don't need to start an account - the platform allows you to drag and drop your photo and dive into editing. With Pixlr you can make your pictures brighter or darker, use the splash effect and auto adjustment feature. The online service allows you also to remove the background (which is quite a cumbersome task), crop or resize your images, and replace colors in your pics. Since it's a web-based app, you can see some ads from time to time.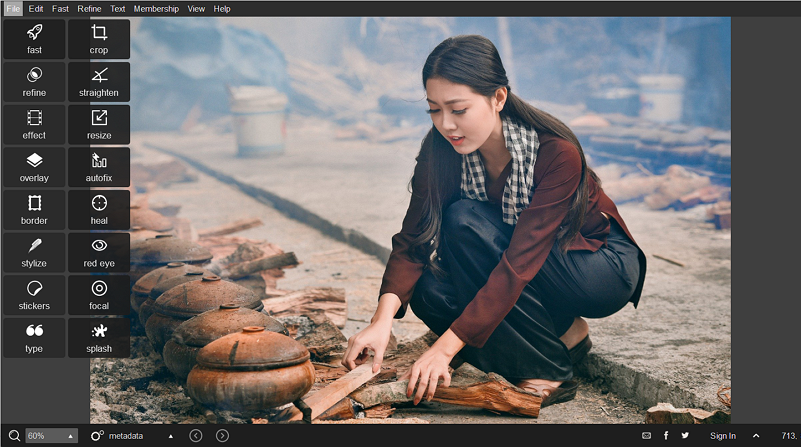 Pixlr is a good choice for newbies at photo editing
Free
Simple to use
Ready-to-use presets
Can be buggy
Doesn't support BMP or TIFF files
10. Fotor
Fotor is a quite popular online photo editing platform that is packed with complex tools. You can choose between free and paid versions of this editor. With Fotor, you can crop and color correct images. What's more, this photo editor allows you to instantly enhance pictures with the one-tap mode. You can also apply different filters and effects to your photos. But Fotor doesn't save the changes you make. So if you've closed the browser by mistake, you'll need to start editing from scratch.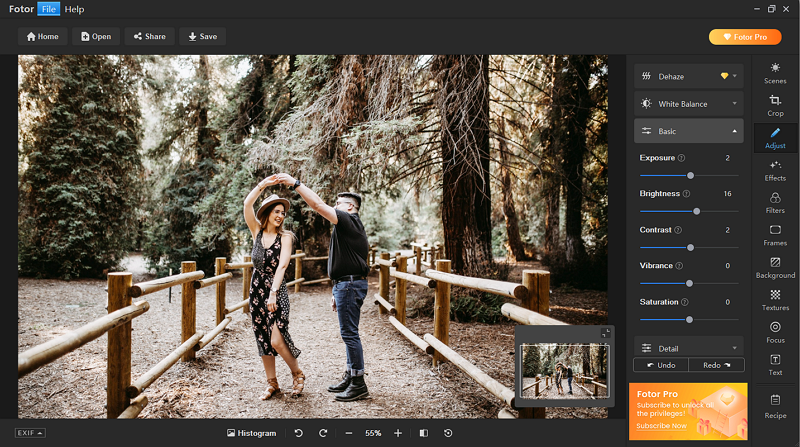 Fotor allows you to enhance your photos in a click with 13 presets
Free trial for the paid version
Clear interface
Annoying adds
Doesn't save any changes during editing
Best Photo Editing App for Windows 11: Final Thoughts
You've just explored the top Windows 11-based software to enhance your pictures. Still doubt which one to opt for? If you're a pro in photography and need a free, but powerful editor for your work, then opt for GIMP. In case you're making your first steps in photo editing and don't need well-equipped software, you may give Pixlr a try. Are you keen on Adobe Family programs and are quite used to them? Then pick Adobe Photoshop Express for quick and simple photo editing.
If you're a beginner passionate about enhancing photos on a pro-level then go with PhotoWorks one of the best photo editors for Windows 11. This reliable software is packed with lots of tools to edit your images. The auto-correct feature will help you easily adjust the colors, sharpness, and exposure of your photos. Alternatively, you can edit your pictures all by yourself. There are build-in tips that will explain all the features of this software to you. It'll take you a few clicks to change the unattractive background of your photos or embellish images with more than 200 stunning effects.