Best Noise Reduction Software for Pro & Beginner Photographers





4.3
Votes:

12

(Rated: )
Last updated: 27.01.2023
What is noise reduction to begin with? It is the process of reducing the grainy effect you get on pics when your camera has a high sensitivity to light (ISO). Noise makes the quality of your picture worse even if you're shooting with an awesome camera. It also distracts the viewer's eyes and puts them under higher strain.
Today, tons of editing programs can help remove grain in pics. But it might be challenging to find perfect tools that would match your skills and budget. To aid you with that, we've picked the best 17 noise removal software. Before we take a closer look at each of them, here's a highlight of the top apps for reducing noise:
PhotoWorks - the best noise removal software for Windows users. The program allows anyone to enjoy the editing process and get rid of noise in a slider drag.
Skylum Luminar - the best noise reduction software for Mac users. The smart AI and the vast capabilities of the program make a perfect combination of easy and advanced - exactly what Apple users value.
Noise Reducer Pro - the best denoise software for beginners. The tool has an automatic mode that does all the editing for you. So you can use it with no experience in post-production whatsoever.
DxO Optics Pro 11 Elite - the best noise removal software for pros. This multifunctional software employs a special technology for editing your photo depending on the camera you took it with. This makes editing super thorough.
Topaz Denoise AI - the best noise reduction plugin. This is a perfect tool specializing in reducing noise in images with a fair value for money. With this plugin, you will achieve an effect that you would never get with Lightroom on its own.
Reshade - the best free noise reducing software. The program has everything an amateur would need for photo editing. So apart from fair denoising, it can help you to crop, supersize, and enhance your images.
17 Best Noise Removing Software
We have tested out 100+ tools for software noise reduction and spent over 2 weeks choosing those with the best features for you. Browse through the whole list, and you will certainly find a program according to your budget, skills, and needs.
1. PhotoWorks
Best for amateurs and casual users
PhotoWorks is an easy photo editor for people of all skill levels. This multifunctional tool is a valuable find if you are a newbie in post-production or prefer intuitive editors. The program allows to denoise high ISO shots, motion photos, and outdoor pictures in just a couple of slider drags without over blurring them. Apart from smart image noise reduction, you can use the software to automatically color-correct your shot for better quality with the help of a content-aware AI system. This denoiser is comparatively cheap and comes in 3 different versions, so you will get the handy tool without going over budget.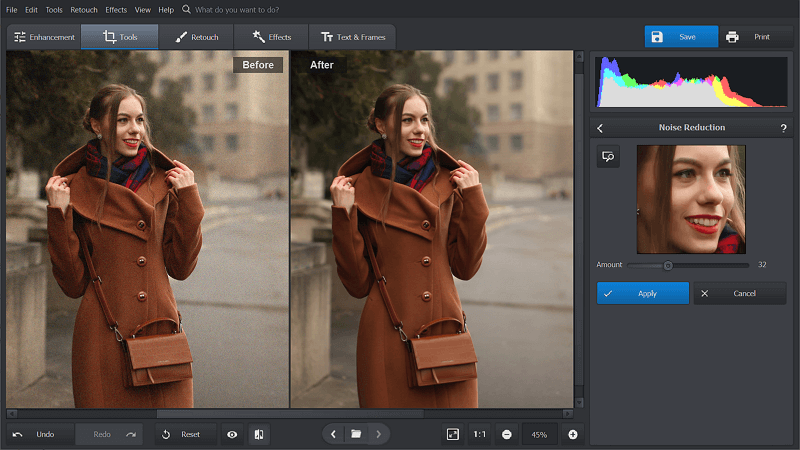 PhotoWorks is a powerful photo editor with AI tools
Non-destructive editing & detail preservation
Content-aware image enhancement
Noise reduction close-in preview
Automatic filters, HDR & 3D LUT effects
450+ RAW formats supported
Multi-language interface
Batch photo processing
Free technical support
Want denoising photos to be a piece of cake?Download the best noise removal software. Try Photoworks for free today!
Download
Fully compatible with Windows 11, 10, 8, 7
2. Skylum Luminar
Best for automatic AI-powered processing
Skylum Luminar is a multi-language program run by artificial intelligence. It is much easier to use than professional software and plugins. All you have to do to give your pic pro-level denoising in it is drag a couple of slides. Skylum Luminar is available as a standalone program and as a plugin for Adobe Photoshop, Lightroom, and Photoshop Elements. However, if you want this program to operate well, you need a computer with a powerful processor and impressive RAM. Otherwise, you won't be able to enjoy all the advantages of this tool.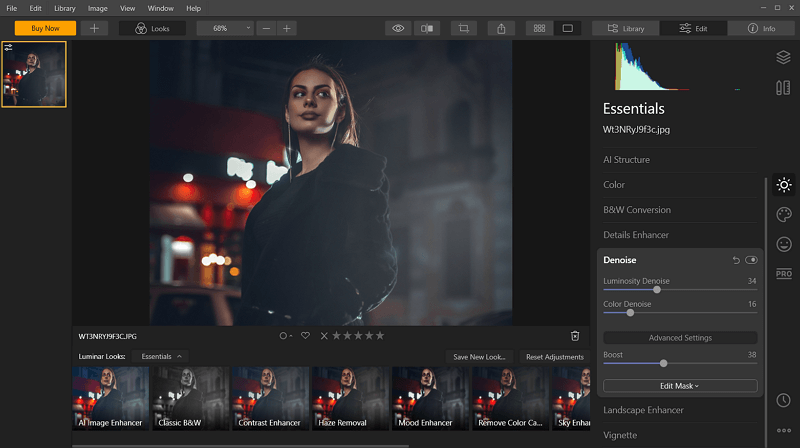 Skylum Luminar, an easy but mighty denoising tool
Smart AI technology
Whole & partial denoising
Easy-to-use for all editors
Preserves detail while reducing noise
Plugin & standalone version
Needs a powerful computer to function well
3. Topaz Denoise AI
Best for content-aware auto enhancement
Topaz Denoise AI is a powerful noise reduction program that recognizes content and allows editing automatically with the help of sliders. It is capable of capturing and recovering details in images that even Adobe Lightroom can't. The tool is available as a desktop program and as a plugin for Photoshop and Lightroom. However, not everyone would be okay with paying such a high price for a tool focused only on denoising.
Pro noise eraser Topaz Denoise AI
Recovery of small details while denoising
Plugin & standalone editions
Learning and recognition of editing patterns
Automatic enhancement tools
Too expensive for what it can offer
Specialized only in reducing noise
4. Capture One
Best for day-to-day editing
Capture One is a multifunctional tool that a photographer can use on a daily basis. The program is famous for its amazing color correction capabilities and employs non-destructive editing technology. You can even import your Lightroom Catalog into it. Capture One can help you with removing both the luminance and color noise. It also detects and reduces some color noise in your RAW pictures the moment you open them, which is sometimes enough to make your photo look neat. The program also has a Single Pixel slider, which helps to get rid of hot pixels on long exposure images. There is a plugin version of the program as well. However, the downside to this impressive tool is its super high price.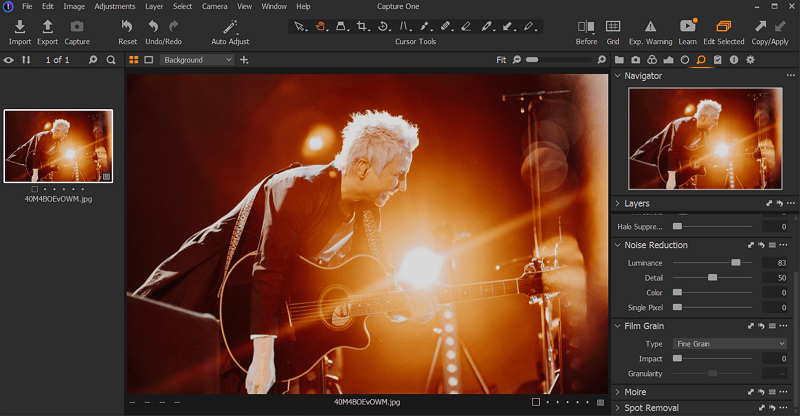 Software for in-depth color correction Capture One
Auto noise reduction in RAW pics
Hot pixels removal
Luminance and color noise reducing
User-friendly interface
Color control feature
Non-destructive editing
Time-consuming photo import
Very expensive
Complicated for newbies
Online profile required
5. DxO Optics Pro 11 Elite
Best for overall enhancement
DxO Optics Pro 11 Elite is the flagship product of DxO. It's a pro-level program for many purposes. It reads your image, recognizes the settings of your camera, and makes the relevant edits. The software is advanced in noise reduction and has 2 tools you can employ for that. If your photo was not taken with high sensitivity to light, use the DxO Smart Lighting tool to improve the quality of your pic. And in case you were shooting at a high ISO level, go with the Noise Reduction tool. However, the program might be too advanced for non-photographers who won't be able to figure out all the things it can do.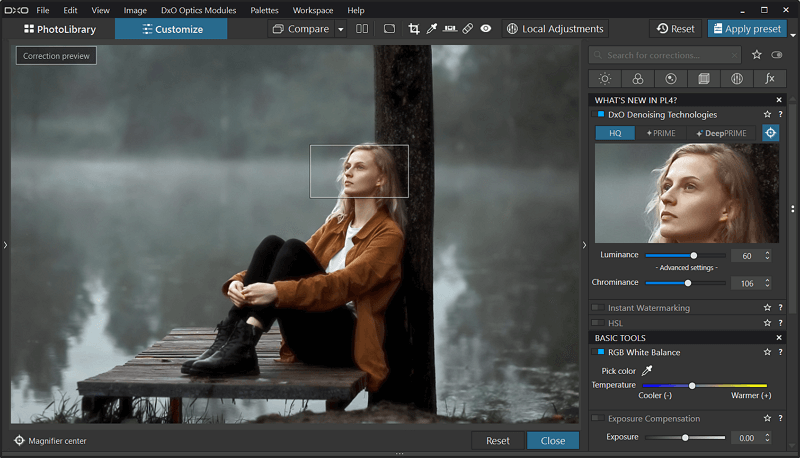 DxO Optics Pro, an irreplaceable tool for pro photographers
Advanced noise reduction
Multiple ways of noise reduction
Multi-purpose use
Pricy for its functions
Paid updates
Complicated for non-professionals
6. Affinity Photo
Best for multiple denoising options
Affinity Photo has many functions and uses, so you can reduce noise in pictures in several ways: by overlaying a series of photos, using the denoise sliders, or reducing the noise in specified sections. One of its advantages is that this professional program removes JPEG artifacts the moment you upload your photo. You can often get Affinity along with other programs in nice bundles for professionals. But even though the tool has a well-organized interface, it might still be too complex for beginners. However, people with at least some editing experience will enjoy it.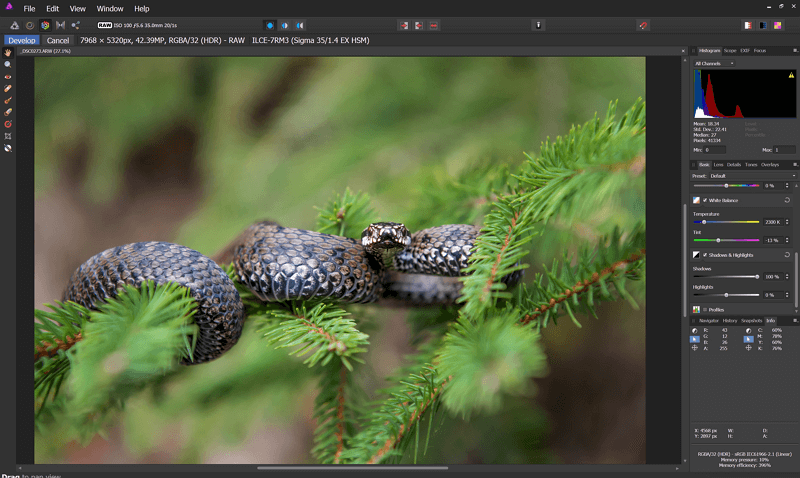 Affinity, a compromise between advancement and simplicity
Multiple approaches to handling noise
Suitable for basic photo editing
Well-organized interface
Suites for photography pros
7. Noiseware
Best for integration with Adobe programs
Noiseware is an award-winning plugin that specializes in removing noise from photos and works with Adobe programs. So if you have to work on noisy pics quite often, this is a thing to purchase. The program will denoise your images with utter delicacy, with no blurs or artifacts that often show up while denoising in alternative programs. It can even deal with noise in scanned photographs. However, you can use this plugin only if you purchase an Adobe program license.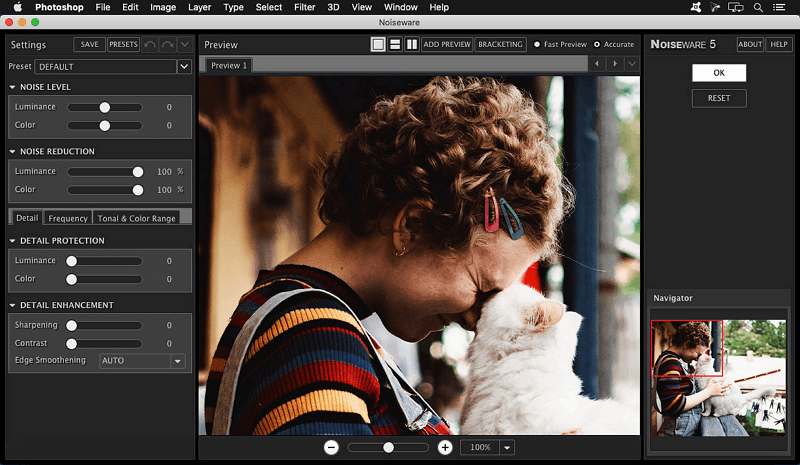 The powerful Noiseware plugin for premium quality images
Thorough removal of grain
Exclusively denoising features
Too pricey for casual users
Needs expensive supplemental programs
8. Photoshop
Best for all-round creating and processing images
Photoshop is advanced noise suppression software from the Adobe family. The features of this photo editor are so diverse that you can do almost anything to your pictures: fix color balance, remove unnecessary objects, and even retouch the model's skin. That is why Photoshop is so popular among pro photographers. When it comes to noise reduction, the program will help you remove both color noise and luminance noise. However, Adobe Photoshop has a rather steep learning curve. And if you are a total beginner in photography, your chances of mastering it in the near month or two are pretty low.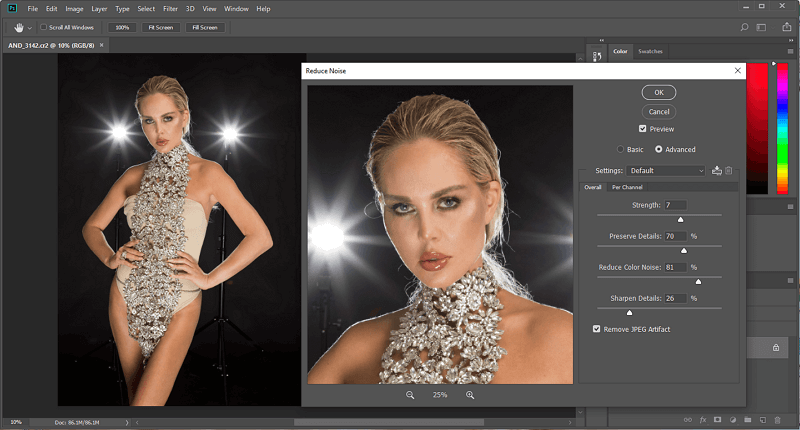 The photo industry titan Adobe Photoshop
Complex noise removal: color and luminance
Built-in tutorial GIFs
Synchronization with Creative Cloud
Access from all your devices
Expensive subscription
Steep learning curve
Сredit card information to start a free trial
9. Lightroom
Best for professional photographers with lots of shots
Lightroom is professional photo noise reduction software that has some advantages over Adobe Photoshop. First of all, it employs non-destructive editing, unlike its counterpart. And when it comes to picture noise reduction, Lightroom enhances your photo the moment you import it, but also offers more advanced tools for further editing. You can use the program to adjust luminance in the photo, enhance the sharpness or smoothness of details, fix contrast and colors. However, the program is pretty difficult for beginners and too expensive for occasional users.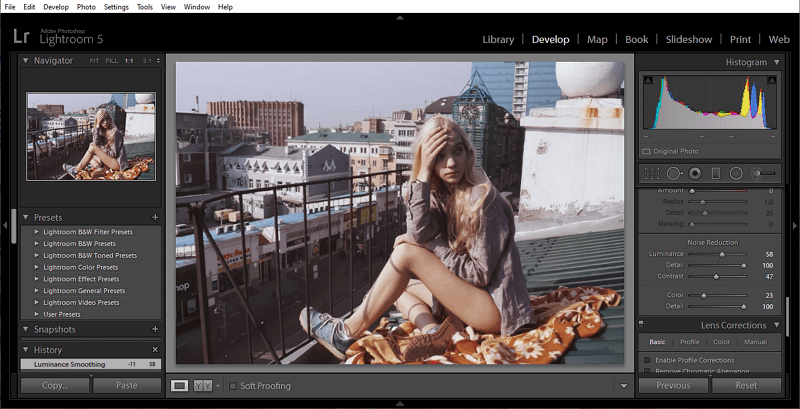 Adobe Lightroom, a pro solution to noisy images
Full and partial denoising
Non-destructive editing
Auto noise correction in RAWs
Synchronization in Creative Cloud
Access from all your devices
Expensive subscription
Too complicated for beginners
10. Noise Reducer Pro
Best for easy noise reduction on Mac
Noise Reducer Pro is free noise cancellation software. It also comes as an extension to the Photos app on Mac and has an upgraded paid version for photography enthusiasts. The tool is super easy to use and has an auto denoise filter and a manual mode. Thus, it is suitable for both experienced photographers and newbies. However, reviews say some people are concerned that the resulting JPEG is worse in quality than right after editing.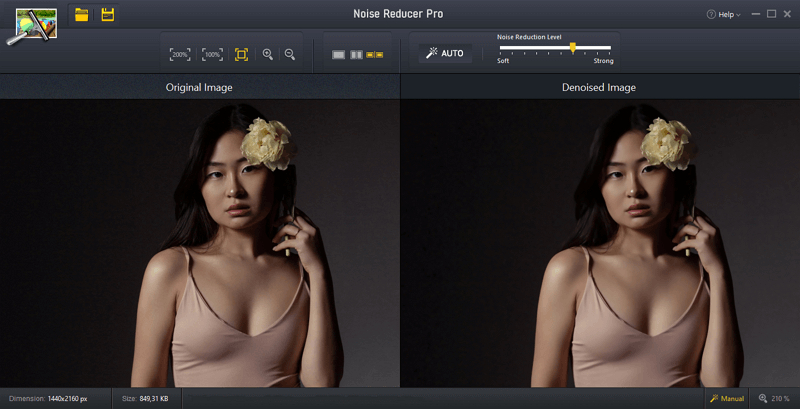 Noise Reducer Pro, a perfect solution for people with no experience in editing
Free version
Cheap paid version
Suitable for newbies
Auto and manual denoising
Very easy to use
Extension for the Photos app on Mac
Saved photo might be of a worse quality
11. Nik Dfine 2
Best for integration in other software
Nik Dfine 2 is a suite of 8 plugins for photo editing that includes the noise reduction feature. The tool has a cutting-edge noise reduction algorithm because it's powered with U Point technology. That allows you to reduce noise only where it's needed. Meanwhile, the Control Points method lets you apply contrast and color noise reduction selectively to create an image of the best quality. The suite is compatible with Mac and Windows and works in Photoshop, Lightroom, and DxO PhotoLab. There is no monthly subscription, so you can purchase a lifetime license. That is a big advantage for regular users and photographers. However, if you need this program for a one-time noise removal job, there is no need to buy 8 pricy plugins for a lifetime.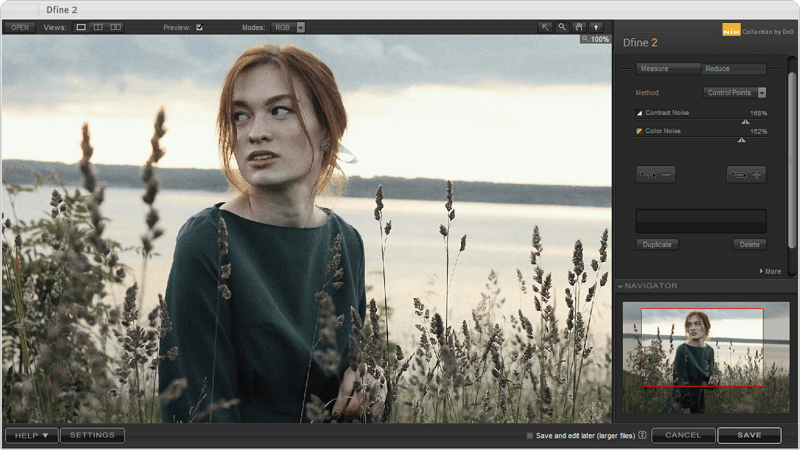 A suite of cutting-edge tools for any occasion Nik Dfine 2
Many features in one suite
Auto denoising
Non-destructive editing
Almost 200 high-quality creative effects
Expensive
No options for short-term use
Needs supplemental pricey programs to work
12. Reshade
Best for simple and free denoising
Reshade is a free multifunctional tool that can help you enhance and supersize your images. This program guarantees you an easy workflow, which makes it helpful to newbies. The handy noise reducer allows you to denoise images with a single slider drag. Besides, you do not have to pay any money for it, so the program is a perfect choice for casual amateur use. However, it is too limited in its features to be utilized by pro photographers.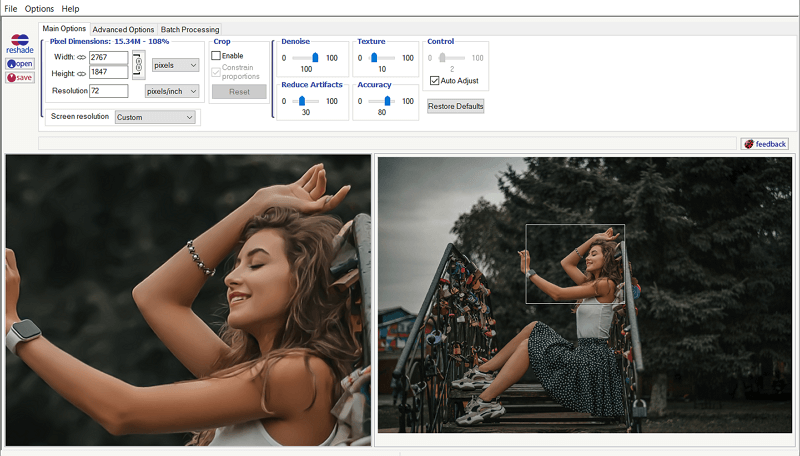 Reshade, a program that guarantees a smooth editing process
Intuitive interface
Easy denoising
Equipped with essential editing tools
Easy workflow
Perfect for single use
13. Retouch Pilot
Best for precise correction of small areas
Retouch Pilot is a photo denoiser with a simple interface designed for removing small photo imperfections. It allows you to quickly reduce noise in the chosen area. The tool is also great at restoring old pics and removing flaws in a scanned photo such as dust and scratches. However, the price of the program is too high for what it has to offer. There is a free version of the tool called Retouch Pilot Lite in case you want to give it a chance.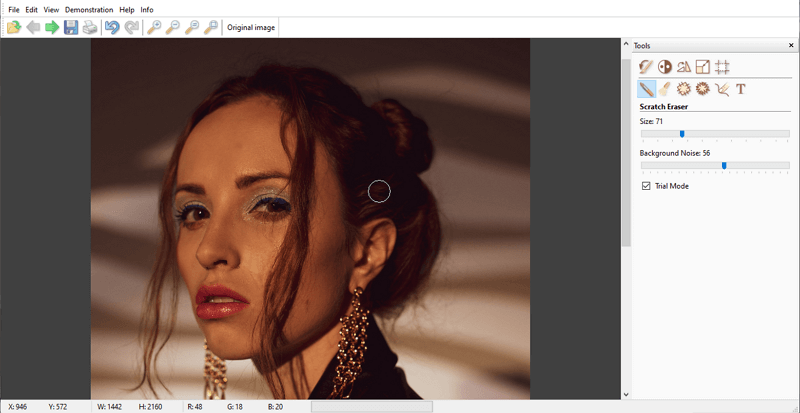 Retouch Pilot, the tool for quick photo restoration
Simple interface
Suitable for inexperienced people
Inadequate price for value ratio
14. Photo Ninja
Best for RAW image processing
Photo Ninja is perfect denoise software for working on RAW images. It is equipped with many features for improving the quality of your shot. The software offers an improved tradeoff between noise suppression and detail preservation, better treatment of color, and natural smoothing of contoured areas. However, this professional-level software has a complicated interface which might be frustrating for a person not used to professional photo editing programs.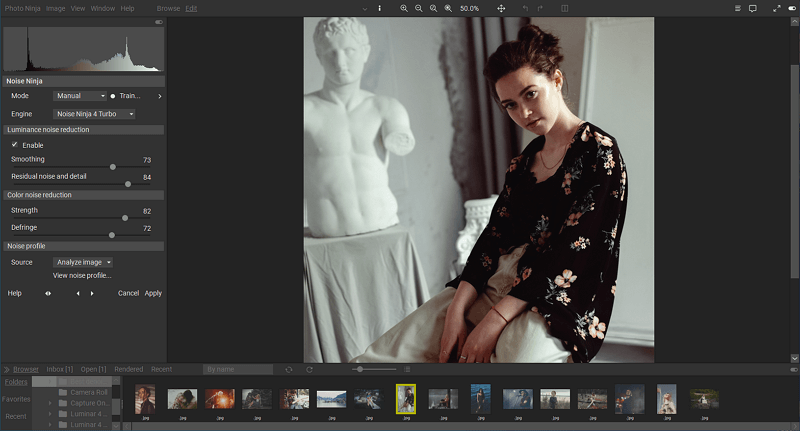 Photo Ninja, a pro in editing RAWs
Specializes in improving the quality of your shots
Preserves details
Delicate editing effect
Many tools for photo restoration
Expensive license
Paid updates
Complicated interface
15. Neat Image Pro
Best for denoising shots with motion
Neat Image Pro is a professional program specializing in reducing noise in pictures. It is excellent at improving photos taken in action: running animals, birds flapping their wings, objects in the air, etc. The software is also good at improving the quality of old pics. Unlike most editing programs, this tool supports not only 8-bit images but also 16-bit and 32-bit per channel format in both RGB and grayscale. Neat Image Pro is available as a standalone program and as a photoshop noise reduction plug in. You can try its basic features with a demo edition. But it might take time to master its functions.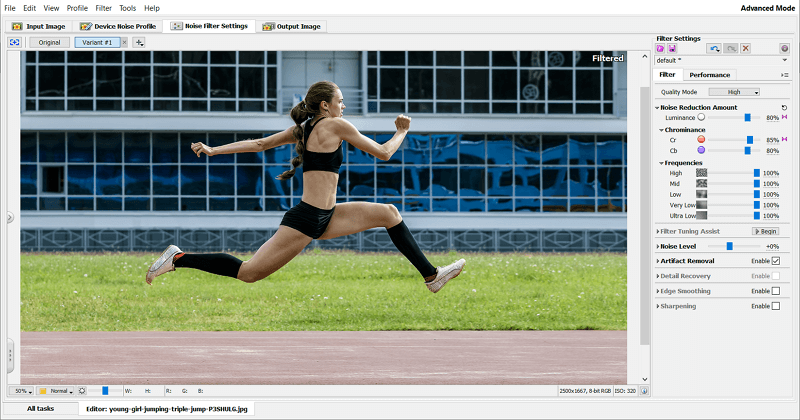 An awesome tool for action shots Neat Image
Useful for action photos
Supports a bigger range of formats
Available as a standalone & a plugin for Photoshop
Demo version
Complicated for non-professionals
Requires an online profile to use
Expensive
16. Imglarger
Best for uncomplicated online processing
Imglarger is the newest Al solution for any photographer or content creator in need of high-resolution graphics. Imglarger can satisfy various photo editing needs by combining other picture-enhancing features along with noise reduction for photos. It can sharpen blurry photographs, repair damaged portraits, remove image backgrounds, lessen noise, turn photos into cartoons, etc. Also, the platform provides a set of apps for iOS, Android, and Mac.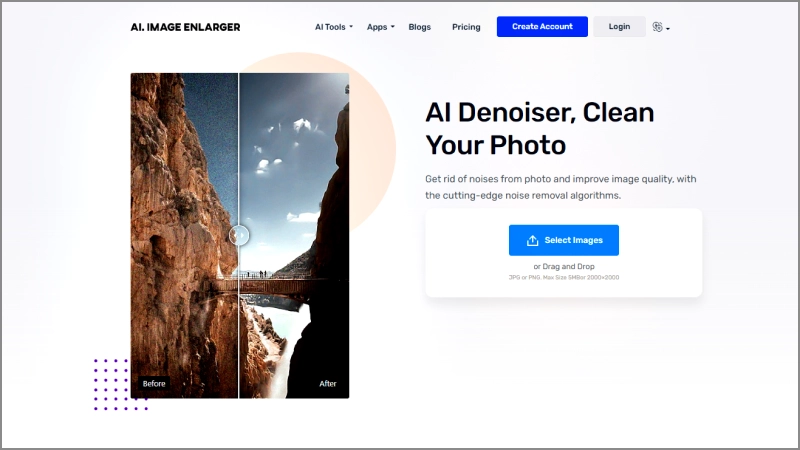 Improve and enlarge pictures in a few clicks with Imglarger
Easy-to-handle tool
Extremely fast processing
High-quality result
Only 8 images per month in the free version
Little control over automatics
17. VanceAI Image Denoiser
Best for advanced AI-powered features
Vance AI is a go-to solution if you're looking for AI-based software for noise cancellation. It can easily add more clarity to your pictures. Its toolkit is also fully automatic and available online, but there's a desktop version for your convenience as well. You can quickly produce beautiful, high-quality photographs that appear to have been taken with a high ISO and shutter speed, and then dramatically upscale them right away.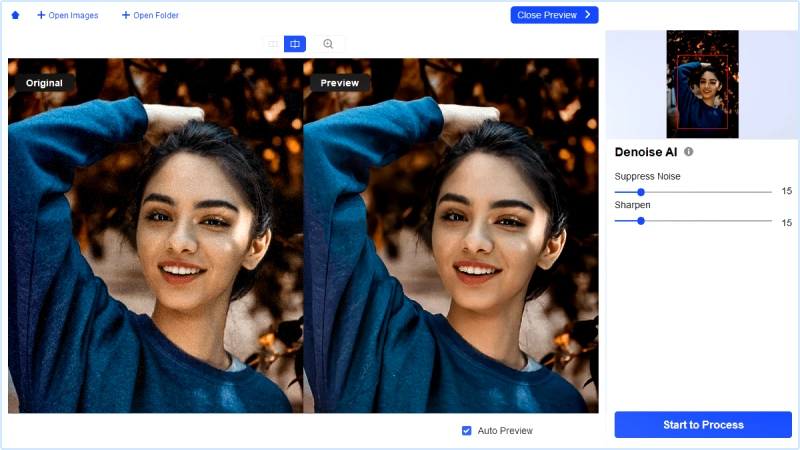 VanceAI – a denoiser based on high-end machine-learning
Uses cutting-edge algorithms
Has other AI-based features
40x image upscaling
One-click enhancement
Very limited free use
Maximum image size is 2.8 megapixels
No batch processing in the free version
Desktop version requires an Internet connection
Side-by-Side Comparison of Denoising with Different Programs
Different denoising software from various developers utilizes a vast number of technical tricks. This is why the results provided by those programs have distinct features. You may want to take this fact into account.
Photo Ninja, for example, is awesome for motion photos, but without practice, it can make the shot even noisier than before. Capture One Pro retains a great degree of detail in the moving objects while also softening the background.
Lightroom can significantly denoise photos, but also create color halos and blur details when you set the noise reduction amount to the maximum. Same goes for Photoshop.
Even without enhancing detail, Topaz DeNoise AI beats Lightroom Classic when it comes to preserving detail. Same is true for Dfine, which cleans up a lot of the noise, but still has chroma noise and some details are waxed out.
Other apps also have their quirks, but they are more or less subtle, plus every case is unique and the only way to know how your shot will look is to give each tool a try. Thankfully, most of them have either a free version or a trial period.
However, there's one thing that causes trouble to almost any app out there – dark tones. In case the noise is caused by the lack of light or covers deep dark parts of the image, then you will have a much harder time with photo noise reduction.
Examples of denoising with various apps
Conclusion
This concludes our overview of the best noise reduction software of 2023 so far. The best case scenario is obviously to get the image as good as you can in-camera, even though there is a lot that can be done in post. When it comes down to denoising or any other enhancement, the top tool may vary from one standpoint to another. The best software for noise reduction for you will ultimately depend on a number of factors, such as your budget, the style of photography you do, and how a program integrates into your workflow. But at least you can make a more informed choice now. Good luck!