How to Make a Photo Collage for Facebook in 4 Ways





4.4
Votes:

7

(Rated: )
Today Facebook is one of the world's most popular social networks. It's used far and wide for both personal and business purposes. The platform boasts over 1,6 billion active daily users, so it's really hard to make your profile stand out and get more likes. Here's an idea - try adding a photo collage to Facebook as your profile or cover photo.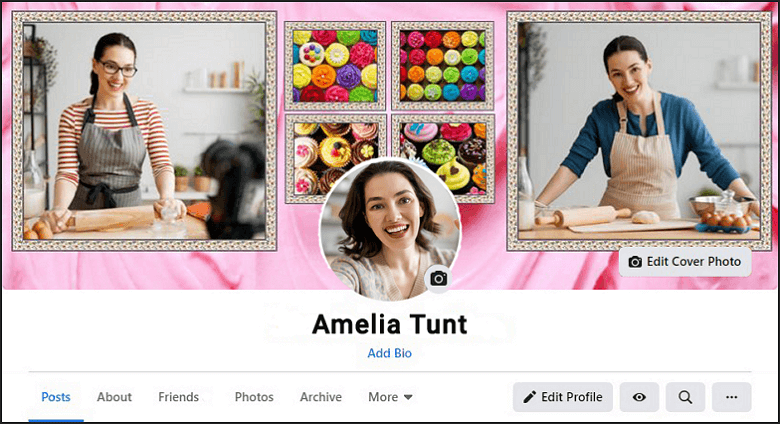 Want to create a stunning collage for your profile? Download a handy Facebook collage maker and try it for free!
So, how to create an eye-catching collage that will attract new followers to your personal or business account? Don't worry - we've got you covered. We have prepared detailed guides on how to make a photo collage for Facebook in 4 easy ways.
Method 1. Make an awesome Facebook collage on Windows
Method 2. Create a cool Facebook cover picture on Mac
Method 3. Jazz up your cover pic with an online collage maker
Method 4. Use mobile apps for Facebook collage creation
Ready to spice up your account and expand your audience? Learn how to create all kinds of fancy collages for your social media page. Here're 4 methods for any skill level. Let's start making collages for Facebook right now!
Way 1. How to Make Facebook Collages on Windows
Never created collages before? Don't worry, this process doesn't require any special knowledge. All you need is a bit of your time, your best pics, and Photo Collage Maker, an easy but feature-packed program that allows you to make a collage on the computer. It has hundreds of designer templates and ready-to-use layouts. You can create a neat Facebook collage in just a few clicks, then decorate it to your heart's desire. Here's our step-by-step guide on how to make a picture collage for Facebook with the help of Photo Collage Maker.
Step 1. Pick a Layout and Add Your Best Pictures
Run the software and choose a layout that tickles your fancy. There are 370+ photo collage templates at your disposal: simple collages, photo grids, jumble and polaroid-style collages, etc. Once you've made your choice, you will need to set the size and orientation of your project. Keep in mind that the optimal image size for a Facebook cover is 820x312 pixels. To add your pictures, you can either click on empty frames or drag & drop your photos to the page.
Pick a layout to your liking and fill it with eye-catching pictures
Step 2. Personalize Your Collage with Effects and Captions
With this Facebook photo collage maker, you have access to virtually unlimited customization options. You can move collage elements wherever you like or tilt the photos. If you want to make the background more eye-catching, replace it with a texture or an image from your own collection. Want to add more style to your collage? Under the Frames and Effects tab, you'll find a variety of elegant frames, creative masks, and fancy filters. Need a funny caption or a themed icon? Go to the Text and Clipart tab, there you will find hundreds of text styles and cliparts.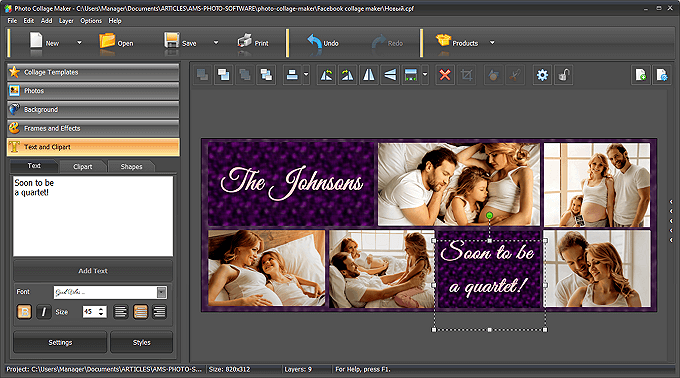 Customize your project and decorate it with themed elements
Step 3. Save Your Collage at an Appropriate Resolution
Once you are satisfied with what you see on the screen, save your Facebook collage. To do that, click the Save button in the top menu and select Save As Image. In the pop-up window, choose the PNG file type from the drop-down list of image formats. This format prevents unwanted visual artifacts caused by compression of the picture (they often spoil logos and text elements).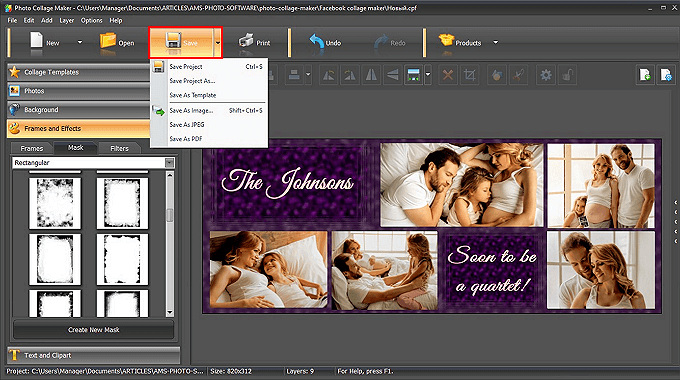 Click the Save button and choose the PNG format for better quality
Photo Collage Maker is much more than your average collage making tool. It allows you to create projects for any occasion — Christmas, wedding, birthday, anniversary, graduation and other significant events. You can also make invitations and greeting cards, and print them in premium quality. That is surely worth trying! Want to wow your followers with an awesome cover pic? Download the free trial of this picture collage maker for Facebook now!
Download
Fully compatible with Windows 11, 10, 8, 7
Although easy and versitile, Photo Collage Maker is not the only software for the job. Want to find other tools you can use to create a killer profile picture? Then let's do it.
Way 2. How to Make a Facebook Photo Collage on Mac
TurboCollage is an intuitive application that is quite popular among Mac users. It helps you create all kinds of collages: photo piles, photo grids, shape collages, mosaics, mood boards, and more. Let's see how you can use it to create a collage for Facebook.
Step1. Run TurboCollage and Select the Desired Pattern
Open the Settings tab and choose the pattern: Picture Grid, Advanced Pile, Mosaic, etc. If you choose the Mosaic pattern, you can enjoy the smart automatic layout feature: the program will neatly resize and arrange your images without cropping. Other patterns allow you to customize the layout of your photo collage for Facebook — change the size and position of the elements.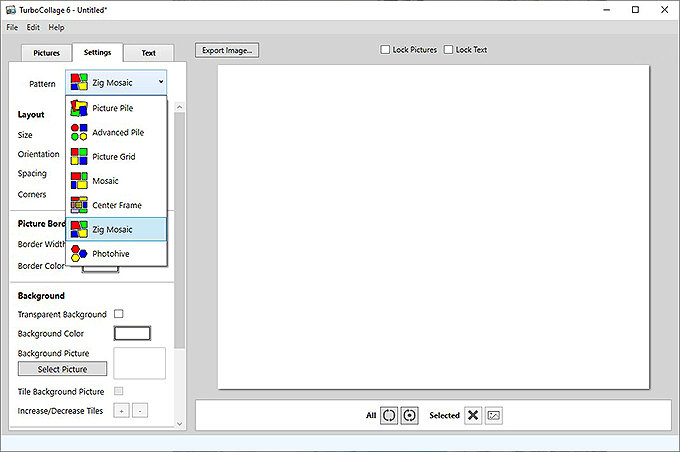 Open the program and choose a suitable layout for your Facebook picture collage
Step 2. Choose Facebook Cover Size, Adjust Spacing and Borders
TurboCollage offers a variety of size presets that are optimal for different purposes. Choose Facebook Cover Photo, so that the resulting collage would have perfect dimensions for this platform. Then move the Spacing, Corners, and Border Width sliders to get the design you want. Add a background picture or texture for a more refined look.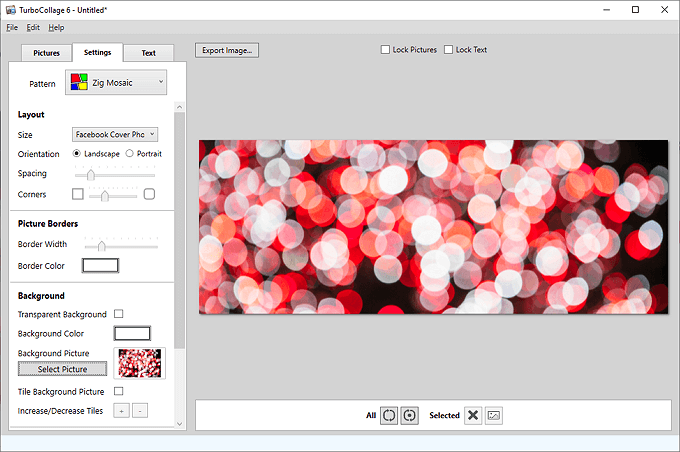 Opt for Facebook Cover size, then move sliders to adjust spacing and borders
Step 3. Add Photos, Text Elements, and Make Final Adjustments
Open the Pictures tab and select the images that will look good on your Facebook page. Use the buttons on the bottom panel to tweak the position of your pics, change their shapes, zoom in or out, tilt them, etc. If you want to add a caption, move to the Text tab. Using the menu buttons, you can change the text background, add shadows, change color, and rotation angle.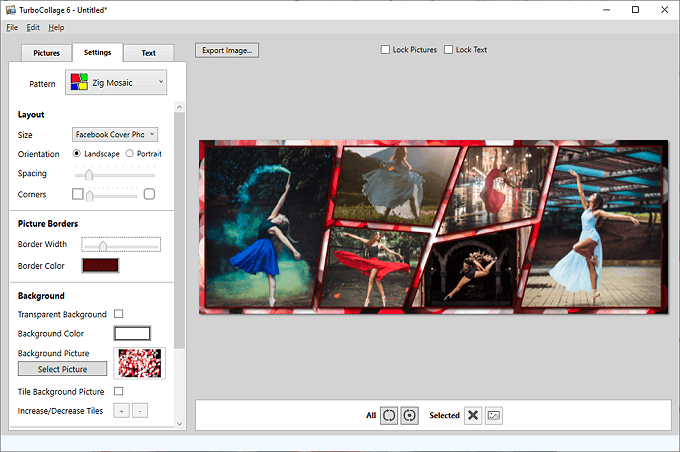 Select the images for your Facebook pic collage and add a caption if needed
At the end of the day, Turbocollage features a good variety of layouts but doesn't offer much in terms of customization and decoration. For example, you can't add frames or cliparts or apply filters to your photos. But if you only need to make a basic collage for your cover photo or for your Facebook timeline, this program is a convenient and easy-to-use option.
Way 3. How to Make a Collage for Facebook Online
BeFunky is an online collage making tool best known for its extensive library of templates. Let's see how to create pic collages for Facebook with it. First, click Get Started and then Create a Collage. Switch to the Layouts tab and select the Facebook Cover section. Choose a template you like and go to the Image Manager tab. Here you can upload photos from your collection or add suitable stock images from BeFunky's library.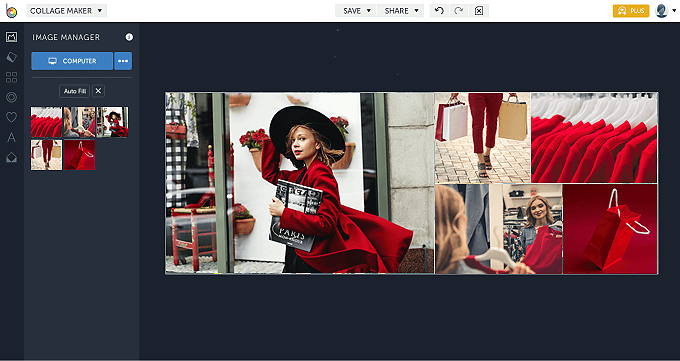 You can use high-quality stock images when creating Facebook collages with BeFunky
Now, customize the background color, spacing, and corner rounding. Add textures to the background, choose a sophisticated text style for a caption, and throw in some cliparts. If you want a convenient online collage maker, BeFunky is what you need (in case you're not too fussy about limited Facebook collage features). However, if your Internet connection is not very stable, you might face problems with uploading your images.
Way 4. How to Make a Collage for Facebook on Phone
PicCollage stands out from the Facebook collage apps crowd due to its ease of use and lots of time-saving templates. To create a photo collage for Facebook, install and open the app. Tap the blue plus button and let PicCollage access your smartphone's camera storage. Add photos to your project either from your phone, Facebook albums, or from Google Photos.
You can directly import pictures from Facebook albums and Google Photos to PicCollage
Next, specify the aspect ratio and arrange pictures. You can move them around with your finger or double-tap to zoom in or out. PicCollage allows you to add captions, cliparts, or change the background. PicCollage is a noteworthy collage maker for Facebook, but it has some drawbacks, too. Many graphic elements will cost you extra money. Besides, the free version puts a large watermark on your collages.
Jazz Up Your Cover Pic with the Right Facebook Collage Maker
So don't waste any more precious time - create a dazzling cover picture and post it on your Facebook page. If you still hesitate which software to choose, go with the best balanced one - Photo Collage Maker. This program is versatile, but user-friendly. You'll have hundreds of templates for collages, postcards, and invitations at your disposal. With Photo Collage Maker, you'll be able to craft digital scrapbooks, multi-page photo books, themed collages for holidays, collages of photos for Facebook in a blink of an eye. The program doesn't depend on Internet stability, nor does it charge extra money for premium features. Get Photo Collage Maker today and amaze your followers with your new cover pic!
Want to make a photo collage for Facebook?
Download this user-friendly collage creator!