Look slightly chubby in your latest photos? Want visual motivation to keep working out? No matter the reason, you can easily get rid of extra pounds and do other body sculpting work with photo slimming software. Stop wasting your time looking for the best program. Here, we've selected the top apps to edit your body on your PC or smartphone. Without further ado, let's dive in!
Best Photo Slimming Software for PC
Top Body Slimming Apps for iOS and Android
Complete Reviews of Best Body Morph Apps
Photo Slimming Software That Will Take Off Excess Pounds
There's nothing like natural beauty, but it doesn't hurt to shag off excess belly fats and get some muscle, right? Losing, gaining, or reshaping your digital self is no longer a problem! Thanks to improved image recognition technology, PhotoWorks allows you to slim, increase or emphasize any part of your body without affecting the others. Leaner legs, bombshell curves or bigger abs - you can have it all in a jiff with this body reshaping photo editor, free to try on a PC.

Using the Body Sculpt tool, select the body area that needs adjustment and drag the slider to achieve a thinner look. With the help of this powerful body slimming software, you can reshape yourself in other ways too. Dream of a curvy shape? Get wider hips and boost your breast with the Enhance option. Need to build up some muscles? They will grow by leaps and bounds with a single drag of the Reshape slider.

Check out the video guide below to see how all the changes are done in PhotoWorks.
How Else Your Selfies Can Benefit from PhotoWorks?
Remove any blemishes - acne, spots, moles, dark circles
Smooth uneven skin and erase wrinkles without a trace
Change facial features: plump lips, bigger eyes, narrow chin
Restore the natural look of eyes & erase the 'red eye' effect
Whiten teeth from yellowish tones to pearly whites
Experiment with different colors for your eyes and hair
Top Apps to Edit Your Body on a Smartphone
Here's the list of the best body editor apps on the market:
Best Body Editing Apps: Detailed Review
Check out the detailed reviews of the top photo slim editing apps below. Edit your body effortlessly to visualize the way you can look without a few extra pounds or with defined abs and muscles.
RetouchMe is the closest alternative to PhotoWorks mentioned above in terms of the variety of features. Longer legs, a flatter tummy, a slimmer waist - edit your portraits whatever you like with this photo stretching app. There are many other enhancements, from removing dark circles and teeth whitening to doing a nose job and face lifting. Plus, you can experiment with hairstyles, erase backdrops and eliminate watermarks. Basically, it's a free body editing app, but to remove ads and expand its available features, you need to make in-app purchases.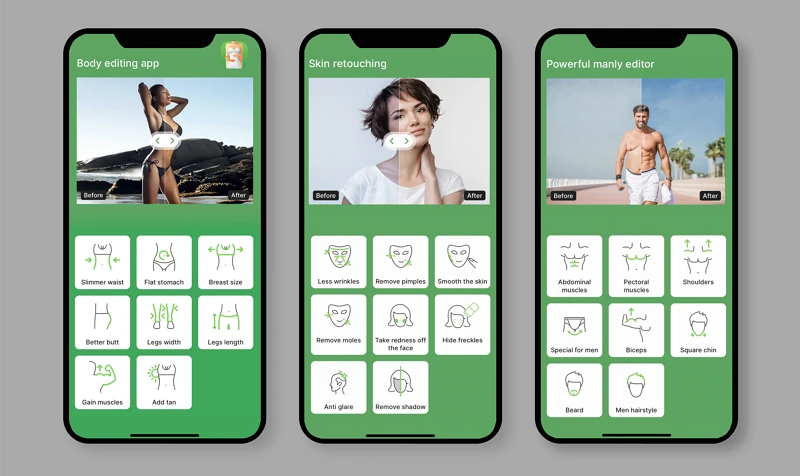 Make all-round portrait improvements with RetouchMe
In-depth photo editing
Face & body correction
Lots of features are unavailable in the free version
Users report a quality loss after editing
Look toned up in your images without going to the gym with a weight loss photo editor named BodyApp. Get six-pack abs in no time with this body shape app. Plus, narrow your waist and enlarge your breasts and buttocks to emphasize your body curves. Men can also use this program to edit belly fat, build extra muscles, and try a new look by adding or removing a beard.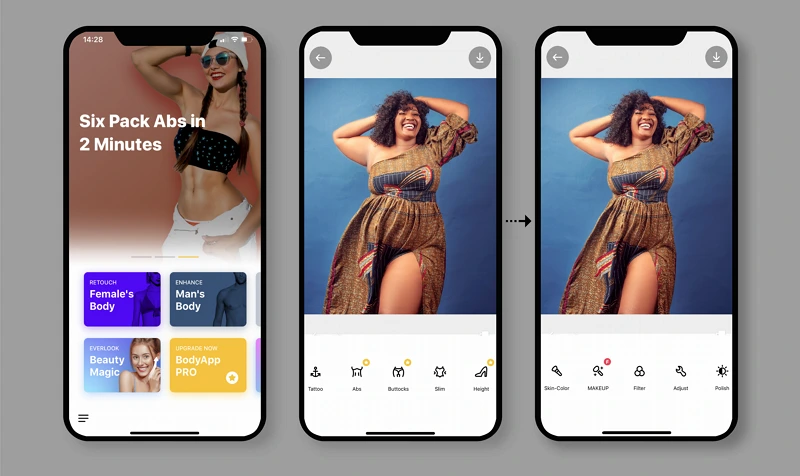 Spice up your body features with BodyApp
Accurate body correction
Multiple artistic filters
No face editing option
Expensive Pro version
Body Tune is another free body editor app that allows you to get a Photoshop body within a few clicks. Reshape yourself as you want, making your waist slim and legs skinny, curving your thighs, and enlarging your breast. You can also bulk up your muscles, give yourself a healthy tan, or even try out a tattoo. Unfortunately, this body tuner app doesn't include options for face editing and improving the overall image appearance.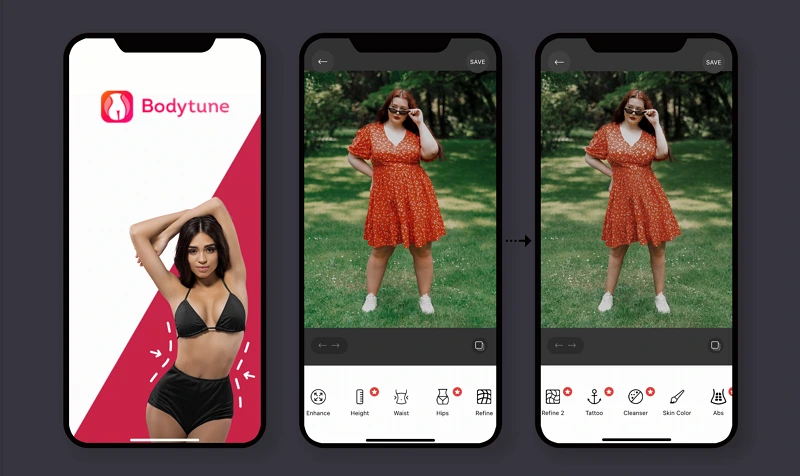 Enhance your silhouette with the Body Tune app
Fast image processing
Lots of automatic reshaping presets
Pro plan is quite costly
Quality loss after editing
4. Peachy (iOS)
Apple users have one more face & body photo editor to choose from and it's Peachy. Get a peachy-looking butt and six pack abs muscles without tiring exercises - body contouring has never been this easy. This highly sought-after reshape app lets you retouch your selfies as well. Get rid of annoying pimples, lighten dark under-eyes, and brighten up your skin without any makeup. Plus, you can decorate your portraits with stylish accessories and improve the overall look with design filters.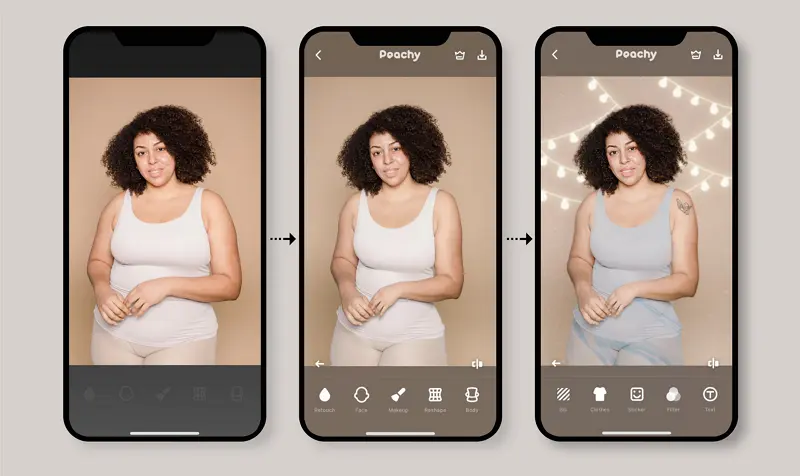 Create the best version of yourself with Peachy
Selfie retouching option
Affordable lifetime subscription is available
Basic photo enhancement
Slow customer support