Happy Birthday Collage Maker for a DIY Gift
Need to find a great way to commemorate the birthday of your loved one? If you have many digital photos from family celebrations and friend's parties, making a photo collage for a birthday will be a great gift idea. Such a gift is easy to create and it will have a refreshingly unique touch. This video tutorial will prove it:
Want to create a birthday photo collage for your dear one's big day? All you need is convenient collage making software and a bit of imagination. And our guide, of course. In this article, you'll learn how to make a happy birthday collage all by yourself. Let's get rolling.
Awesome Birthday Picture Collage Ideas
Can't quite picture how a B-day collage could look like or who could be the recipient? Then here are some great birthday photo collage ideas you might want to borrow.
Photo Collage for Boyfriend's Birthday
You surely don't want a birthday card for your boyfriend to look girlish or soppy. Opt for more 'manly' colors - blue, green, silver or rich brown. Think about cliparts to use - it's better to choose images that reflect your man's hobbies. Already tied the knot? Then the same rules apply to making a birthday collage for your husband.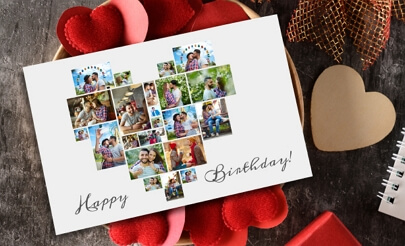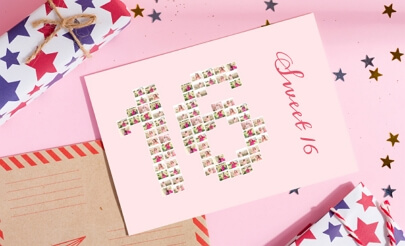 Birthday Number Photo Collage
Is your dear one having a special birthday, like Sweet 16, 21 and so on? Design a collage where the birthday girl or boy's pictures would be arranged in the form of the corresponding number. Big round numbers work too. An 80th, 70th, or 60th birthday photo collage will look great.
First Birthday Photo Collage
Your little one is finally turning one? Then make a Happy Birthday collage to celebrate this milestone. There are many options you can try. First off, you can chronicle your baby's first year with pictures arranged in a grid, or you can go for a collage in the form of the figure 1. That would look so cute.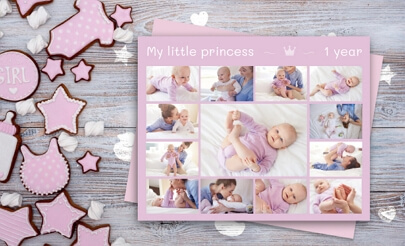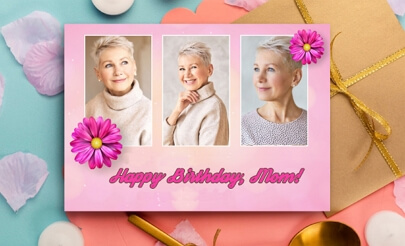 Photo Collage for Mom's Birthday
Mom is a very special person in your life so treat her to a truly sweet photo collage for her birthday. Combine the images of you two together, decorate them with digital flowers, graceful frames and write a message showing how deep is your love for your mother. This would be a birthday greeting she is sure to remember.
50th Birthday Photo Collage
Making a photo collage for the 50th birthday is a bit challenging as you have really lots of pics. Don't try to fit them all on the page, pick the milestones of the celebrant's life & use them in your design. Or if you do want to cram as many pics as possible onto your DIY gift, why not go for a super-sized birthday poster?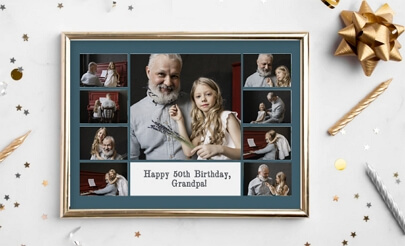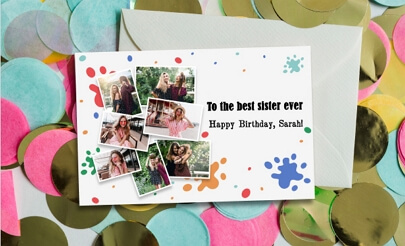 Birthday Collage for Sister
Make a lovely design for your sister. It can be a hipster-like Happy Birthday pic collage or something more subtle and classy. Our advice is to create a polaroid or multi-photo design to capture the best moments in your sister's life. She will be bound to post your awesome design on her Instagram or Facebook page.
Ready to realize some of these ideas? Then you'll need the best birthday collage maker.
Сlick the button below to download a perfect tool for free.
How to Make a Birthday Collage in a Few Steps
Loved our happy birthday collage ideas? Then it's high time to create a cool birthday collage for your loved one. You'll need Photo Collage Maker. This photo collage maker for PC is equipped with 400+ happy birthday collage templates and endless customization possibilities. The software allows you to make grid, jumble, and variously-shaped collages automatically. It will take you just a few moments to make a Happy Birthday collage with letters or numbers. Let's see how to use this software.
Step 1.

Pick a Birthday Photo Collage Template

Once you run the photo collage maker for birthdays, you'll have a few options to choose from. You can go with pre-made templates, opt for automatic grid or shape collage creation, or you are free to select a blank project. The last option will allow you to design a picture collage for a birthday from scratch. Once you choose the project type, set its size and orientation.
Let's make a 30th birthday collage for a dear friend using a built-in template
Step 2.

Add Pictures to Your Happy Birthday Collage

Next step is to add photos to your best friend's birthday collage. Double-click the empty slots to add your images. Even if you pick a wrong pic, you can easily replace it. Once all the photos have been added, you can rotate or re-arrange their position on the canvas. If you double-click the images, you'll be able to enhance the way your photos look by cranking their brightness, contrast and saturation.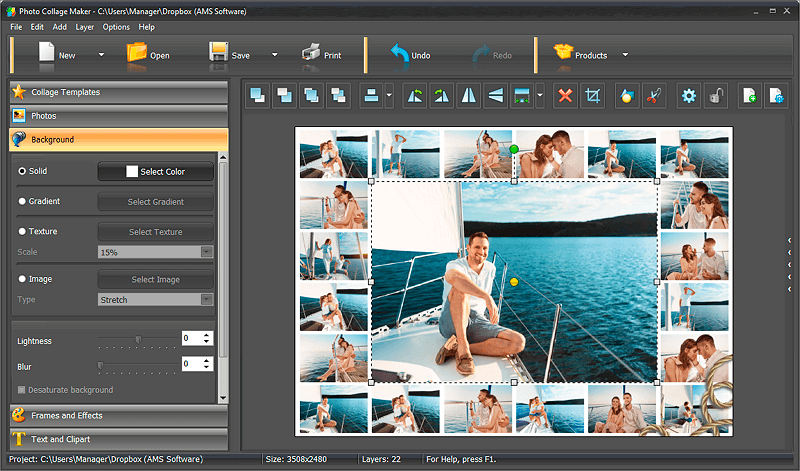 Go with the happiest photos of the celebrant you can find
Step 3.

Make Your Birthday Collage Festive with Decorations

Once you are through with the layout, it's time to decorate your project. First off, change the background for any image you want. Then, embellish the photos themselves. This collage maker for birthdays comes with tons of artistic elements that will help you with that. Use frames and masks to give your pics a much needed zest. Add thematic cliparts to complete the festive look of your collage.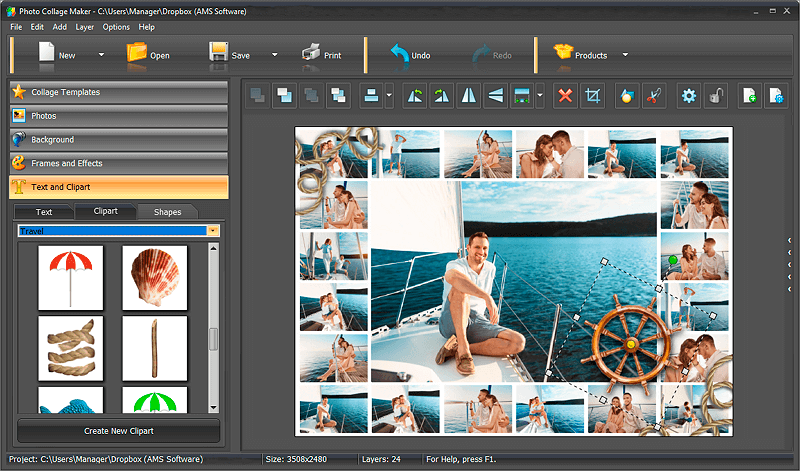 Give your collage a personal touch by adorning it the way you like
Step 4.

Insert a Sweet Birthday Message

Turn your Happy Birthday photo collage into a bonafide greeting card by adding your B-day wishes to it. Type in your text and stylize it to fit with the overall aesthetics of your collage. Change the size, the font, and color of the caption, then find the right place for it on the canvas.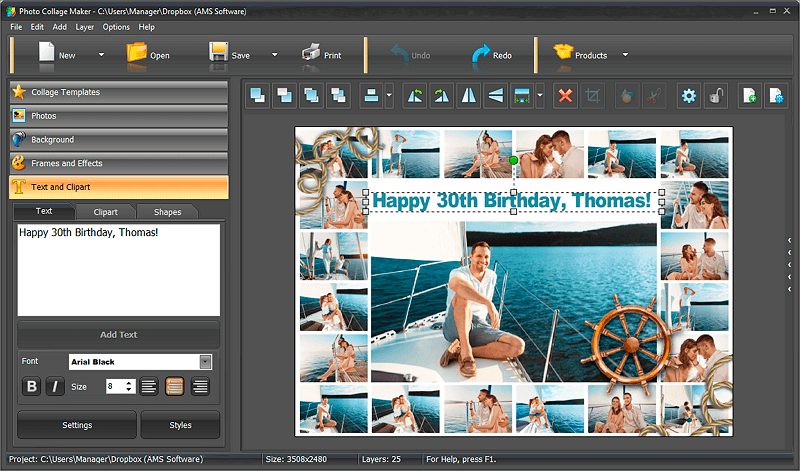 Pour your heart out into your birthday wishes for your friend
Step 5.

Save or Print Your Birthday Collage

When you are done with your Happy Birthday picture collage, it's time to either save or print it. You can save the gift as an image (a JPEG, PNG, or TIFF), as a PDF file, or a template, should you want to use it once again. Print the collage right at home if you have the equipment or take it to the nearest photo studio. And voila, your one-of-a-kind collage is done.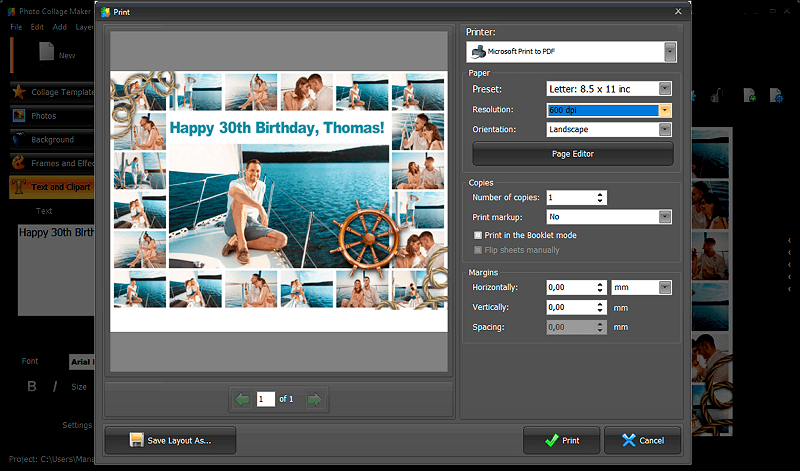 You can use the same layout for your friend's 40th birthday photo collage
So this is it, now you know how to make a collage for a birthday. Say goodbye to flavorless greeting cards and gift certificates. The special people in your life deserve special treatment. So create a birthday photo collage to celebrate your loved one's big day. Make sure to use our ideas and Photo Collage Maker for it. After all, this software has it all for easy and enjoyable collage creation - hundreds of templates and decorative elements. What's more, you can create photo gifts for other celebrations too, like wedding albums and invitations, engagements and pregnancy announcements or just pro-looking vacation pic collages. The only limit is your imagination.

400+ templates, auto
grids & layouts

Frames, masks, cliaprts, text styles

Save as JPEG, TIFF, PDF
or print in HQ