How to Make a Happy Birthday Collage
Need to find a great way to commemorate the birthday of your loved one? If you have many digital photos from family celebrations and friend's parties, making a photo collage for birthday will be a great gift idea. But don't rush to a nearby photo studio, you can design a personalized present without leaving your home! All you need is convenient collage making software and a bit of imagination.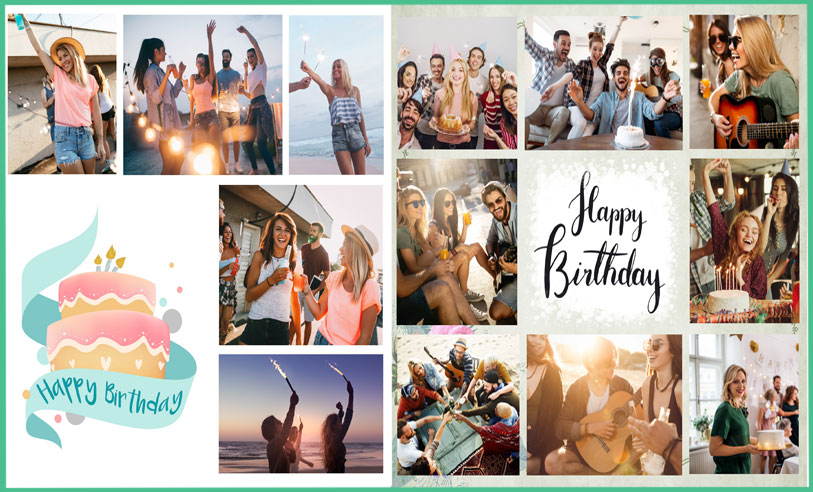 Make Birthday Photo Collage in 5 Simple Steps
Our photo collage maker for PC is a perfect tool to produce a wonderful collage for that kind of present. The software includes hundreds of templates so that you can wish 'Happy Birthday' in style. So how to make a birthday collage? Give Photo Collage Maker software a try and see how easy it is to produce an amazing result following five simple steps.
Step 1.

Pick a Festive Ready-Made Template

Photo Collage Maker provides you with a wide choice of templates and editing tools for creating a beautiful collage. There're more than 370 ready-made birthday collage templates from simple layouts with classic grids to themed collage templates with cute embellishments. Just pick one of birthday card templates with photo from ten categories and add as many pics of the celebrant as you want.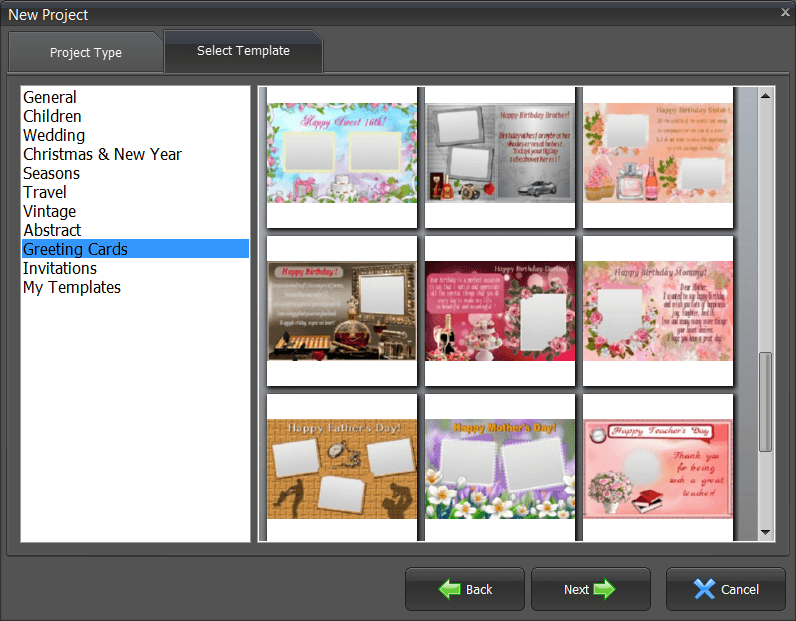 Choose a birthday template to prepare a one-of-a-kind gift for your loved one
Step 2.

Add the Best Photos to Your Design

Think about the concept of your birthday card: trace the process of growing up with newborn, toddler, teenage and adult photos; recall the previous birthday party spent together; mark the celebrant's achievements made through the years. Background templates that come with Photo Collage Maker let you add multiple pictures to give a birthday boy or girl a full set of expressions.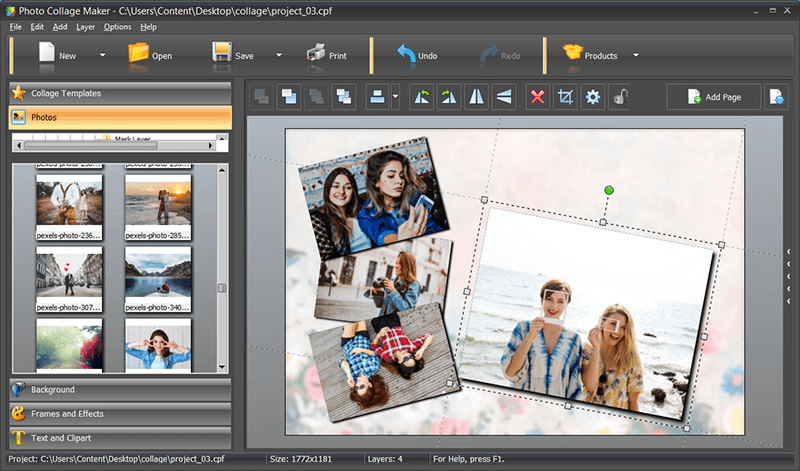 Don't use too many photos in your collage design, let it be consistent
Step 3.

Funk Up the Chosen Card Template

The tone of templates available in Photo Collage Maker ranges from black and white to wonderfully colorful. But even within this selection of layouts, you can refine your design even more. The program allows you to edit virtually all elements on the page. You can also try various frames, filters and masks to decorate the pictures you've added, as well as further decorate them with suitable cliparts.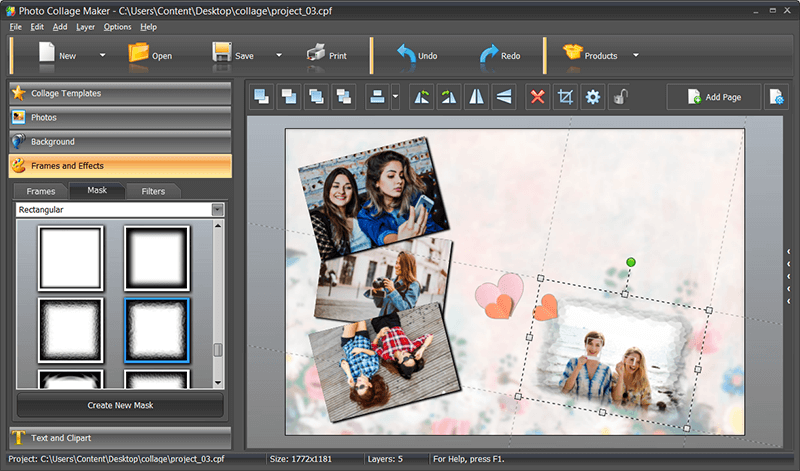 Decorate your collage page with funny clipart, elegant frames of masks
Step 4.

Play with Different Text Styles

What turns a photo collage into a touching postcard or an eye-catching poster? It's text messages. Good news, this photo editor works with all types of text so you won't need any other programs. There're dozens of cool pre-designed styles that will become the cherry on top of classic and modern funny designs. Customize your text captions however you want: try different fonts, change the font size and color until you're completely satisfied with the result.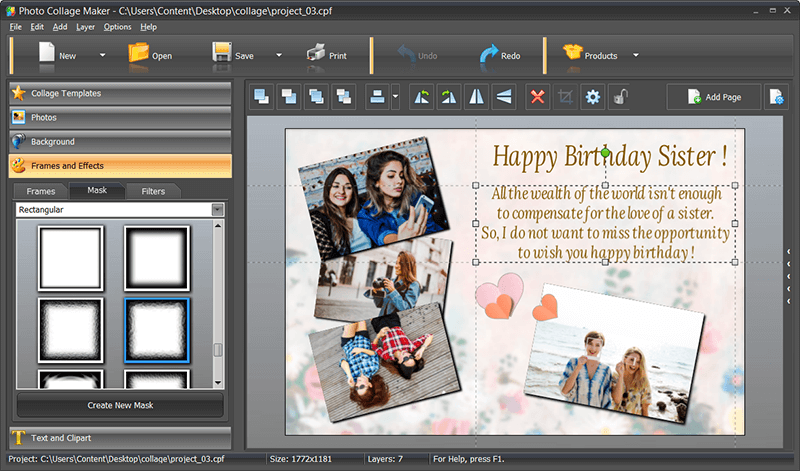 Let the words express all your love to the birthday boy/girl
Step 5.

Share Your Gift with the Birthday Person

Once your creative birthday gift is ready, decide how to share it with the birthday boy or girl. If you are out of town but want to join other greetings on the exact date, send your hand-made card via email or social media account, for example Facebook or Instagram. To do that, save your birthday collage as an optimized JPEG file for the web and the celebrant will be able to showcase it on the newsfeed or download to computer. Otherwise, print your finished design on any type of paper (Letter, A5, Legal, etc.) and deliver it personally.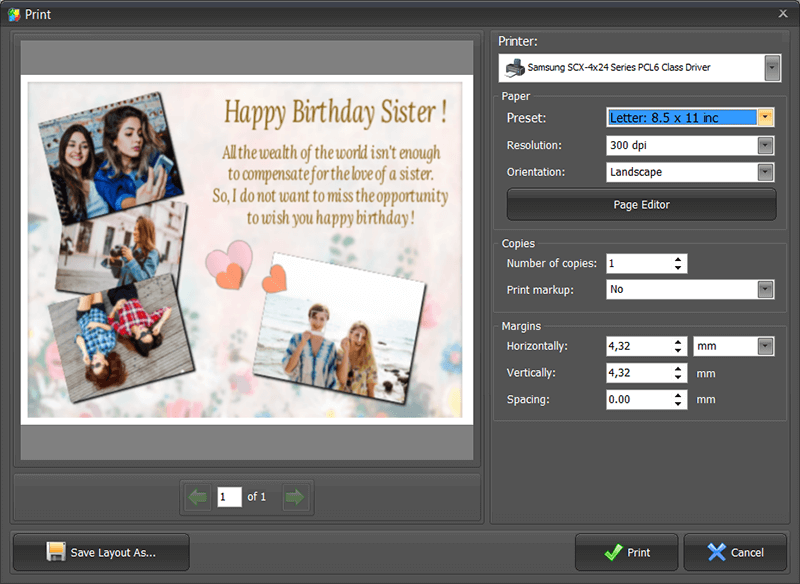 It's time to print your creation and give it as a present
There is a gorgeous selection of templates in Photo Collage Maker. With these templates in hand, you're sure to find the perfect showcase of photos for someone's special day. But how to make these templates truly yours if you've run out of creative ideas? Don't worry, below we've gathered useful guidelines and inspirational tips on how to make a birthday collage for different people and occasions.
Get started with this B-day photo collage maker for free by clicking the button below!
Birthday Collage Templates for Different People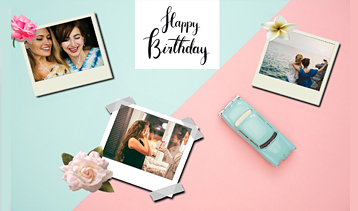 Cute Collage for Sister
Make a sweet and lovely design for your sister. It can be a modern hipster-like collage or something more subtle and classy. Our advice is to create a polaroid or multi-photo design to capture the best moments in your sister's life.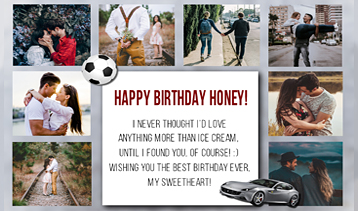 Birthday Collage for Boyfriend
You surely don't want a birthday card for your boyfriend to look girlish or soppy. Opt for more 'manly' colors - blue, green, silver or rich brown. Think about cliparts to use, it's better to choose images that reflect your man's hobbies.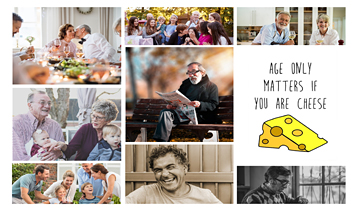 50th Birthday Collage
Making a photo collage for the 50th birthday is a bit challenging as you have really lots of pics. Don't try to fit them all on the page, pick the milestones of the celebrant's life & use them in your design.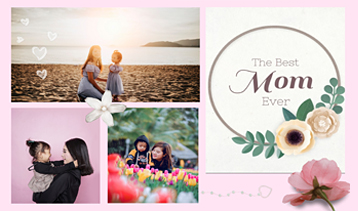 Moving Collage for Mom
Mom is a very special person in your life so treat her to a truly outstanding design. Combine the photos of you two together, decorate them with digital flowers and write a text message showing how deep is your love to mother.
What Makes Photo Collage Maker so Great?
It's not easy finding the right birthday gift for someone special. Most of the time, you remember about it too late and then it's all a bit urgent. With the help of Photo Collage Maker, you can create a fantastic birthday collage in no time at all.

370+ templates & layouts

Abundant built-in resources

Lots of save & print options